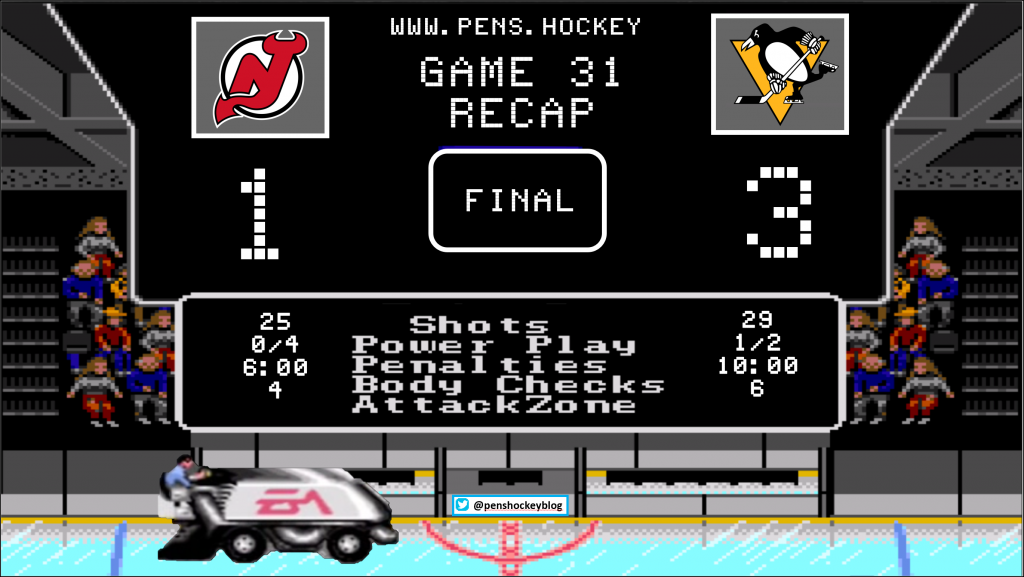 Saturday afternoon at 1 PM. Don't they know I have shit to do? Also, it's sunny in Pittsburgh. I'm guessing about 12 people watched this game today. I'm one of those idiots. You're welcome.
We were hit with yet another injury issue, this time after warmups. The Little Engine That Could, our very own Turbo himself, would be unable to play, bringing the number of Penguins to play every game down to two. I'm not even listing their names because I don't want anything on my conscience.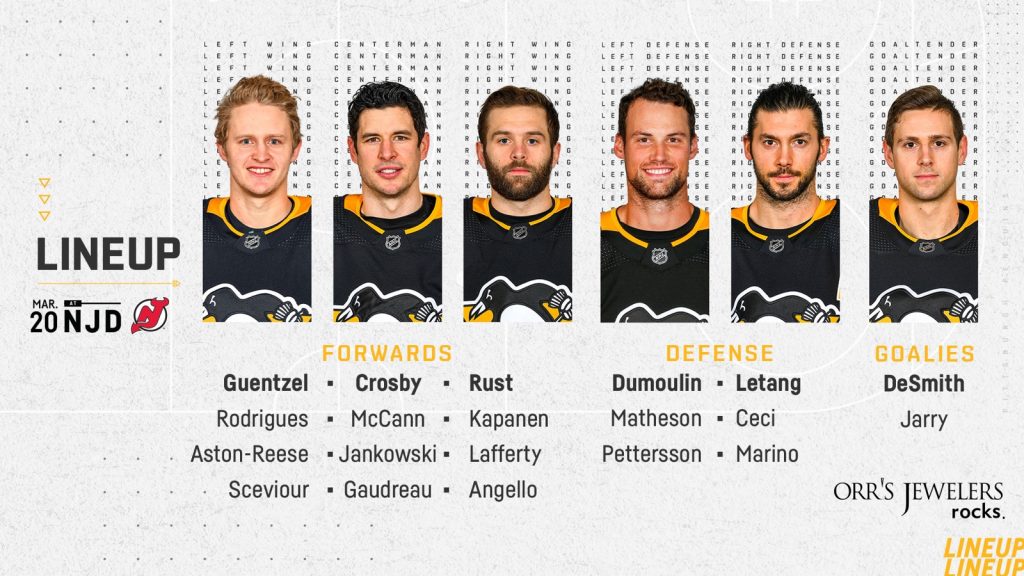 Sub-optimal, but at least McCann can play center, more or less. He better, at least, because it's definitely too early to get serious about drinking.

The game started out the way most games do – five skaters per side, one goalie per side, two linesmen looking at lines, and two other zebras to, uh, do whatever it is they think they do. Sticks dahn, puck dahn, hockey!
Boring start. When you're a one-and-a-half-line team playing a a one-and-a-half-line team, that tends to be the case. So you have to generate offense the old fashioned way. Put pucks on net and crash the crease. The Penguins proved to be confused about this concept in the opening period. The Devils, at least one time, figured it out.
Shame because the first save by OfSmith was pretty great. But when you leave a plate of lasagna on a platter in front of a yawning cage like that, expect ItaliaMieri to know what to do with it. Is he really that Italian? Probably not. Lots of Italian surnames in Canada for some reason. I guess that's why his first name is Kyle. He totally looks like a Kyle who puts ketchup on his spaghet…
The Penguins are used to this. You are used to this. We are all used to this. So I cleaned my house and did some laundry and occasionally looked at the game. Sure enough, it was still the Devils and Penguins out there. Huh.
The one constant in every matchup with any team Subban is on is how much he HATES Sidney Crosby, and today was no different. I'm not sure what it is with these two, but it's pretty hysterical that Pernel Kernel thinks he matches up well against Sid. More on this later.
Speaking of Sid, he was FLYING all period. Just in a different gear from everyone else. His speed and dogged determination kept me from falling asleep whenever he got on the ice.
Because aside from Sid flying around, not a damn thing would happen. OK, Son of Sever and Big Ant'ny would take penalties, both high sticks, both at different times and both were just about the lamest high sticks you would see. Same with the PPs of both teams. Lame, limp PPs. Kind of a lame limp period, really.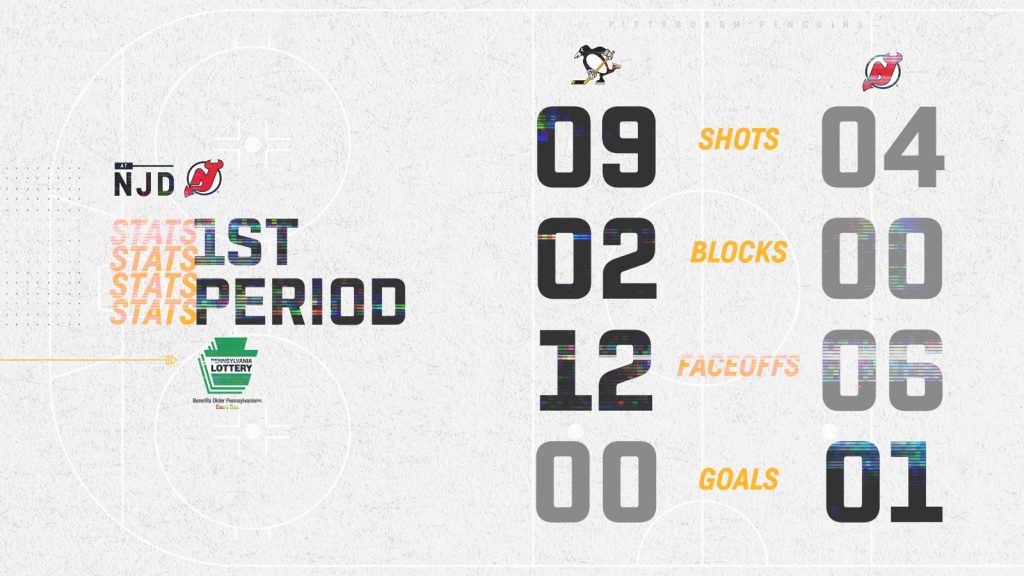 Starting the second, you could see the Pens picking up the pace a bit. Looked like Sid's energy was infectious.
Five minutes in, a stalwart member of the bottom six would borrow some of that determination and stick-to-it-ive-ness and get us all tied up.
Aston-Reese (6) from Lafferty (2), Pettersson (2) – 4:59 – EV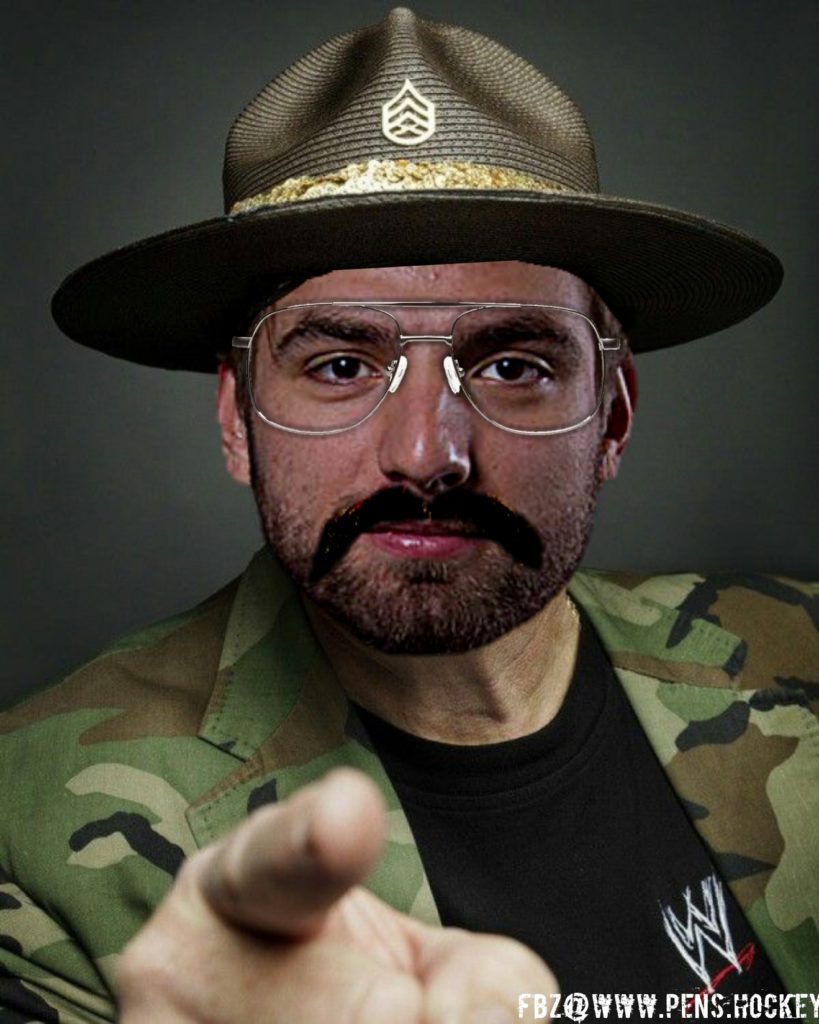 Had the puck in the zone, lost it, but stuck with it and brought it back in with a handsy play. Laugherty nearly screwed it up, but it got back to ZAR and he knew what to do. Brand new hockey game, but sadly, still in Newark.
Fifteen seconds after that goal, Miles Of Wood would chuck a Letang chuck chuck if a wood chuck Letang chucked at the boards dangerously and time to get out that PP again. This time it looked like the boys spent a minute at least stroking it firmly…
Rust (11) from Guentzel (16), Crosby (19) – 6:35 – PPG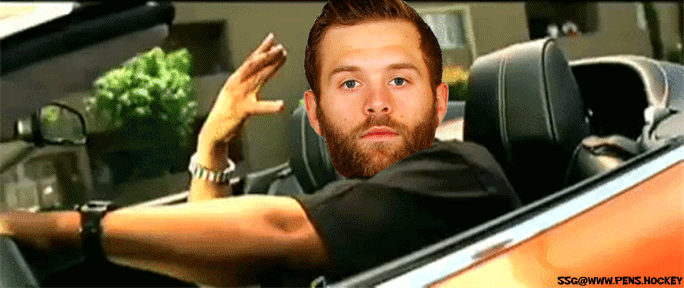 Just a fantastic individual effort, assisted by the fact that Pernel Kernel was molesting Sid in the corner making it effectively a 4 on 3. But what a move by Rust. He only had space and time for one move and it was perfect. Fap fap fap fappity fap!
The rest of the period would occur. There would be yet another stupid hi-stick from Laughy, but the PK would stand firm and the boys would take a 2-1 lead with them off the ice.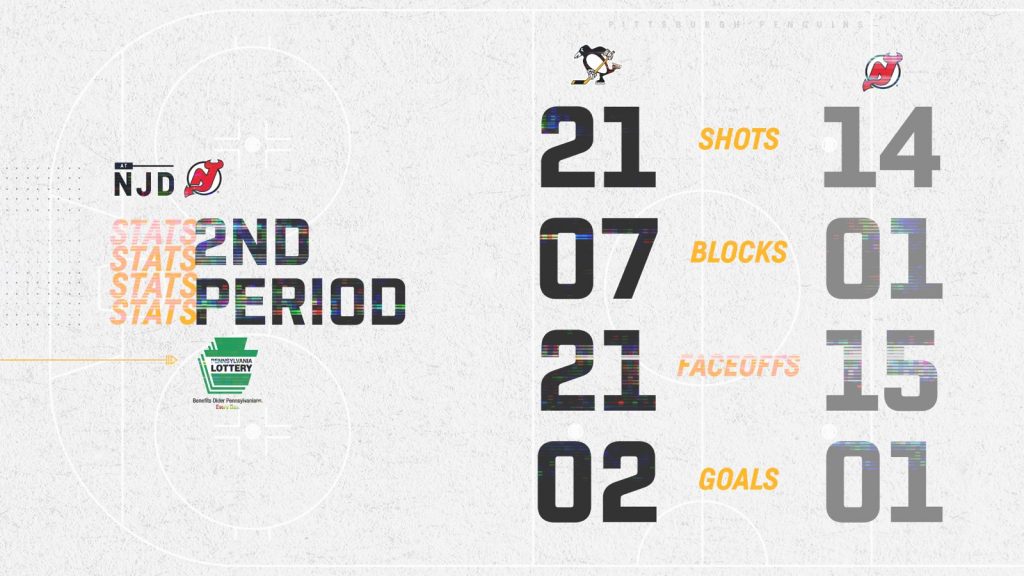 Things slowed down again. Neither team rolled over, but both teams seemed to suddenly remember that they would have to cancel tomorrow's brunch to do this all over again and thus began the obvious process of storing away energy.
Big Ant'ny apparently didn't get the memo and would hold JackOff Yous seven minutes in. Please don't do that, Tony.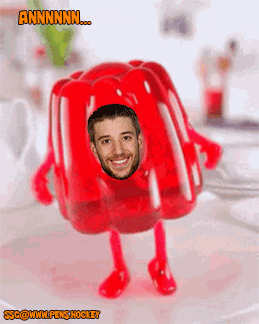 But despite not having their two best penalty killers and short-handed threats in Blueger and Tanev, the boys got it done.
Oh, and then they had to do it again when Dump tripped Bratt right after that kill.
Things would settle down and the Devils would start to lull themselves to sleep. So they were powerless to stop Jake when he did this.
Guentzel (13) from Crosby (20), Rust (12) – 14:25 – EV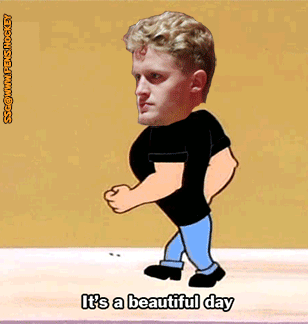 Oh oh OH that was DIRTY! Did he aim it for PRECISELY that spot? I mean, maybe not, but I guarantee he's practiced trying to deflect just like that to just right there before. And Sid KNEW this and put it in perfect position. Because he's Sid. Insurance goals are nice.
A bunch of nothing would happen for another seven minutes, until Laughy and a Russian without enough vowels in his name would 'come together' in the corner. Avert your eyes, christians.
Four on four always favors the Pens, but nothing would come from it.
In fact, nothing would come from anything else. So you can look again, christians, and feast thine eyes upon…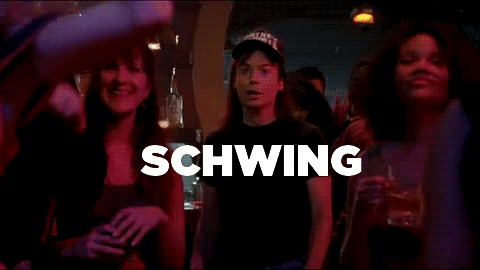 Thoughts:
The Pens embraced their one-line-ness. Sid, Jake and Rust each had two points. Leaders lead.
DeSmith is still solid in de pipes.
Matheson was falling down all game. He's looking a little yippy out there.
Pettersson only had 12:57 in TOI. He doesn't kill penalties and he doesn't play the powerplay, so that's part of it, but that is still too low. Doghouse?
Gameday 32: Escape from NewArk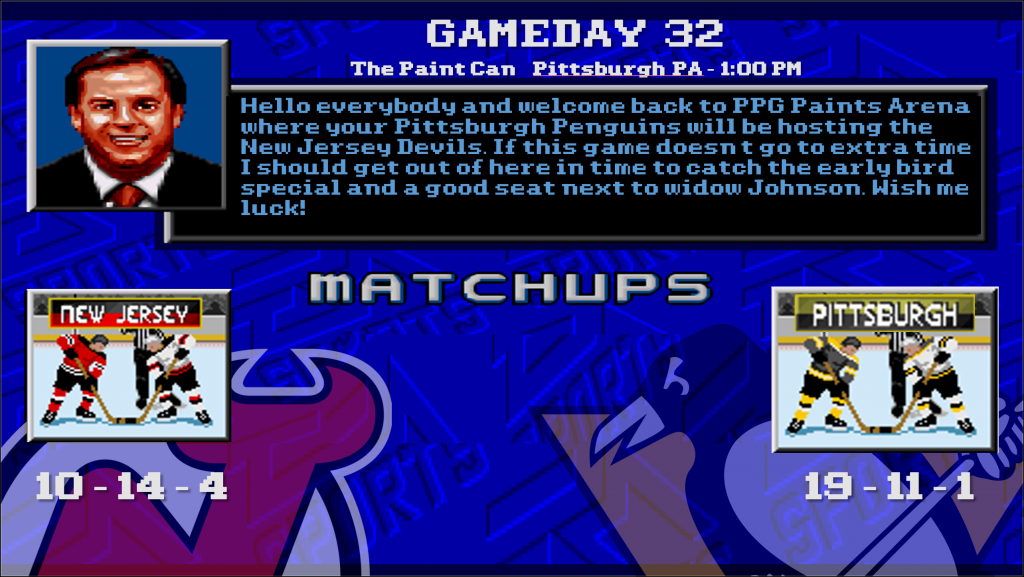 Well, we made it. We stayed non-comatose through two straight games against the Devils. Our reward? Sunday afternoon hosting the Devils. Do you think the league was laughing out loud when they put this together or nah?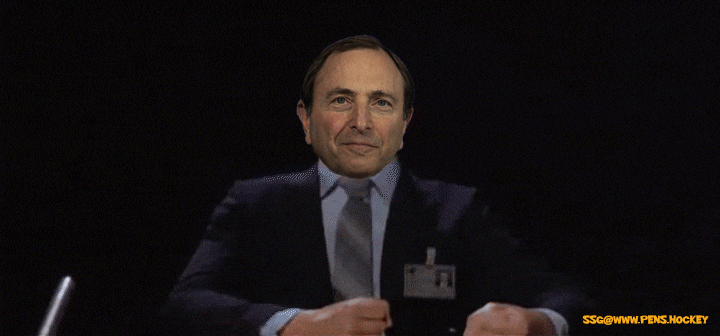 Mesmerizing, isn't it?
Anyway, the same two teams doing the stuff, but this time back in Pittsburgh at least. Yay?
Based on Tanev not playing last game, I just don't have a clue so…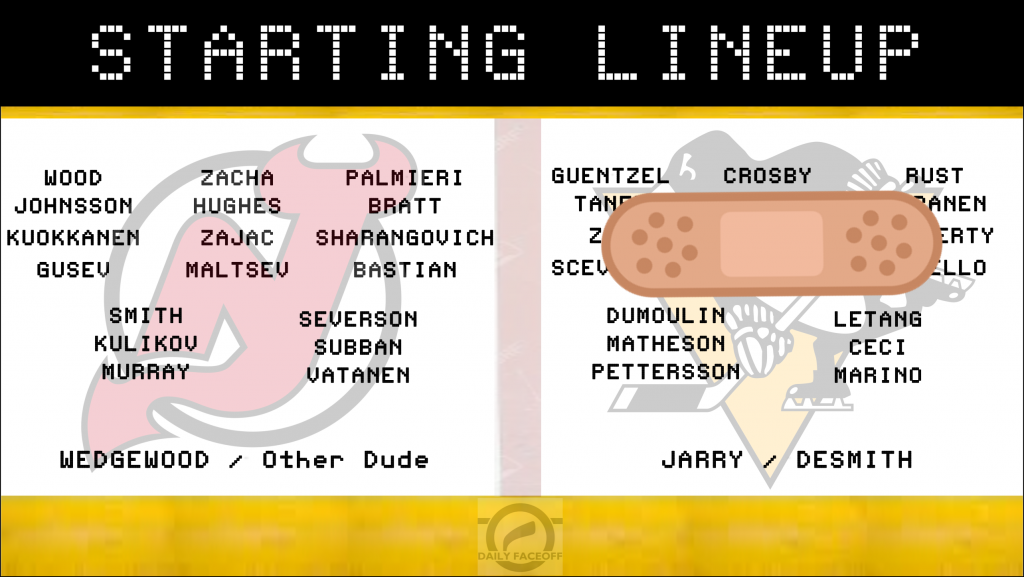 The interesting question will be who will take the net for the Devils. Blackwood is their #1 (lol) but is obviously hurt. I have no idea who was even sitting on the bench for the first two games. I just hope he doesn't play because he will certainly channel Brodeour in his first ever start against the Pens.
Whatever, I've typed enough. Let's hope the Pens have another 60 minutes in them before a much needed two days off.