Like hitting every green light on the way to work, all things come to a miserable end.
They can either end by simply having to stop at a red light, getting a ticket for running a red light, or T-boning another car while running the red light. For the Penguins recent 7 game winning streak (something they have now done in 10 consecutive seasons), officials are reviewing the traffic cameras before deciding the damage of this one.
There was a point in this game when the Penguins were down to 4 defenders and considering throwing Bonino out for a defensive shift. With Letang already out, Trevor Daley left the game in the second period, followed shortly after by Brian Dumoulin. The top 3 Penguins defenders were out, and the Kings had almost 15 minutes of playing time to find a hole somewhere between Maatta-Cole-Schultz-Pouliot, and they couldn't. 100% hats off to those 4 defenders, just an unreal job done. Dumoulin would later return in the third to add some relief, the fate of Trevor Daley is a lot less certain.
The other night Boston put up more than 40 shots and the Penguins were able to cash in on some powerplay goals, tonight, no dice. Though they played a disciplined game and only took one penalty themselves, the Pens failed on all 4 powerplay opportunities and that was the difference. During the 3 on 3 overtime Phil Kessel was going for a patented wrist shot and his stick snapped, resulting in an easy transition for the Kings as they came in on Murray 3 on 1. Much like the first meeting between these clubs, the Kings waited until getting an odd man advantage in overtime to cash in.
In a weird way I feel better about this loss than I have about some wins. Anytime your defense faces adversity like this and the team allows 0 goals, because all bets are off in OT/SO, it is a positive in multiple ways. Justin Schultz ended up with over 27 minutes. If I told you in the offseason that Schultz was going to play 27 minutes against the Kings and the team would give up 0 goals in regulation you would've driven me to the nearest clinic.
Thoughts:
At one point in those highlights there is a Kunitz-Maatta-Rust odd man break, with Butters leading the rush. It didn't work out
I was expecting Pouliot to be concussed by that referee hit. Really not sure what the ref was doing there, I only imagine that players skate behind the net every 5 seconds so I can understand why he wasn't expecting it. The Kings ended up getting some very good chances because of that play
While speaking of Pouliot, he was given a great opportunity (also known as "don't fuck up") when Daley and Dumoulin went down, and he responded adequately, solid first game in 2 months for the Pooh.
With the loss the first place Penguins remain in First
Auston Matthews got a bunch of writers panties wet in Toronto when he scored 4 goals in his first game. He has scored 10 in his following 28, which still has him on pace for 40, which still has him on pace to be blamed for the failings of the club in three years and gifted to another team.
Tonight is a special night for Toronto, as they get their first look at what leaving their franchise can do for a man's career. The Maple Leafs have a system in place to get them to the playoffs, and many said they would make the playoffs this season, but just like I said during the last gameday between these two teams, it ain't happening this year. Toronto has a slight advantage in this one depending on how bad the Penguins defense is, but it is Toronto so they will find a way to screw it up. They always find a way to screw things up. They had Phil Kessel so screwed up in the head that when he came to Pittsburgh he had so much suck ingrained in him that it took months to wash it out. Finally, luckily, Kessel's skin was cleansed of the Toronto Scabies and he has risen to everything Toronto never let him be, himself.

So in sticking with this theme of "your franchise and media are retarded for beating down your biggest talent" we felt obligated to make this decision.

The thing about this deal is that Rutherford probably would've taken Kessel at full face value, but he has been around the block a time or two, and he knew that Toronto wanted to get rid of him. Eating 1.2 million dollars > making fun of a 40 goal scorer for eating hotdogs… that is Toronto logic, folks.

Hockey blogs are a dime-a-dozen. There's plenty out there on SB Nation and the likes, but the majority haven't updated in months or don't receive more than 10 comments.
Blogs like SensChirp and LAKingsInsider are pretty rare. MLHS goes right in there with them. Their current gameday is approaching 630 comments.
When they put one up, we should definitely head on over to their gameday for us and chat with them, as we have been doing. Every time we've done this we've left with a great story.
SSG, try not to get banned this time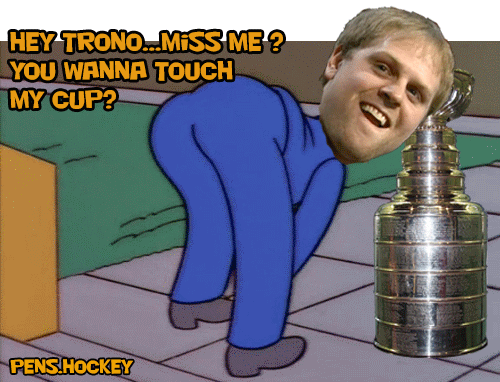 As mentioned above, the Penguins defense is a bit of a mess right now. It is too early in the day to know the status of Daley, but I highly doubt he plays tonight. Olesky/Warsofsky are the most likely call ups. All indications point to Dumoulin being able to play, but there is also a chance through concussion protocol that he doesn't. Because of the potential lack of defensive depth it wouldn't surprise me at all to see Eric Fehr in this game, as he does play a mostly defensive role. Marc-Andre Fleury most likely gets his first start in a long time tonight, so hopefully he doesn't blow it, because I don't feel like hearing about it. The Penguins are on the second of a back-to-back with a strained defense, a defense that helped earn a point last night, so tonight it is up to the offense to earn the points. Toronto can score goals, and against the Penguins D-line they most likely will, it wouldn't surprise me to see a 6-5 game tonight. Since I said that it will probably be the first ever 0-0 tie of the shootout era.

This was no "Classic"… sentenced to the Cornhole field again…sad.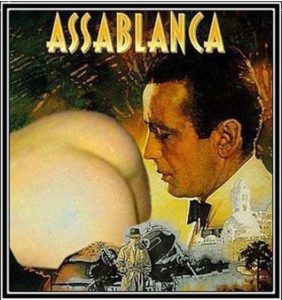 I hate losing to assholes...Go ahead, reach in and fish one outta there.
14) "It'll be a big hole to fill." -- Brian Boucher (27%, 3 Votes)
1) "Crosby and Sheary like to play in tight areas." -- Brian Boucher (18%, 2 Votes)
3) "You sweat it out with Daryl, that's for sure." -- Brian Boucher (18%, 2 Votes)
9) "rides up the shaft" -- Errey (PPYM) (9%, 1 Votes)
6) "Finally squeezed out there by Lewis." -- Dave Strader (9%, 1 Votes)
7) "He's seen a lot of rubber, but hasn't really been sweating too much" -- Errey (PPYM) (9%, 1 Votes)
12) "That's his best attribute is his stick, Olli Maatta" - Errey (Ung) (9%, 1 Votes)
13) "He (knuckles) is a big guy and shoots it pretty hard." -Brian Boucher (Jovi) (0%, 0 Votes)
11) "When you talk about Malkin, his talent, his hands, he's such a big body." - Brian Boucher (Jovi) (0%, 0 Votes)
10) "Teams are changing as Lewis works it in" -- Dave Strader (PPYM) (0%, 0 Votes)
4) "Magic hands of Evgeni Malkin on full display there." -- Dave Strader (0%, 0 Votes)
2) "Doughty pumps it back in." -- Dave Strader (0%, 0 Votes)
5) "These 4 D are gonna get out there. If you're the LA Kings, you want to try to expose that." -- Brian Boucher (0%, 0 Votes)
8) "Great opportunity for Pouliot, who is trying to get his feet wet." - Boucher (Jovi) (this isn't porny enough) (0%, 0 Votes)
Total Voters: 11

Loading ...
LET'S GO PENS!