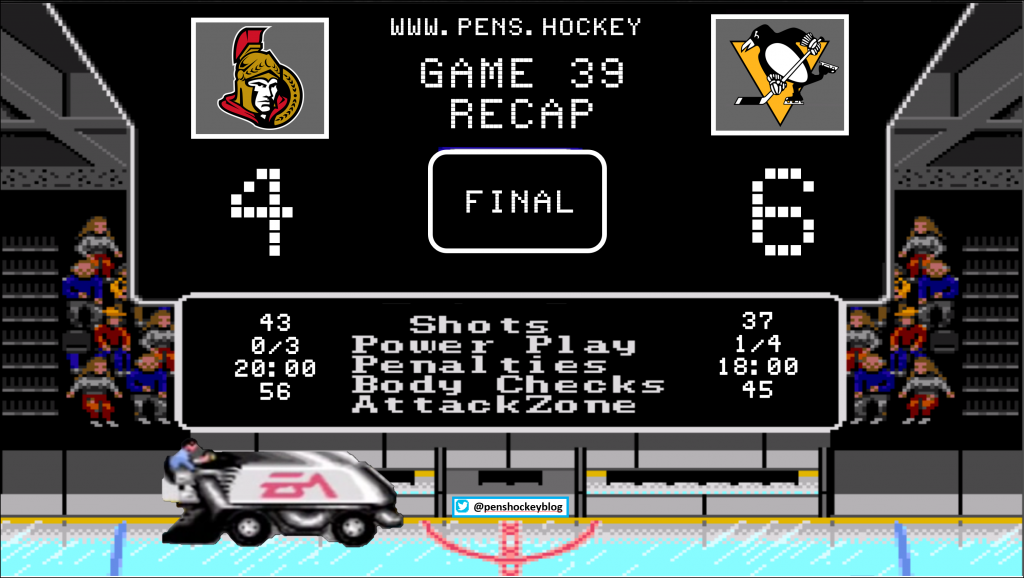 This game deserves more attention than I'm prepared to give it. Thankfully, TQ handled the GD post so it won't be ALL terrible. You get what you get and you don't get upset!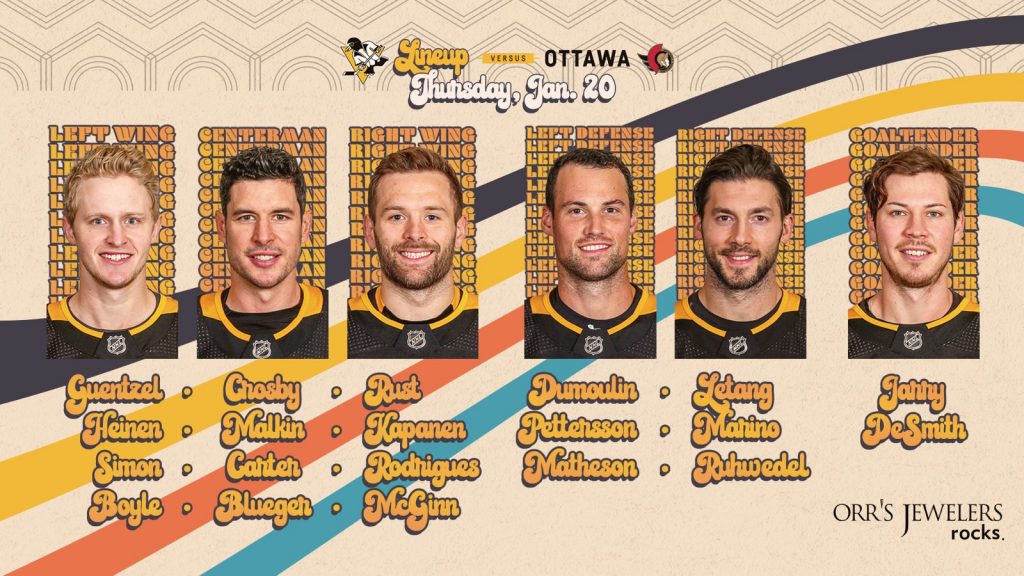 Oh yeah, it was 70's night, so that's fun. Actually, those fonts do kick ass…

Simon (2) from Carter (12) – 4:28 – EV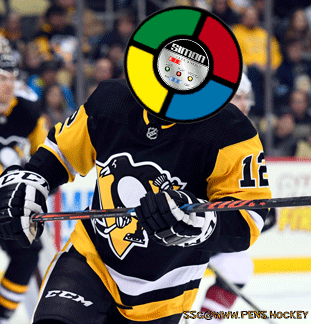 Heckuva shot, actually.
Then the bad guys scored. Boo.
Then the good guys scored!
Malkin (3) from Kapanen (15), Matheson (11) – 11:40 – EV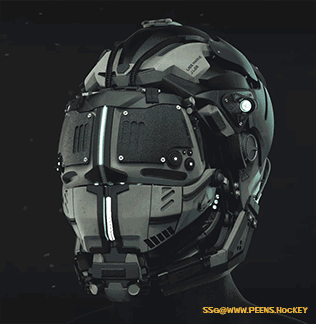 Vintage swoopiness from Geno Machino. He looks pretty OK to me.
Oh hey look, more golas!
Matheson (4) from McGinn (5), Blueger (9) – 15:59 – EV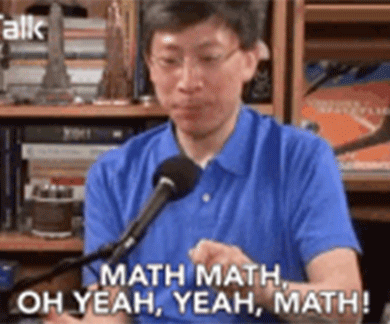 Garbage cleanup, aisle goal crease! Yeah, that was funnier in my head. Oh well.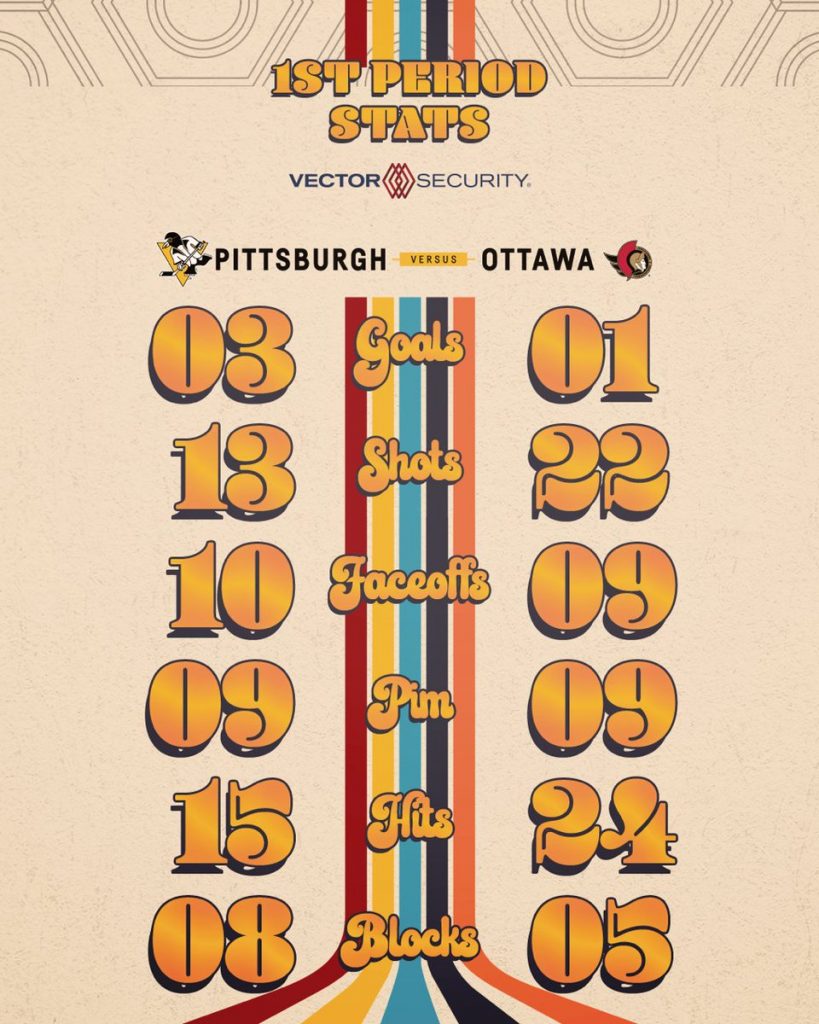 There was a bunch of hockey. There where shenanigans, I think. The result was the Pens heading to the powerplay and the Captain heading to the scoresheet.
Crosby (7) from Rust (12), Letang (31) – 11:32 – PPG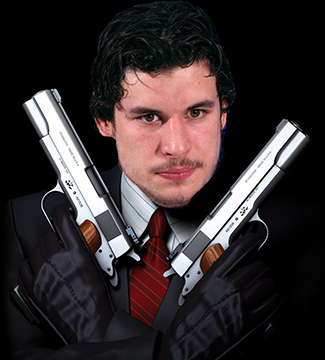 When the PP is struggling, it's perfectly acceptable to score off the rush.
More shenanigans would ensue, as well as another goal
Matheson (5) from Carter (13), Marino (16) – 18:41 – EV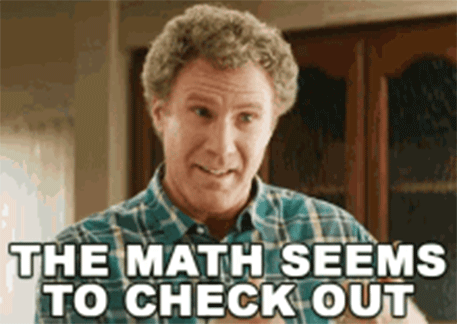 What a ripper. That dude can shoot.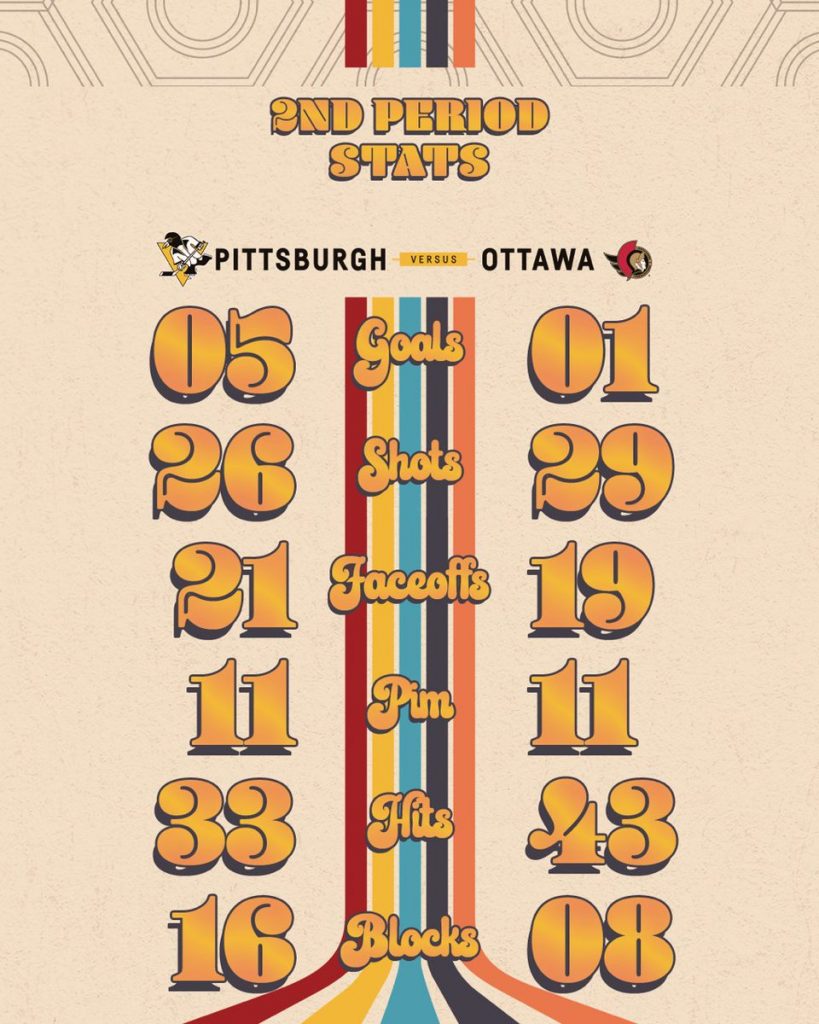 Absolutely 100% in control, right? Right!

I guess when you're finally back home after a long trip and are up 5-1 heading into the final 20 minutes, it's a natural reaction to ease up. And against a terrible Senators team, it seemed like it would be a fine time to do it. Well, as you may be aware, despite their general futility as a team resulting from that franchise crippling Kunitz double OT winner (fap fap fap fap fap fap fap), they are still one of the 32 teams in the top hockey league on the planet. Which means ya gotta be careful…
Yeah, someone didn't have their guy covered, and Strudel made them pay. 5-2.
Hahahaha… OK, we get it. You earned that. But that'll do. 5-3.
Ridiculously, the Ottawa twitter account had very little to say about the next one, but I know I had something to say and it rhymed with 'truck' and 'luck'. The word was fuck. I said fuck. 5-4 and it was pucker time.
And the pucker went a long while until Jake relieved the pressure and make it cheaper for fatties to get fattier.
Guentzel (21) from Rust (13) – 19:13 – ENG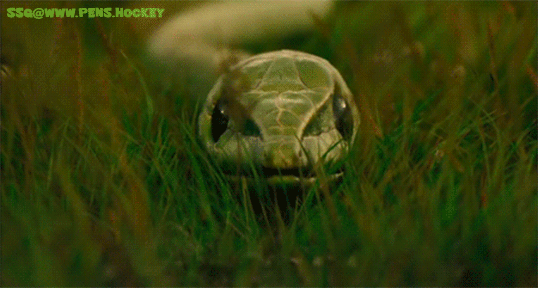 GAME
GameDay 40: Cannon Fodder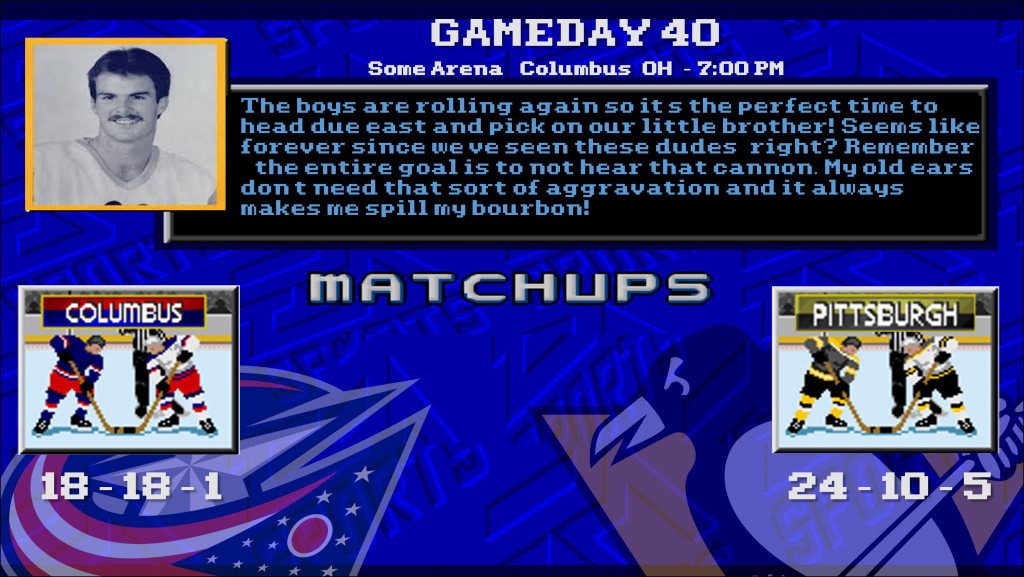 Hey there Pens fans. TimQvist here once again to do a great disservice to the people who normally handle this. IT'S GAMEDAY TIME!
Penguins are riding high after a nail biting 6-4 win over the Sens. 'Member Sensdabest? When was the last time we had a real troll on the blog? Are people just afraid of us at this point? I mean I don't blame them.
A mostly nice and tidy performance minus a bad half a period from the Pens puts them in 3rd in the division just 3 points behind the Rags with a game in hand and tied with Washington. Pens are 14-2-0 in their past 16 games. That's a nice run. The D Looks good. Sid is feeling it. Geno is back and doing Geno things.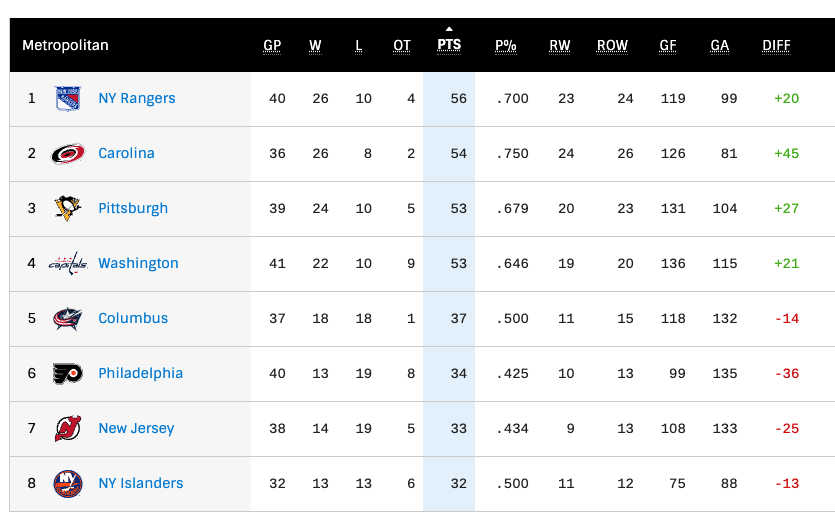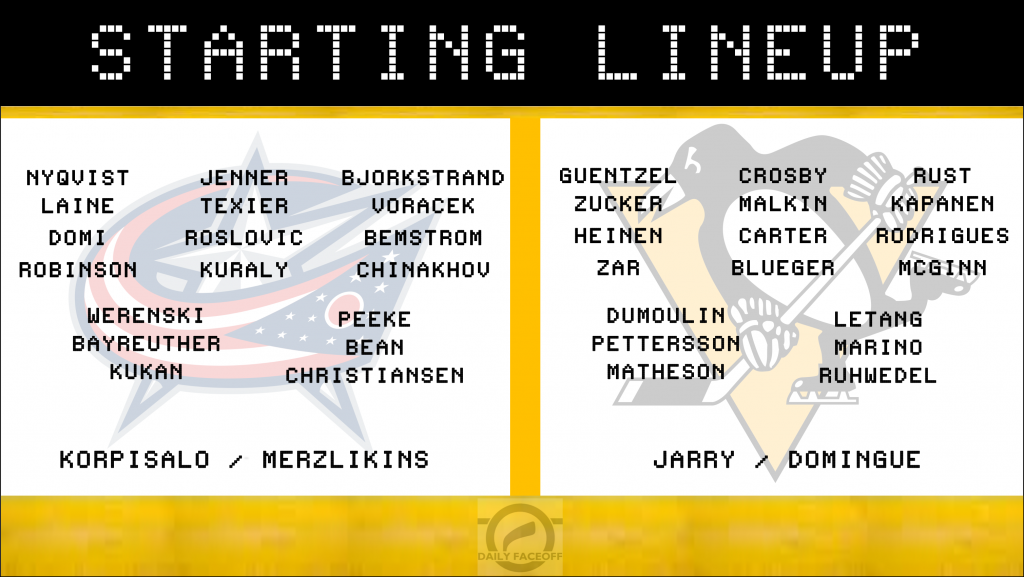 While the Penguins are slightly behind their division rivals they have a sizable 26 point advantage over the CBJs who sit comfortably in the bottom half of the league and eastern conference. While this has all the makings of a dominant performance from the Pens it also has the potential to be a derailing game.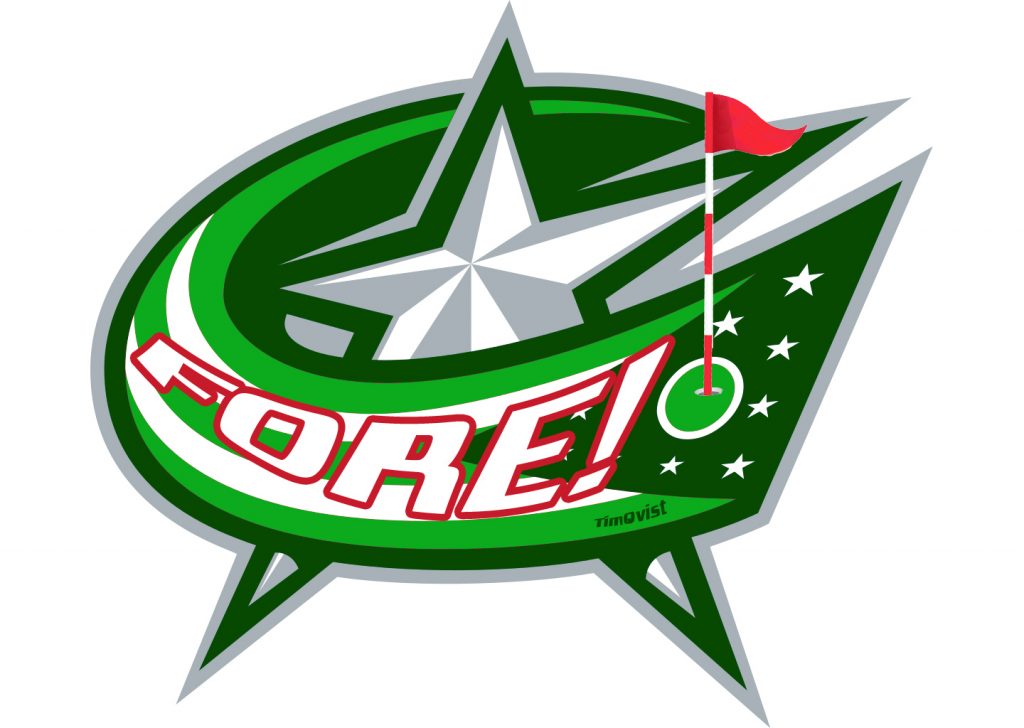 Hot Players
Tristan Jarry – Pens had a great interview with Jarry regarding his all-star nod this year.
"Last time I went, I was kind of somebody that was called upon after a couple of guys got hurt, so this one feels a lot more exciting," said the Penguins goaltender, who is having a fantastic year. "I'm very excited to be able to go, and I'm very honored to go and represent the organization."
The dude has earned a spot. He's currently 3rd in the league in both GAA and SV% at a 2.08 and .928 respectively. If one of you compares him to Matt Murray or asks to bring back MAF one more time the entire blog gets to beat you with a goalie stick until you learn your lesson. Dude is seeing beach balls and the change at goalie coach has done wonders for him.
Columbus – A History
The Columbus Blue Jackets began play in 2000 and instantly struggled, unable to break 30 wins in a season. There was a small list of improvements and an eventual playoff birth in 2009 only to get immediately swept by a powerhouse Red Wings team (mmmmmm 2009 Red Wings tears still taste good).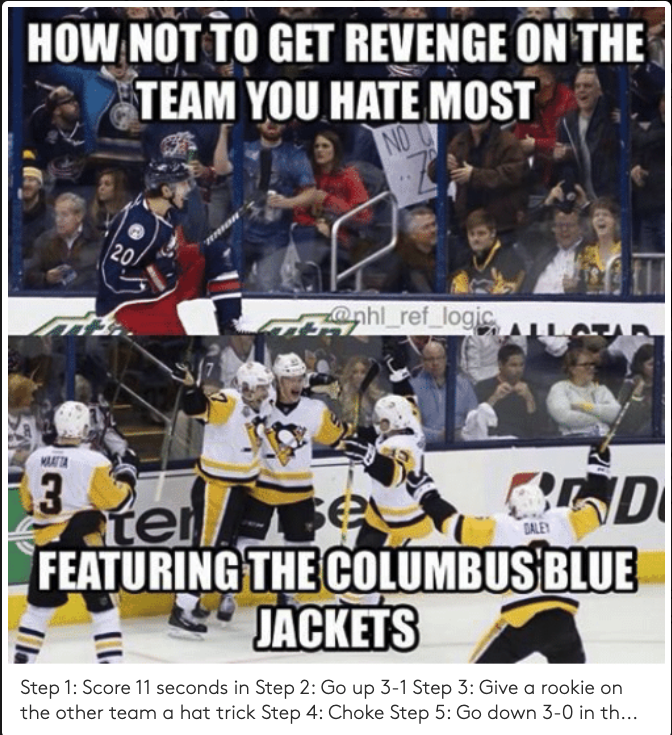 The name and logo / cannon bullshit stems from the Civil War era. The "Blue Jackets" were the 3rd largest force of men in the Union behind Pennsylvania and New York. The team has been unable to do much in the post-season even with the likes of names like Rick Nash, Nick Foligno, Artemi Panarin and a very solid net minder Sergei Bobrovsky.
This is a big game for the 'guins and a nice little January test to see where this team is at against a direct conference rival. I'm feelin good, baby.
Let's Kick the Tires and Light the Fires Big Daddy.