The Penguins were back at home last night to celebrate "Disco Night," which was actually 70's night, which was actually not as cheesy as I expected. Of course Dan Potash relishes in this shit (and probably comes up with half of them), so he dressed the part of Jim Carr form Slapshot which was funny but also a huge missed opportunity in starring as Alice in this image:
https://twitter.com/penguins/status/949067581914218497
1974 was Mike Lange's first season at the microphone for the Penguins, there is some vintage footage in this video but not as much as I would've liked.
If you boogied on down to PPG Paints Arena tonight, this is the pre-game opening video you would've seen. Happy 70s night, #Pens fans! pic.twitter.com/CKEOdTRpDu

— Pittsburgh Penguins (@penguins) January 5, 2018
One of the coolest things to happen was The Paint Can making their scoreboards look like they did in 1970 at the Civic Arena:
In-game graphics, 70s style. Cool beans. pic.twitter.com/7Nmc7EKRzG

— Pittsburgh Penguins (@penguins) January 5, 2018
To be honest I have always preferred that style scoreboard wrapping around the arena compared to the LED team graphics and colors that we currently have. Give me the score, time, and penalty time only, please and thank you.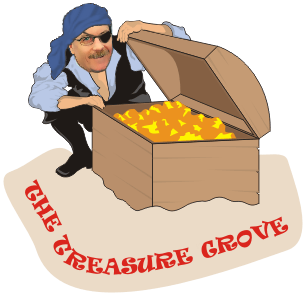 Sheahan has won 56.2% of his draws with Pens and is on pace to take 1,115 with Pens this season. Only Cs who have taken 1,100+ draws w/ Pens and won more frequently: Barnes (97-98, 57.6) and Hrdina (98-99, 56.7%).

— Bob Grove (@bobgrove91) January 4, 2018
I freaking love when Grover digs up this style of stat.
Crosby is on pace for 28 goals and Malkin 29. The only 82-game season in which neither hit 30 goals was 2014-15 (28 each). Geno missed 13 GP that season, Sid 5.

— Bob Grove (@bobgrove91) January 4, 2018
Also known as the Mike Johnston season.
Since going 4 straight GP without a PPG Dec. 11-18, Pens have converted 7 of 18 chances (38.8%). Where would they be without their power play?

— Bob Grove (@bobgrove91) January 4, 2018
Losing 4-0 to Carolina Bob, that is where.
In the absence of Rowney, Rust and Dumoulin Sullivan and crew decided to roll with the following lines:
Psyched up and ready to play. pic.twitter.com/pJw0akq7Lt

— Pittsburgh Penguins (@penguins) January 4, 2018
After the success of the Kuhnhackl-Sheahan-Reaves line against Philly this was a wise move. Moving Guentzel to center was also a wise move, as the forward has been struggling a bit and is a naturally trained center. This was Jake Guentzel's 82nd game of his career for the record. The Pens were able to roll all four lines pretty evenly in this period, and the fourth line had some very good shifts that pinned the Canes in their own zone. When it was all said and done Reaves finished the period with 3:17 and the centers TOI was Crosby (forward leading 6:29), Malkin (5:30), Guentzel (4:45), and  Sheahan (5:00 PK minutes included). The Penguins had to kill one penalty which adjusted some of these numbers. Other than this not much was happening in the period and it would end 0-0.
Not much has happened…yet.

Looking for a rad 2nd period. #LetsGoPens pic.twitter.com/6tv8wtWpzL

— Pittsburgh Penguins (@penguins) January 5, 2018
They are looking for me in the 2nd period? Is this my calling!?!?!
In first period, Pens' (2) and Canes' (3) forwards combined for 5 shots.

— Bob Grove (@bobgrove91) January 5, 2018

The second period started the same until the Hurricanes were able to get some sustained pressure following miscommunication between Schultz and Guentzel on the breakout. One of the hardest transitions from wing to center is positioning on the breakout, and twice in a matter of 40 seconds Schultz missed Guentzel by at least 5 feet resulting in prolonged pressure. Following this I was wondering if Sullivan would take the opporunity to coach Guentzel and stick with these lines, or if he would panic and start double shifting Sid. Before I could answer my own question Justin Schultz took an aggressive pinch, leaving Ian Cole out to dry… though Cole didn't do himself any favors.
.@JeffSkinner put the #Canes up 1-0! #Redvolution#PITvsCAR pic.twitter.com/ZOaSZSeUdt

— Carolina Hurricanes (@NHLCanes) January 5, 2018
Way too easy for Jeff Skinner after he makes a nice play to poke the puck free. Easy to see where Cole screwed up on this play since he was covering for the pinching Schultz the puck was on his forehand but he knew he couldn't do anything with that, and before he could have a second thought Jeff Skinner had sold him ocean front property in Iowa.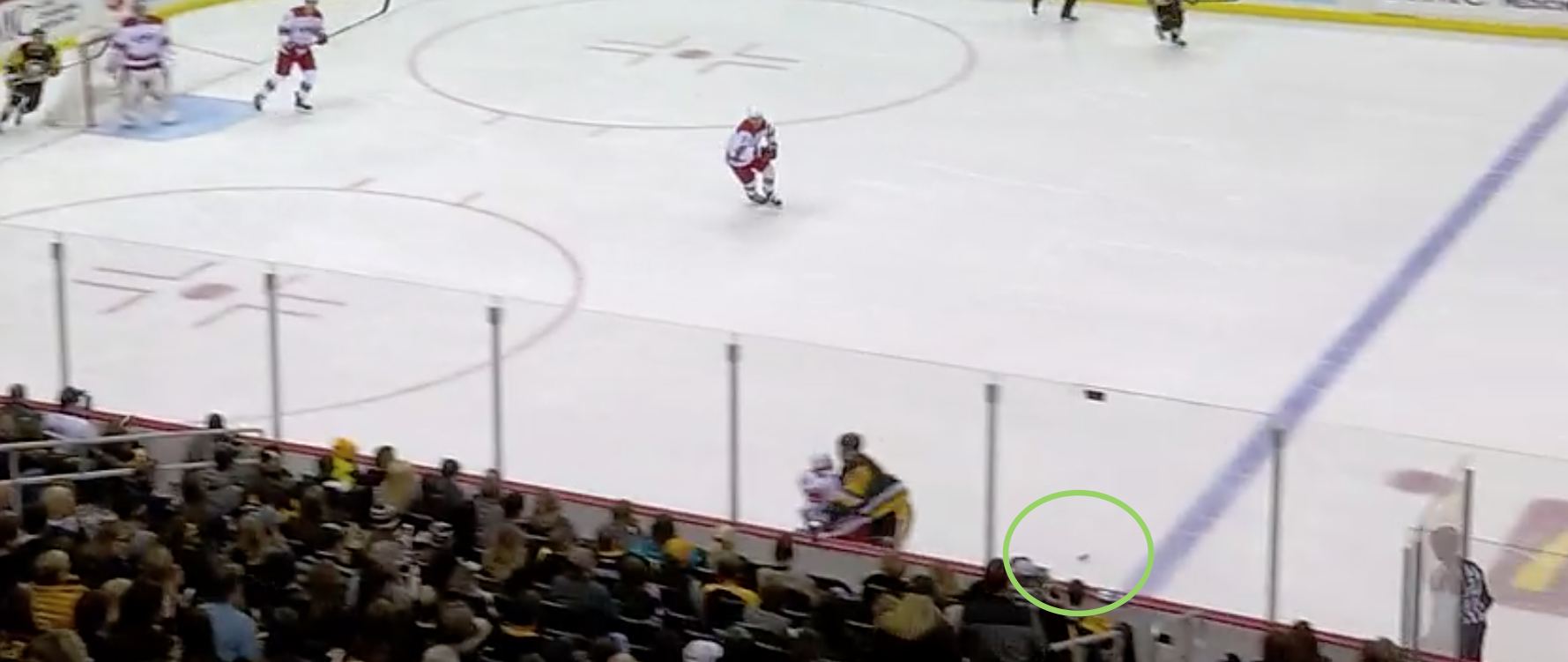 Schultz jumps up to pinch the Hurricanes in, but his decision is too late as the puck has already come and gone before Schultz even makes contact. A simple split second decision that resulted in a top scorer going one on one with a bottom pairing defender.
The Hurricanes built momentum up form that goal and the Penguins never really found anything that resembled a damn. Sullivan continued with his original lines, but also toyed with Guentzel-Crosby-Hagelin and Simon-Sheahan-Sheary as play went on. It didn't matter though, because Matt Hunwick fucking sucks. 10 minutes after the Skinner goal the Canes come down with an odd man break: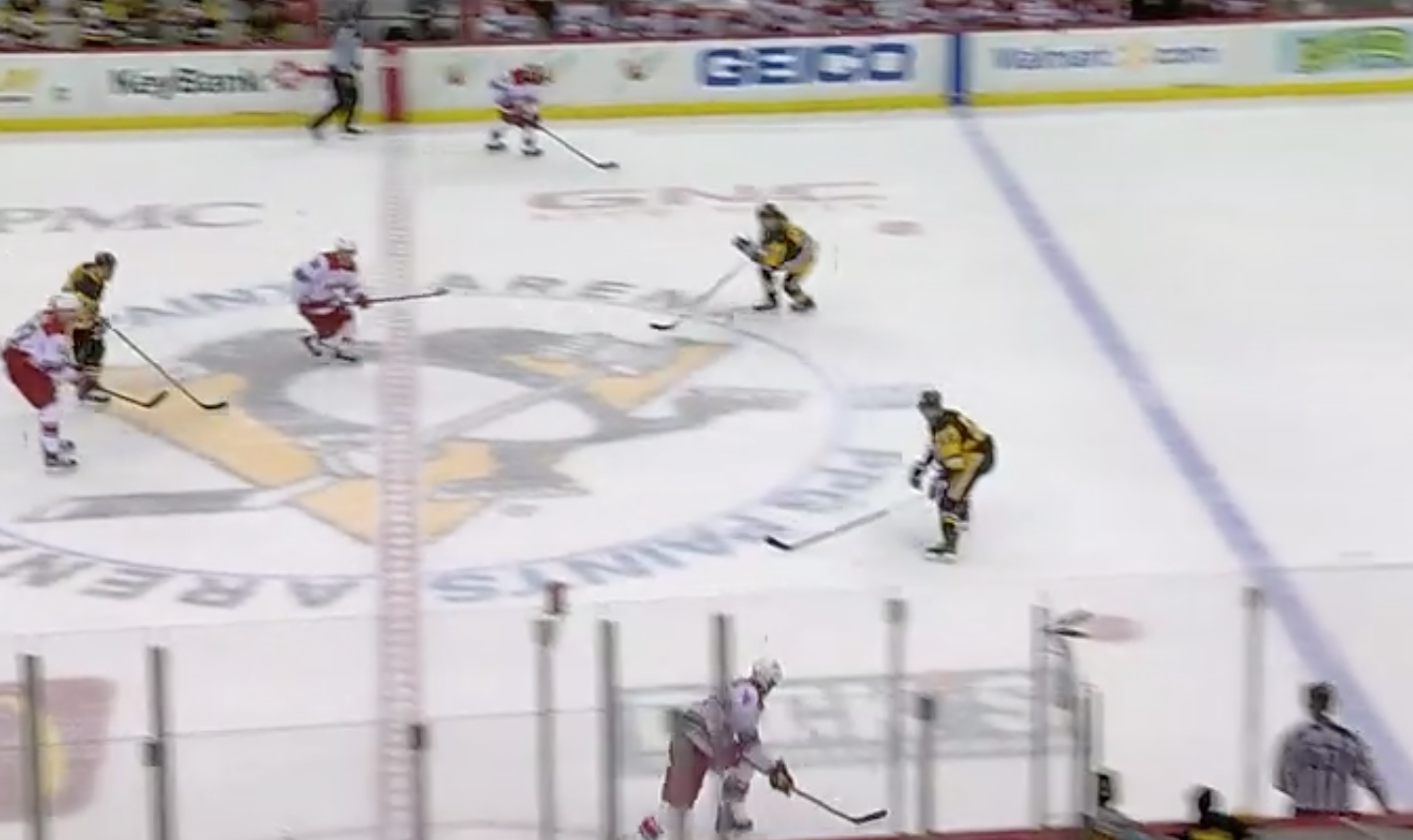 Hunwick at the top of the screen, Letang at the bottom with the puck carrier, Reaves the forward coming back. Slavin the puck carrier takes it deep along the boards: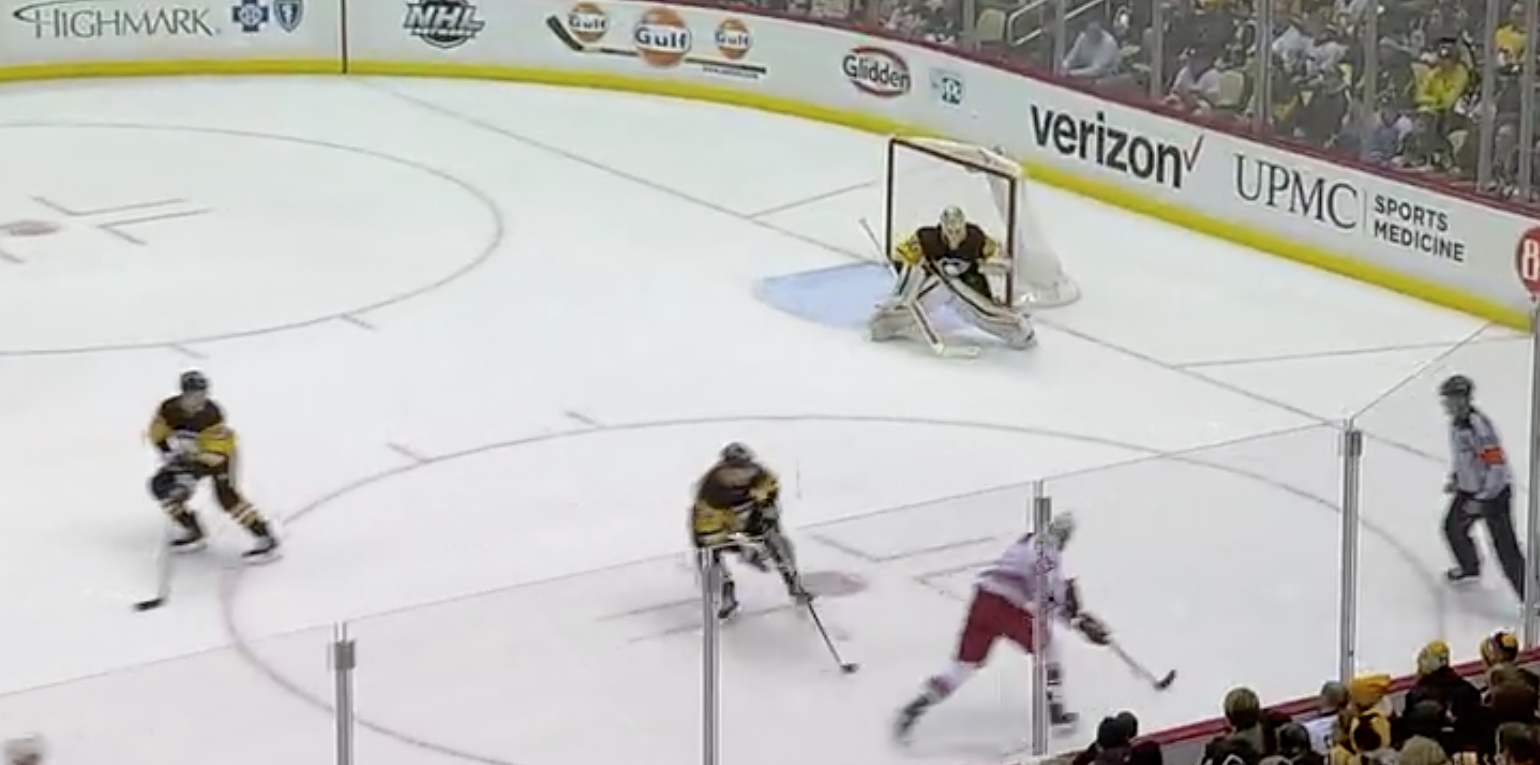 Letang in decent position considering Slavin already had some speed, he isn't going to makea  break to the goal due to where Letang is at least. The bigger question is when will Hunwick come out of the closet because he is clearly more interested in Letang's ass than the play developing.

"Oh shit, is that what that player was going to do" had to be Hunwick's only thought. Crazy good pass by Slavin as he throws the puck all the way across the ice and Hunwicks passing lane to Aho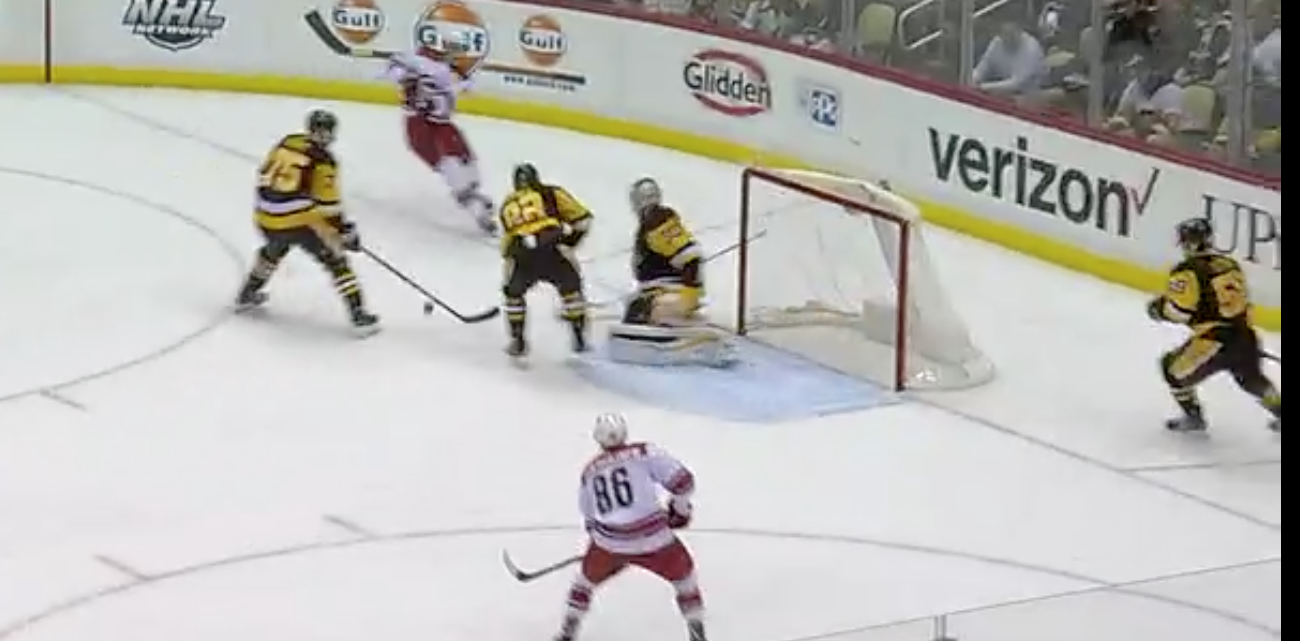 Murray sees that the puck has gone to a man with no defender and commits to the shot like a felon, so Aho gently sends the puck back to center to the man that Hunwick is still not guarding because why should he? Ryan Reaves took the forward he should because when the pass was made Hunwick was in the center of the ice. Well Hunwick is still in the center of the ice and for the second time in 3 seconds the puck is going through his passing lane.
"They connect the dots! That's hockey baby!"

Some pretty passing helped put the #Canes up 2-0. #Redvolution#CARvsPIT pic.twitter.com/Q3wKOYFbHJ

— Carolina Hurricanes (@NHLCanes) January 5, 2018
That second pass does not happen to teams that want to win.
The Penguins would manage to get like one shot on goal in the final 6 minutes and the period would end 2-0.
Not enough yellow 😞 pic.twitter.com/uMqD6UQCQv

— Pittsburgh Penguins (@penguins) January 5, 2018
The Penguins were outshot 15-7 in the period despite having a powerplay opportunity. If you want to know what a team that wants to make the playoffs looks like in a need to win game, watch the Hurricanes in this period.
The third period was all about Mike Sullivan entering desperation mode. I'm talking 40-year-old virgin going to Vegas for a prostitute desperation and the end result was the same, money spent, time wasted, a bad taste in your mouth to show for it. In honor of Disco Dan Bylsma on Disco night Sullivan tried every forward combination he could think of, and the team looked the same. The Penguins would get a powerplay chance, and it was about as threatening as a puppy in a blanket. Eventually Sebastian Aho would absolutely tear through the Penguins defense to put the Canes up 3-0, and after the Pens acted a little upset or something Aho went to the corner and used just the tip to score again. 4-0 Canes .
When @SebastianAho gets going, good luck getting him off the puck. #CARvsPIT pic.twitter.com/irZncEg6fW

— NHL (@NHL) January 5, 2018
What a power move
You're gonna be seeing a lot of this highlight reel goal, just fyi. #Redvolution#CARvsPIT pic.twitter.com/g0IWA8d9Kx

— Carolina Hurricanes (@NHLCanes) January 5, 2018
The Penguins would muster up like two more shots as time ticked down and once again failed to win two games in a row. December 1st and December 2nd, the Pens beat the Sabres to win 2 in a row. The only other time the Pens have won two games in a row in regulation came during the first week of the season when they beat Nashville on October 7th and then Washington on the 11th.
---
Thoughts:
Jim Rutherford has never gone all in with the Penguins, and I don't think this will be any different. Following last nights loss after Sullivan said he expected a playoff mentality, only Malkin and Crosby are safe, Darren Dregger confirmed as much. He said Letang was as close to safe as you cna get, but not untouchable.
Matt Hunwick is horrible
GAMEDAY 43
---
PITTSBURGH PENGUINS @ NEW YORK ISLANDERS
BARCLAY'S CENTER. BROOKLYN. NY
7:00 PM EST. ATTSN
---
There aren't many ways to go about this gameday in a positive manner. I laid out the implications of this set of back-to-backs yesterday in the gameday in regards to the standings, and half of the plan worked. The Islanders dropped their game to Philly and the Penguins decided winning two games in a row is just too hard. So now both teams meet in Brooklyn a day after the area got hit with some made up buzzword storm with the winner getting closer to the Wild Card spot, but not in. The Pens are now 20-19-3 after 42 games, they were 20-18-4 after 42 games in 2008-09, so all hope is not lost. Jim Rutherford has never not gone all in during his tenure here and you have to think that going into this game Rutherford will be on the jitterbug and that there is a good chance a trade happens this weekend.
Who could be traded? Plain and simple, Crosby and Malkin are safe, Letang is as safe as you can get but JR will hear offers, everyone else better show how they can help this team moving forward. I'm not going to waste your time with my trade predictions because if JR has shown us anything it is that we can't predict these things anyways.

These are the lines the Penguins rolled with for the most part yesterday, and for the most part they weren't horrible in their first game together. I'm hoping Sullivan sticks with the third and fourth lines for at least one more game, because I can see some good potential with that group. The fourth line looked really good in the opening frame last night as well. One thing that didn't work was replacing Dumoulin with Hunwick, because Hunwick was awful handling top pairing minutes. The Islanders have a group of forwards that can turn a game a lot like Carolina's group did, every line is fast and comes right down the ice. If the Penguins forwards defensive game isn't up to par this game could once again result in a lot of odd man rushes and a long night for Tristan Jarry.
WHO TO WATCH
FOR PITTSBURGH:     Your Favorite Player
Some of the Penguins that play tonight will not be playing for the Penguins by next month. Some of them may be your favorite player. Conor Sheary, dearly loved by fans, could be gone. Daniel Sprong, the next one, could be gone. Bryan Rust, Olli Maatta, Carl Hagelin, none of them are safe because no GM is going to give the Penguins an easy trade. This team has won two championships in a row, that comes with a certain amount of jealousy from other GMs, a jealously that will make them think twice before trading Rob Scuderi for Trevor Daley. It's a fantasy world you're living in if you think Ian Cole brings back a top grade third line center straight up. If this team wants to attempt a true run this year, it will take a shakeup, and there's a high chance that every single one of us will say "what a horrible trade" as soon as it is tweeted, like always.
FOR NEW YORK:     ANDERS LEE
Lee has played 41 games for the Islanders and has an impressive 24 goals and 15 assists so far while playing on the Islanders top line with Tavares. Lee is a sneaky player and always seems to find a way to hide his 6'3″ 231 pound body near the net without a defender around. It is truly an art, and you will definitely see Lee with the puck on his stick within 10 feet of the goal tonight.
---
Final Thoughts:
It doesn't get any more cut and dry than this. The Penguins shit the bed last night in a game that wold've been nice to win, and now have to respond tonight after traveling to New York this morning. A loss puts the Penguins further out of the playoff picture. A win keeps them floating. Until the team can start stringing together regulation wins against teams not named Buffalo, Arizona and Philadelphia, it is tough to expect things to change. The Penguins character on the ice will tell us a lot about where they are tonight, how they respond and start this game will tell you everything you need to know about their overall morale and mentality.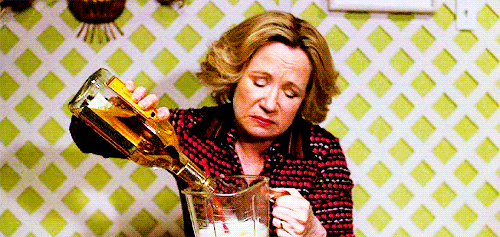 Loading ...