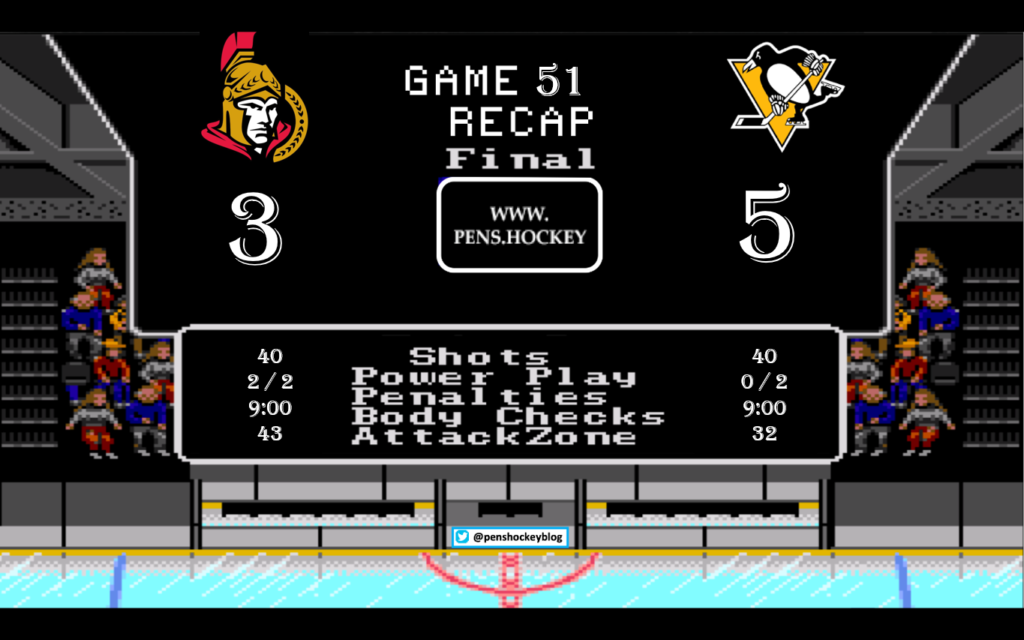 What started out as just your average Friday night during a hockey season, got really interesting really fast when GMJR decided it was time to make his Move Of The Season.
I'll leave most of the analysis to people who are into that kind of thing, but my balls tell me the Pens won this trade. Neither of those guys are Game Changers by themselves, but they're both Solid Guys, and should be able to fit the system better than Brazzers did.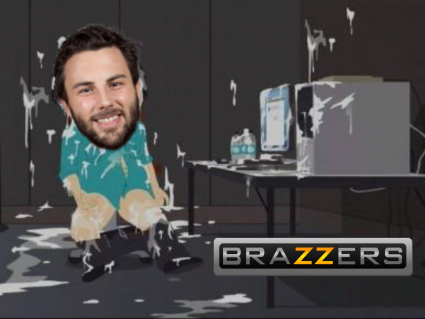 Anyway, the past is the past, and the future is the present and the present is soon the past and… ya know, it's whatever – the point is, there was hockey to be played so let's DO THE THING!!!
Imagine waking up in Sunrise, Florida (what a STUPID name for a city, btw) on Feb. 1 after a bye week, facing the proposition of getting skull fucked at home, again, by the douchy Nashville Predators only to find out that you and one of ya bois will instead be flying on a private jet to play with Sidney Crosby if you can get your ass to the airport quick enough. Oh, and then learning that you were slotting in for the 101st best ever NHLer on the second line. Because that was B-Jugs' day.
And if this isn't the most baller way to first show up to work with your new team ever, I dunno what is.
No real clue if they'd make it, and they show up to the arena 13 minutes before puck drop. You get dressed in all new shit, step on the bench, and be all like, "Yo, I'm B-Jugs, but I'm WAY more into C-Jugs, nahwhadamean? Gimme summa dem smellin' salts, BOI!!!!" or whatever it is that hockey guys say. But I'm sure I'm close.
Pens hit the ice with Intent and were owning the territorial play. Perhaps because Sully put the 4th line on the ice to start, of maybe because the whiny Frenchy was gone, but whatever it was, it worked. And about 3 minutes in, a guy playing in his 2nd career NHL game was gifted a perfect pass from a guy playing in his 1,485th:
Blueger (1) from Cullen (9) @ 3:19
The GIF misses the beaut of a feed from Cullen. It also doesn't include all the work Blueger did on this shift to keep the puck in the zone. I can't believe I'm writing this, but Jay's telestration of this play was fucking marvelous. Blueger won 3 battles just to get to that point, and that release shows us why everyone was excited for him to make the Bigs. Good on you, Blue…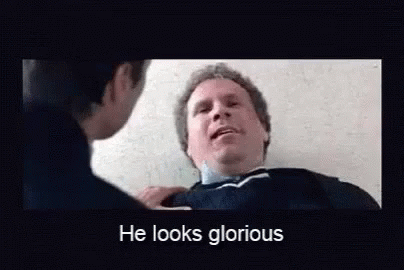 The rest of the first half it looked like the Pens were just going to pour it on. Lots of strong puck movement and quality chances, but no payoff, unlike with my mom, as you are all aware. You sick bastards.
The last ten minutes of the first, though, were an entirely different story, even after Dickzingle played hide-a-puck and was called for delay of game. Maybe because the Pens usually stiff PP has gone so terribly flaccid (0-10), but whatever it was, the momentum shifted. Scramble time ensued. It was pandalerium for a while… until Sid did Sid things:
Guentzel (25) from Crosby (37), Letang (31) @ 17:55
Again, the GIF misses the bigger story. Guentzel, Simon and Sid just OWNED the Senators for the entire shift, 80% of which was played below the goal line. Sid is a magician, of course, but Simon and Guentzel showed that they've been paying VERY close attention to their master. A great display of skill, effort and hockey IQ by all three forwards (oh and LeNorris who was great again tonight).
So while the Pens were uneven in the first, they scored early and scored late and gave us reason to be happy, unlike my mom. Stats after one:

After spending 18 minutes learning his teammates names and telling them his favorite sizzzzurp recipes, B-Jugs hit the ice ready to make shit happen. Meanwhile, his boi, McJ, was busily winning faceoffs like a playa.
Game play was pretty even until Zack Smith decided that Pettttteerrrssson's lil baby chin was far too inviting a target for his elbow. Did I mention that the Pens PP was flaccid? Because it's worse now – it's basically turtling at this point.
Enter B-Jugs. Playing on a line with Kessel and Rust in your first game is a clear path to success. Jugs with the zone entry and Got To Work, though it was the sick feed of The Phil! who made us all go full chub. Well, at least it worked for me.
Rust (13) from Kessel (35), B-Jugs (8) @ 11:36
What a snipe by Rust. Sure he's in a perfect position and there's nobody around him (lol-ttawa) but the shot was absolutely sick and had to get through a couple bodies. Rust is a Big Game Playa, dawg!
Meanwhile, if you're McJ, watching B-Jugs gettin' all the hype, you know it's time to make your presence felt. But as a 4th liner, you only have so many options, usually. So he did the smartest thing he could have and slashed scumbag Mark Stone on the hands. Awwwwww yeah, that'll get the boys fired up – a little PK action…
At least McJ wins faceoffs…
I always say, if your PP is flaccid, your PK might as well be too. Actually I've never said that. But whatever, shit happens. Stats after 2:
Stats show the story of the gradual ice tilt during that period. Pens were doing some pretty good things and owning the FO circle, with the help of the noobs both being over 50%.
Boucher was gettin' crazier all game behind the bench, but Ottawa must have been remembering that they really are the worst team in the league, so they pretty much ignored him. So they just skated around. Aside from Jerkin Johnson's sick pass to Duchene leading to a breakaway which DeSmith stopped Duchene whiffed on. This, my friends, is called foreskinning. *gets dictionary* Uh, foreshadowing.
With nothing else to do, the Pens just kept at it. And about 8 minutes in, Rust decided his first goal was so fun, he'd try it again.
Rust (14) from Kessel (36), Johnson (11) @ 8:05
Shit, and we thought the LAST one was a snipe? Rusty out there bardownsking his way to every rocket's digits in da Burgh!
(Unrelated: that 2nd assist from Johnson would officially be the LAST positive thing Mr. Pancakes would do this evening. More foreskinning…)
With just under 8 minutes to go in the game, B-Jugs was feeling bad about his excellent debut making McJ feel so alone. So he, too, hooked a guy. These two are really into hooking…
And I always say in this recap, that if your PP is flaccid, your PK might as well be too…
But whatever, shit happens.
Speaking of shit, Sully decided that with 5 minutes left in a close game that he hadn't seen enough of Jerkin Johnson's ineptitude, so he told him to go back onto the ice. Likely over Johnson's own protests. "But coach, are you sure? I kinda suck tonight" to which Sully replied, "Johnny boy, you suck every night. Now go out there and put a highlight of what NOT to do on the reel for us to use as an example to the impressionable youth on the roster tomorrow." Mission Accomplished.
Giving Duchene a 2nd uncontested breakaway after he'd had time to figure out what he did wrong on the first one is just not a great plan. Unless you're Jerkin, of course. And I don't know about you, but I'm pretty sure I heard the collective sphincter tightening of the entire arena over the on ice mics. Or maybe that was just mine. We all know it wasn't my moms.
But it was much ado about nothing. Having proved his point (I think), Sully didn't allow Banana Boy back on the ice, so the blueline was solid. And then it was the first line's turn, so Snek figured he'd add to his team leading goal total for giggles.
Guentzel (26) from Crosby 38), Dumolin (16) @ 17:08
This one was soo good, nobody GIFd it so I'm at a loss because I dunno how to work the interwebs so gud. But whatever, shit happens. Also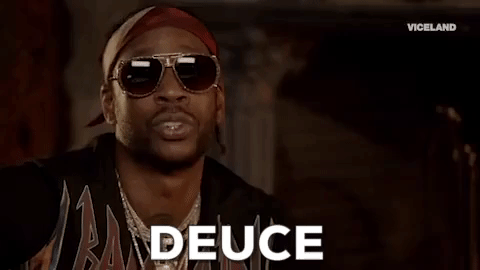 Nice debuts for the noobs. Let's hope their fresh legs help out against…
GAMEDAY 52: Trono Schmono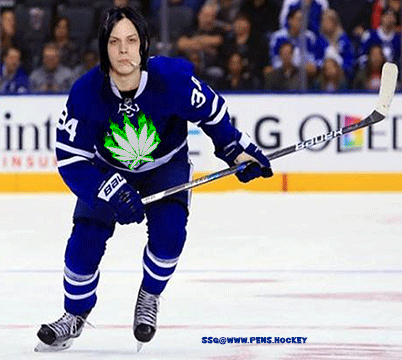 Welp, Trono. They're good. So what…so are we. Let's peek at them first.
They've got this: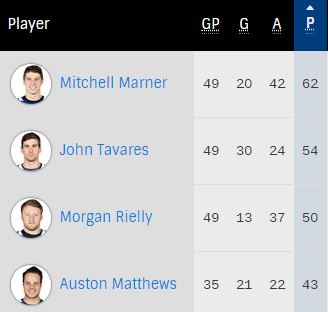 …and this:

…butt…
They just aquired Jake Muzzin (good)…they still have Ron Hainsey (bad) 😀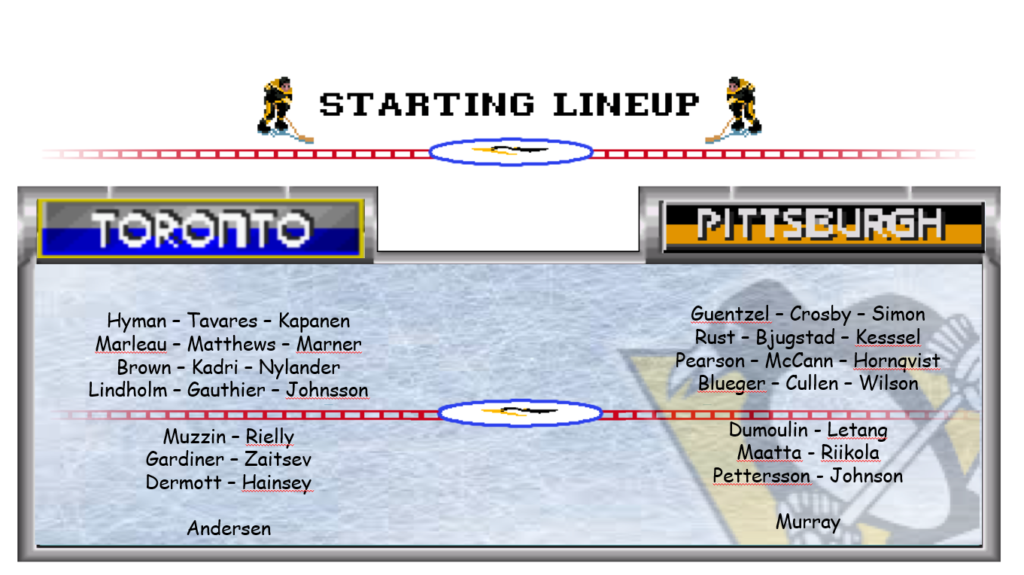 WE on the other hand have this: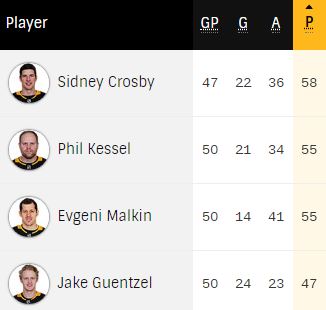 …and this:

WE just aquired Nick Bjugstad and Jared McCann (good) …and of course they'll both have hatty's tonight 🙂
Oh…Trono also has this: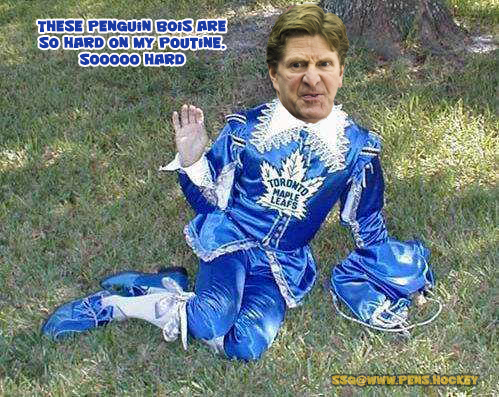 WE have this: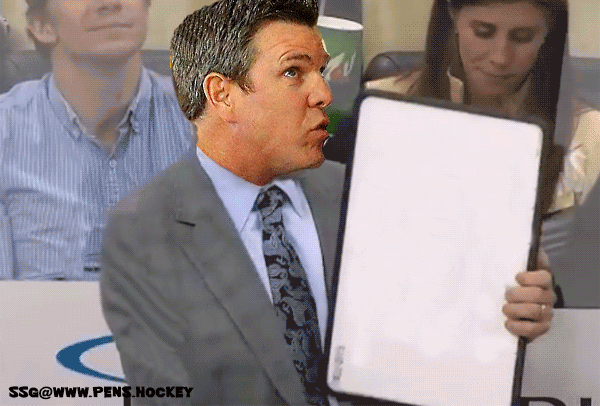 Loading ...