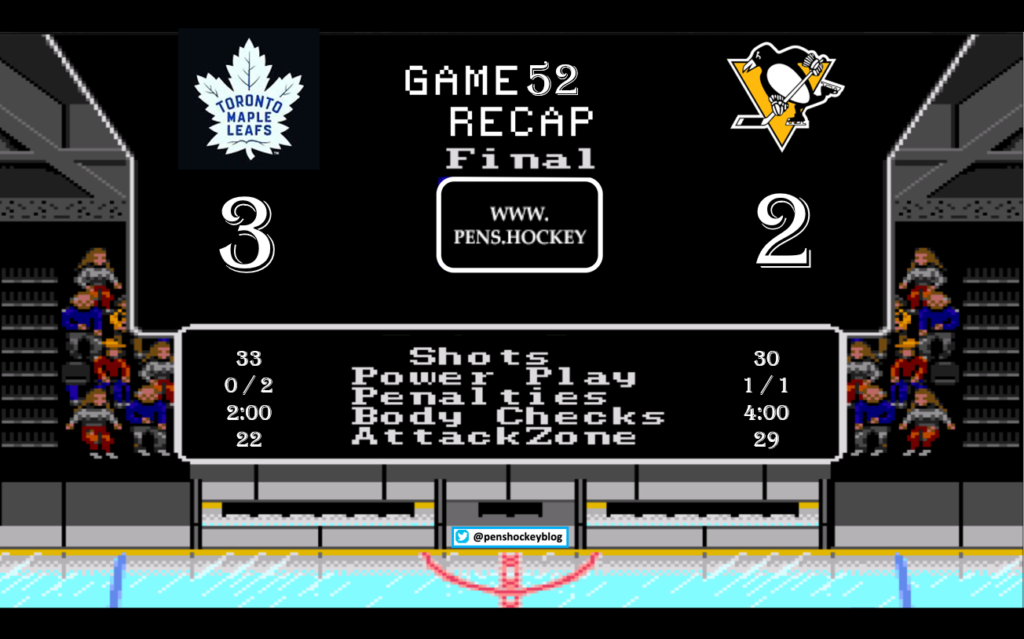 It was the third and final meeting between two pre-season Cup favorites. So far, the road team has won each. While that seems good for the Pens, the reality is that stats like that are just stupid. Every game between teams of this caliber will ultimately come down to two things: hard work and good luck. Since each team was playing the second of back-to-backs, this would come down to who wanted it more. So let's see who wants it more, shall we?
Some quality back and forth with each team getting some quality looks. Kapanen had some significant hop tonight… fire Jim Rutherford.
Then at 10:49, Connor Brown decided to flail around like a moron and whack LeNorris in the face with his stick. 2 mins in the sin bin for being not SMRT.
Since the Pens were 0 – fer – their – last – 12, it was just a matter of time until they broke the streak…
Crosby (23) from LeNorris (32) PPG – 10:01
The one good thing about no Malkin on the PP is that people seem to move around more. In this case, Sid decided to play the role of Malkin and lasered a perfect feed from LeNorris into the back of the net. Quality puck movement, quality people movement… and the PP begins to emerge from its shell. This is also a form of foreskinning.
A few minutes later, Blueger makes the case as the lastest up-and-comer (hehe) to force the coaching staff to make a tough decision this season.
Blueger (2) from Wilson (5), Maatta (12) – 13:20
Blueger? He hardly knew her!
Blueger? More like TWOFER!
Seriously, Blueger now is 2 shots, 2 goals on his career at this point. Wow. And he works hard for it. Again, he went to the right spots. Wilson was a big part of this play, pressuring …. uh, some jobber… into making the wrong play, but Blueger had the hockey smarts to be at the right spot at the right time. And suddenly, everything was coming up roses.
A little while later, around 15:40, LeNorris had a LeGlorious chance, foiled only by LePost. Oh LeWell.
Except… as we see so many times, it seems, one missed opportunity at one end of the rink becomes one not-missed opportunity at the other…
Matthews (23) from Dermott (12) – 17:25
Well shit. Murray had it… but the knuckler just kinda squeezed on through there. C'est la vie, non?
However, I'd love someone to tell me WTF Maatta was doing during that sequence. For a minute, everyone seemed to be covered, but I noticed Maatta was up high, not down low. You know, where the defensemen play. So instead it was The Phil! who 'had' Matthews but then went to do other things. Bad Phil, but worse Maatta for forcing Phil to be down low to begin with. Just a bad play. I really wish Olli and Jerkoff would quit battling for worst blueliner on the team…
Stats after one:

Fatigue was setting in, coupled with the long change, and the Pens were starting to look mortal again. Even Sid was becoming a non-factor, which is crazy talk, generally. Especially when he plays in Canada.
At a few points, you were wondering if B-Jugs and McJ were figuring anything out, even with their great performances in the FO dots.
Dermott (4) from Gardiner (24), Marleau (13) – 9:36
Seeing-eye shot, and Murray didn't. Oh well.
Sidenote: the Leaves goal song is Hall & Oates 'Making my Dreams Come True'. I'm not sure if I want to make fun of them for this or admire their outside-the-box thinking. What I AM sure of is that I don't want to hear it again, thank you very much.
Pens just couldn't get out of their zone. All damn period. And finally, the Hyman broke through. Ironic, I know.
Hyman (9) from Reilly (39), Marner (43) – 16:06
Then with 1:37 left, Peeettterrrsssson got tired and lazy and hooked AssTan FatChews. Because apparently the Pens weren't bad enough with 5 guys on the ice, so why not try with 4? Ugh.
Pens were just looking TIRED at this point, and lucky to get out of the period only down 1, honestly. Stats after two:
Toronto is the only team in the league with an unblemished record when leading after two periods: 23-0-0. I'm not gonna lie – that's pretty damn good. Another non-lie: it's time for your fearless writer to break out the bourbon. You should too. Go ahead… I'll wait to write anything witty until you get back.
OK, so you took a while, so let me tell you what happened…. lots… but also nothing. No penalties, no goals, no woodies, no nothing. Sid looked worn out. Hell, they all did. They pushed hard at the end. Murray played well. Horny was tenacious. Some good things happened.
But ultimately, it wasn't enough. And that's just what happens sometimes. Sometimes you break through the Hyman, and sometimes the Hyman breaks through you. It's times like these when I rely on my good friend, bourbon.


Loading ...