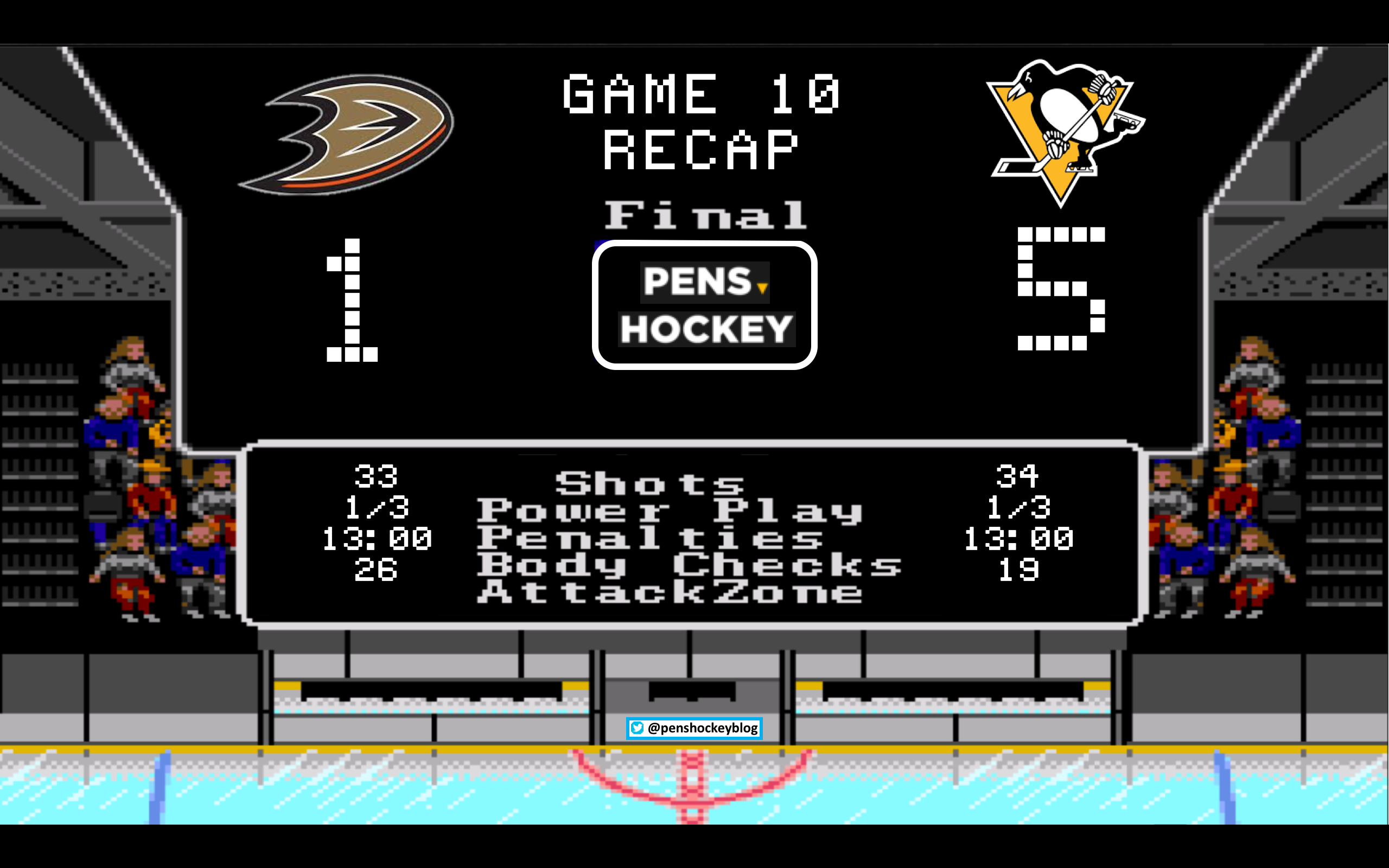 The west coast swing sucks, but so do the Ducks so that somehow works out. In a back-to-back situation on the road the Penguins did exactly what you would want them to do, win the current game early and save bodies for the second game. Stat line for the game is here, spoiler alert, the Penguins dominated. We are doing things a litttttle different with this post since there is another game today and we like to minimize the amount of posts in one day. Due to theses circumstances, this is going to be the first every RecaGamedap Post, ReGameCapDay? Whatever in the hell you want to call it. In the Gameday post of the first meeting between the Ducks and Pens I mentioned that the Ducks would most likely make the playoffs only because of their weak division, 11 games later I am saying I was wrong, if this team continues playing like they have in the first 11 games they will not make the playoffs. Quick recap of the games scoring before we prepare for the Kings.
Evgeni Malkin (6) assisted by Kessel (7) & Kunitz (5) @ 7:41
This Kunitz-Malkin-Kessel line is something else right now. I can't remember the last time Malkin was set up for a one-time slap shot like that, and he didn't waste any time burying that.
Matt Cullen (3) assisted by Sestito & Fehr @ 10:24
On his 40th birthday Cullen decided to celebrate by not acting as surprised as the rest of us were that Tom Sestito just threw him a perfect behind the back cross-ice pass for a one timer. Two goals from almost the same shot, perhaps the Penguins did their homework in the scouting department. Also, Tom Sestito played hockey. The Pens are in a spot where their enforcer is throwing back hand no-look passes… look out.
Cam Fowler assisted by Vaanen & Kesler @15:49 PPG
Perfect shot from Fowler here, about 12 inches off the ice and through all sorts of traffic left Murray guessing. Pens penalty kill still below what we were seeing last season, as they are currently below an 80% kill rate.

Bryan Rust assisted by Bonino (3) & Letang (3) @ 16:42
This is the type of goal you love seeing from Rust. He has been struggling a bit in the early season, and so many times I've heard coaches say "he just needs to get a dirty goal to get going," and that's exactly what he did. Completely forgot about no-shave November.
Kris Letang assisted by Schultz (3) @ 1:27 PPG
Welcome back Letang. Instead of having 1 defender on the power play the Pens started with 2, and Schultz earned his spot with his power play time while Letang was out. Not too often you see two defenders carry the puck down low and set up a play like that, just dissecting the Ducks penalty kill in one swift motion.
Patric Hornqvist (4) assisted by Crosby (2) & Hagelin @ 7:14
Good lord that vision by Crosby. What a feed to Hornqvist, who shows Hagelin what you're supposed to do when Sid gives you a pass like that. Credit to Hagelin for following his missed shot though, and he made a nice pass to Crosby who never stopped moving on the play.
Sullivan told the boys to rest in the third, and they did so without surrendering a goal. Solid performance by the Penguins in this one.
---
THOUGHTS:
Every Penguins forward in the lineup was a +1 in this game
Schultz and Cole were the only players that didn't finish with a positive +/- rating (both finished at 0), and Dumoulin and Letang were each a +3
Murray was relatively rust free in his first game back, good to see
Also good to see the Penguins absolutely handle an inferior team, great effort overall by the entire team
Oh, and Geno loves taking penalties this year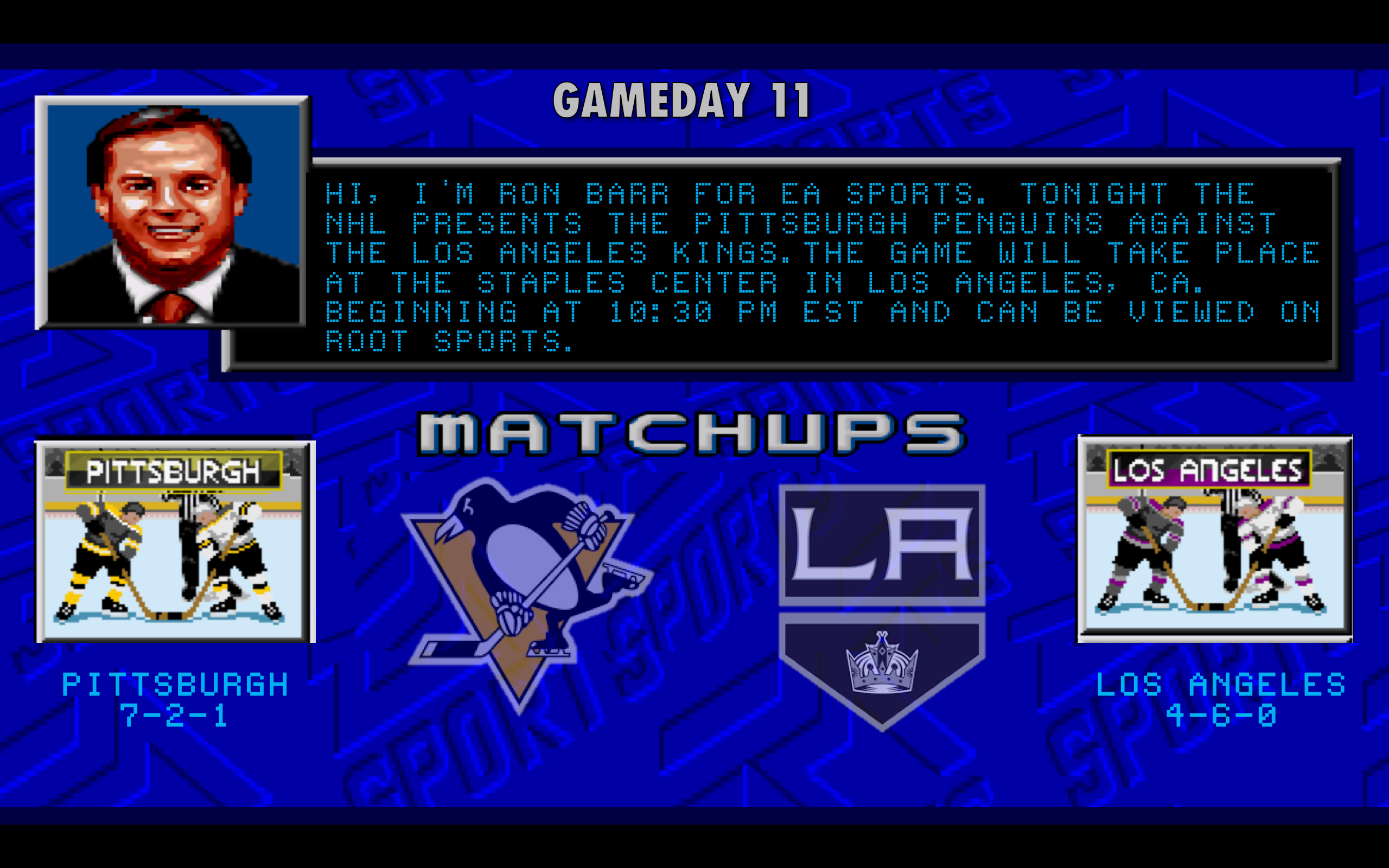 After the win last night, the Penguins will continue their west coast tour in Los Angeles tonight to face the dethroned Kings. The kings have lost their last 3, and they haven't scored a goal in those 3 games. All 4 of the Kings' wins this season have been overtime/shootout victories. When Jonathan Quick went down with an injury at the beginning of the season the Kings turned to last year's blog-hero Jeff Zatkoff, but then he decided to get injured as well. The Kings now have Peter Budaj in net. The only memory I have of Budaj is from when he was with Montreal and Fluery almost squared off with him, it was later told that Budaj practices martial arts, but he probably would've still lost to the power of the soul patch. The Kings will also be without Marion Grabadick who is out for injury. Los Angeles, like the Pens, is also celebrating their 50th anniversary season this year, but they missed out on a golden opportunity to bring back the yellow and royal purple jerseys. Of course they could've gone with these burger king uniforms: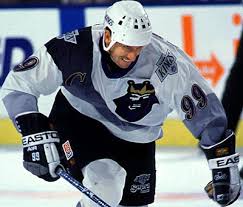 But we all know there is only one king of burgers playing tonight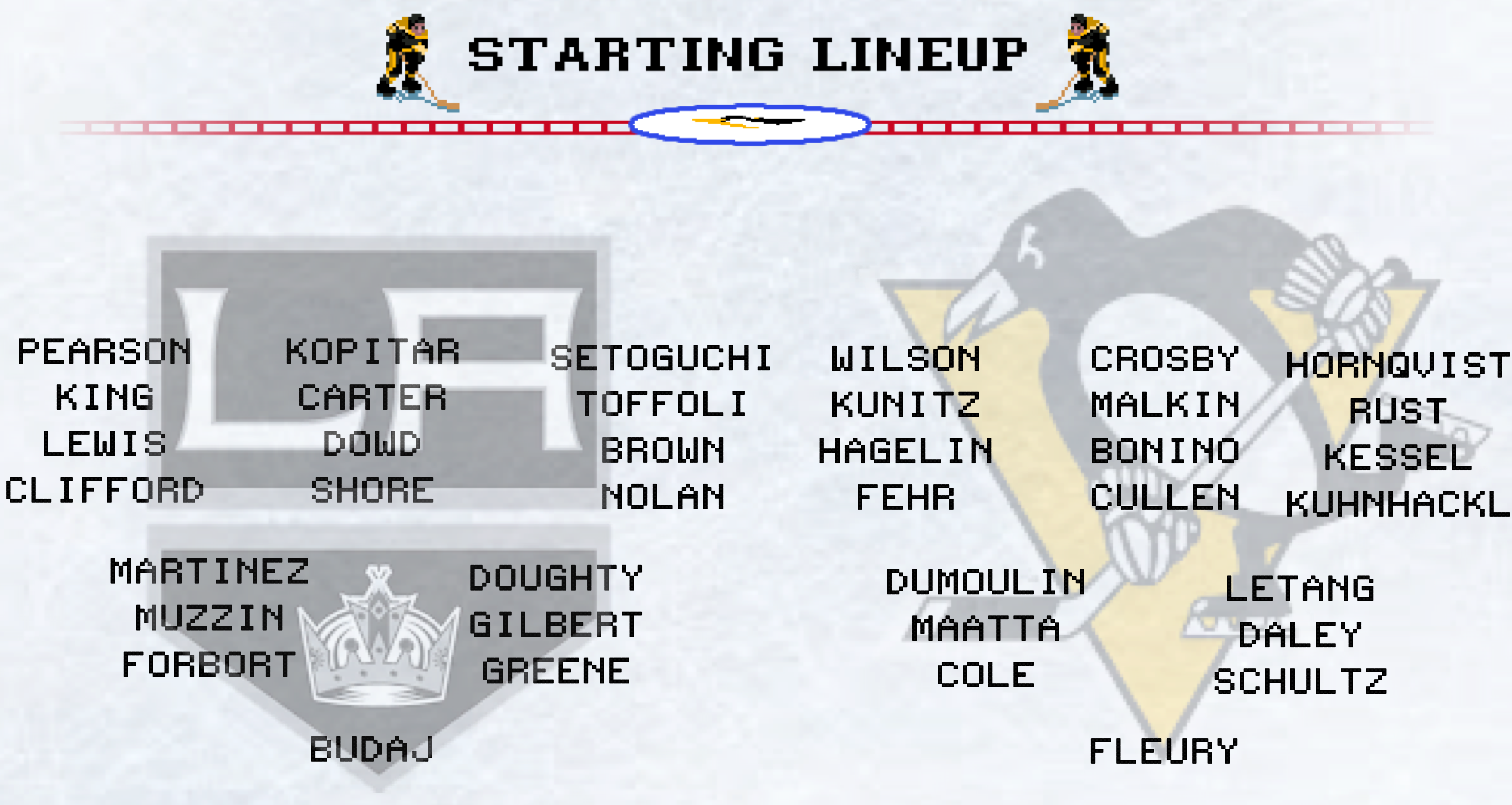 Current Kings state: Devon Setoguchi was on a PTO with the Kings this offseason after battling a life of addiction the last 2 years, and he is now on their top line. Drew Doughty will get a chance to show Kris Letang how a Norris Trophy winner should play the game, so hopefully Letang takes some notes. Fleury most likely in net tonight since Murray played last night, and I would assume Kuhnhackl will play over Sestito. The Penguins have a great opportunity to put the Kings away and claim a rare 4 out of 4 points in back-to-back road games. The Kings have had a few days off and will come out firing, but they are severely depleted due to injuries and bad management, so as long as the Pens can find their legs early they should have the advantage.
LET'S GO PENS!!

Figured we would still put this in at the end. Same concept as last game, the lines are going to be numbered here and then a poll will be inserted (yeah, I went there) for your wonderful votes! Don't forget to play for tonight's game!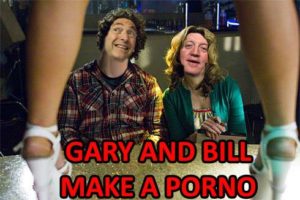 Doan be shy Ladies and Gents...Step right up and PICK YER PORN!
5) "They wanna bang you like they bang you." — Errey (50%, 12 Votes)
8) "Putting some guys in some uncomfortable situations, but you're hoping to get the best out of them." — Errey (17%, 4 Votes)
1) "Matt Murray is cleaning the snow around his crease." — Errey (13%, 3 Votes)
6) "You see Crosby comin' hard with speed." — Jay (8%, 2 Votes)
2) "Boy, Stoner had the stick between Rust's legs." — Errey (4%, 1 Votes)
3) "He took 29 last night." — Errey (4%, 1 Votes)
7) "Look at Bonino, dangling on the blue line." — Errey (4%, 1 Votes)
4) "It's so hard." — Errey (0%, 0 Votes)
Total Voters: 24

Loading ...

The Kings have only 1 player with more than 2 goals at this point in the season. Without Google-cheating : / ….can you name him? (ANSWER will be confirmed later : )
Anze Kopitar (40%, 8 Votes)
Tanner Pearson (20%, 4 Votes)
The ghost of Wayne Gretzky (15%, 3 Votes)
Tyler Toffoli (15%, 3 Votes)
Dustin Brown (10%, 2 Votes)
Drew Doughty (0%, 0 Votes)
Total Voters: 20

Loading ...
One moar fer the road…FRKen babies need a time out?
Grow FRKen up already…yer 11 games old!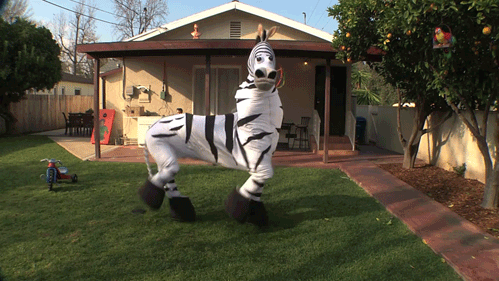 Who will be the first Pens player to take a stoopit (stick infraction) minor penalty tonight?
Malkin (68%, 15 Votes)
Kunitz (18%, 4 Votes)
The ghost of Matt Cooke (9%, 2 Votes)
Cole (5%, 1 Votes)
Rust (0%, 0 Votes)
Wilson (0%, 0 Votes)
Total Voters: 22

Loading ...