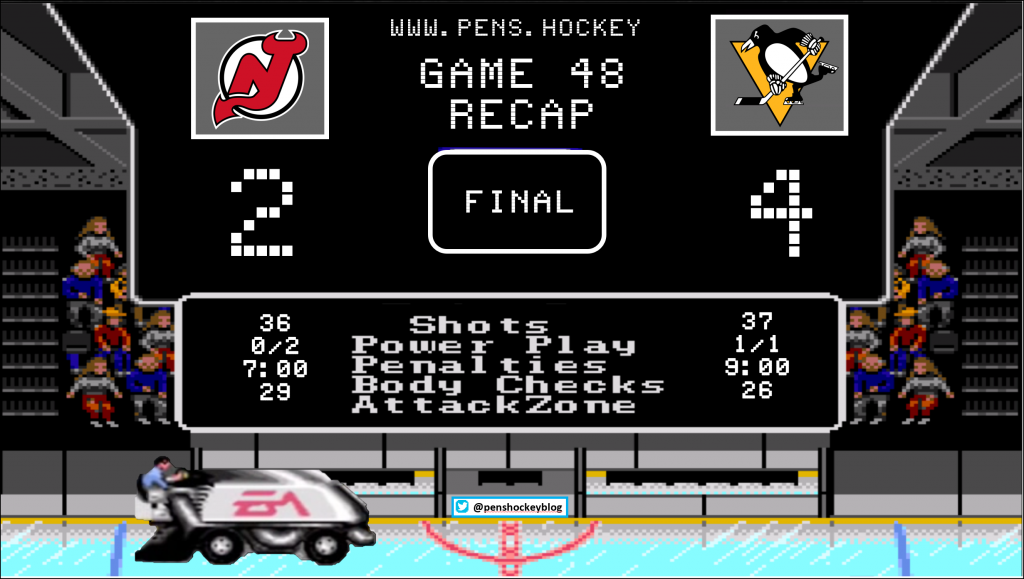 With the prospect of facing the Broons tomorrow, the Penguins chose to start DeSmith today. Considering he'd been a sieve in the last four games, losing 3 of those and winning one 6-4, it was probably the right call. No other changes, so let's get going!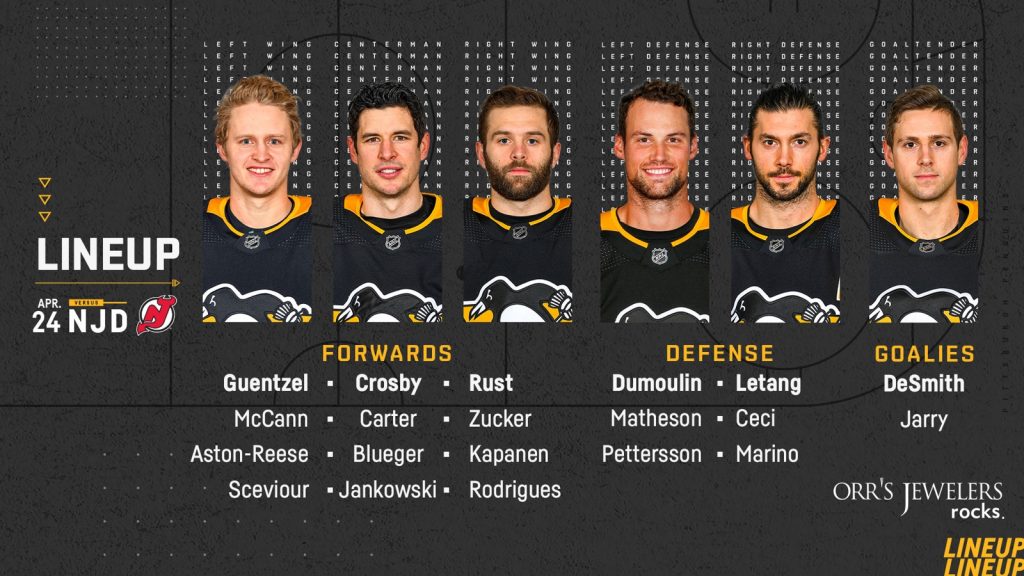 The game began fitfully, with neither team able to really establish much of their system. That said, the Pens would be content with rolling lines, relatively short shifts, take no unnecessary chances and wait to pounce on an inevitable mistake from the younger Devils.
To the Devils credit, they, too, seemed content to take what was available and not force play. Oh, and they were playing a 1-2-2 which is fun when the Pens do it because they have such a great transition game, but less fun when you're watching your team unsuccessfully try to break through time and time again.
The Pens tried different things, and were able to get into the zone in stretches, but it seemed like one and done was the standard for much of the opening 10 minutes.
Towards the end of those opening 10, the Pens would get their first great opportunity and Carter wasted no time once again.
Carter (10) from Zucker (6), Matheson (11) – 9:41 – EV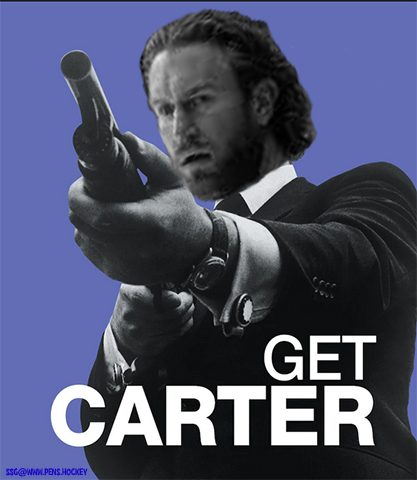 Sweet little move by Zucker to bring it to the middle, and nice of him to slide it a few feet to his new teammate for the opportunity. I don't care if he's 36, Carter can still shoot.
A couple minutes after the Carter goal, Son of Johns decided that Kapanen was too fast to cover so he tripped him. Time to stroke the PP!
And stroke it they did, using only 24 seconds of their allotted time to double their lead.
McCann (13) from Guentzel (30), Letang (32) – 12:50 – PPG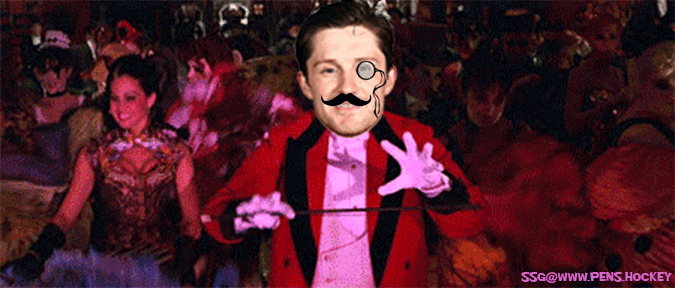 Great movement, great shot, great nose for the net. Which brought up an interesting point on the broadcast. McCann leads the team in PPG with 7, and has only been on the top unit since Malkin got hurt. That's tits. But what do you do when Geno is back? Can you justify taking McCann off the top unit? I think Sully ultimately will, but it's a tough call. Consider that one of those good problems to have that I hear so much about.
The rest of the period happened. I know because I watched it. I don't remember much because I wasn't taking notes, I just know nothing of any particular interest happened or I would have remembered. Probably.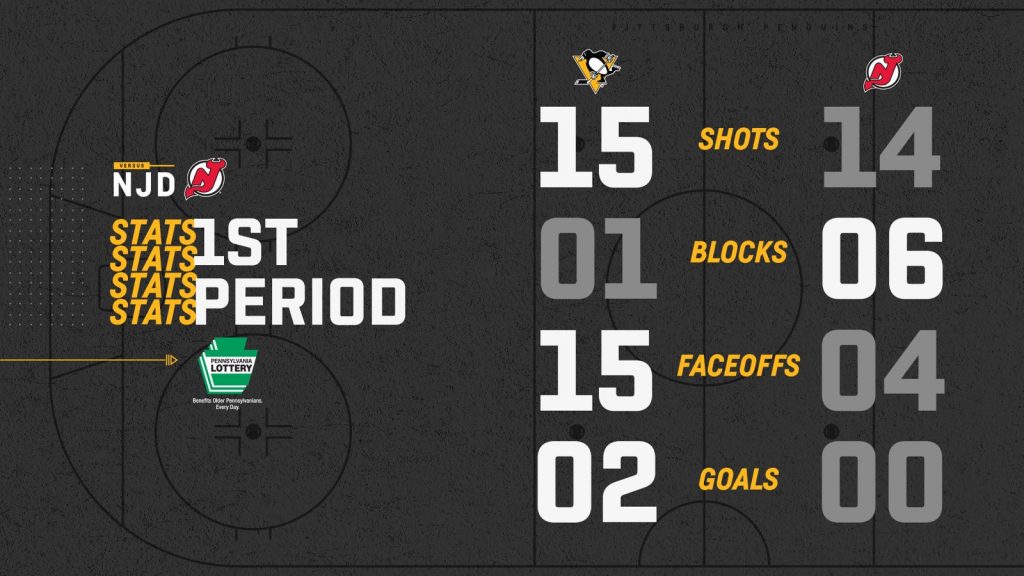 Just a few minutes into the period, Blueger and Kapanen would collide awkwardly in front of the broke his face. FFFFFFUUUUUUUUUUUUUU. And to add insult to literal (potentially) injury, Rust decided to hold another Devil. Maybe he sold his soul for his scoring touch and holding Devils is the price? Yes, I know that's stupid.
Kapanen down the runway while the PK would take the ice and do it well. A few looks, no goals. In fact, it was Blueger with the most dangerous shot of the penalty on a breakaway hitting the post. Honestly, how do they let Blueger go to Seattle? You have to think if he's unprotected he'd be the no-brainer choice of the Kraken. Young, inexpensive and setting new career highs each season. Pens better do the right thing or UNG GET MAD!!!
Anyway, the killers killed it and the full compliment would take the ice once more. And keep pressure in the Devils zone. And do it again and again until off a faceoff win from the Captain, Ceci would waste no time putting the puck on net and bing, bang, boom 3-0
Rust (20) from Guentzel (31), Ceci (13) – 7:30 – EV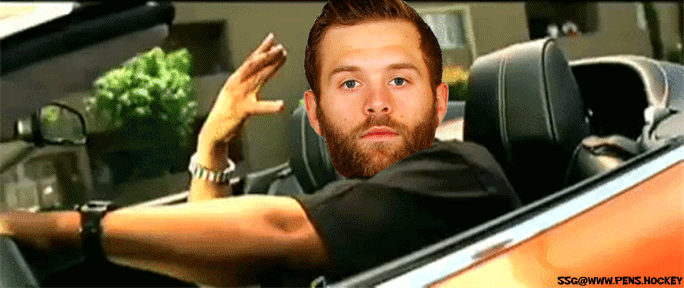 Great faceoff play, good job by dudes who know where to be going to where they should… be.. going to? You know what I mean This is what they mean when they say puck luck is earned.
Side's line would come out and have a couple nice chances, but ultimately it was a play heading the other way that would end their shift.
Rust looking to the heavens after that because THAT was just a bad bounce. Happens. 3-1 good guys.
More up and dahn, back and forth if you will, when with about 4 minutes left a freshly stitched up Kappy Von Kapanen would return to the bench and then the ice, slotting back into his 3rd line spot and not missing a beat. That was the last of the highlights and the Pens would and this period like every other period this week against the Devils – in the lead.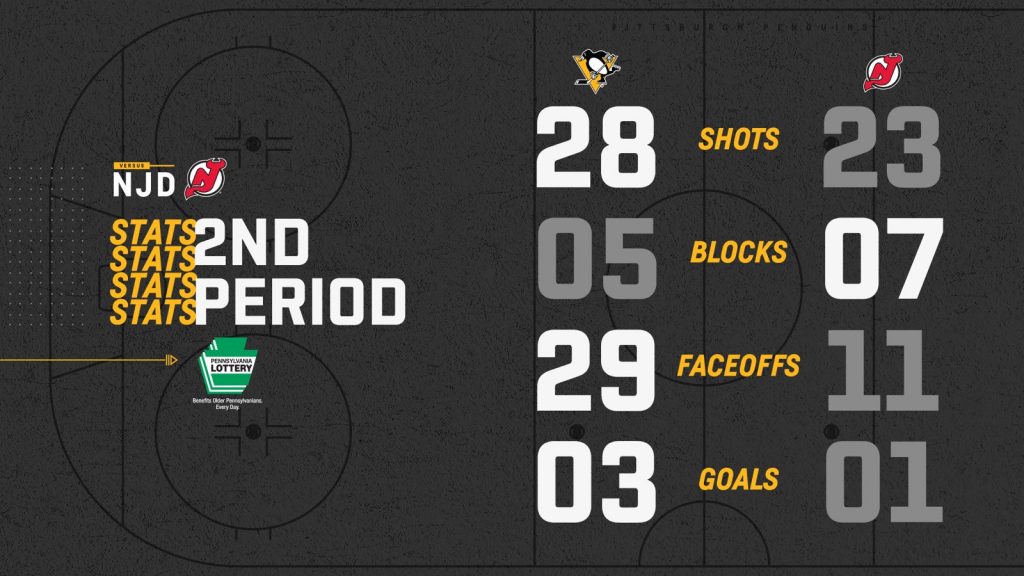 After an uneventful first shift, the Carter line would have a chance but ultimately end up chasing back into their own zone. DeSmith would take an opportunity to pretend to be like Jarry and pass the puck… poorly. That bad pass through a D-man's legs almost cost him, but he got back into position in time to thwart Hughes.
The Blueger line and the Sid line would follow up and keep pressure on the Devils for a while, until Marino would try some fancy dancy pants moves through everybody, with all of his forwards flat footed at the blueline waiting for him to do something, and lose control. Not great, Johnny. The rush the other way caused shenanigans with flightless waterfowl sprawling along the ice to try to stop it, which they did. Crisis averted.
More up and dahn and the Devils would get a couple looks, but each time there was no traffic, generally thanks to Dumo, and DeSmith would make easy work of their shots. Dumo for MVP. No, I'm not kidding.
Devils really started bringing it the further along the period went. So when Sid and Jek found themselves with a 2 on 1 it would have been really awesome if… dammit. Sid, showing that even the greatest player in the universe can make a mistake from time to time, passed the puck BACKWARDS trying for Jake. D-man broke it up and that was that.
Except that wasn't that. The Devils would drive it back the other way and get a shot on goal and a OZ faceoff. That they would win. And make a few great passes until Porn Wood would have a yawning cage to aim at. He didn't miss.
And suddenly a game that the Pens were managing comfortably is becoming a clench fest. Lovely.
The Pens were able to keep the even up goal out though. And then with 5 minutes left, Zucker, who actually has been pretty noticeable most of the game, blew up the new Student(ic) of the game, introducing him to how an NHL player can hit.
Merkley came over to fight Zuck, but Zuck didn't give a SHIT and they would have a largely pointless tussle. Which is smart because Zucker is here to throw pucks at the net, not right hooks at some douchey Devil. The 'combatants' each would head to the sin bin for five anyway, probably because of lack of fights in the league has refs itching to call anything a fight. By the way, has anyone missed fighting?
The Pens were revitalized by the dust-up, which was neat, but still seemed to be playing mostly in their zone, which was decidedly less neat, at least according to my butthole.
Yet still time ticked down. And with 100 seconds, the Devils would yank their (Black)wood for an extra attacker. Pens would keep it out… and get it in… but just zones, no goals. The Devils would push it in and get a goalie stop and take the timeout with 52 seconds left.
Sid would win the faceoff and a battle would ensue. The Devils NEARLY had it, but HeSheetTheBedEEEar pushed it wide, and Sid would push it 200 feet with .01 on the clock for his 20th.
Crosby (20) unassisted – 19:59:59 – ENG – TROLOLOLOLOLOLLLLL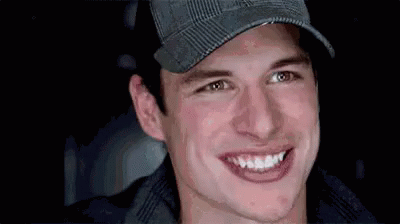 GAME BITH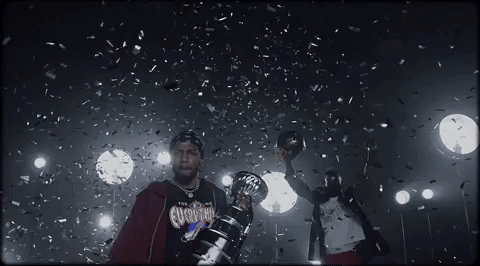 Thoughts:
Another (mostly) dominating performance against a team they should dominate, that's what you need to see with eight games left.
Dumo is just the best. Period.
That said, Dumo and Letang each played over 26 minutes today, while Johnny and Petey each had less than 16. With Boston tomorrow, that's sub-optimal.
Carter looking more comfortable each game, commence fapping.
With the ENG Sid guaranteed at least a point per game average every year he's been in the league, which is 16. The only player to do that longer was Gretzky (Lemieux just missed with 9 points in 10 games in his 16th season).
Also with that ENG, the Pens set a franchise record for most empty netters in a season. A WHOLE season. This is game 48. Continue fapping.
Your Pittsburgh Penguins are now in 1st place in the division for the first time this season, with eight left to play.
Which brings us to…
Gameday 49: Bring On The Broons!!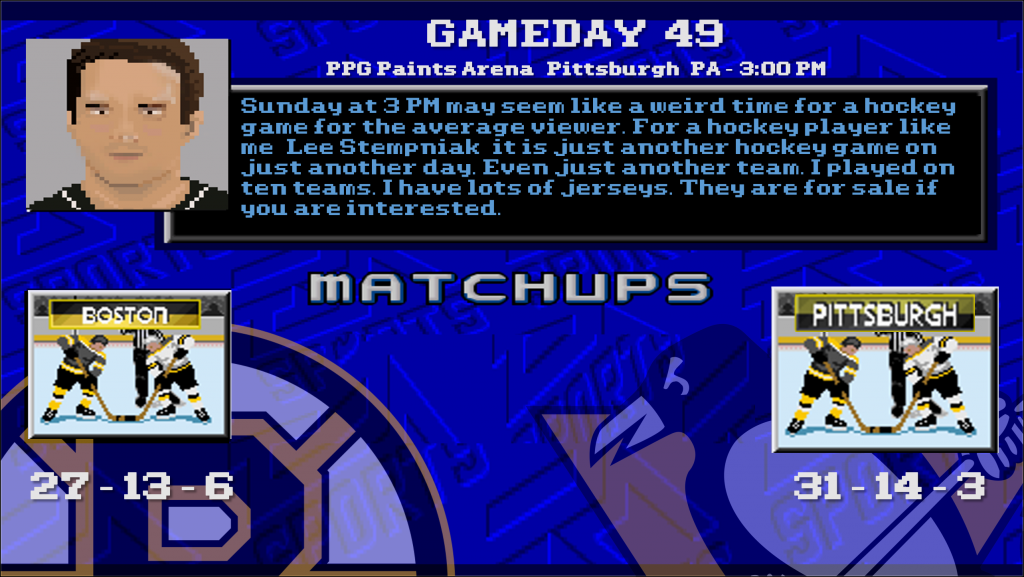 No rest for the wicked, or so the saying goes. I think it's a stupid saying and I also think it's stupid to have back to back Saturday / Sunday daytime games against division rivals with two weeks left in the season but the schedule makers didn't consult me. The good new is that this is the Penguins final daytime game of the season.
It's also shaping up to be a very very important one. The Pens are 2-3-1 against this Boston team – a team they traditionally have a difficult time with. And while the Penguins have been moving up the standings, the Broons have been hot on their heels winners of 7 of 10 including six in a row. While their win streak was snapped on Friday in Buffalol, they're getting dangerous at the right time, and healthy to boot.
OK, mostly healthy. Dailyfaceoff had Bergeron and Halak as DTD, which is interesting. Oh, and this will be the first time the Pens have faced Taylor Hall as a Bruin. Apparently that's a big deal or something since he has 6 points (3G/3A) in seven games with his new club. Tell me when to start giving a shit, please and thank you.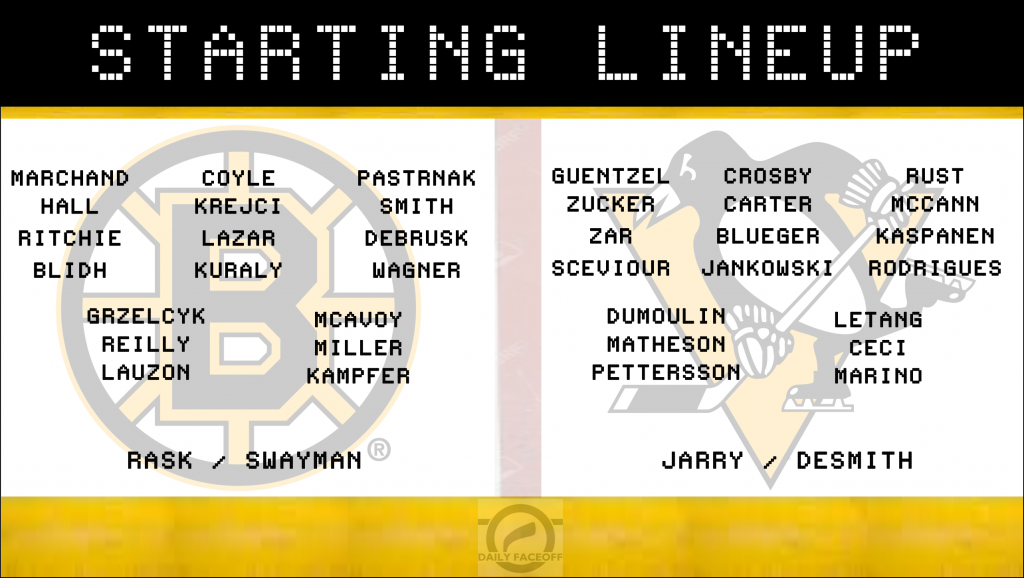 Another interesting note on Boston – they've used four goalies this season, and the Penguins have faced three of them. I had no clue until a minute ago that some dude named Jeremy Swayman has been playing lately… and playing damn well, going 5-1 with a 1.65 GAA, .943 SV%. It looked like Rask was back, but he didn't play in their last two games so chances seem pretty high the Pens will be seeing this Swayman dude soon. Fantastic.
But you know what? It doesn't matter. The Boys have been pulling it together lately. Carter has been playing some big time spots as a quality 2C stand-in for Geno, leading me to think that he'll deftly transition to 3C upon Geno's return which would be super awesome because that means Blueger would be the greatest 4C in the NHL, bar none.
Also, have you seen Kapanen (at least before the faceplant)? The dude is flying and hasn't missed a beat. He'll make lineup calls tough for Sully & Co. in a hot minute here, which is great.
We don't need to talk much about Sid's line, all three of whom are 20 goal scorers now, but they have certainly set the tone and are relentless every shift. Dumo has been a rock. Letang has been chill aside from when he had his noggin scrambled leading to that historic(ally bad) third period against the Devils last Tuesday. Marino and Pettersson are even stepping up, not that they need to do much because Matheson and Ceci have been so solid.
OK, granted – the last three games were against one of the worst teams in the league, but you have to make hay while the sun shines and the boys have been out there making hay a-plenty. To the tune of most goals scored in the league, and a goal differential of +33. Also, the powerplay currently sits at 8th in the league.
In short, they are clicking at the right time and can hopefully keep that going into May… and perhaps even Ju… dammit, I am NOT a prognosticator!
Just beat the Broons, k? And you, sitting there reading this… you've already wasted most of your weekend. It rained so you can't cut the grass anyway. And the honey-do list can wait a week or a month or whatever. Just relax and let the Penguins do the work for you.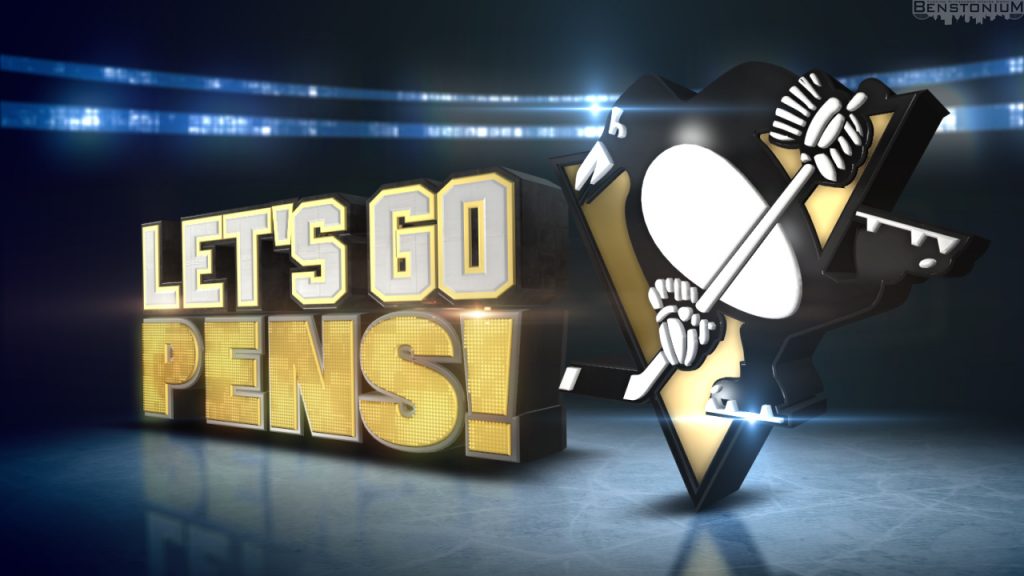 Loading ...