Since we kind of got thrown into this whole blogging situation during the preseason we never really got a chance to evaluate the Penguins as an organization. I thought maybe this would be a good time to share some views on the depth of the organization since we have some time off. We are going to attempt to break down the Wheeling Nailers, Wilkes-Barre Scranton, and then the Penguins and what the future holds for the organization. After typing up a rough draft of this post it became apparent that we needed to divide it up into sections in order to accommodate our readers attention spans and to give us ample time on each aspect of the franchise (you're welcome, because it was like George RR Martin long, minus the deaths, except for Eric Tangradi RIP). In evaluation of the farm system we will lay out a general overview of the team, a brief word on their current season, and then who the most impressive/likely to climb the ladder players are along with a little bit of detail on what they bring. For help with the farm system I have asked some friends that are closer to the individual organizations for some help, and will introduce them along the way. This specific post is the first of our three part series, and will focus on the Wheeling Nailers.
---
WHEELING NAILERS
This section was written by my good friend Pat Damp, of PAT and LEAH have a hockey podcast. Follow him on Twitter @SynonymForWet (get it, his last name is Damp). Pat works closely with the Nailers and is as close as we could get to the organization, frankly after reading his piece it's as close as we ever need to get. He was more than willing to type up this summary of the current organization that I feel most of us don't get informed enough about, take it away Pat:
The Wheel Keeps on Turning – Wheeling Nailers Update
By: Pat Damp
The Pittsburgh Penguins ECHL affiliate, the Wheeling Nailers, are just over halfway through their 72-game season in 2016-2017. This year marks their 25th season in the ECHL making them the longest-standing team in the league. Several teams in the league have existed far longer, but no team has been in the ECHL longer than Wheeling with 25 years.
Wheeling currently sits 3rd in the North Division with a 23-14- 3 record, good for 49 points. The ECHL has adopted a strictly divisional playoff format, so if the Kelly Cup Playoffs started today, they would face the 2nd seeded Reading Royals, Philadelphia's ECHL affiliate. It's been an up and down season for Wheeling after their miraculous run to the ECHL's Kelly Cup Finals last June, their first since 1992, their inaugural season when they were known as the Wheeling Thunderbirds.
Going Streaking
At the present moment the Nailers are on a six-game win streak, including a 7-6 overtime track meet against the ECHL's leader Toledo Walleye. Much like their NHL counterparts, there has been no shortage of offense. They have scored 32 goals in the process, being led by ECHL Player of the Week for January 15-21, Christian Hilbrich. During the streak, Hilbrich has scored 8 goals and added 2 assists for 10 points. EDIT: The Nailers dropped their game against Kalamazoo 5-4 Sunday night ending the streak at 6.
Getting the Call
Wheeling has sent more players to the NHL than any other ECHL team. Pittsburgh has truly bought into the developmental model. This is evident when people like Billy Guerin, Mark Recchi, Jason Botterill and Erik Heasley are no strangers to the Nailers home rink, WesBanco Arena.
The Nailers currently have two players on professional tryouts in the American Hockey League. Defenseman Brett Stern has been quietly impressing the Wilkes-Barre Scranton Penguins and opening night captain and third-year forward Derek Army is currently on a PTO with Nashville's AHL affiliate, the Milwaukee Admirals. These two are far from the only ones to get the call this year as forward Nick Sorkin saw time with Anaheim's AHL affiliate, San Diego and forward Garrett Meurs was signed to Milwaukee. Along with that players like defenseman Michael Webster and goalie Doug Carr saw time with WB-S.
Lastly, forwards Jarrett Burton and Adam Krause began the year in WB-S, but are now making the best of increased ice time with the Nailers. As head coach Jeff Christian calls it, "The Ever-Changing Hockey League."
Having a Game Plan
In May 2016, Jeff Christian started off as the belle of the ball, taking the team over in the second round of the 2016 Kelly Cup Playoffs, making the Kelly Cup Finals and falling just two games short of Wheeling's first title.
The 2016-2017 season didn't start as optimistic as the team stumbled out of the gate, winning only two of their first five in October, with one requiring the shootout. However, with the help of assistant coach Riley Armstrong, Christian has quietly built a team that can skate with the best of them, but not lose the edge that Wheeling teams are known for. The fights are way down, but the team has not lost its physicality. Like Pittsburgh, the Nailers are tenacious on the puck and swarm defensemen in the offensive zone. "We want the guys who want to work. Guys who want to come here and invest in themselves. It's a process," Christian said in July when he was formally named head coach.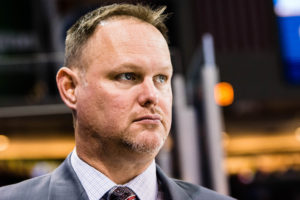 A Youthful Defense
The Nailers team that qualified for the 2016 Kelly Cup Finals had plenty of ECHL veterans that have since moved on to AHL deals, or gone overseas to play professionally in Europe. This year, Christian and Armstrong have built a team that's required some on the job training. The Nailers have seven rookies on their current roster, but watching them, you'd have no idea.
Most notably, all-star defenseman Kevin Schulze, who joined the team late last year from the University of Wisconsin, is leading the defense with 34 points (7G, 27A), which is also good for second overall on the team.
Joining Schulze on the blue line are players like Michael Webster, who has been a two-way, puck-moving defenseman on an AHL deal, Ryan Segalla who has provided a physical presence and Ross McMullan who has stepped up as a stay-at- home defenseman with call ups and injuries. These first-year pros have proven valuable to a team that's developing an identity as a contender in the ECHL's eastern conference.
Maguire is Fire
Pittsburgh knew they were getting a talented goaltender when they drafted Sean Maguire out of Boston University. He started the year with an injury, but he has been an absolute rock in net since joining the team in November. In 16 games Maguire's collected two shutouts, a 9-5- 1 record and a .913SV%. The save percentage is not one that will raise eyebrows, but Maguire has been steady. The injury and call ups came as expected in December and January, but Maguire has been a consistent presence in Wheeling's net. With already so much depth at goal, put Maguire's name in the ring with Murray, Jarry and DeSmith.
The Nailers are a very fun team this year. Mixing speed and skill with physicality. They're just a short drive from Pittsburgh, hop on 376, exit to 79 then 70 and in just over an hour, you'll find yourself in The Friendly City.
As acting captain Nick Sorkin said: "We're having a lot of fun."
---
The farm system of teams is often an overlooked and forgotten about part of a franchise, and I know that that happens a lot with Wheeling. If you're in the area, or want to see some good cheap hockey, do yourself a favor and check out a game, it's like $23 for great seats. As Pat mentioned above, the Nailers are doing a really good job of grooming players into AHL players, which is the purpose of the organization. Obviously not every player that goes through Wheeling and into the AHL will go straight to Wilkes-Barre, that's the nature of the beast and the consequence of short contracts, but Wilkes-Barre also gets an excellent scouting report and their pick of the roster if they wanted it.
The farm system for this franchise has been built with a solid foundation, which we will get more into in the Wilkes-Barre Scranton article, expected to be out in later February when the Pens have a few games off before the Stadium Series. Current grading scale of the Wheeling farm system:
Thank you so much to Pat for such an in depth view of the Nailers organization, and let me know in the comments if you guys dig this type of information about the farm system, I think it would be cool to do a "check the pulse" section every 3 months or so. Finally, we have about a month before the Wilkes-Barre article comes out, so if anyone would like to contribute or knows people in the loop like Pat is for Wheeling let me know!