It's been talked about relentlessly this off-season, "when are the Pens going to make a trade for a 3C?" Everyone has their opinions, options, and dreams. A lot of fans are dead-set on Matt Duchene. While adding a once 30 goal scorer to your third line is usually never a bad idea, this may not be the team for him.
Here is a brief look at the Penguins 2016/17 campaign courtesy of sportingcharts.com

The three greens are all in offensive categories as the team finished in the top 5 in goals per game, powerplay percentage and shooting percentage. Following the draft and free agency the powerplay has not changed and with a newly confident Schultz and healthy Letang, look out. The goals per game number and overall offense lost by free agency took the following hit:
Nick Bonino (18 G, 19 A), Chris Kunitz (9 G, 20 A), Matt Cullen** (13 G, 18 A), Trevor Daley (5 G, 14 A), Tom Sestito (2 A) for a total of 45 goals. Removing those 45 goals would put the Penguins at 2.82 goals per game, which would still be above league average and would've ranked 13th last season. Of course the addition of Ryan Reaves will recover at least 30 of those 45 missing goals. Removing 45 goals from the roster seems like a lot, but considering that Bryan Rust only played 57 games (15 G, 13 A) and The Jackal only played 40 (16 G, 17 A), along with a new dynamic of Kris Letang maybe taking battle with Schultz for offensive-defender supremacy, the deficit in goals may not be too hard to overcome with the current lineup. So where does that leave the search for a center?
The following is an image from hockeyviv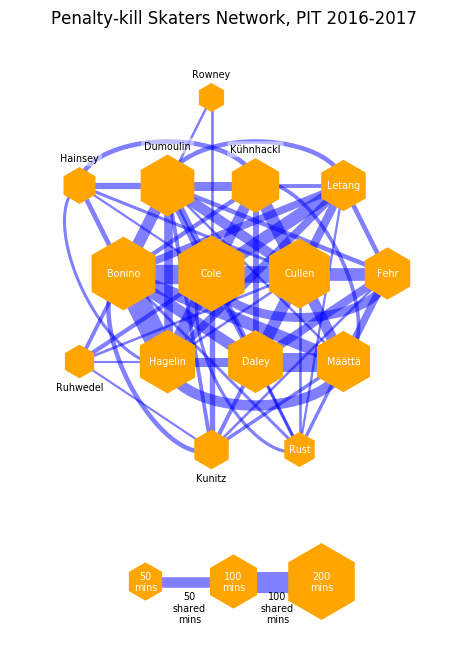 The thick purple connections show players that shared over 100 minutes of penalty kill time together. As you can see, Bonino and Hagelin ate up the most forward PK ice-time. The only other forward with over 200 minutes was Matt Cullen. Pending his decision on retirement this means the Penguins have lost the only two forwards, their 3rd and 4th centers, that attributed to over 200 minutes of penalty killing. 4 players on this chart with over 100 PK minutes are no longer on the team (including Cullen at the moment), though it should be noted that Matt Hunwick played over 200 minutes for the Toronto Penalty Kill which finished 10th in the league at 82.5%. The Penguins penalty kill last year was not the best either: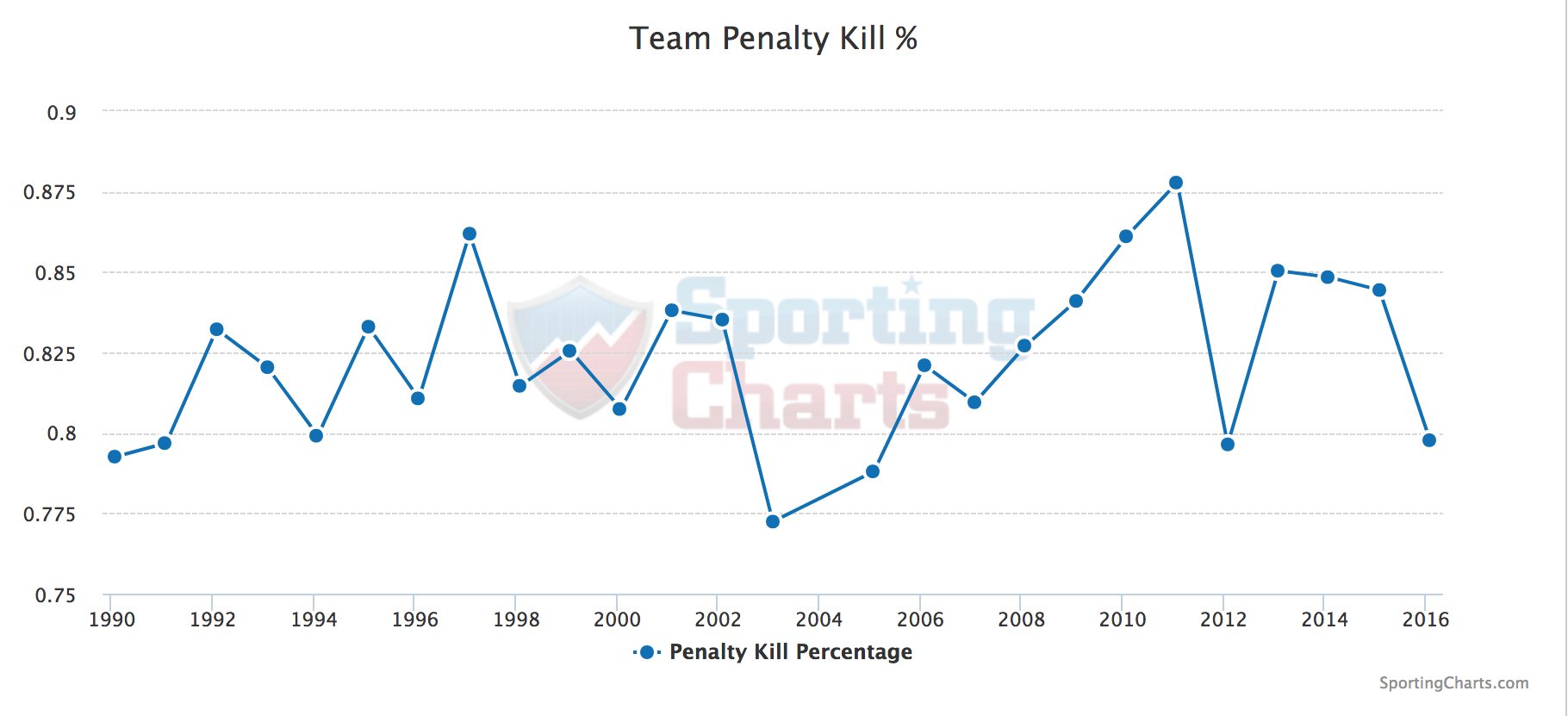 Clocking in at a below league average 79.8%, ranking 20th in the league. Part of this can be attributed to Kris Letang playing his usual half a season, and part can certainly go towards the team having to use 1084 defensemen in February and March. The Penguins have Carter Rowney, who managed over 50 minutes of penalty kill time in just 27 games and seems to be the likely candidate for a larger role, but that's only one player. This is why I feel Matt Duchene is not the center you're looking for, just a pipe dream that doesn't fit. Duchene doesn't kill penalties:
So where does this leave the Penguins in their quest for a center? In my opinion Jim Rutherford already has him picked out and is working out the details. I have a feeling that when the trade is eventually announced the majority of people will react with "who??" or "are you fucking kidding me!?!?" because he isn't going to be a flashy scoring center. His job is to replace Nick Bonino's defensive abilities, not his offense (or his beard, which will be the thing I miss most). Matt Cullen said a week after the cup was raised that he was pretty sure he knew what his decision was. This is right around the time when the Penguins resigned him last season so I wouldn't consider him done yet but if he stays that still doesn't answer the third line center problem.
---
I decided to look at centers with big PK roles that could be of interest through trade, and naturally I started with Toronto because it was already on my screen from the Hunwick research:
This would be an interesting deal, but it would all depend on what Toronto would want considering they are tight on the cap as it is.
Like I mentioned in the graphic, an issue with this deal would be if Copp is ready for 3rd line time with the Pens, but after winning back to back cups why not get a young player you can mold for a season or two while the team gears up for another run?
My final thought is a long shot, but due to their dire salary cap situation Rutherford could potentially back them into a corner: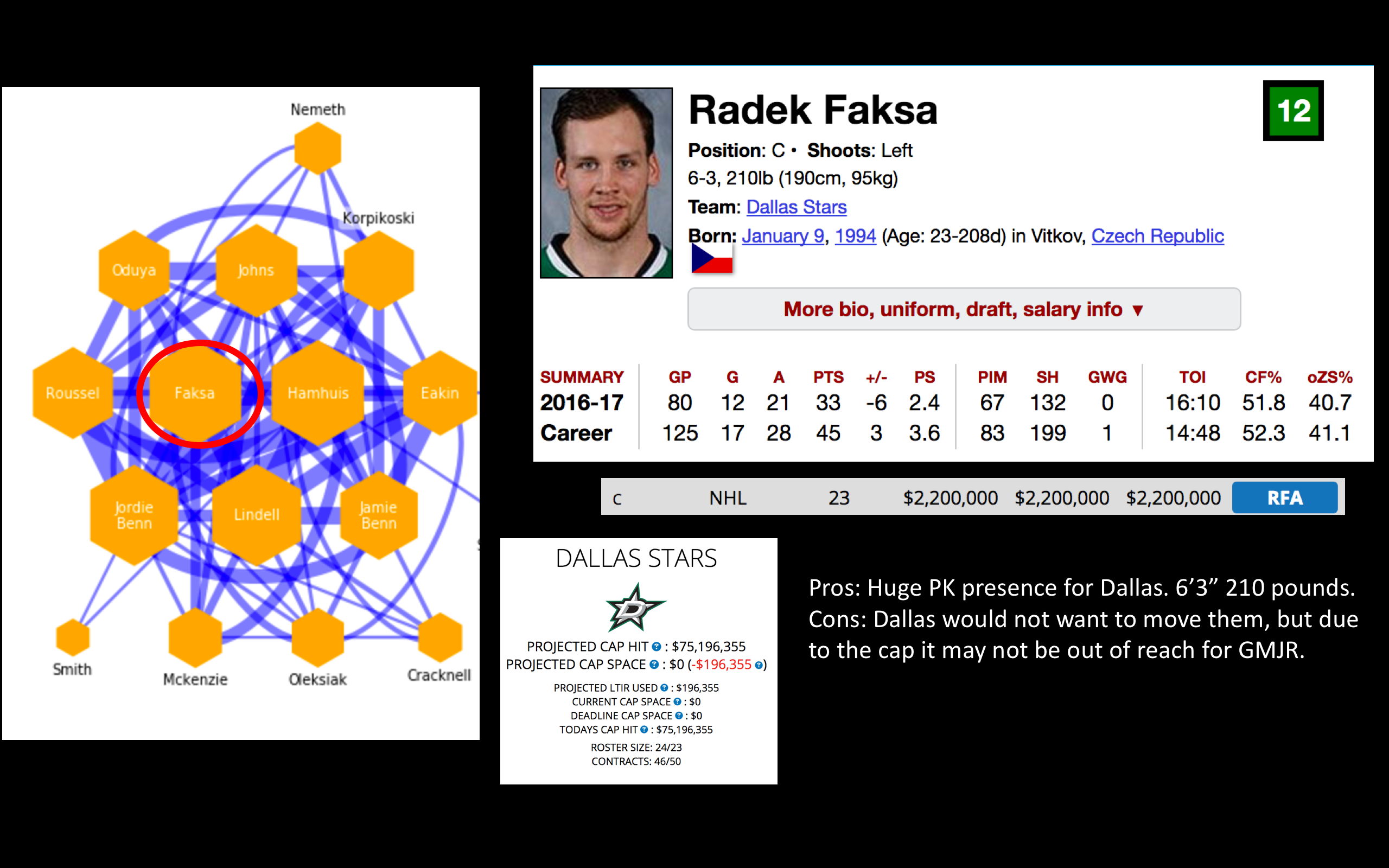 These are just 3 examples of younger centers that ay not be on many radars, but could be what the Penguins need. Of course there are plenty of others to talk about but these are three that I could see being moves that we would question now and relish later. After going back-to-back the Penguins are in a position to build a new group of players to compete for another cup. That most likely won't happen this year, which is why going after a younger center that the team can mold for a season would be ideal in my book. Now that I've put the time in this though it wouldn't surprise me to see them trade for Duchene just because.