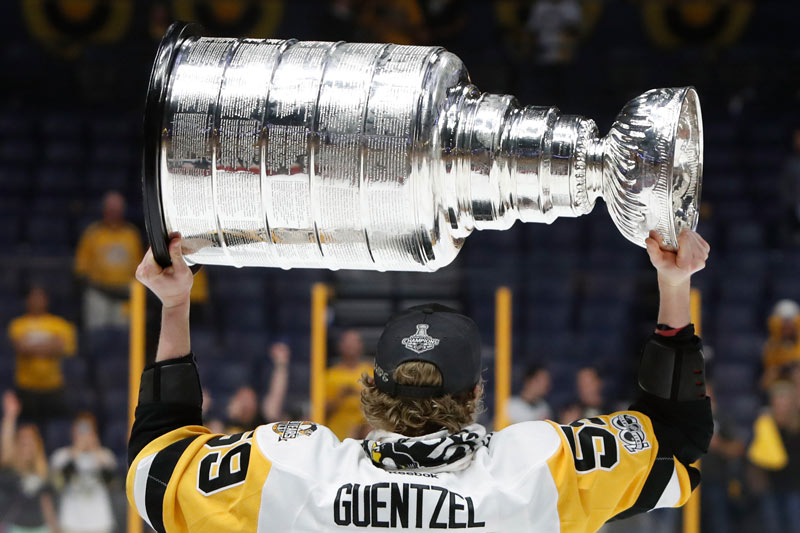 2016-17 Review: Jake Guentzel
It certainly was a charmed second professional, first NHL season for Jake Guentzel.  The 22-year-old Nebraskan, drafted 77th overall in the 2013 Entry Draft, looked like quite the prospect after joining the Wilkes-Barre/Scranton Penguins and averaging nearly a point-per-game in 21 games (11 regular season, 10 postseason) in 2015-16.  He started the 2016-17 campaign in WB/S and continued to impress and improve, notching 42 points (21G-21A) in 33 games for the Baby Pens.  Guentzel made his NHL debut on November 21, 2016 and didn't disappoint, notching the Penguins' only two goals in a 5-2 loss against the Rangers.  (In case you didn't hear/read the story, Guentzel authored this piece in The Players' Tribune about coming full circle in his first shift with Phil Kessel.)
https://www.youtube.com/watch?v=ZsEhKiI7pp0
Jake would hang around with Pittsburgh for five games in November before being recalled to WB/S, but it would not be for long as he returned for good on January 16, 2017, though it wasn't until February 14 when he was first paired with Sidney Crosby that things really took off for Guentzel.  All told, 29 of Guentzel's points in 2016-17 were in tandem with Crosby, by and large the most of any teammate Guentzel was paired with (Conor Sheary was second with 13).  For a first-year player, being teamed up with Sidney Crosby is likely a dream come true, and Guentzel was a crucial piece of the Penguins' Stanley Cup run in 2017.
By the time he was lifting the Cup on June 11, Guentzel had amassed 54 points in 65 games for the Pittsburgh Penguins (29G-25A), including a postseason-leading 13 goals and 21 points, one goal behind and as many points as Dino Ciccarelli's rookie records from his 1981 playoff campaign.  He also notched five game-winning goals in the playoffs, putting him in the company of Mario Lemieux, Mike Bossy, Joe Nieuwendyk, and Jari Kurri, including two in the Cup Final.  Jake established himself as a legitimate scorer due in large part to his speed and release, though at times he was making magic in front of goal with some nifty deflections.
https://www.youtube.com/watch?v=EVh3tP-FPPc
He also notched his first career hat-trick in Game 3 of the Penguins' first-round series against the Columbus Blue Jackets, including the game-winner in overtime.
https://www.youtube.com/watch?v=PGDpo3eJC8w
How Could Guentzel Improve?
How about a full season of being on Sidney Crosby's wing?  It is well known that playing on Crosby's line will lift just about anyone up to All-Star-caliber heights, and Guentzel was no exception.  After all, 53.7% of Guentzel's points in 2016-17 were either goals assisted by Sid or assists on Crosby goals.  Guentzel, Sheary and Crosby were hellish for opposing defenses up to the second round of the playoffs, combining speed, vision, tenacity, and teamwork in ways that vaulted the trio into the upper echelons of recent linemates.  While Sheary did taper off once the playoffs came around, Crosby and Guentzel continued to perform at great levels, to the point where Guentzel was briefly in the Conn Smythe discussion.  So long as Crosby and Guentzel are healthy, it should be expected that that tandem will continue to feast on NHL defenses for the foreseeable future.
One area that Guentzel ought to improve is on the power play.  Jake averaged 1:22 per game of power-play time during the regular season, and had just three points (1G-2A) to show for it.  In the playoffs, he went up to 2:10 per game on the power play and yet he duplicated his 1G-2A production.  It is apparent from those numbers that Guentzel was more successful when the game opened up instead of in a typical power-play structure.  With Guentzel's vision, agility, and release, the Penguins would benefit from developing Jake on the power-play, and there may be a spot for him on the top unit next season.
How Could Guentzel Regress?
The biggest challenge for Guentzel is keeping up with his presumably unsustainable shooting percentage.  Combining the regular season (19.8%) and postseason (25%), Guentzel finished the 2016-17 season with a 22.4% shooting percentage.  Guentzel's regular season shooting percentage landed him in fifth amongst players who played more than 40 games, behind T.J. Oshie (23.1%), Paul Byron (22.9%), Artem Anisimov (21%), and Mark Scheifele (20%).  His rate was also better than Richard trophy winner Sidney Crosby, Evgeni Malkin (both at 17.3%), Conor Sheary (14.9%), and (not to pick on him) Phil Kessel (10%).  Guentzel taking more shots will be great for Pittsburgh in general if he continues to be as accurate or more so than he was last season, but many players go through a sophomore slump in the NHL.  Staying on Crosby's wing will hopefully mitigate that.
Speaking of which, it may have gone overlooked by many Penguins fans considering he spent on either Crosby or Malkin's wing, but Guentzel is a natural center.  With Matt Cullen likely retiring and Nick Bonino's contract expiring, the Penguins may be looking for replacements for those centers, and Guentzel may be an option.  Should he be able to produce as well on his own line as he did with Crosby and Malkin, then the benefits for the Penguins as a team are clear.  Of course, the assumption here is that Jake would be hard-pressed to match his productivity without centers 1A and 1B, or Phil Kessel to help him produce.  Fourteen of Guentzel's points in 2016-17 came from being away from the Penguins' Big Three, so it is possible, but as is well established, those Big Three elevate their linemates to another level.
The overall question is, is Guentzel more valuable to the Penguins as their #3 center, or as a winger for Crosby or Malkin? Being the third center on this team since 87 and 71 have been with Pittsburgh has been typically left for more defensive-oriented guys who can occasionally pop in some offense (Max Talbot, Jordan Staal, Nick Bonino); Guentzel meanwhile never struck me as a strong defensive player (though he does battle well for the puck) and his face-off rates (8 wins, 11 losses) are unimpressive.  (Of course, there's always the chance that the Penguins see more value in Guentzel as a trade piece, like they did with Staal, but Staal has never shown much of the offensive skill that Guentzel has.) In any event, Guentzel may be called upon to slot into an open center spot, and that may be the primary source of regression in his sophomore campaign.
2017-18 Preview: Jake Guentzel
A full 82-game season in the NHL could be huge for Jake Guentzel, particularly if he continues to line up next to Sidney Crosby.  At the rate he performed in 2016-17, Guentzel has the potential for a 35-goal, 35-assist season or better in his second year.  This, of course, depends on his usage; if he finds himself on his own line those numbers will likely go down, but if he gets more time and practice on the power play the numbers could go up.  Nine players hit 35 goals in the 2016-17 season, and 26 hit 30 goals.  I think Jake has the tools to hit 30-30 next season, ambitious-but-not-unrealistic numbers for a player as skilled as Guentzel.
What is the best nickname for Jake Guentzel?
Jake 'n' Bake (40%, 35 Votes)
The Jackal (32%, 28 Votes)
Jake the Snake (22%, 19 Votes)
Other (post in comments!) (6%, 5 Votes)
Total Voters: 87

Loading ...