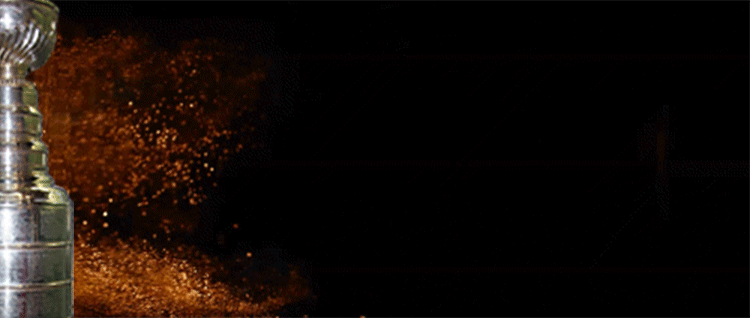 2017 Stanley Cup Playoffs – Eastern Conference Semifinal
Pittsburgh Penguins at Washington Capitals
Game 1: Thursday, April 27, 2017, 7:30PM EDT

I want to establish one thing right off the top: all of the pressure to win this series is on the Washington Capitals.  Last year, the Capitals ran into a Penguins team that was basically a buzzsaw.  Just like this year, the Capitals were the #1 seed to Pittsburgh's #2, the Capitals winning the President's Trophy as the best team in the League.  Pittsburgh was healthy and riding a wave of momentum that started with replacing Mike Johnston with Mike Sullivan and focusing less on specific roles and more on speed, teamwork, tenacity, and responsibility with the puck.  The Penguins cruised through the Rangers and had all the confidence in the world, and Washington could only muster two wins against the eventual Cup champions.
Because of that Cup win, Pittsburgh is playing with house money at this point.  Of course, they're in the playoffs to win the Cup again, but the hill is steeper this time around.  They don't have Matt Murray and they don't have Kris Letang.  Neither of these absences were an issue in round one against an overrated Columbus Blue Jackets team, but the margin of error is extraordinarily slim for Pittsburgh now.  Which also means that the Capitals must not give the Penguins an inch, because Pittsburgh will be looking for every inch and taking advantage of it.  Washington is another year older and more mature, and is facing an offseason full of ending contracts.  The window won't be closed, but it is closing slowly.  They are already playing themselves into an underdog position, which is hilarious.  This says nothing about their confidence, which must be dwindling quickly after the Penguins did better against their first-round opponent than the Capitals did against theirs.

Confidence played a big role for Pittsburgh in their Cup run last year, particularly in their goaltending.  Matt Murray had some serious swagger outplaying two Vezina candidates last season and I think this played a major part in Pittsburgh's success last season.  Unfortunately Matt Murray is not part of the Penguins' equation right now and the goal belongs to Marc-Andre Fleury.  We know what Fleury brings to the table, and it's largely intangible.  His teammates and the fans love him and his personality, so there's perhaps more effort to be given in terms of bailing him out if and when he falters.  For his part, Fleury was slightly above average in the first round, better than Capitals goalie Braden Holtby (who was slightly below average), and Fleury had to be every bit above average with the Penguins being outshot by 4.6 shots/game.
Pittsburgh's emphasis in this series should be on winning 50/50 battles.  In their series against Columbus, the Penguins worked on pushing the Blue Jackets into the perimeter and made them work from there, which was largely successful.  It may seem obvious, but the slot is prime real estate for an offense, especially in the playoffs; Pittsburgh got plenty of opportunities there and Columbus didn't.  Whether or not Pittsburgh can do the same to Washington, they have to win pucks along the boards when they can. Adding Chris Kunitz and (maybe, hopefully) Carl Hagelin will only improve their chances of doing so successfully.  Limiting Washington's space and having "active sticks" in passing and shooting lanes is a recipe for success.
One of the challenges for the Penguins has been successful zone exits and breakouts.  They had some difficulty against Columbus, but it didn't hurt them in the long run because once Pittsburgh was able to get going and get into the offensive end, Columbus was hard pressed to stop them from getting to the center of the ice.  Washington will not be so forgiving, as they have some very aggressive checkers on all four lines and they racked up takeaways against the Toronto (ending up second to Ottawa in the playoffs, 62 to 76).  Pittsburgh was very responsible with the puck against Columbus, with only 28 giveaways and Columbus with 30 takeaways, and maintaining that responsibility will be supportive to getting the kinds of zone exits and breakouts they'll need.
It's in the offensive zone where Pittsburgh should be able to control play.  Toronto and Washington was a shot-fest, with both teams finishing in the top four in shots/game (Columbus was first, mind you), and Pittsburgh ended the first round with the best shooting% in the playoffs.  Should Washington continue allowing a ton of shots (and, judging by this heat map, they'll be largely in high danger areas), they're going to be burned by the Penguins.  Not that Pittsburgh was much better at preventing scoring chances against the Blue Jackets, but if this series turns into a track meet, Pittsburgh will win.
It's going to be a fascinating series, likely much closer than last year's, and seeing how the coaching strategies and line matchups evolve over the series will be worth keeping an eye on.  If there's not going to be much to separate these two teams, it'll be a series where doing the little things and winning battles just once or twice in a game could be a difference-maker.  Pittsburgh showed last year that the Capitals can be beaten and this year, with greater adversity, let's see if they can do it again.

https://twitter.com/JMackeyPG/status/857252300225695744
https://twitter.com/JMackeyPG/status/857252391426633728
Adding Kunitz to the equation gives the Penguins another veteran winger to knock Carter Rowney out of the lineup.  Considering that Mike Sullivan was willing to demote Conor Sheary in place of Hornqvist, it should be assumed that these lines are still quite flexible.
For Washington (dragged off of DailyFaceoff.com):
Ovechkin-Backstrom-Oshie
Johansson-Kuznetsov-Williams
Burakovsky-Eller-Wilson
Winnik-Beagle-Connolly
Schmidt-Carlson
Orlov-Niskanen
Orpik-Shattenkirk
Schmidt took the place of Karl Alzner when Alzner was injured, then Schmidt himself was hobbled late in the series, but I've seen no indication that a switch has been made beyond that.
---
Around the Stanley Cup Playoffs
NSH@STL Game 1 – Nashville wins 4-3, leads series 1-0
Vernon Fiddler scored his first goal of the playoffs at 14:55 of the third period to give Nashville a 4-3 win on the road in St. Louis.  P.K. Subban added his first goal of the playoffs and a pair of assists as well.  Nashville went 2/3 on the power-play and won 62% of the face-offs.  St. Louis got goals from Colton Parayko, Jaden Schwartz, and Vladimir Sobotka.  Game 2 is tomorrow in St. Louis.
EDM@ANA Game 1 – Edmonton wins 5-3, leads series 1-0
Adam Larsson has more career playoff points than Taylor Hall and extended that legacy in Game 1 with two goals, including the game-winner at 15:20 of the third period, and an assist to lead Edmonton to a 5-3 Game 1 win over the Anaheim Ducks.  The Ducks got goals from Ryan Getzlaf, Patrick Eaves and Jakob Silfverberg, while the Oilers got additional goals from Mark Letestu (2!) and Leon Draisaitl.  Game 2 is tomorrow in Anaheim.
TODAY'S (OTHER) GAME (NOT THAT YOU CARE RIGHT NOW)
NYR@OTT Game 1 – series tied 0-0

LET'S GO PENS
DO IT