Besides the trade deadline, the beginning of free agency is perhaps the most exciting day on the NHL calendar with regards to roster movement.
With the trade deadline, since it usually comes with about ten weeks left in the regular season, oftentimes most teams have a pretty good idea of their chances of making the playoffs and they plan their moves accordingly, either by acquiring the pieces they feel they need to fill gaps in their roster, or by shipping players off with the hopes of getting a return to benefit their near future.  With the beginning of free agency, every team in theory has an equal chance of making the playoffs.  Practically speaking, that's not really true, but for every team's fanbase, it's treated as such whether you are a Penguins fan or a Senators fan.  I'm using the Senators as an example because their situation is going to be the most closely watched…but I'll get back to that soon.
Most of all, free agency is about money.  After all, that's why free agency exists: the lockout which canceled the 2004-05 season was ultimately a fight over whether to institute a salary cap.  When the dust finally settled, the salary cap was agreed to, and every year since the cap has increased.  Has it stopped GMs around the League from making fools of themselves, signing players to ridiculous contracts? Absolutely not, but at least there's a limit on just how ridiculous the contracts can be.  Still, and I know I've brought this up before, I remember distinctly how much hype there was when Zach Parise was rumored to be on the Penguins' wishlist back in 2012, and then the Wild signed not only him but Ryan Sutter to twin twelve-year, ~$7.5M/year contracts, and many people believed the Wild would be a force to be reckoned with thereafter.  Both players are now halfway through those contracts, and neither player is worth the money they're making.  The Wild are the new Capitals, but worse: they haven't gotten further than the first round in three straight playoff appearances.
As far as Jim Rutherford is concerned, making a big splash in the free agent market is not his modus operandi.  Since his days in Hartford/Carolina, he has preferred to develop players from within the organization and he makes his biggest, flashiest moves via trade.  Point of fact, the only current Penguin on the roster who has come on from free agency from another NHL team is Chad Ruhwedel; everyone else is a Penguins draftee, an undrafted free agent, or a trade acquisition.  What could this say about what Rutherford thinks about free agency? Is he concerned about overpaying for players to fill the depth chart? Or does he simply value players who stick with one organization more than players who let their contracts with other teams expire? Is it something else? Whatever the case is, Rutherford often does better when he stays away from the free agent market and makes trades for the players he wants.
---
With all that said, let's take a look at the Penguins' free agent situation, which has solidified over the past week.  First, the Penguins extended the contracts of RFAs Dominik Simon, Daniel Sprong, and Kevin Czuczman.  None of these extensions are surprising: Czuczman looked good in his first year in Wilkes-Barre/Scranton and you could argue that he's the seventh or eighth defenseman on the organizational depth chart.  Simon enjoyed 41 games with the senior Penguins last season, although in limited scope (11:25/game in the regular season, 12/game in the postseason), and eleven of his fifteen points last season were tied to Sidney Crosby, but his possession numbers look good which is probably justification enough for the extension.  Finally, there's Sprong, who we've all been waiting patiently for his full arrival in Pittsburgh; the Dutch winger looked every bit ready for the promotion that never came towards the end of the regular season and into the postseason, but now there's no excuse.  Sprong and Simon were both given two-year deals at $750k/year each, and Czuczman one year at $650k.  Not terribly painful at all.
Then the Penguins focused on their senior roster, penning Bryan Rust to a four-year, $3.5m/year extension.  Again, not a surprise considering Rust's performance over the past few years, and his ability/willingness to play anywhere in the lineup, but you will hope that his production sees an uptick as he's now 26 and in his prime.  One of the contract comparables for Rust on spotrac.com is the Canadiens' Brendan Gallagher.  Gallagher is also 26 and has three years left on his six year contract worth $3.75m/year, and while Gallagher has 225 more NHL games than Rust does, you could argue that they had similar productivity…until last year: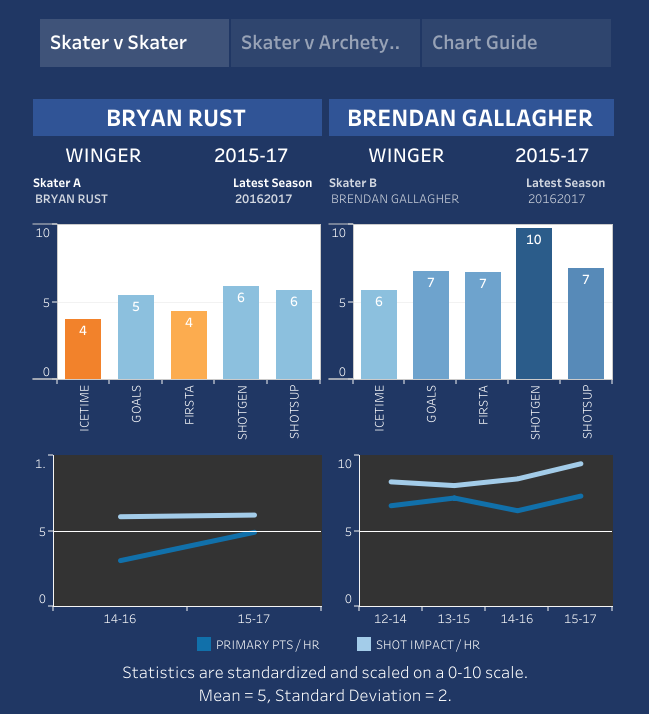 Please note that this doesn't include last season, but I have those stats below, first Gallagher:

And here's Rust:

Let's put it this way: Gallagher has better boxcars and his possession numbers are better as well.  On the other side of the discussion, Gallagher was the leading scorer on a Canadiens team that was bad enough to have the third overall draft pick this year, while Rust was seventh on a Penguins team that was eliminated from the playoffs by the eventual Cup champions in Washington.  Rust is being paid to drive possession, which he did second-best for the Penguins last season in both Corsi-for and Fenwick-for, and if his production improves, the Penguins will be even happier.
The Penguins also agreed to a new contract in principle to Riley Sheahan, reported to be a one-year, $2.1M deal.  Sheahan will be the fourth-line center, and maybe having better linemates and a full season with the team will help in general.
Finally, the Penguins moved two players that almost everyone anticipated being shipped off, with Conor Sheary and Matt Hunwick both heading to Buffalo in exchange for a conditional fourth-rounder next year.  Sheary had been heading into Tyler Kennedy territory (needed to be on Crosby's wing to be most effective; impotent without him) for a couple of years now, and it finally caught up with him.  Hunwick was the punchline of many jokes last year (particularly in light of the trade that sent Ian Cole away) and now he's Buffalo's problem.  It was a big-time salary dump for a team that could really use it, and heading into free agency the Penguins will have ~$8.2M to play with.
Buuuut as we are all probably aware, the buzz has the Penguins going out and getting soon-to-be-former Blue Jackets defenseman Jack Johnson on a five-year, ~$3-3.5M/year contract.  Few people are singing Johnson's praises, but if there is anything positive to take away from Johnson, he is capable of being a better defenseman than Hunwick in terms of productivity, if not in terms of possession.  I think he simply ran out of favor in Columbus.  He'll be a pricey add for being a third-pairing defenseman, but I'm hoping a change of scenery will be all he needs to succeed.  Nevertheless, this has the potential to be a huge overpayment for a guy who hasn't been worth the third overall pick he was taken with in 2005.  If Johnson is signed, the Penguins will have about $4.75M to work with afterwards.
Honestly, I'm not sure what to make of this talk of Rutherford going out and  spending big money on a third-pairing defenseman.  As I said earlier, he doesn't tend to make the bigger moves in free agency, and didn't he learn his lesson with Hunwick? I'm skeptical that Rutherford will make the same mistake twice, as he has Oleksiak to sign and some prospects in the pipeline who could be called up, but I don't suppose I know any better than Mark Madden does.  In GMJR we trust!
Otherwise, the Penguins are in fairly good shape: they have twelve forwards, five defensemen, and two goaltenders already signed.  There are fewer questions about the forward depth with Sheary gone and Simon and Sprong looking to play in Pittsburgh full-time in 2018-19.  Goaltending: maybe there are questions about Matt Murray's health but I'm willing to give him the benefit of the doubt, otherwise I don't think there's much concern about Tristan Jarry or Casey DeSmith being his backup, but I'm sure there will continue to be people out there who want to play Goaltender Press Your Luck:
Looking at that goalie market. pic.twitter.com/HLLPgltVCN

— Corey Sznajder (@ShutdownLine) June 27, 2018
Defensively, there are five signed as of this writing, with Jamie Oleksiak the only remaining RFA unsigned.  The Jack Johnson situation could make Oleksiak expendable, but Oleksiak has been given a qualifying offer and he is arbitration-eligible, so it'll be interesting to see how the Penguins juggle seven defensemen, if it comes down to that.
---
The biggest UFA on the market is Islanders center John Tavares, and he's been listening to offers for about a week now.  His list is reportedly down to six teams, in order of salary cap room from most to least: the Islanders, Toronto, Dallas, San Jose, Boston, and Tampa Bay.  If he was going to return to the Islanders I think he would have signed with them by now.  Toronto is on the upswing and Tavares is from suburban Toronto so the fit there would be obvious.  Dallas and San Jose are probably not legit as they don't seem to know whether they are coming or going.  Boston would be an interesting landing spot but I'd leave it to Don Sweeney to completely blow it one way or another.  The Lightning already have a #91 on their team.  I think Toronto are in the lead for Tavares with Boston and Tampa Bay trailing behind, Dallas is a dark horse, San Jose is going to get stuck with Joe Thornton for another year, and the Islanders are going to end up a lottery team next year.
We'll also be keeping an eye on the Erik Karlsson/Ottawa situation.  The Senators have cratered since being Eastern Conference Finalists two years ago, between being bad enough to land the fourth overall pick in this year's draft and then the whole Mike Hoffman situation which lead to Hoffman being shipped to San Jose by the Senators, only to end up back in the Atlantic Division with the Panthers, a bit of a coup for Florida which have been in need another useful winger.  There's some rumbling that maybe now Karlsson will stay in Ottawa…but that is probably just Eugene Melnyk's butt.  Moving Hoffman doesn't change the fact that Melnyk is looking to shed salary and Karlsson will be commanding perhaps the biggest salary for a defenseman after his contract expires next season.  Karlsson is almost assured to be leaving the Canadian capital, and it's a matter of time and what they get in return for Melnyk and GM Pierre Dorion.
MEAT UP POLL
(cheese be moved)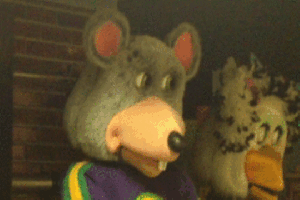 HOW CAN YA HAVE ANY PUDDIN IF YA DOAN EAT YER MEAT UP?
D) 12/1 Philadelphia (34%, 10 Votes)
E) 3/16 St. Louis & 3/17 Philly (Double Header on St. Paddy's Day ; ) (34%, 10 Votes)
B) 11/3 Toronto (10%, 3 Votes)
F) 5/6 New York Rangers (Last Game of the Season) (10%, 3 Votes)
A) 10/6 Montreal (7%, 2 Votes)
C) 11/10 Arizona (3%, 1 Votes)
Total Voters: 29

Loading ...