It's that time of year again: the All-Star break is nearly upon us, and that means we're weeks away from the trade deadline! It always fascinates me to watch the annual ebb and flow of power in the NHL, and the trade deadline is usually the point at which teams must make a choice between gearing up for the playoff push, shedding money and expiring contracts to prepare for next year, or accept their fate and make their way forward with what they've got. Since the Penguins have a bit of time between now and their next game, I hope to fill at least a couple of days with a trade deadline preview.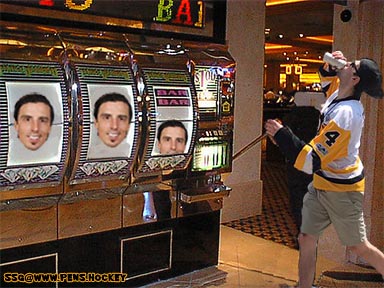 As usual for the Pittsburgh Penguins, the focus is on winning the Cup as soon and as often as they can while the core of the team is still productive. For four straight seasons the Penguins have traded away their first round pick to try and sweeten a deal for an interested party. In 2015, their first round pick and Rob Klinkhammer brought David Perron from St. Louis to the Penguins, but the Penguins failed to get out of the first round, and the pick turned out to be 16th overall which the Islanders used to select Mathew Barzal. Their 2016 first round pick went to Toronto as part of the blockbuster Phil Kessel trade, and we know how that went.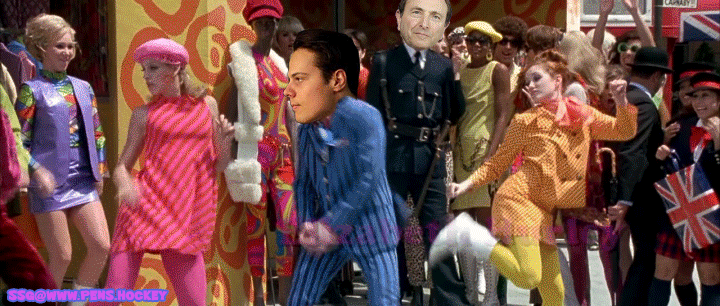 I'm going to briefly pause my recap of where these first round picks have gone to go over my list from last year, namely the players who aren't going to be on my list this year due to their departure from the franchise entirely. I want to mention that I am again going to focus on Penguins on the active roster, including the injured ones. With that said, here are the guys who were on my list last year but are gone, listed by their ranking:
Daniel Sprong (2018: 6b): traded to Anaheim this season for Marcus Pettersson
Conor Sheary (2018: 7b): traded to Buffalo this past offseason for a conditional 2019 fourth-round pick
Ian Cole (2018: 8b): traded to Ottawa last season for Derick Brassard, et al.
Matt Hunwick (2018: 9c): traded to Buffalo this past offseason for a conditional 2019 fourth-round pick
Carl Hagelin (2018: 10b): traded to Los Angeles this season for Tanner Pearson
Carter Rowney (2018: 11a): free agent; went to Anaheim
Tom Kuhnhackl (2018: 11b): free agent; went to New York Islanders
Ryan Reaves (2018: 12a): traded to Vegas last season for Tobias Lindberg
Tristan Jarry (2018: 6a): demoted to Wilkes-Barre/Scranton
So, unpause: general manager Jim Rutherford made the uninspired decision to acquire Reaves and St. Louis' second round pick in exchange for Oskar Sundqvist and Pittsburgh's first round pick. Reaves was pretty useless for the Penguins, although he's been better with Vegas, but Sundqvist has also been good for a fourth line center and Pittsburgh could really use a shot in the arm in that department.
That brings us to the 2018 first round pick, which went to Ottawa with Cole and goaltender Filip Gustavsson in exchange for Derick Brassard, Vincent Dunn (who?) and a third-round pick. Brassard was acquired to be the replacement for Nick Bonino, who was vital in the Penguins' two straight Cup wins in 2016 and 2017, but Brassard was dealing with an injury last year and has massively underperformed this year, although he scored as many points in the past month as he did in the two months prior.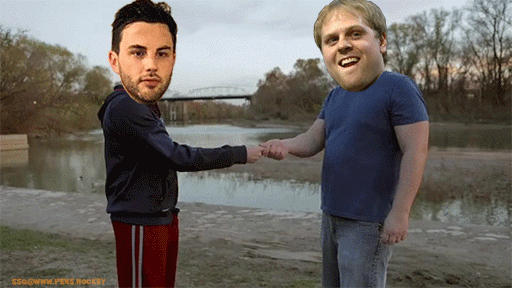 Brassard's negative regression since joining the Penguins could be a fluke, and he could be turning a corner as the Penguins have over the last few weeks. The Penguins are paying him to be the third center and then they have either Riley Sheahan or Matt Cullen as the fourth center. Sheahan has been a wash, which is fine for a fourth liner, and Cullen has actually been pretty productive, so Brassard really needs to continue producing he's going to remain useful to the Penguins.
---
With all that said, let's start the rankings. Once again, I'm focusing on Penguins who are on the active roster, including the injured ones, and the players will be ranked from top to bottom in terms of trade value. They are arbitrarily paired, with two exceptions, so don't read anything into that. Those at the top and in Part 1 are the franchise cornerstones and the most productive players on the team; unless Rutherford can really pull off a fleecing, trading these guys would be a monumental mistake. In Part 2, I'll cover the bottom of the list which are the guys with the least value, the players who often need sweeteners, like prospects or draft picks, attached to them to move them. In the middle are the players who are most likely to be moved, and those players will be in Part 3. Today, we'll start with the guys at the top. (For the players on the roster from last year, I have last year's ranking in parentheses.)

No surprises here: Crosby and Malkin were numbers 1a and 1b on my list last year, and there's no indication that either of them will be usurped soon. Crosby is on pace for 100+ points for the first time in a few years, and he's steadily improving his defensive game to the point where he might get serious Selke consideration. Malkin is having something of a down year thus far, but he's always been a more serious second half player and he's only two years removed from leading the playoffs in points. I'm not worried about him, are you?

The goaltender of the Penguins' future had a rough 2017-18 and this season wasn't looking very good either, but a lower body injury (that Murray said wasn't bothering him) seemed to be bothering him and after a short injured list stint, Murray has come back with a vengeance, winning eight straight starts, allowing just ten goals and posting a .963 save percentage. That's exactly the Matt Murray the Penguins have needed him to be and hopefully that'll be the last time we have to worry about Murray's performance. At 24 years old, and still with two years left with restricted free agent status, this two-time Cup winner is a contract extension away from being a key member of the Penguins' core for years to come.

The legend of Jake "The Snake" only continues to grow, and the soon-to-be $6 million man will be riding in the top six in Pittsburgh for the next five years. At 24 years old, Guentzel has already made a name for himself as a key offensive contributor, and he's on track for 35+ goals and 75+ points. He's the #wingerforSid that people have been clamoring for years for, as he's an excellent finisher and playmaker. Remarkably, even while the Penguins were eliminated from the playoffs in the second round, Guentzel's 21 points (tied with Crosby) held up to be tied for fifth-most in the playoffs. What a great find for the Penguins, as the 77th overall pick from 2013 is coming upon the peak of his abilities with no sign of being slowed down.

The first change from last year to these rankings is a defenseman who is as mercurial as ever, and right now it's in a good way. Letang has put up a Norris-caliber performance in the first half with a very good offensive performance (tied for seventh in points amongst defensemen) and perhaps an even better defensive performance. It does help to have teammates like Sidney Crosby and Brian Dumoulin on the ice with him at the same time, as they are both very skilled in the defensive end in their own right, but regardless Letang is at or near the top of the League in the three shots-for relative percentages; in other words, the Penguins take more shots than they allow when Letang is on the ice. Considering that Letang is near the top of the League in offensive production from a defenseman, it's easy to see just how valuable he is in both ends of the ice. Jim Rutherford sounded particularly confident that Letang would have a bounce-back year this season, and there's no denying that has happened.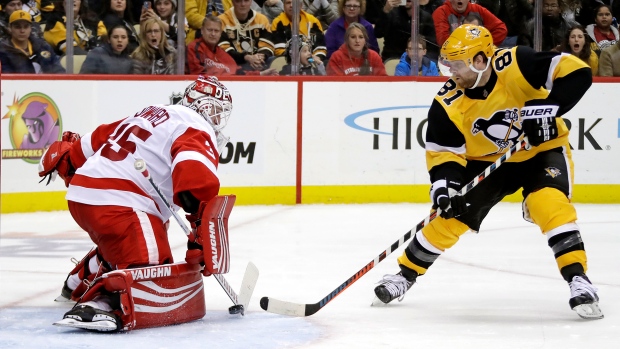 It's looking like another big season from one of the most consistent and healthy players in the League, with Phil on track for another 30+-goal/50+-assist season to go with maintaining his regular season active games played streak, now tied with Jay Bouwmeester for eighth. While Phil had spent much of the first half on Malkin's line, head coach Mike Sullivan has tried getting Derick Brassard and Riley Sheahan going by putting Kessel on their wings. It did work somewhat, but as Kessel is getting older his assists numbers seem to be going up, and guys like Brassard and Sheahan have never been very good at putting pucks in the net. Another item of some concern on that front is that the percentage of points Kessel contributes on the power play has been in the low-to-mid-40s for the last few seasons, meaning those even strength minutes aren't as productive for Phil as the power-play minutes. Lately Sullivan has abandoned that "Kessel out of the top-six" experiment, and it coincided with the last few games looking really bad for Kessel and Malkin. A blip?

The tough-as-nails Hornqvist has had a tough, injury-hampered season, with another concussion putting the right-winger on the shelf for the few games preceding the Penguins' loss to the Vegas Golden Knights on Saturday. In spite of only playing thirty of the team's forty-eight games, Hornqvist has managed to remain consistent in his productivity; in fact, he's on pace for his best scoring rate since his first year in Pittsburgh and his second-best overall. This, of course, comes with the caveat that Hornqvist hasn't been seeing as much time on the power-play as he had been in years past, and while he's been no less productive when given that time, he's also been on the ice for some of the many shorthanded goals against. Hornqvist has never been the most durable forward, given his propensity for parking in front of the opponents' goaltenders, and there's good reason to question his ability to keep producing for the next four seasons.

There's been no denying that the tandem of Kris Letang and Brian Dumoulin have been stellar this season, and while much of that has been Letang's doing there's no denying that Dumoulin is a very good defender in his own right. In fact, so far as I can tell, only one player on the team, Tanner Pearson, sees his productivity improve without Brian Dumoulin, and among active Penguins Pearson has spent the second-fewest minutes on the ice with Dumoulin, so it's hard to tell if that's an indictment of how the two actually perform together.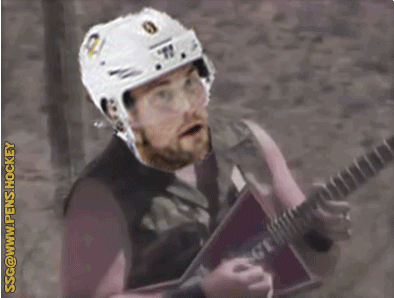 Beyond that, it also stands to be noted that Dumoulin is already three points away from matching his career high of eighteen, and while most of those points are secondary assists (increasingly dismissed in advanced stats circles), he is nevertheless second on the team amongst defensemen in points. (Never mind that it probably wouldn't be the case if Justin Schultz had been healthy.) The Letang-Dumo combo may not be broken up any time soon, even when Schultz comes back, but they work so well together that it's hard to see a reason why not.