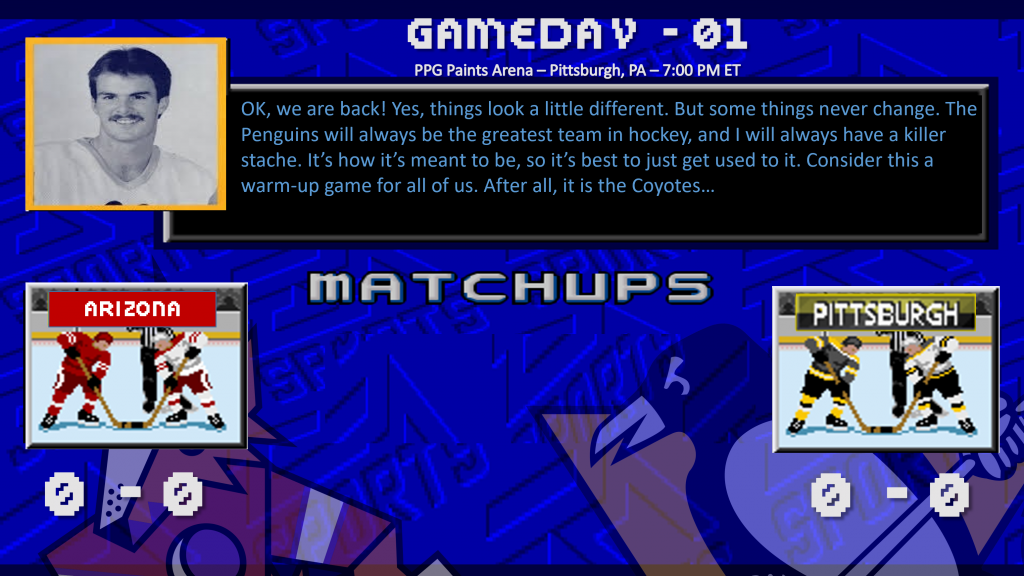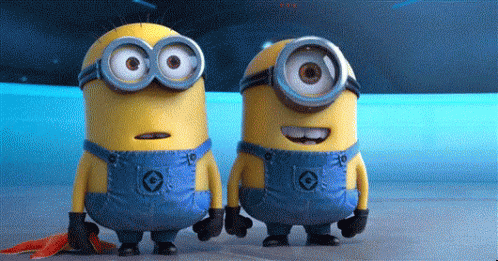 In a way, it's unfair to have your first game of the season – first home game, in fact – against a weak team from out of conference, but someone was going to have that good fortune anyway. So it will be for the Pittsburgh Penguins as they set off for another adventure through the regular season, hosting an Arizona Coyotes team that is expected to be pitiful on the ice. (The Penguins will pay it back by playing the three-time Eastern Conference champion Tampa Bay Lightning in two days.)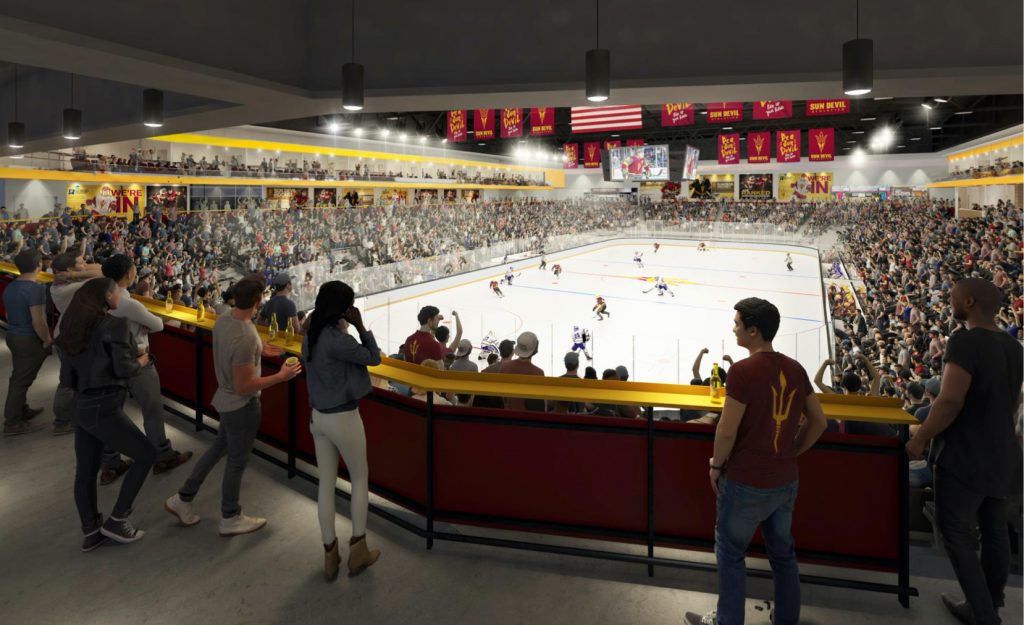 In fact, considering the capacity of their home arena and the quality of the team they are sharing it with for the next few seasons (Arizona State University's Mullett Arena, 5,000), the first six games on the calendar may feature the highest attendance for Coyotes games this season as they are all on the road, particularly the first two as they are the home openers for their respective teams (Boston is the other). For both Arizona and Pittsburgh this is the first time these two franchises are meeting each other on opening night since 1979, when the Coyotes franchise was in Winnipeg and the mere consideration of an NHL team in Arizona was likely unimaginable, let alone them playing in a university arena. All around a bizarre situation.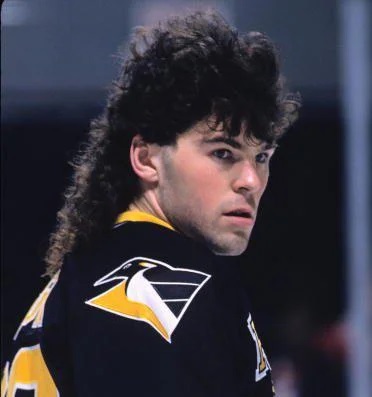 Tonight will be a good opportunity for those Penguins who need to make a bigger impact than they have in recent years to start off on the right foot. Jason Zucker and Kasperi Kapanen are two well-paid forwards whose offensive contributions have not lived up to their salaries and responsibilities.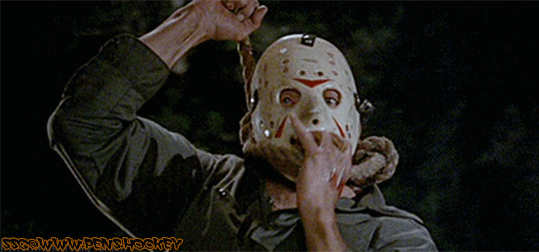 For Zucker, it's been mostly about his inability to stay healthy, whereas Kapanen has been healthy and doing the right things but just not producing. In any event, both guys are healthy and they've had a full training camp without any major hiccups, so there are no excuses for either player at this point.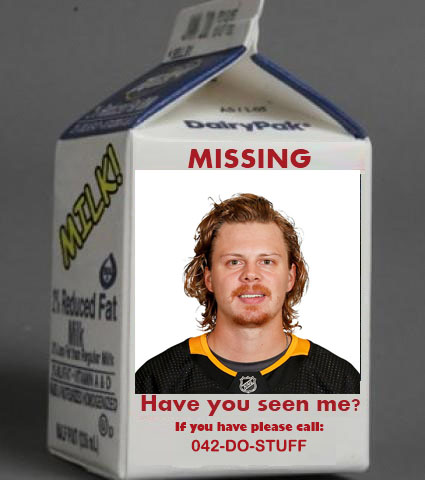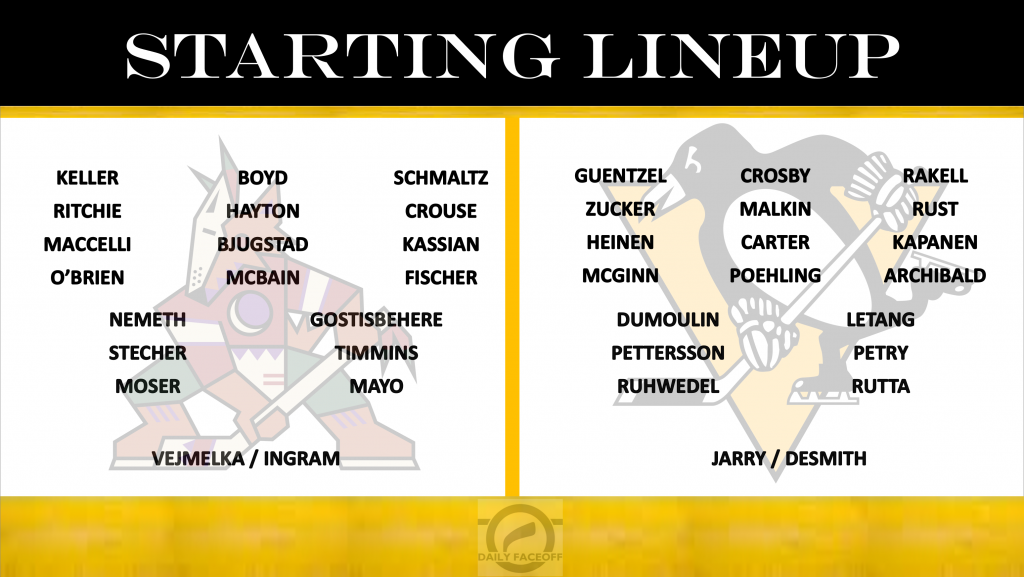 It'll also be interesting to see how the new defensive corps shapes out. In order to become cap compliant, the Penguins had to waive Radim Zohorna (who was snagged by Calgary) and Mark Friedman (who cleared waivers), as well as demote new acquisition Ty Smith to Wilkes-Barre/Scranton. Smith had been working alongside fellow new acquisition Jan Ruuta all preseason, but because Smith is waivers exempt and P.O. Joseph is not, Smith was sent down for the time being. I put it that way because it sounds like the organization likes Smith more than Joseph at this point and Joseph, who was the big piece in return as part of the Phil Kessel trade with Arizona a few years back, may be on his way out of Pittsburgh before long. We hardly knew ye, POJo!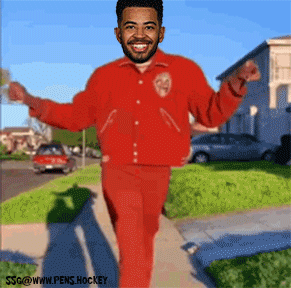 Basically the ramifications of this game are immense. Home opener, first game of the season, against what may be the consensus worst team in the League. Lose this game and the embarrassment may cripple Pittsburgh for the rest of the season. Win, and the Cup is theirs. It's really that simple!