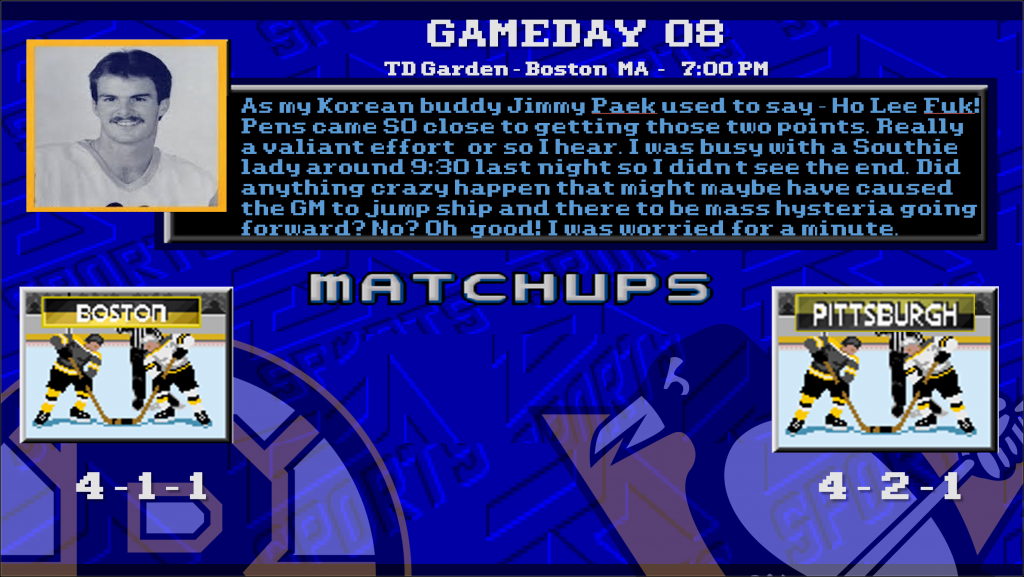 Well, it's a good thing I didn't get very far into this write-up before yesterday afternoon's surprise announcement that Jim Rutherford would be resigning from his position as general manager. Citing "personal reasons," Rutherford's resignation came in the wake of another loss in Boston, Tuesday's 3-2 overtime loss against the Bruins, and the loss to injury of another Penguins blueliner, and a more important one than the ones we've been seeing, in that of Brian Dumoulin. Whatever the truth is, Rutherford is leaving behind a legacy that includes two straight Stanley Cups, in 2016 and 2017, and a future that looks quite bleak.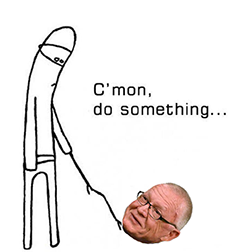 While Rutherford was largely, but not entirely, responsible for those Cup-winning teams, he is even more so responsible for the team we've seen slide into mediocrity since then. His mismanagement of assets and payroll have been brutal. There's a laundry list of players that have come and gone from Pittsburgh over the last three-plus seasons, whether for good or for bad, and a treasure trove of draft picks to boot, and the Penguins have been no closer than the second round as a result. It's hard to imagine the executives on the team being satisfied with this performance when the attitude is "win now," but apparently co-owners Mario Lemieux and Ron Burkle were at least content with Rutherford, if not so much so that they wanted to give him another contract extension before the offseason.
Whatever the reason for Rutherford's departure, the feeling I get from this is that Rutherford could not see much of a silver lining around this gray cloud of a roster, and he decided to walk away on his own with unfinished business rather than see another season end in disappointment and have his reputation further tarnished.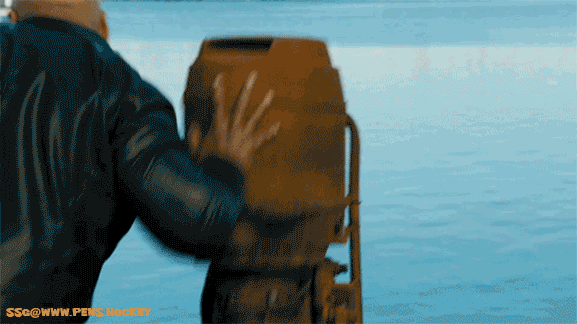 It's a similar sort of arrogance that drove Rutherford to acquire guys like Ryan Reaves and Jack Johnson despite their negative productivity: "I've just brought this team to two Cups in a row using speed and skill and depth, and now we will retool into a team that won't be pushed around!" Well, the Penguins have been pushed around, regardless of (and likely due to) who they've acquired, rather than maintaining a high level of skill, talent, motivation, and depth that could keep up with the likes of Boston and Tampa Bay, let alone the mediocre Islanders or Montreal.
To put it simply: Rutherford inherited a solid foundation, pushed the right buttons for a couple of seasons, and now leaves behind a mess of a roster without much in the farm system or assets like decent cap space or draft picks. It really feels like he's abandoning ship, and for a team that is sorely lacking in motivation and morale that cannot be a positive influence.
---
Yesterday, Penguins CEO David Morehouse reiterated the teams direction:
"We're not in rebuilding mode. We're in a win-now mode and we're going to continue to be in that mode until we're in a rebuilding mode. We're looking for someone who can come in and have us continue to work toward winning another Cup.

"The criteria (for a new GM) is the same criteria we've had here for the last almost 15 years, is to win the Stanley Cup. We're looking for someone that's going to be able to come in, take a very talented team with a very good coaching staff, and take it as far as they can take it."
In the interim basis, the Penguins have promoted Patrik Allvin to general manager. Hired in 2006, the Swede was a European scout, then the director for European scouting until the last few years. His influence perhaps led to the drafting of Kasperi Kapanen, among other European players in Allvin's tenure. But his first acquisition as interim GM comes at a time when injuries are rapidly mounting.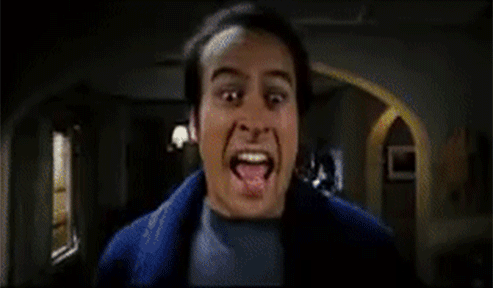 With Dumoulin likely out (we'll know more today), Pittsburgh is almost completely wiped out at left defense (PoJo remains unscathed thus far, knocking on every piece of wood I can find), but for some reason the team acquired a right defenseman in Yannick Weber, most recently employed by the Nashville Predators. (Maybe Rutherford signed the paperwork and then said, "Fuck it, peace out.")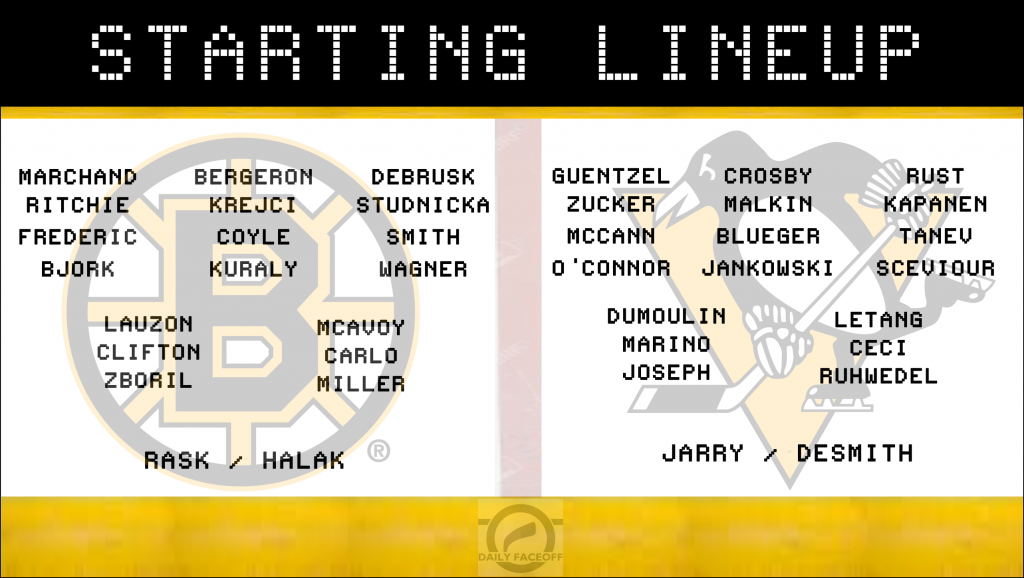 Ultimately, the Penguins are going to need to continue digging deep if they are going to stay afloat in the East Division: they are three points away from being in seventh place out of eight, but only two points out of first. That they squeezed yet another point out of what was initially a dismal start to Tuesday's 3-2 overtime loss is somewhat remarkable, but the fact remains that the Penguins are snake-bitten in Boston: their last win on the road against the Bruins was November 24, 2014, under the watchful eye of Mike Johnston, whose name you never want to evoke ever in the context of coaching the Penguins. I actually found highlights! Look at the esteemed luminaries on the Pittsburgh bench: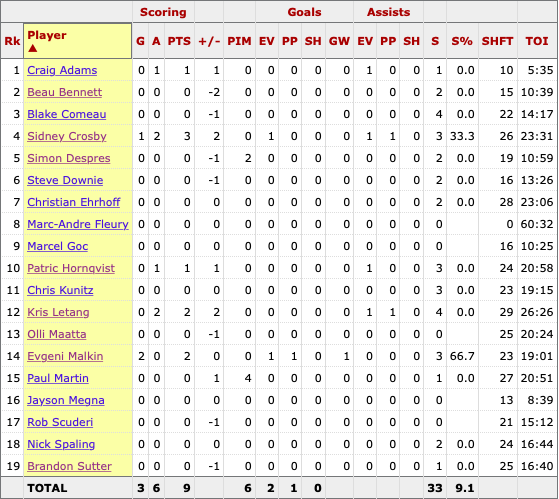 Gets you all misty-eyed seeing Sidney Crosby, Kris Letang, and Evgeni Malkin grouped up in the 3-on-3 overtime, no? Sid with a highlight reel goal, Fleury with his 300th career win…those were the days, and yet wasted by Johnston. It was five months into Rutherford's tenure as GM; one year later, Mike Sullivan would be hired to replace Johnston, and the rest is history.
---
I can understand the motivation for wanting to throw Kris Letang to the wolves. Many of the mistakes he makes turn into quality scoring chances against, and such was the case with the shorthanded goal the Penguins allowed on Tuesday to start the scoring in Boston's favor 1-0. But this season he is performing generally as good as, if not better than, his season last year in all the major metrics. He's also playing with goaltending that is way underperforming and some pretty average shooting.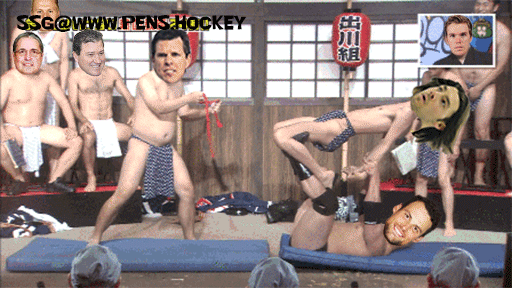 But, unfortunately, last year was a down year and he's only still below his career average. He's 33 years old with this season and next season left on his contract. He has a modified no-trade clause which he's provided a list of eighteen teams to which he would accept a trade. And with all the injuries piling up, trading a big name like Letang would almost definitely signal the end of a competitive season for the Penguins. I don't imagine Letang going anywhere this season, given the situation the Penguins are in right now (being in the division race, all the injuries on defense, the shock departure of Rutherford, the early-season slump of John Marino) and the fact that he is still, indisputably, the Penguins' #1 defenseman.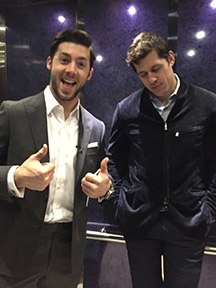 But, unlike with Malkin, he has one fatal flaw: he often suffers when relied upon too much. He is currently averaging a full two minutes per game more than any other year in his career. He often starts to burn out if he plays more than 25 minutes a game, and right now he's up to 27. And now, the Penguins are going to rely on him more than ever.