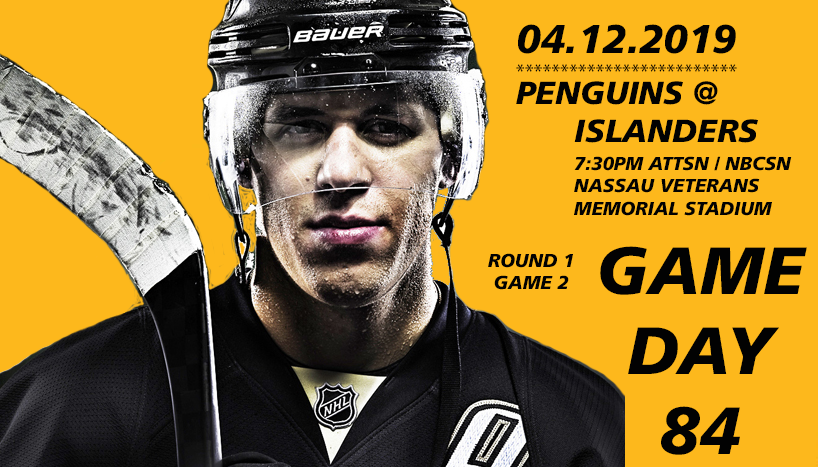 In their history, the Pens have won 5 out of 10 series when losing game one on the road. Let that sink in, down one game on the road, the pens are still even in series wins, that's 50%, the flip of a coin. If you don't like this team's odds on a toss-up, you need to give your balls a tug and then give a hippopotamus a prostate exam.
The playoffs are designed so a team with home-ice advantage never has to win on the road. In other words its expected the home team will win the first two. If the lower seeded team takes one of the first two games, that script flips. So do that. The pens are going to have to win at least one on the island, tonight is as good a time as any.
This penguins group can play better. Murray's 0.879 sv% is well below the 0.920 he's posted in the playoffs over the past three years. That's not a veiled version of should've-kept-Flower, its just the facts jack. Murray is the guy, he needs to play accordingly. While Murray will have to steal a couple if the pens are going to go all the way, he doesn't need to be that good tonight. He just needs to be better.
No one ever has a right to complain about Sid's game (unless the jealously of a thousand Giroux's flows through you) but Sid's entire line finished in the minus column on Wednesday. Whether its match-ups, or just sheer will from the captain, that has to change. The good news is, 87 has no shortage of will power.
No line changes for either team are expected. With luck, the rust on ZAR and Dumo will be gone and the pens will come out with some jump. Gudbranson's status is listed as "uncertain" by some after being "boarded" in game 1. With no announcement from the team, I expect him to play.
I think the Pens have seen the Isles' best game. I'm certain the Isles haven't seen the Pens'. So pull up your britches, sac up, put on your big-boy pants, strap down, buckle up, or whatever else you call manning-the-fuck-up and do it. "We" all know you McCann.
RIP
THEIR
FRKING
DIKS
OFF
AAAAAAAAAAAGGGGGGGGGGGHHHHHHHHH!!!!!!



Loading ...