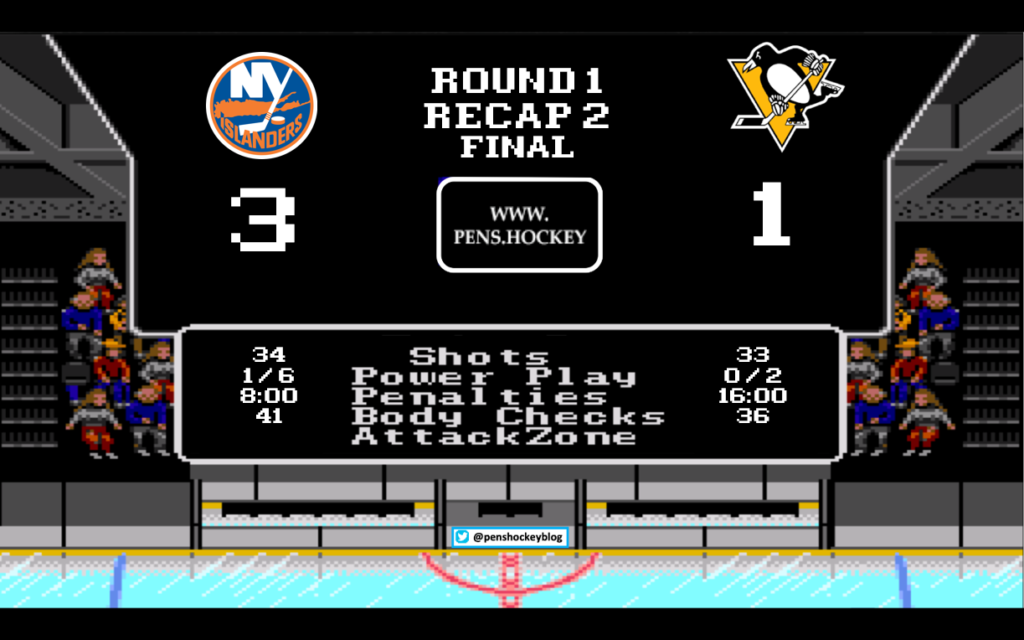 Maatta sucked so JJ getting the call was pretty simple. Would it work? Well, you already know by now, but you'll keep reading because you're here and what the hell else do you have to do, anyway? My mom is busy, sorry. Take a number.
Anyway, we were NOT expecting the Clusterfrk Effect to happen so quickly. Turns out young Jared McCann just ………. No, I won't do it. You don't deserve my puns anymore, sorry. Anyway, McCann is day-to-day, so it's time for Ol' Blue…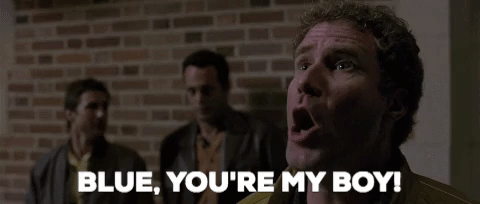 Opening minutes were very uneven as the Pens attempted some new fun attack method that I can't really explain because bourbon. But they were doing stuff different. However, it only let to lots of icings and other stoppages.
Malkin with a hooking penalty 5 minutes in because apparently grabbing a stick with your armpits is hooking now. Geno Angry.
A couple minutes later, Leonard the Kommierov attempted to mess with Geno and Phil was Not Having It. 4 on 4.
ThePhil! gets a pass at the blue line, has it poked off by Douche Aisle #whocares and Toes throws it on net and nothing but post. Murray didn't see a thing. We'll take it.
At 13:36 I said the word that rhymes with 'punt'. As in, 'that was interference you (rhymes with) PUNT' at the ref. But always remember… the Pens get all the calls.
Anyway, down at the other end of the ice, JJ lifts a stick directly into the shnozz of Douche Aisle #blah. Ensuing penalty kill was pretty damn stellar, actually, with feisty pressure and solid clears.
OUR reward? Johnson coming out of the box, heading directly to the bench, runs over two Aisles who weren't paying attention. Clean up, Aisles two. Also, apparently you're not supposed to do that because if you run into someone and they fall down because they aren't watching where they are going, it's a penalty. I mean, it WAS a penalty, but still. Dammit.
On THIS ensuing PK, And Dur Slee did a dumb and the Pens went to evensies. And then the Pens had a teeny weeny PP which felt exactly like it sounds – useless.
Shortly thereafter, Dumo and Letang played a game of "MY guy? I thought it was YOUR guy?" But thankfully Murray's got EVERY guy and the crisis was averted.
The period would close out without further incident.
Stats after 1:
NOTE: It was 3-0 Columbus over Tampa at this point in the night, somewhere in the second period. LOLOLOLOLOLOLOLOLOLOL

1 minute in and Dad almost broke the ice. 4th line with some pressure and the puck squirts to Cullen who was just absolutely robbed by Len-er. Damn. Cully needs a little blue pill, maybe, to get that puck up. Happens at his age. Nothing to be ashamed of. Just sad he didn't get this information before the game.
3:30 in and Sid takes a hook in the O-zone. Against the Aisles fourth line, who they so far just cannot figure out. Yeah, I don't fucking get it either. Bourbon time.
On THIS ensuing PK, Gudbranson decided that killing a 5 on 3 would be a fun new challenge, albeit without him.
Turns out, he was RIGHT. Pens PK looked REALLY good and actually created momentum. Hockey is literally the best sport ever. Getting confidence from frking up.
More back and forth, Murray with a killer save and then the 1st line FINALLY gets some sustained pressure with Dumo ultimately getting a post.
More up and down and then on a seemingly innocuous shot from way down down, Guddy delivered the goods.
Gudbranson (1) from Malkin (2) – 10:36 – EV
But the Aisles wouldn't roll over. The 4th line kept owning Sids line all period. Until finally the Aisles first line figured it out. Murray with the initial save but the rebound squirted out into the paint for Buuuuh-vee-leee-asshole.
More penalties. More Geno anger. More clenching. But no more goals despite many more chances.
Stats after two:
NOTE: CBJ still up… hehehehehehheheh. Without schadenfreude, where would we be? Just drunk, that's where.
For the third period, you get my brain dump:
Simon to the Sid and Jek line because WTF else are they supposed to try? And it almost works – nice chances in large part because of great work by Letang. Yes, that same Letang who played last game. I know. Yes, really. I know… I am also surprised.
Aisles responded with a great flurry and almost got rewarded.
Sid almost made a 'holy shit Sid' play but to no avail.
Also, at this point, it was 30-21 in shots advantage Aisles. Also dafuq.
More insanity. More back and forth. More playoff hockey. More clenching. More fun.
There was a 4-2, bad guys, but Mr. Should Eventually Get A Norris single-handedly frked it.
Then at 9:something, Eee-beer-league remembered he's still good at hockey and puts a perfect backhander past a helpless Murray.
"Let's Go Isggglrrarrguj!!"
Then Horny took a penalty on an obvious trip.
The PK apparently needed to be down 2 guys to be successful, because Bailey's Irish Cream made them pay.
WELL SHIT
Sid needs to figure out how to get free. The Pens will be done really quick if that doesn't happen.
Anyone else feeling like Montreal, 2012?
Letang and Geno need to STFU and play.
That said, the Penguins have won 5 series after being down 0-2. There is ample reason for hope.