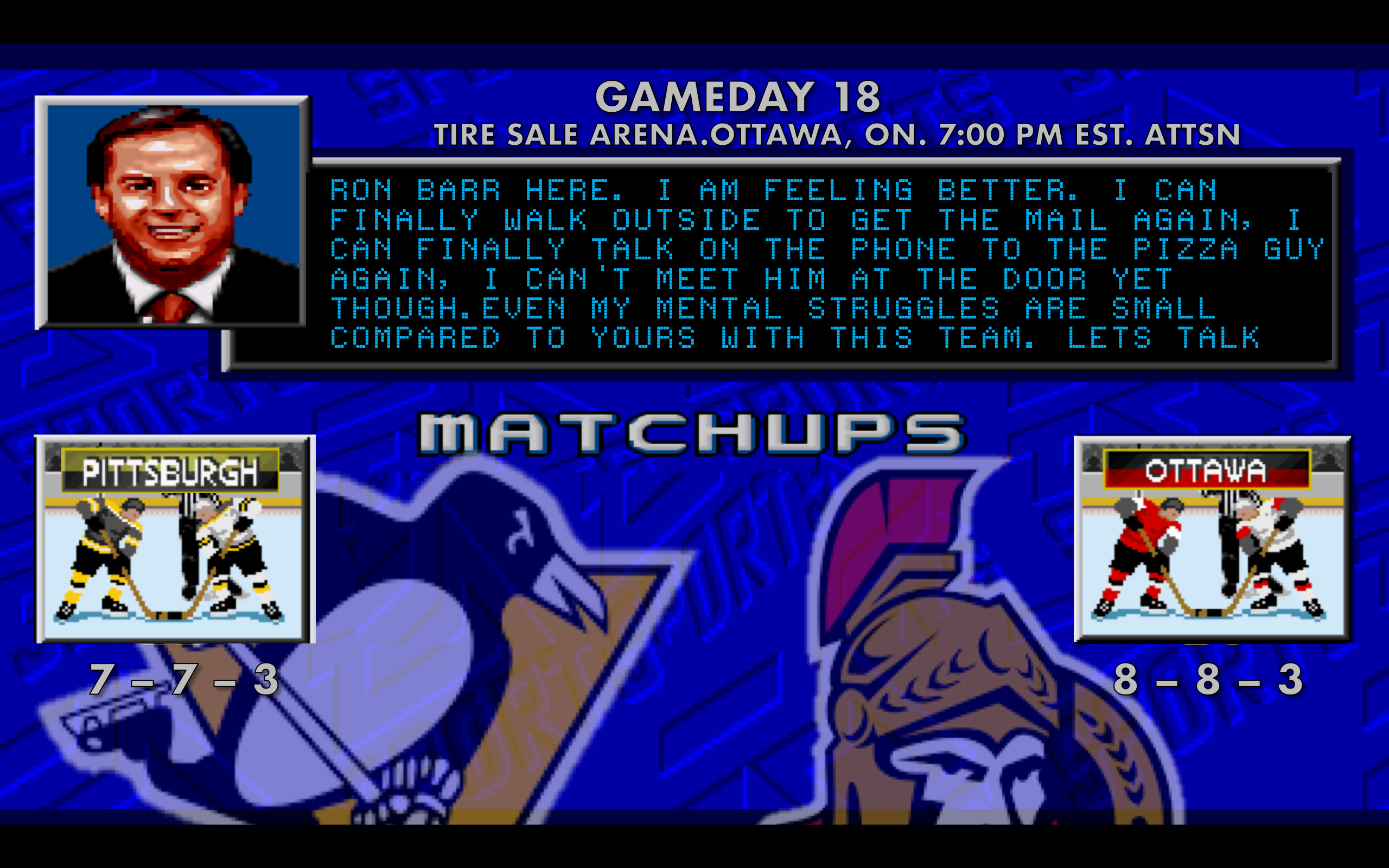 It was a cold evening, God was it cold, the kind of chill in the air that freezes your nostrils and makes your lungs burn. The locals didn't seem to notice the below zero temperatures whipping through the air as the wind blew parking lot litter around their feet, I suppose they were used to that type of chill. Of course, they were also warm in the soul as well having just watched their struggling hockey club knock of a one-time cup favorite. One-time cup favorite, the phrase still echoes in my head to this day as I recall the glory days. It was the final night of the year, a year that saw this team crowned champions just six months ago, a year that concluded with another defeat. The glory of winning felt just six months ago had ended in agony, with no light at the end of the tunnel. The date was December 31st, 2017 and the Penguins were in Detroit to close out the calendar year and what had become a horrible month for the club. When the final buzzer sounded the Red Wings had defeated the Penguins 4-1, handing Pittsburgh their 8th loss of the month and sending them to the bottom of the standings. When the team woke up on January 1st they were only ahead of teams diving for Dahlin
It was unfamiliar ground, the Penguins sat last in the division, three points out of a playoff spot, and the city was burning down as the headlines were raging
Who are the Pittsburgh Penguins?
Penguins playoff hopes in Jeopardy
      Crosby, Malkin Window Closed?
ARE THE PENS GOOD? MAYBE THEY ARE BAD? YES! – M. MADDEN
PHIL KESSEL MISSES TOCCHET By Ron Cook
                MURRAYS GLOVE!!!!!!! -Twitter
FLUERY WOULD'VE GOTTEN THIS TEAM TO THE PLAYOFFS – Everyone
FUN WHILE IT LASTED! TIME TO REBUILD!!!
                       TRADE LETANG
The Penguins took the turning calendar as a kick to the ass, rattled off three wins in the next four games only to find themselves in last place on January 7th. January 7th is a hell of a lot closer to the end of the season than November 17th. That Penguins team, with their 2.5 lines and 10 remaining back-to-backs rattled off wins throughout January, February and March and made it to the playoffs. That exhausted group of players who had played one game of hockey for every three calendar days over the course of two years including the offseason picked each other up and forced their will on the league. They made it to the playoffs as reigning champions. They had to face their hated rivals in the first round and they beat them into needing a mascot.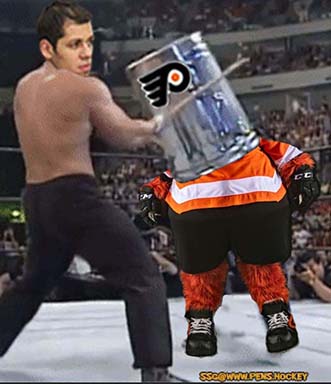 The exhaustion of back-to-back runs finally caught up with the team in the second round, when they were finally bested by Washington in six games, even though they were a Tom Kuhnhackl post away from forcing a game seven against the eventual Cup Champions. A team that was written off by many in January proved they weren't done and were only beaten by the eventual champions. With the exception of Tom Kuhnhackl, Conor Sheary and the corpse of Matt Hunwick that team is the same team that plays tonight in Ottawa. It's easy to get down on a team when they aren't winning, if we didn't then winning wouldn't be the sweet glory that it is but I have some news for you, Jack: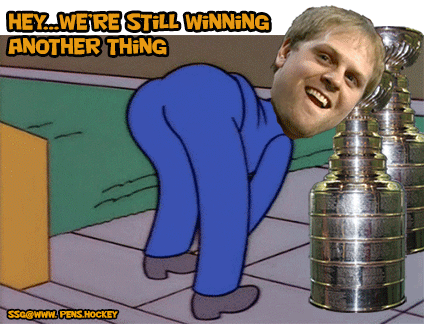 Watching Phil Kessel lift that Stanley Cup wouldn't have been nearly as satisfying without the history behind it, which involved a lot of losing and struggle. Losing and struggles are normal for hockey teams, and we seem to forget that, though that isn't our fault; since the two-headed monster started their quest in this league we haven't witnessed the team lose 30 regulation games in a season: 

Out of the 82 games in every year this team has gotten points in over 52 of them, every fucking year. The Blackhawks ran a similar streak for 8 years starting in 2008-09 and concluding last year. The next closest active streak of fewer than 30 losses in consecutive seasons is held by the Capitals and Predators, who both suffered 30+ loss seasons in 2013-14 and none since. No team has lost less in regulation over the last decade than the Pittsburgh Penguins. It's easy to get used to that. It's comfortable. You add in those three Stanley Cups in that time frame, more than some teams have in their entire existence, and you can see how a little bump in November can seem like the end of the world. You can also see how ridiculously spoiled we are. Over a decade of winning 60% or more of the games, three Stanley Cups, and no missed playoff berths. There isn't another team in this league that can say that. Not Chicago. Not Los Angeles. Not anyone. And yet, at the first signs of adversity this fanbase turns to doom and gloom. To be honest what right do we have to do that? Even if this teams "window" is closed (it isn't) and they don't win another cup (they will) there is nothing to look down on in this era. People are always saying that Bylsma wasted Crosby's youth blah blah blah. IT DOESN'T MATTER. Stanley Cups are rare, look at the team the Penguins iced in 1993. They are not just given to a team with the best players. As a fanbase some feel cheated because we ONLY got to see three cups in 9 years. TORONTO IS STILL SMILING ABOUT WINNING IN 1967 AND WE ARE SAD WE WENT ONE YEAR WITHOUT IT. We've watched Sidney Crosby Captain this team to four Stanley Cups, two more than Mario Lemieux, four more than Jaromir Jagr, and we question his leadership? We have watched a coach pull every right string when it has mattered, even with Ryan Reaves on the fourth line, and get this team to within 2 games of three consecutive Eastern Conference Finals and now we are ready to pull the plug because of a 3-6-1 stretch in November??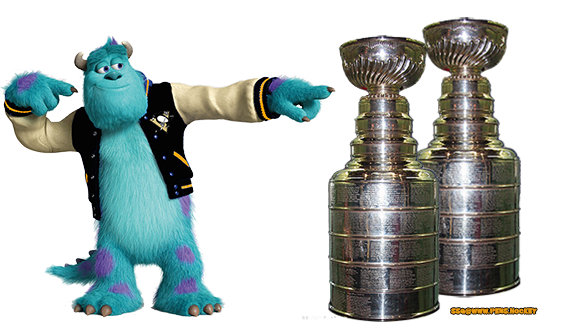 Mike Sullivan is at the plate batting 2 for 3 in Stanley Cups and some want to put in a pinch hitter because of his first real rough patch? Sure, sure the team has won two cups with midseason firings but come on, catching lightning in a bottle three times in a decade surely isn't what you are banking on? "COACH Q is available!!!" Bite me. Coach Quenneville just spent 100 years with the Blackhawks and is making $6 million to not coach them right now, a price the Penguins organization would have to pay on top of paying Sullivan? There's a better chance that Jagr gets his jersey retired by the Pens this year. Instead of panicking and making a dramatic change, wouldn't you instead like to see what this coach, this coach you were screaming "IN SULLY WE TRUST" at during the TWO parades, is capable of with his back against the wall? This team is in a rut and most of it is coming down to mental mistakes. Do you truly understand the animal we are dealing with when those mistakes start going away? What they will be capable of when this team starts to feel it again? This isn't a bad hockey team, and a record is not the determining factor of good and bad. If it is, then perhaps someone should tell the Washington Capitals who on this date last year were…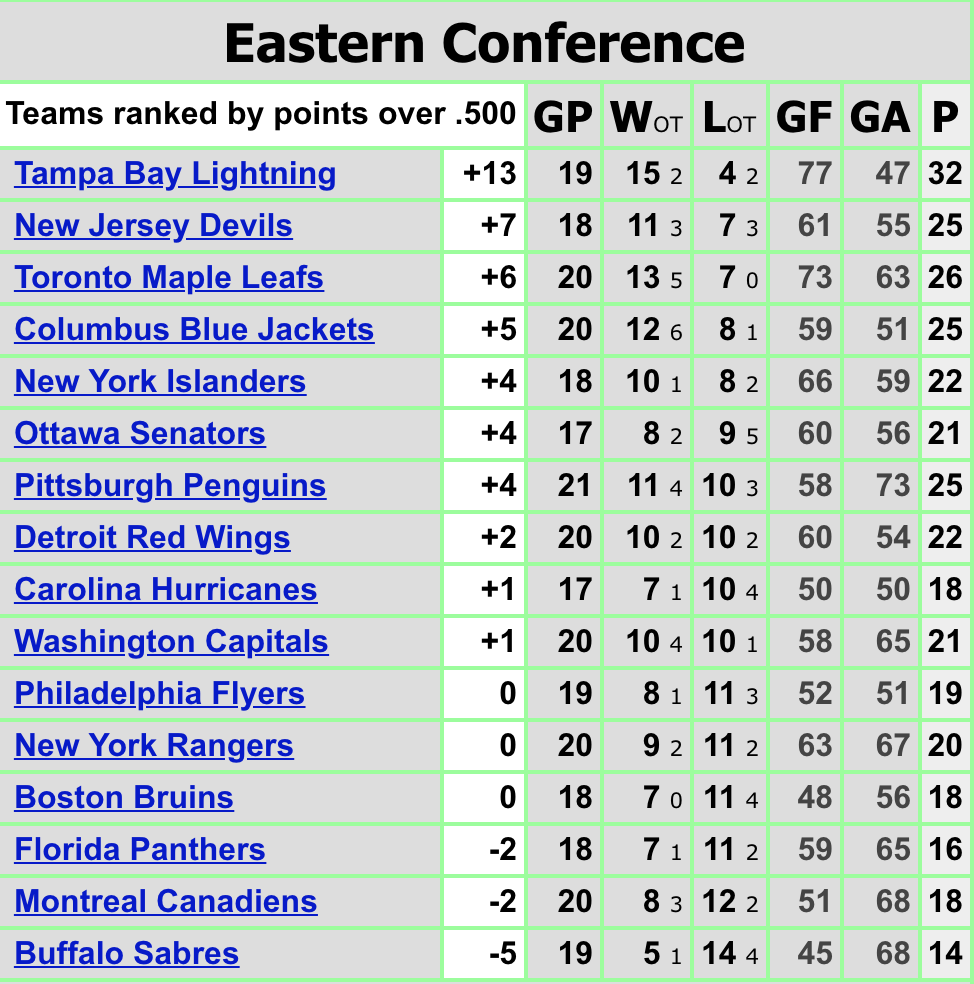 GOD GAWD!!! They were 10-10-1! A team with a .500 record and a third pairing on defense that isn't ready for the NHL!!?!?!?! Surely their season was done because everything is determined in November! Look Pittsburgh, we cannot make fun of Toronto for thinking the Stanley Cup is won in October if we are going to think it can be lost in November. The Penguins are not going anywhere, they will get out of this mental slump and they will once again be the team nobody wants to play in the playoffs. They certainly aren't perfect by any stretch, yet, but they are a hell of a lot closer to being a great team than being a truly bad one. When they stop gripping the twigs so tightly, stop feeling that snake bites on the wrists, stop over analyzing every bounce, the wins will come, and there will be plenty of them. This team doesn't need a shakeup. They don't need a new coach. They need to believe in their game plan, get out of their heads, and play the game. And when they do, and they will, they will be better for it.

We, as fans, have become used to winning and somehow we blame the players for doing the same. Matt Murray, Jake Guentzel and Bryan Rust didn't know anything except for Stanley Cups up until last year. Jagr once said that winning the two cups his first two years was one of the bittersweet moments of his career because he didn't appreciate what winning it meant enough until he went the rest of his career chasing it. Fortunately for the young players on this team, Crosby, Malkin and Letang do know what it's like to go home without the cup, and they know they aren't getting younger. They are going to do everything they can to win it, it's why you see the stupid stick infarctions right now, it's purely out of mental frustration. These players went a year without winning it, they are struggling in November and we are throwing in the towel without acknowledging that maybe the players are feeling the same thing we are? It's insanity. "They lost to the _____ that team sucks!!!" is stupid. Regardless of what Adidas wants us to think this isn't the 90's.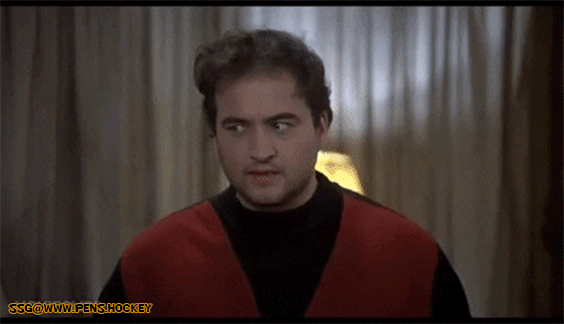 There isn't an automatic W on any night in this league against any goaltender, starter, back-up, backup-up, emergency. There just isn't. Each game is that game, each night is that night and each team is that team in that game on that night. The Senators tonight could beat the Penguins and it just means it's a loss to another NHL team. The Penguins have been a team in their heads for the month so far, and it is very easy to get there as a player. It starts with a few posts, it continues with a hop over the stick and an odd-man rush, it concludes with a guy thinking he's the problem so he tries to do too much and takes penalties (Malkin, Kessel). This isn't a team that is failing at hockey. This isn't a team that is bad. This is a group of guys that are dealing with a mental block right now, a group of men who know how to play the game right, a group of champions that will persevere. The only question remaining is are you going to be the one cheering them on in May or will your tv be off since you wrote them off in November?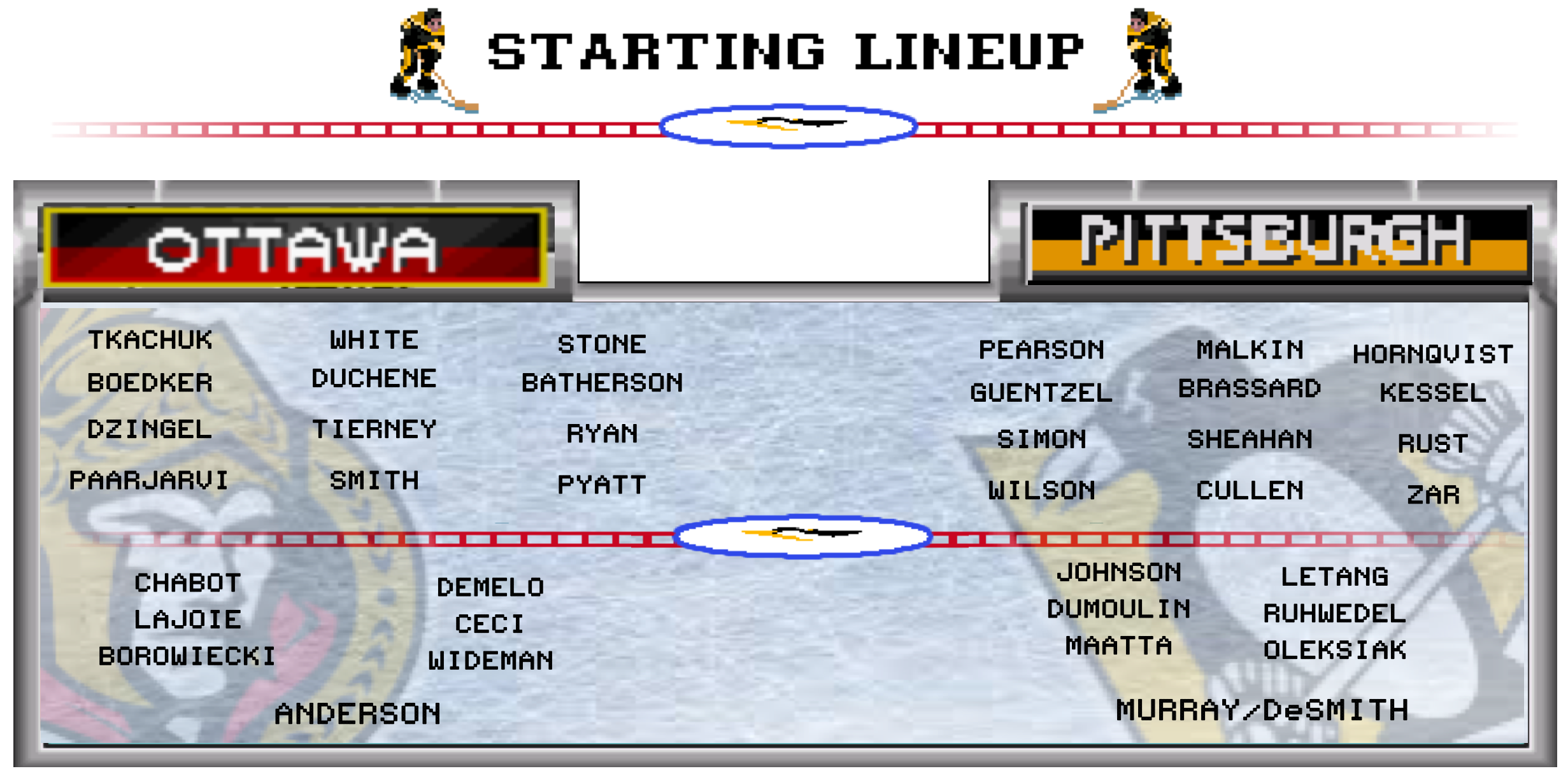 Brassard is a game-time decision but he says he felt good yesterday so I suspect he will be in. If not then the lines look the same just with Grant thrown in somewhere. The Senators third line will eat the Maatta pairing up alive if they get the chance, Dzingel and Tierney have been very good together and their speed does not bode well for Maatta. In his defense, Olli Maatta played one of his best games last game, almost as if he realized he might be next to change uniforms. If Brassard does go it will be the first look at what should become the third line with Guentzel-Brassard-Kessel, a line I am rather excited about if they get grooving. In net tonight should be Murray, we used Micah's goalie chart in a post earlier this week, he finally edited it up and labeled the graphics and it tells us exactly what we've been preaching: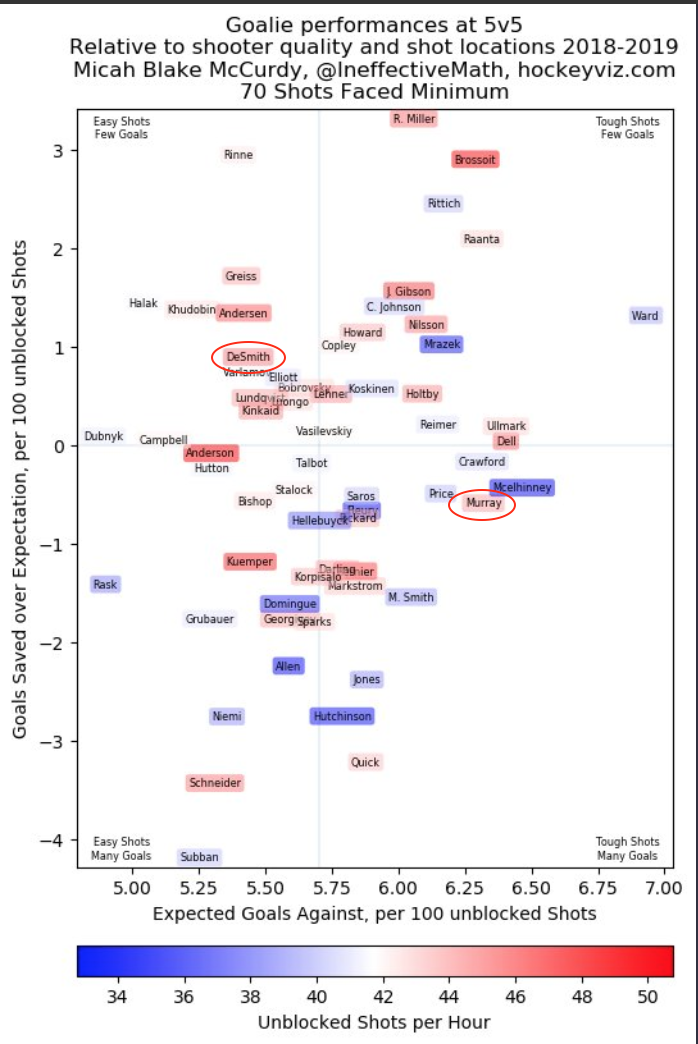 Even with his awful stats Matt Murray is still not even giving up more than one goal over what is expected. DeSmith on the other hand is seeing easier shots while giving up a full goal less than expected in the process. Again, a lot fo DeSmith's play has been based on the new defensive pairings when the team went from a Letang-Dumo Corsi pairing of 56% and the bottom four averaging in the 40's to the new pairings, where Letang-Johnson have been sitting around 52% and Dumo-Ruhwedel 54's. Two pairings with Corsi in your favor is better than one, and DeSmith has been benefitting from this. He has also been there to bail his team out when needed. In his first game behind the new pairings Murray played well at even strength, and maybe DeSmith makes one of those saves on one of the penalty kills, but does he make the glove save in the first from point blank? Does he stop Stamkos from the circle? In my book Murray played well enough last game and deserves to play behind a team that will put him in the same corner as DeSmith, if he does that and he is still a minus in the goals expected column that is when I will start to worry. Until then, I'm not jumping off the Murray wagon so you can suck it.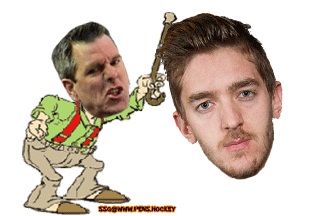 Tonight is a game in which Patric Hornqvist promised the entire season would change on one shift. No clue what he means by that but I'm here for it. And you are too otherwise you wouldn't still be reading this. It is November 17th. I do not care what the team has looked like to this point. I do not care about the defensive struggles that hurt them while Johnson was paired with Maatta. All I care about is cheering on this team, my team, in the remaining 60+ games of this season. Nothing should be taken for granted. Do you think Captain Leadership and Woman-Beater Kane ever thought they would miss the playoffs? We are all here because we've enjoyed this crazy ride this team has put us through, and in the world of social media and every beat writer trying to break the biggest news of the day we've all gotten wrapped up in the negativity and that shit is bananas. B. A. N. ANA. S. This is hockey. If you want to be negative go talk about something that isn't a game. You will go and cast a ballot, saying to yourself it won't matter because I'm in an all blue zone or all red zone, but you still cast it out of hope for change, a belief you obviously have or you wouldn't vote in the first place; yet you can't find it in your heart to believe in a team that is struggling in November that has already delivered the holy grail multiple times? It's a long season, and every season has it's downs, but until the Penguins are ten points out of a playoff spot in the middle of March you won't cash me outside worrying. Now, reach down, give your balls a tug, and get ready to watch this team play this beautiful game. There isn't anything better in the world, and remember how fucking lucky we've been to cheer on this team, because you could've been born an Ottawa fan.