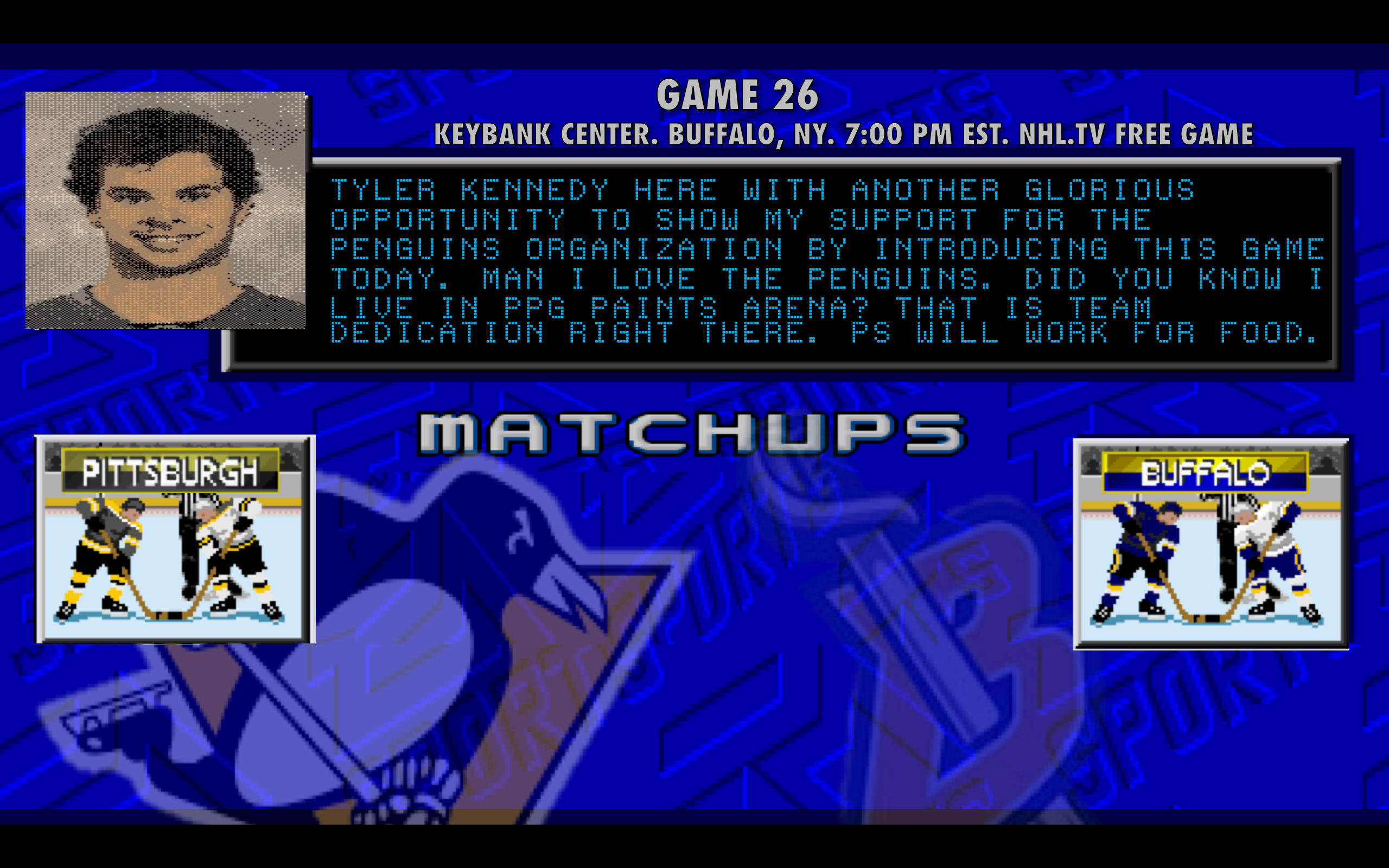 The Penguins are back in action after a nice three day break that was filled with Evgeni Malkin healing his wounds and Ian Cole getting traded to the KHL. The last time we saw the Penguins Sidney Crosby was further cementing his legacy as the highest scorer in Flyers history a few nights after thoroughly handling Tampa. The last time we saw Buffalo was November 14th, a 5-4 OT victory by Pittsburgh, an overtime goal that saved the Penguins from losing three straight games and you from losing a lot of brain cells. Since that game Buffalo has Buffaloed going 1-6-0 with their only win coming against Edmonton. As if the record wasn't bad enough the Sabres have failed to score a goal in each of their last two games (3-0 loss to Montreal on 11/25 and a 2-0 loss to Tampa on 11/28) making their last goal a Kyle Okposo tally with 51 seconds left in their tilt with Edmonton, also known as 120:09 of scoreless hockey.
There isn't much to talk about concerning Buffalo and their race for a high lottery pick so we will turn our focus TO the Penguins:
Tristan Jarry: With the injury to Matt Murray being labeled as "week to week" the Penguins are turning to Tristan Jarry as the man in net. It was noted on The Athletic that Jim Rutherford has said that he is not actively looking for a goaltender as he feels Jarry is ready to handle this situation. My two cents, which due to inflation are worthless, is that throwing your trust into Jarry is the right move to make because it lets you assess where he is and it keeps you from making a trade with no leverage in your favor.
Ian Cole: So unless you've been on an internet vacation you're probably aware that the Penguins have scratched Ian Cole for like 20 straight games. Every media member has speculated that there is a trade coming. The organization has said all the standard things organizations say when there is a trade coming, "you guys are looking into it too much," "he's an important part of our team," "these things happen." My assessment is that if the team is trading Cole then it is for something worthwhile considering they just saw how tough it is to win without Kris Letang in the playoffs, and given Letang's history of more breaks than a highway at rush hour it's possible they will have to do it again. It was reported that Cole has had to have his stitches replaced almost every game due to repeatedly getting hit in the face, so this could all be letting his mouth heal also, which would be hilarious for Pittsburgh media.
Evgeni Malkin: Malkin has also been injured and somehow this didn't result in Rob Rossi writing a column that a Malkin-Cole package deal was in the works. All signs point to Geno returning tonight.
Daniel Sprong: Rumors flying by those in the know is that Daniel Sprong will not be called up anytime soon (barring some kind of injury) due to him still needing to hone his defensive skills. In other words when the Penguins post their lineup on Twitter tonight please go to the person that tweets "call up Sprong!!!!!" and tell them no.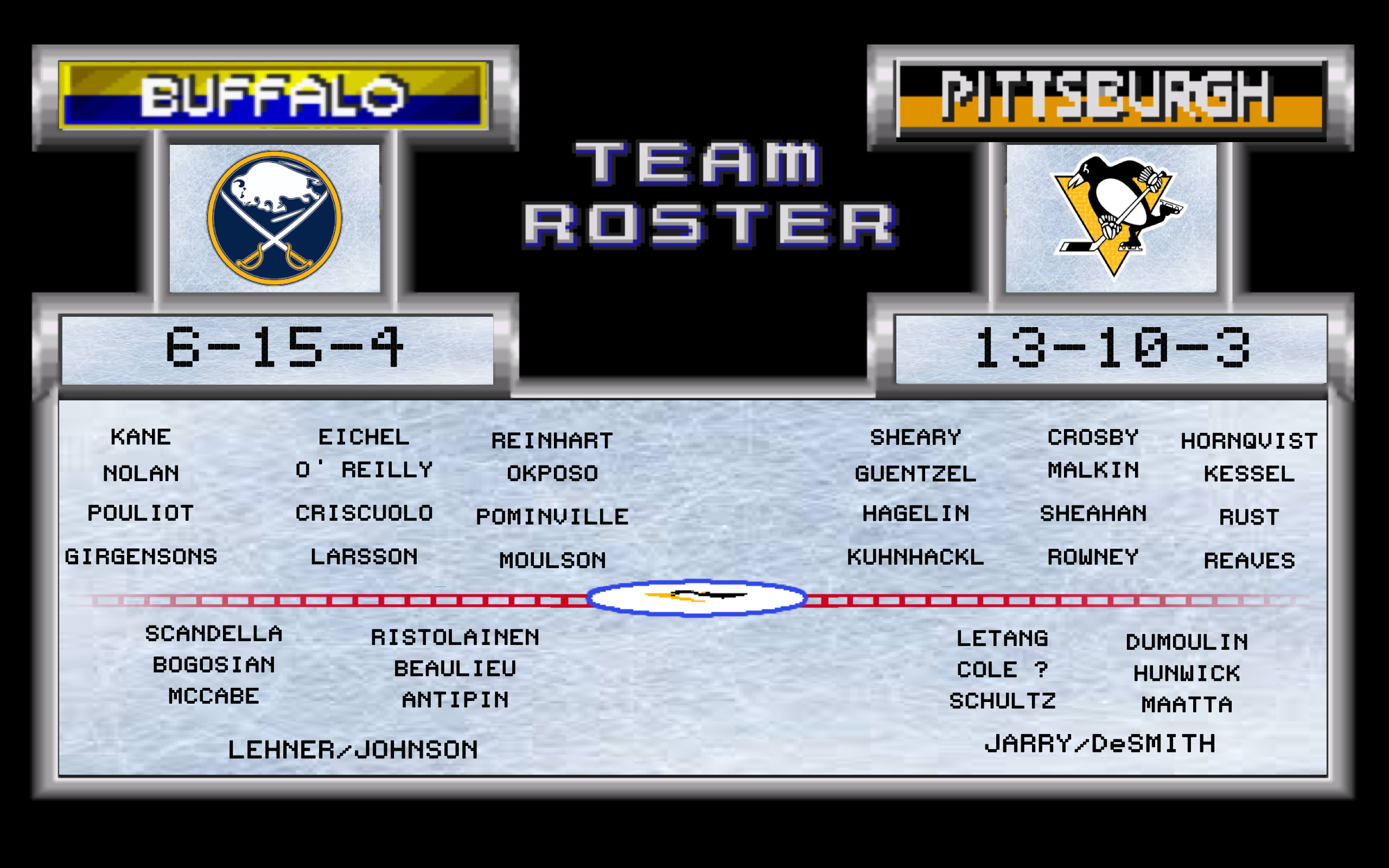 The 6-15-4 Buffalo Sabres, the team with the roster that supports the record. The team has 4.5 players on their top 6, their third line center is a 6 games played NHL veteran, and their defense is mostly responsible for their 16 points. The team is rumored to be shopping around their top offensive player Evander Kane (12 goals, 11 assists) who will make a solid rental player for someone at the trade deadline. The Penguins should get their first look at their center depth since the Riley Sheahan trade if Evgeni Malkin does in fact return (Rowney broke his hand before Sheahans first game). Sheahan currently has points in 5 of his last 6 games and I would've been a bit hesitant to remove the two wingers that have helped him get the ball rolling. He's had very good success with Guentzel and Kessel and I don't see the harm in having Malkin play with Hagelin and Rust for the time being if it means the team could start having 3 threatening scoring lines.
I put Ian Cole in the lineup because why not? Obviously if he is scratched again then it will be Ruhwedel in his place and at that point I will agree that he is most likely being traded. Other than that the defense should be straight forward with Jarry between the pipes with DeSmith going tomorrow night against Buffalo.
Guentzel is back with Evgeni Malkin, and that could be deadly tonight. Following a 6 game scoreless drought that saw Guentzel get benched in-game and TOI cut down between October 24th through November 2nd Guentzel has flicked a switch, notching 8 goals and 2 assists in the following 11 games. 5 of his 8 goals in that span have come in the last 4 games, a stretch that has resulted in Guentzel being tied with Phil Kessel has team co-leaders in goals with 11. One of the most pleasing things for the organization during this stretch is that Guentzel has been scoring at both even strength and on the powerplay, and the bulk of it has been without being on a line with Evgeni Malkin or Sidney Crosby. With a healthy Malkin ready to shine tonight you would be foolish not to want to watch every shift that line takes tonight.
Final Word:
This is a home and home with the two teams playing again tomorrow night back in Pittsburgh which sets up a prime opportunity for the Penguins to take advantage of their lesser opponent and potentially win 3 games in a row for just the second time this year. The last time these two met the Penguins played a sloppy game that they were able to get out of in overtime, however if the team plays like they did against Tampa and for the last 2/3s of the Flyers game then this shouldn't be close. All eyes are on Jarry tonight as the starter, the hopeful return of Malkin to the lineup, and the potential 3 game winning streak with a chance to make it 4 against the same team tomorrow. One game at a time, the Penguins have to take care of the basement mildew that resides in Buffalo tonight. Tonight is the free game of the night on nhl.tv so just go to www.nhl.tv and click on it to watch!