The Penguins have started playing hockey in a pattern that is more recognizable as the Penguins. Granted this didn't start with the win in Tampa, it has been forming throughout the last three weeks and finally things are falling into place and bounces are finally going the right direction. Of course wins against Philadelphia and Buffalo should hardly be considered season changing moments, though wins in games that you should win can certainly be classified as great for the overall team morale. We are into December now, and wouldn't you know it, the Penguins look like a different team than they did in October?
We were barely into the first period when someone noticed that the 35 in the Penguins net wasn't Tom Barrasso…
https://twitter.com/penguinshistory/status/936767259313430528
No offence taken.
3 minutes into the game the Sabres were trying to do something but they ended up just doing what they always do by shooting themselves in the foot. First a shot from the point was blocked by Tom Kühnhackl, who properly accelerated to gain a breakaway. Then the Buffalo defense decided they have less faith in Robin Lehner stopping Kühnhackl than Kühnhackl scoring and hooked him up. Tommy Tutone was awarded a penalty shot…
TOM KÜHNHACKL @ 3:23 Penalty Shot
https://twitter.com/penguins/status/936751934161244162
Pretty straight forward here, he looked at his spot the whole way and neither shielded it nor tried to hide it, and honestly I think that's what made Lehner overthink the shot. You have to feel good to see Kühnhackl finally get on the board this year, unfortunately he would not score 4 more goals 4 different ways in this game to complete the Lemieux Trick.
The goal didn't really result in a change of play from the Sabres because honestly they are completely lifeless under head coach Phil Housley. Three minutes after the Kühnhackl goal the Sabres decided to put another one on the board for the Penguins by giving Sidney Crosby the biscuit right in the lane.
SIDNEY CROSBY (11) Assisted by Ristololnen @ 6:38
https://twitter.com/penguins/status/936753507218219008
Don't for one second overlook the incredible defensive decision by Ian Cole to pinch down and poke the puck deeper into the zone, Cole could've easily retreated but knowing two forwards were in the zone he took the chance. Crosby just determined to get to this puck first, and uhhh… don't look now but the man who was dead two weeks ago is now 3 points back from top 10 in the league, again.
The goal basically broke whatever spirit Buffalo had, the arena was as lively as the Capitals Stanley Cup parade and man did it feel good to know the Penguins were finally controlling a game. As time ticked down the Pens kept swarming the net, then the insurance salesman made an incredible play. Evgeni Malkin carried the puck up the ice and after crossing the blueline tossed a knee-high lob pass to Jake Guentzel, who knocked the knee-high puck out of midair down to his stick and protected it from the other defenders while not breaking stride. Guentzel carried the puck powerfully behind the net and then notched his 9th goal in his last 12 games.
JAKE GUENTZEL (12) Assisted by MALKIN (15) @ 18:05
https://twitter.com/penguins/status/936758694926221313
Just an unreal play to knock the puck out of midair like that, and it shows the trust Geno has in Jake to know he can send him a puck like that.
Rumor is Donald Trump is jealous of Guentzels yuge hands. Unreal play, get the hell out of here, and that's what the Sabres did,
https://twitter.com/penguins/status/936759347547426816

The second period was all about not having a brain fart and making sure Buffalo continues to feel worthless. The Penguins did just that, and Tristan Jarry was having himself a night. I felt like Sullivan took the opportunity of a big first period lead to challenge his defense. Often in junior play if our team had a big lead our coach would say "only [player name] can score" to make us work on our passing, or "if they get less than 8 shots this period no practice tomorrow," and with the team needing defensive work it would make sense for him to say something that challenges the defense in a similar way.
Regardless of my unfounded speculation the Penguins defense was stellar, and in the final minute the offense wanted to have fun too:
PATRIC HORNQVIST (9) Assisted by SHEARY (4) & CROSBY (16) @ 19:20
https://twitter.com/penguins/status/936774204774428672
That subtle move of the hands and arms by Sheary is so freaking slick. You can't see it from this view but when he moves his hands up it brings the puck to the tip of the blade so that he can angle it through the defenders sticks and right to Hornqvist. Horny with the finish on the Pens 23rd shot of the game, the Penguins shooting at 17.3%?!?! What is this life?
https://twitter.com/penguins/status/936773745682739200
Tristan Jarry shut the door on backup goaltender speculation. Rumor is Anti Niemi let in 4 goals while watching the game. Nothing else happened in the third other than Evander Kane being a dick and Ryan Reaves being pointless. Now we get to do it all over tonight!
GAME
---

The Pittsburgh Penguins return home to complete the second game of their back-to-back, home-and-home set with the Sabres.  Unless something happened between then and now, there will be little difference between tonight's matchup and yesterday's, so I'll be filling in today's space with a retrospective of the first third of the regular season.
I find it more poetic to consider the regular season to be three roughly equal parts, seeing how a single hockey game is broken up into three periods.  Looking at it this way, the season is broken up as such:
"First period" (Games 1 through 27): Each team starts with more or less even odds of making the playoffs.  Teams, replete with new arrivals, are still working out lines and strategies, so a lot of experimentation is going on.  By the end of the period you have a pretty good idea of which teams are serious playoff contenders and those which aren't.  Front offices may make some moves but often they're not major. (Apologies to Matt Duchene and Kyle Turris.)
"Second period" (Games 28 through 56): Teams will now start angling to either bolster their rosters for the playoff push or make moves signaling their preparations for the future.  Head coaches typically start getting fired in this span as some front offices seek a change in leadership, hoping it's not too late to turn things around.  For the Penguins, Game 56 is on February 9 this year.
"Third period" (Games 57 through 82): For many teams, the playoffs are still in reach, so last-gasp moves from trades (the deadline usually being within the first ten games) to coaching changes (Dan Bylsma was hired by the Penguins prior to Game 58 in 2009) can sometimes make or break a team's Stanley Cup dreams.  For some teams, it's a chance to ship off any remaining expiring contracts and see what the future may hold with call-ups.
For the Penguins, the "first period" concluded yesterday, and it's been an interesting start to say the least.  There aren't a lot of obvious positives, but let's see what good news we can drag up here:
The power-play

: Easily the best aspect of the Penguins as a team thus far, they're currently sitting second in the League, right behind the Tampa Bay Lightning with 26 power-play goals in 100 opportunities.  Although I have to put a damper even on this point, since the Penguins are also third in the League in power-play opportunities, they have just five more opportunities than the Lightning, so it's not a huge leap to say that they've been successful on the power-play.  At 33%, theirs is the highest rate of power-play goals to total goals in the League, so the Penguins' power-play can be seen as a major factor for their overall offensive success.  (Perhaps too major?…)

Phil Kessel

: The Lord of Hot Dogs has been sensational for the Penguins, currently sitting tied for fourth in points and sixth in assists, including a League-leading 17 power-play points (tied with Steven Stamkos).  Coincidentally, he is leading the Penguins, assists, points, and has a team-leading +2.  If he keeps this up (and let's hope he won't need to, but it'd be nice), he'll have his first career 100 point season.

Jake Guentzel

: The Snake/Jackal has begun his sophomore season quite positively, with a team-leading twelve goals and another six helpers to tie him with Kris Letang for fourth on the team.  Given the absence of Malkin for the past week or so, Guentzel has also acquitted himself in the face-off circle, clicking at a 55% winning percentage.  It stands to reason that he could centering a line on his own when needed to, but he clearly benefits from working with Sidney Crosby, with whom he has earned half his points. Guentzel is clearly making a name for himself as a valuable sniper and dangerous on the man advantage.

Keeping pace

: Perhaps a cynical positive but a positive nonetheless, the Penguins sit fourth in the Metropolitan Division and sixth in the Eastern Conference.  They still have a negative goal differential (-12, tied for sixth-worst), but the East is a logjam and the Penguins are only five points behind the first place Lightning.  The West is notably more of a logjam, with ten points separating the first and thirteenth place, but the point I'm trying to make here is this: as rough a first trimester the Penguins have had, they're still in the mix and there's plenty of time to go.
Alright, let's get the bad news out of the way:
Goal prevention

: …has not been good.  Yes, there is a big drop-off from the Penguins' goals allowed (90) to the Arizona Coyotes' (101), and if they could make up that same eleven goal difference it would boost the Penguins up from 30th to a more-respectable 19th.  Nevertheless, the Penguins defense has been alarmingly absent and no other regular Penguins besides Kessel and Riley Sheahan have a positive plus-minus.  Do we prefer the Kris Letang who is tied for eighth amongst defensemen in points, or the Kris Letang who is tied for third-worst in plus-minus? Interestingly, Letang is tied for second amongst defensemen in power-play points but has been demoted to the second power-play unit; perhaps Mike Sullivan is sending a message to his defensive captain that he needs to focus on his defense? This isn't even touching on the Ian Cole situation, which seems destined to be resolved in a trade, but who really knows at this point?

Goal prevention, part two

: As good as the Penguins power-play has been, the penalty kill hasn't helped them in the same way, as they have the ninth-worst penalty kill on the third-most short-handed opportunities.  Between the PK and a -19 even-strength goal differential, there is a lot of room for improvement in preventing goals.

"Luck"

: A pretty indicative graphic on the subject by Sean Tierney (@ChartingHockey on Twitter):https://twitter.com/ChartingHockey/status/936626597922328577

Hanging out with the Coyotes in the "Unlucky" rectangle is not a great situation, although somehow the Penguins are worse in both shooting percentage and save percentage than every team in the League, so it's probably miraculous that they're not as bad in the standings as the Coyotes. How so few things can actually be going right but the Penguins are where they are in the standings despite themselves, it's fascinating and complicated.

Forward depth

: in case you hadn't noticed, Mike Sullivan scarcely puts out a fourth line every night, with Tom Kuhnhackl, Greg McKegg, and Ryan Reaves getting the leftovers.  I'll come back around to this in a minute, but perhaps not having a fourth line Sully can rely on to spell the rest of the team and shut down an opposing scoring line has something to do with the overall defensive woes?

Sidney Crosby

: I am loathe to put him in this article at all, for good or for bad, but Sid has not been successful thus far this season and much of that lack of success could be seen as hampering the Penguins overall.  He's been healthy (knock on wood) and his face-off percentage is his best in years, but his shooting percentage is tied for his career second-worst and he's on pace for one of his worst seasons production-wise.  All this despite starting in the offensive zone more than at any point in his career.  It's still Sid;  he can still hockey better than most of us could dream, and when he gets going (notably, his shooting percentage is his career second-worst) the Penguins are going to take off.  Maybe this pair of games against Buffalo will be the catalyst?
Let's look at the big picture.  At this point last season, the Penguins had 37 points in the standings, so this year's team is a little disappointing in that regard.  But also consider that each UFA the Penguins had in the fold at this point last season – namely, Nick Bonino, Matt Cullen, Trevor Daley, and Chris Kunitz – are all plying their trades elsewhere this season, leaving depth gaps in terms of skill, production, leadership, and experience that cannot be replaced with just some different bodies.  Mike Sullivan can lean on three forward lines for a time, but in the next seven weeks the Penguins have to start shoring up their forward depth.  I have a feeling that if the Penguins can get back to giving all of their fourth-liners ten-plus minutes a night, all that ails them will be cured.  (Last night, only Reaves was under 10 minutes.)
There's still a lot to be positive about with the state of the Penguins right now.  Even though Matt Murray is out with an injury, let's be grateful that Antti Niemi is nowhere to be seen in a Penguins jersey.  Much of the defense is still in good shape, they just need more support.  And the forwards who are out on the ice on a regular basis are doing well enough.  It will likely take some tinkering (and perhaps a surprising trade, with or without Ian Cole) to steer the Penguins in the right direction.  The question now becomes: just how much effort will Jim Rutherford put into making this team a more serious contender for the Cup this spring?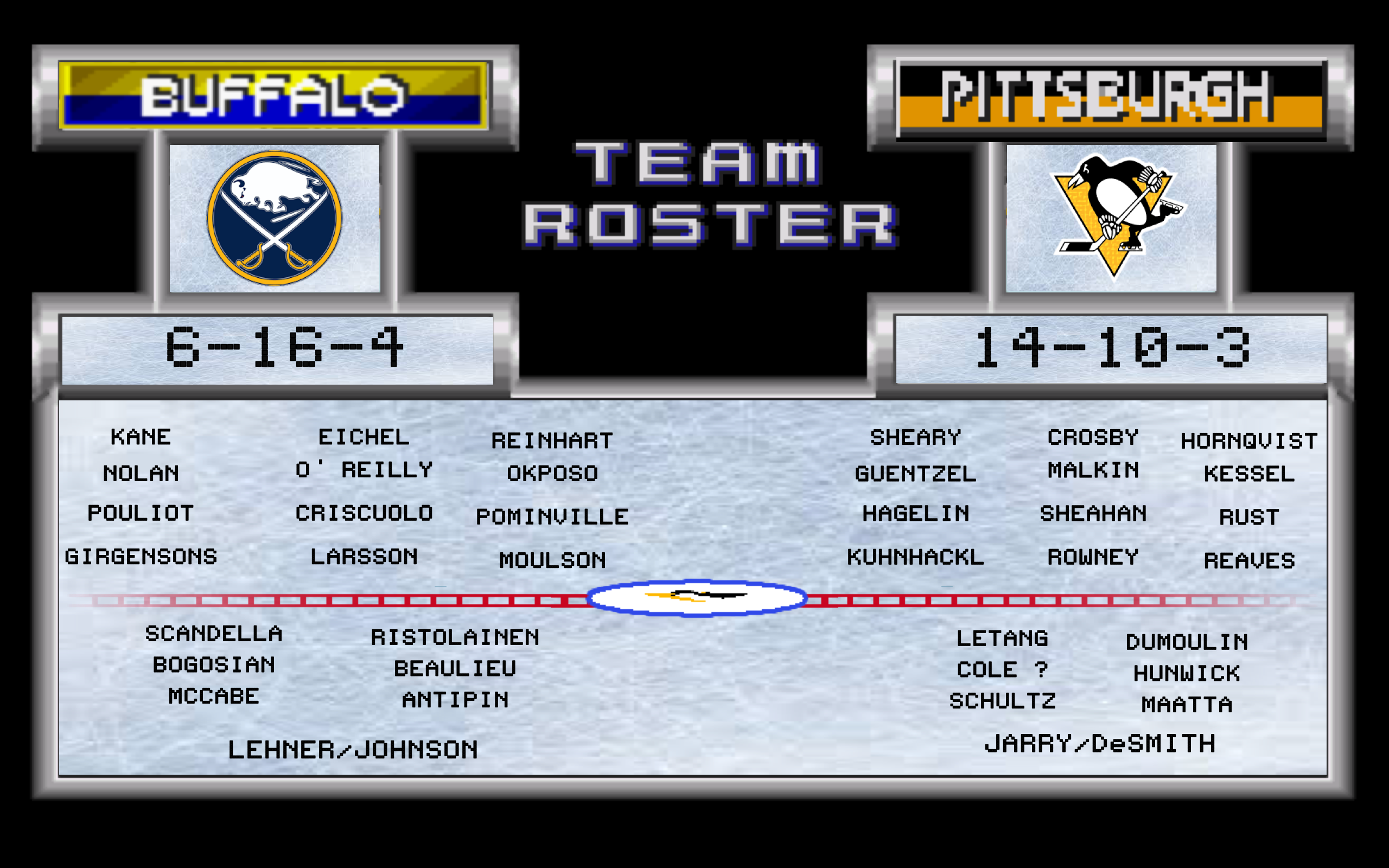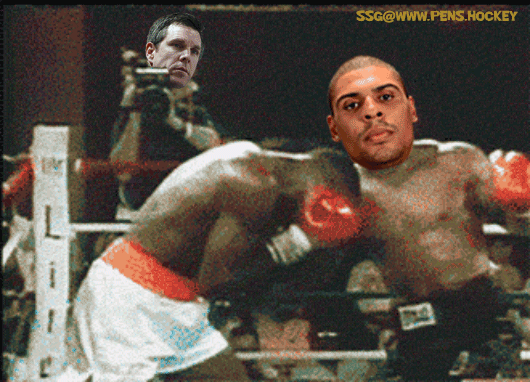 Loading ...