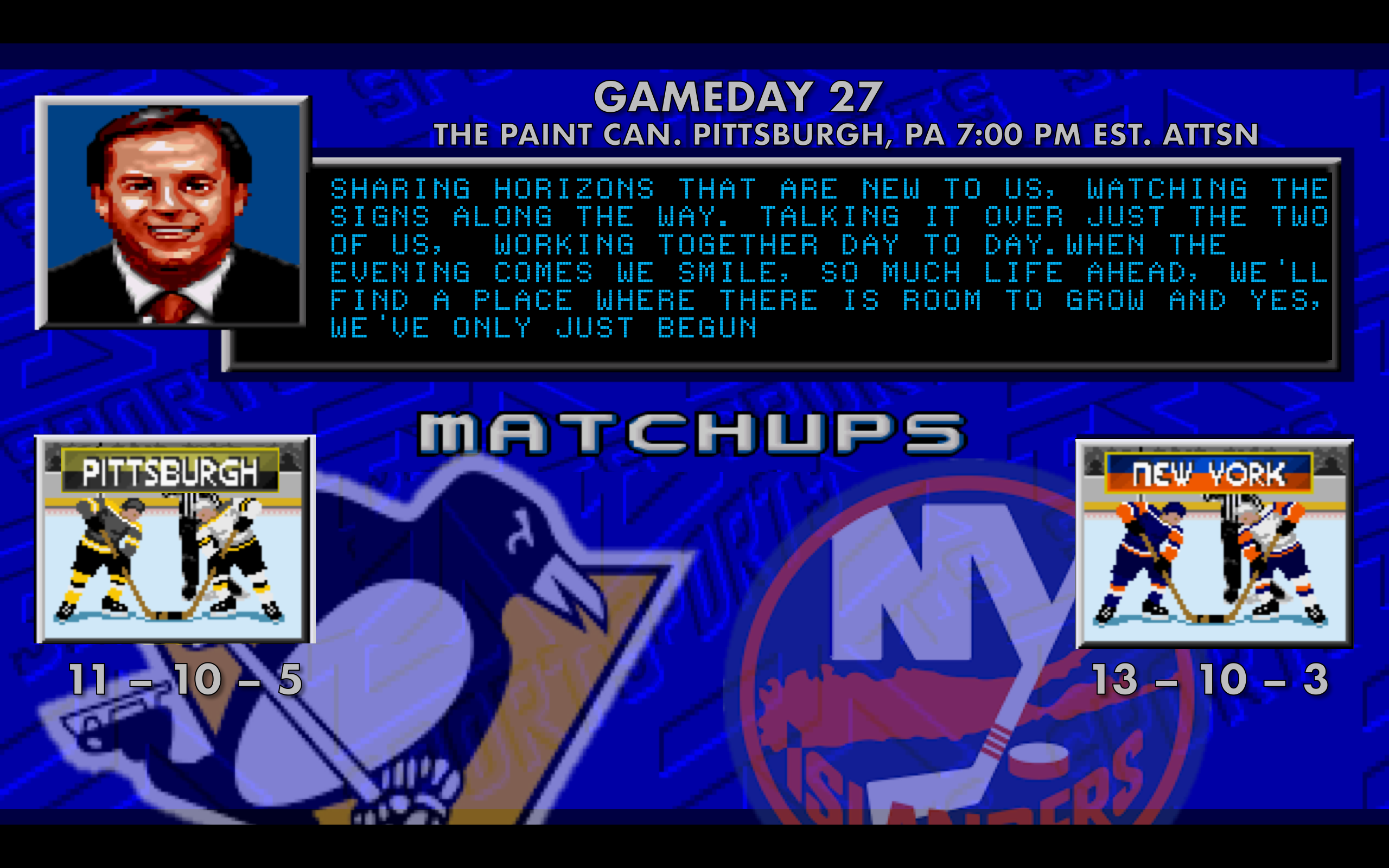 Goals came in threes again for the Pittsburgh Penguins and Colorado Avalanche on Monday, as the Penguins hurried out to a 3-0 lead in the first seven-and-a-half minutes of the first period, before giving it back in a five minute chunk in the middle of the second, but it took Hatric Pornqvist less than three minutes to pot a natural hat trick and recover the Penguins' three-goal lead for good.
A rolly-coaster game, to be sure, but a win nonetheless, and with the Metropolitan Division still a close race all that matters is collecting points.  Tonight the Penguins face-off against a New York Islanders team that has thus far taken two wins out of four meetings from the Penguins and is presently in third place in the Metro Division but is only two points ahead of the Penguins for that third guaranteed playoff spot for the top three in the division.
A Pens win tonight will put them in a tie for 3rd in the Metrosessual Division. SO GO FRIGGEN WIN ALREADY. The Pens last back to back wins happened 13 days ago starting on November 24th and 27th [27-24 = 3] against Comeblowus and then Whinypig.
It is critical we take at least two of these three home games.  We really need to start trending W's so none of us are in danger of hurting any of our relatives over the holiday break. I got this one 'Trumpy' brother-in-law boy-O who's really asking for the 'ole why I oughtta. He's getting an Obama tie. Only 3 weeks left till Christmas : D
The Islanders are 1-3 over their last four games, so they've started making their way to the bargain basement at Macy's for early holiday shopping deals. We could easily give em a kick down the escalator to help get them there quicker. Holiday spirit and all.
Overall this Islander team shouldn't scare us. If we keep playing and scoring goals like we did last night we should beat these early overachievers a lot easier than we did the Avs. The Islanders have the 4th worst PP in the league…no worries there…and they're 22nd in the league in Goals Scored. Pens are currently 10th in Goals Scored and our PP is YOUGE at 24.6% and good for 8th best in the league.
The Islanders Goalie numbers are currently a little better than ours but Of Smith has been very solid recently and either he or Jarry should be more than enough to shut down a team with only one double-digit goal scorer, who's name I'm not gonna write cause the last time I made fun of him he single handedly killed us. FRK YOU SCIENCE DOGE…you know who I'm talkin bout : D
I'm looking for another big night of home cooking before the Pens hit the road again for the next THREE games. (There's that number again ; ) Sid, Geno, Phil…I'm looking for yinz 3 tonight.
DO IT … DO IT … DO IT
Thanks for three-ding ; )
…SSG