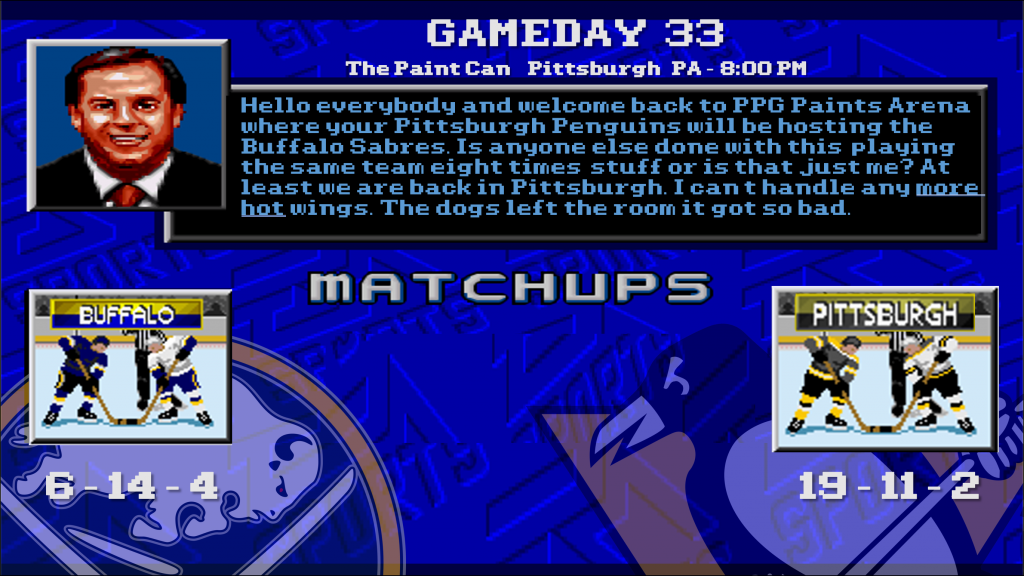 Sunday's 2-1 overtime loss at the hands of the lowly New Jersey Devils showed once again that the Pittsburgh Penguins are going to have a hard time being successful for extended periods without a full compliment of players. It certainly doesn't help that Evgeni Malkin, their second-line center who was playing ascendant hockey over the past few weeks, is out for the "longer term," whatever the hell that is supposed to mean. Malkin, like his third-line compatriot and fellow injured list designee Teddy Blueger, is clearly the fulcrum upon which his line mates pivot. Case in point, not only has Pittsburgh only won one game since the Penguins' 2-1 loss to the Boston Bruins on March 16, Malkin's linemate Kasperi Kapanen has also only scored two secondary assists in these past four games. Likewise, without Blueger in the lineup, Brandon Tanev had only two points, a goal and an assist, before he too went on the injured list.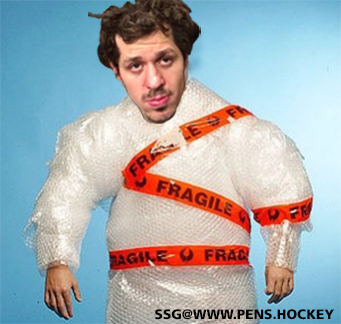 All of this to say that without Malkin, Tanev, Blueger, and Jason Zucker in the lineup, the Penguins look worse than they did when practically all their defensemen were out due to injuries. Although the Penguins did eke three points out of six against the Devils despite the absences, and it stands to reason that they'll do fine against the Buffalo Sabres, playing as underwhelmingly as they did against a bad team does not bode well for their chances against a potential playoff foe like the New York Islanders (Sunday and Tuesday of next week) and the Boston Bruins (after the Islanders).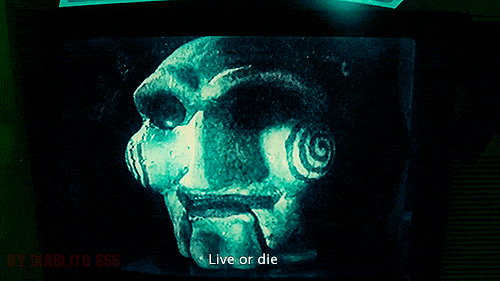 Now that I have likely psyched you out for the rest of the story, let me psyche you back up by reminding you that the Buffalo Sabres are the League's worst team by a fair bit. As of this writing they are seven points behind the Ottawa Senators for the fewest points in the League. Unlike the Senators, the Sabres have few redeeming qualities.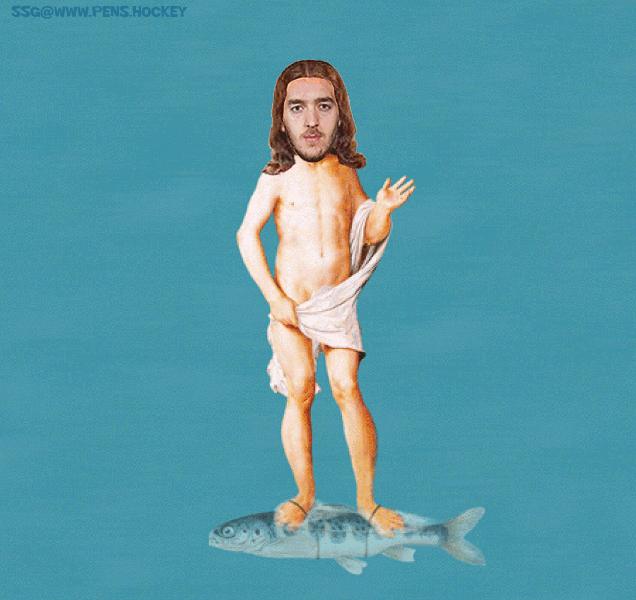 They have Jack Eichel, whose long-term status as a Sabre is in serious debate as he is the subject of numerous rumors.
They have Taylor Hall, whose 2017-18 Hart Trophy win seems as distant as his years in Edmonton. Hall actually has the best Corsi-for% and Fenwick-for% numbers of his career, but despite a nearly 64% offensive zone deployment, his on-ice PDO% is nearly 4.5 points lower than his previous career high.
They have Rasmus Dahlin, somehow already in his third season after Buffalo took him first overall in 2018, who had a half-decent sophomore season last year but…somehow playing for the Sabres is not helping him to be more productive!
It is only in the context of a heavily depleted forward unit for the Penguins could anyone argue that there are enough NHL-caliber players in Buffalo's lineup that would be good enough to crack Pittsburgh's roster. Sure, I would love to have a third line of Eichel, Hall, and Victor Olofsson or Sam Reinhart, or even Eric Staal, but that's not really realistic right now.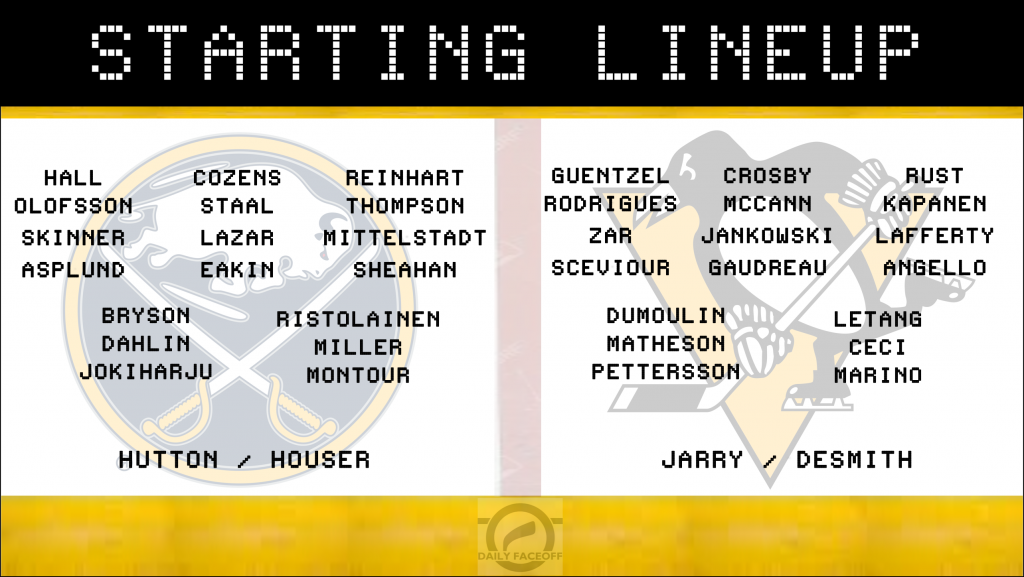 The good news for the Penguins is that they have a first line of Sidney Crosby, Bryan Rust, and Jake Guentzel, that pretty much does whatever it wants when that trio is on the ice. As long as those guys can get goals, the Penguins will probably be fine for a little while, or at least as long as they're allowed to tee off on favorable matchups. Being that Pittsburgh is at home for these next two games, that shouldn't be an issue for head coach Mike Sullivan.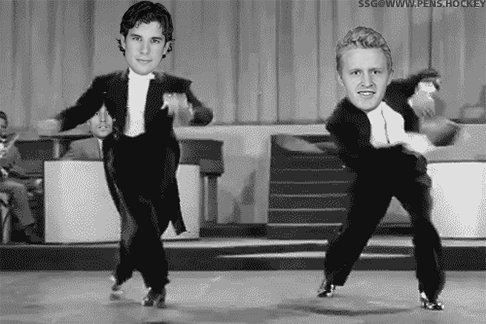 ---
I saw on CapFriendly that the trade deadline is about three weeks away. I'm not going to do a big preview of the deadline as I usually would, and the way things are looking I don't think there would be much missed in doing so. Don't get me wrong; there are plenty of big name UFAs out there: Alex Ovechkin, Tyson Barrie, Ryan Nugent-Hopkins, Dougie Hamilton, Tomas Tatar, Gabriel Landeskog. But the market does not seem keen to play along, and there seems to be some timidity in front offices to send a player across the country or across the border to and from Canada. If you were thinking the Penguins would do anything, I would be surprised if they made a move of considerable substance, in spite of the tweet above. There are few players on the Penguins roster that would fetch a reasonable return without seriously wrecking the team's productivity, particularly in light of the injuries they're facing. There are also very few other assets for general manager Ron Hextall to work with.
The best present the Penguins could get over the next month is a fully healthy squad. For now, they're going to have to slog through it.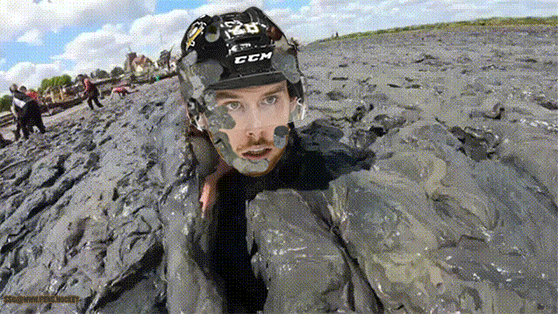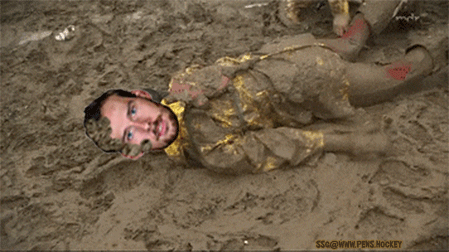 ---
I wanted to express my thoughts on the League's discipline of referee Tim Peel. In case you missed it, Peel was officiating last night's Predators-Red Wings game when he expressed this opinion after giving a penalty:
The hockey world exploded and this morning Peel, who was planning to retire at the end of the season, was effectively fired by the NHL:
On the surface this looks like the NHL is taking the actions of its referees very seriously, but this initial decision is intended to placate the casual observer. Anyone who follows the NHL closely and on a game-by-game basis knows that the referees are extraordinarily subjective when it comes to calling penalties. They will call a weak penalty after they missed an egregious infraction. They will call something a major when it should have been a minor, and vice versa. Many times they call a penalty against the wrong player, or a penalty when there wasn't one. And yes, they will call more penalties against one team than another if they feel like there needs to be evening-up. Worst of all, 99% of the time NHL referees face no apparent accountability for their actions.
Regardless of how good or bad a referee Peel is, he got caught for being blatant, but this is part of the culture of hockey, and seemingly one of the most insulated. This action by the League is a response to the negative publicity Peel's actions have brought on the League, and nothing more. The officiating has been a problem for years, but the League has done nothing obvious to change this. Again, if you are a close follower of the League, your response to this decision is cynicism, and rightfully so.