After rightfully smashing the Winnipeg Jets into the ground via Nick Bonino and Evgeni Malkin combining for five goals en route to a 7-4 win, the Pittsburgh Penguins continue their Western Canada road show tonight against the resurgent Edmonton Oilers.  The Penguins feasted on the Jets' awful penalty kill, going 3/5 despite Toby Enstrom's injury (which you might have thought would've improved the Jets' penalty kill but apparently not).
Many butts were hurt about Tom Sestito's boarding of Enstrom, and Sestito will likely be suspended between one and ten-thousand games, which is fine because he's hardly valuable to the Penguins whether he plays in Pittsburgh or Wilkes-Barre/Scranton. EDIT: Sestito was suspended for 4 NHL games, emphasis on NHL. The Penguins can send him down and not have to worry about the suspension, that will teach them to play safe NHL.  He came up to do a job, he ended up doing a little too much, and he'll be back at some point to do his job again.  The best news is that the Penguins made it through another game without losing another player.
Whereas the Jets are playoff pretenders, the Oilers are in their best position to make the playoffs since losing the Stanley Cup in 2006.  It was inevitable that the Oilers would make it back to the playoffs, just the same as it is for any team that performs poorly enough year after year that they amass a bunch of top-ten draft picks, but for years, much like the Senators in the late-1990s/early-2000s, the Oilers demonstrated that drafting 6th (Sam Gagner), 22nd (Jordan Eberle), 10th (Magnus Paajarvi), 1st (Taylor Hall), 1st (Ryan Nugent-Hopkins), 1st (Nail Yakupov), 7th (Darnell Nurse), and 3rd (Leon Draisaitl) does not guarantee success by any means.  Sometimes what you need is one guy to bring it all together, one guy whose once-in-a-generation talent lifts up his teammates and gives the fans hope that things are finally turning the corner.
(Of course, losing such a player for half of a season also means you're probably going to end up with another high lottery pick; 4th (Jesse Puljujarvi).)
Yes, Connor McDavid has seemingly done for the Oilers what Sidney Crosby did for the Penguins over the last decade.  The high level of offensive skill, vision, and tenacity McDavid brings has elevated his linemates and put Edmonton on the map as being a future Cup challenger.  Notice the emphasis on "future"? Edmonton is presently in the second-tier of Western Conference teams, tied with Anaheim and seven points behind the San Jose Sharks for first in the Pacific division.  The missing ingredient is not offense or defense (12th and 9th respectively) nor special teams (9th in PP% although 23rd in PK%), but simply consistently good play.  Here is a quick rundown of the Oilers season:
Games 1-8: 7W-1L
Games 9-18: 2W-8L (.500)
Games 19-32: 6W-8L
Games 33-43: 6W-4L (.500)
Games 44-56: 8W-5L
Games 57-66: 6W-4L
Only within the last 23 games have the Oilers really begun to ascend, which is maybe good news because teams usually prefer to be on the upswing heading into the playoffs.  The question is, will the Oilers maintain this ascent, and can they pose enough of a challenge to the West's top tier teams (particularly San Jose) to break through to a possible Cup berth? At least it finally seems like they've ended their decade-long stretch at the bottom of the League and are now looking like turning a corner as a franchise.  If and when they get a consistently good, fully-healthy season, they may break into the top tier in the West and be a very serious challenger for the Cup.  For now though, the mission for them is to stay healthy, make the playoffs, and don't look bad once they're there.
The crushing loss of Tom Sestito has left the Pens with no other option but to put a hockey player into the lineup. The only man in the press box for the Pens is Rowney, so I assume he gets the green light tonight. I don't think he will be placed where I have him on the graphic, I just have no clue where Sullivan will move him. The most important thing to watch for tonight is how the Penguins defense handles the speed of Edmonton. A lot of people in the media business say that "speed" isn't a thing in the NHL and can't be used to describe a team. These same people don't believe in analytics and think +/- is the best predictor of a defenders worth. Without Maatta and Daley on the blue line the Penguins defense is actually better suited for this game, and it will be a good look at how Streit and Hainsey are in dealing with a fast paced team. In their first meeting the Penguins gave up unlimited odd man breaks, so the loss of Daley and Maatta can only help the team in this regard. In my limited views of hockey I think Matt Murray gets the start tonight, using Fleury tomorrow in Vancouver at the midpoint of the trip and then have Murray finish things off.
As for Edmonton, I recognize 6 of their forwards. Testtube is still holding down their 4th line, fun fact: Mark Letestu is 1 goal away from tying his career high of 14 which he set in 2010-11 with the Penguins. There is Ryan Nugent-Hopkins on the second line there, who is possibly the next Justin Schultz for some team:
When you see consistently poor production out of a player that came into the league with his skill set, you have to blame the development. Shame to see it, and unfortunately for RNH Edmonton is good again so he most likely won't be traded now.
The Oilers also have Milan Lucic to protect their stars and to do Milan Lucic like things. My favorite part about Lucic is he gets to finish is career in Edmonton so I will be able to forget him even easier.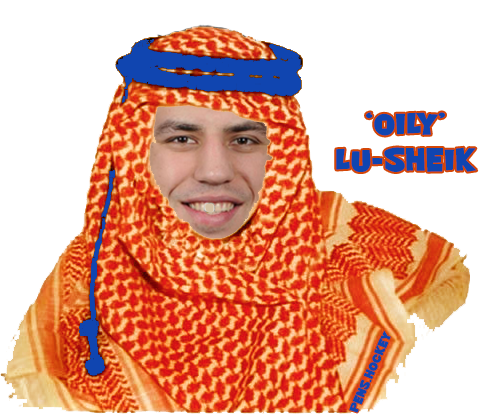 The last time these two met it was a fast paced fun game with both teams trading chances. That was also in early November when Sullivan was letting the team play a free style game without much emphasis on defense. Tonight will be a good chance to see how tight this defensive group is and should give us a good glimpse of where the Penguins are in terms of defense with 16 games remaining. I'm starting to like this late season Canadian trip more than when it is earlier in the season. A good late season road trip is sometimes exactly what the team needs for some good bonding, and no better place to bond than in Canada where there is literally nothing else to do. Also, Crosby VS McDavid tonight, would love to see a big game from Sid to get close to the scoring lead again. Currently Mcdavid has 74 points while Sid sits at 70. Let's fucking do it.