Tonight the Pittsburgh Penguins look to complete a sweep of Western Canada as they face the Calgary Flames at the Scotiabank Saddledome.  The Penguins feasted on yet another lottery-bound team in the Vancouver Canucks, shutting them out 3-0 on the backs of a Sheary-Crosby-Guentzel first line that are giving Penguins fans exactly what they dreamed of.  The five-game winning streak the Penguins are on is their second-longest of the year, and it's coming at a time when the Penguins are injury-riddled in ways that could be giving Penguins fans nightmares.
Of course, it's not hard to remember the years when the Penguins were dealing with injuries up and down the lineup, and what appeared to be a great chance at a deep playoff run came to a screeching halt.  However it's reassuring to know that (thus far) none of the injuries sound season-ending.  With Matt Cullen and Patric Hornqvist joining the ranks of the walking wounded, there are now seven Penguins on the shelf (plus Tom Sestito…) and those four AHL call-ups the NHL allows are being gobbled up quickly.  It's getting to the point where recalling Derrick Pouliot to play "defense" (or maybe wing with all the offense he is producing) is probably an inevitability.  Nevertheless, the Penguins are the third-hottest team in the League right now and they're getting contributions from everyone not named Chris Kunitz.
Perhaps the most formidable team on this road trip is the team they face tonight.  The Flames are on a League-leading nine-game win streak, lossless since February 21, with four players with at least a point per game, and goaltender Brian Elliott has managed to find the mojo that made him part of a Jennings-winning St. Louis Blues a few years back.  They too are getting contributions up and down their lineup (former Penguin Deryk England has a goal!) despite having just two skaters in the top fifty in scoring (Mikael Backlund and Johnny Gaudreau with 48 points).  It's an impressive surge for a Flames team that is on track for its second playoff berth in eight seasons (last: 2015).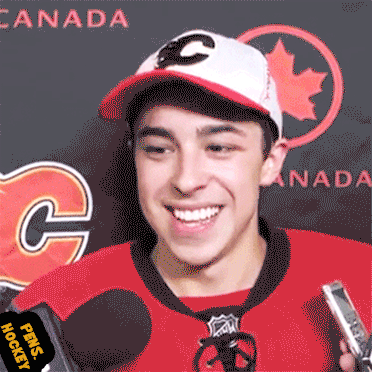 It'll be interesting to see how emotionally invested the Penguins will be in Calgary; the end of a road trip (heading back to Pennsylvania for the Flyers on Wednesday) with a snowstorm due on Tuesday (though not as severe for the mid-Atlantic states) against a team that is…scorching hot (booooo) with a bevy of players out of the lineup.  Then again, Mike Sullivan would probably make his players shovel off the tarmac when they arrive in Philadelphia if they don't play tough tonight.

This is a special edition of the Gomez. For those of you that may not know, we originally made the Gomez Gallery as a part of our gameday posts where we highlight the opposing teams worst contracts. Since the Penguins have already played the Flames once and Deryk Engelland's $2.916 million contract was discussed there we didn't have much to work with today. Then after a conversation in the comments (which you should totally join in on) this came out:
In the last 5 games, the Penguins are 5-0 with an average of 2.2 goals against per game. They are doing this while paying their defenders a combined total of less than 9 million dollars. So today's Gomez Gallery goes to all of the teams out there, currently spending more than that on one defender (Shea Weber) and getting less results (Shea Weber). Yeah there are other factors involved, and I'm not saying the Penguins should run with this defense all the time, but it goes to show what a solid system can do for a team. All Hail Sullivan!!!
In their last game the Penguins went with 11 forwards and 7 defenders. I wouldn't expect them to try their luck with that again, but if they want to save space in the travel budget and leave an AHLer in WBS then that is understandable too. Most likely call-ups would be Josh Archibald or Garrett Wilson in my opinion, and it is tough to get any insight since Wilkes-Barre didn't play or practice yesterday. It should probably be noted that Matt Cullen wasn't really injured, as Sullivan said he was "banged up like everyone is this time of year" so they gave him a few nights off. It wouldn't surprise me to see the real Pittsburgh Dad back tonight, possibly on the wing with Bonino and Wilson.
One other thing that happened while you were sleeping was an Anaheim Ducks defeat over the Media picked 2016 Stanley Cup Champions, so tonight the Penguins may have a little more jump in their step than usual for a game like this:
You're reading that right. A win tonight and the Pittsburgh Penguins, with their 104 man games lost in the last 31 games played are at the top of the league. I've never really enjoyed when the Penguins go into the playoffs with the spotlight expectations that come with winning divisions or President's trophies, but since it is in defense of their title last year the heat will already be on them so why not. Also, with a home record like that the Penguins should be doing everything in their power to finish on top of this bitch.
Last night when I looked at this site (linked above in the image) the Penguins were the ones with the Does Not Control Destiny label. Now it is in the Penguins hands. The Guentzel-Crosby-Sheary line will be matched up against Giordano and Fugly Hamilton. This leaves the favorable matchup of Kunitz-Malkin-Kessel against Brodie-Engelland. This is what makes this Penguins squad so lethal, and that is while missing Hornqvist, Hagelin, Rust etc. etc. etfuckingcetera.
It's a 9:00 PM est start time so tell your boss today not to expect much from you tomorrow. It's the middle of March, teams are starting to make that final push. Root Sports is going to remind us that a winning streak must come to an end tonight at least 3 times. Steigy will make 4 references to the Flames being "hot" and chuckle on air. Tonight is going to be a fun matchup between two fun to watch teams (can't believe I am saying that about Calgary). It's a chance to become the top team in the division. It's a chance to become to top team in the league. It's a fucking hockey night for Pittsburgh baby, so buckle up and let's go Pens!