About Author RAD88: His words are YOUUUUUGE!
So here we are, half-way through the preseason. This game was actually more entertaining than I anticipated, though I still think Bingo was the better option. Sullivan's system is clearly ingrained into this team, as there were several instances of great offensive zone cycling that resulted in great possession time as well as aggressive fore-checking resulting in turnovers as Chicago tried to exit the zone.
The only goal of the game came on great board work by 2 of the forwards on that line, and as soon as the battle was won everyone knew exactly where to go. Here is a breakdown of the periods, followed by in game notes that I typed out and then wrapping up with thoughts as we move to the second half of the preseason.
1st Period: Shots: 12-7 PIT, 0/0 PP, 0/0 PK
Icetime leaders: F, Scott Wilson. D, T. Daley
Team was cycling in the later half, showing what has become "Penguin hockey"

Fleury: Tested later in period, was out challenging far out in the circle to cut down on the angles, including a semi-break-away by Tyler Motte. Complete 180 from his first preseason game.
2nd Period: 8- 10 CHI, 0/2 PP, 1/1 PK
Icetime leaders: Guentzel, Schultz (3 minutes more than any other D)
Goals: Scott Wilson, Assists Sheary and Fehr
Sheary feeds Wilson from high-slot while falling down, the puck bounced off Wilsons skate and he quickly wristed a shot on goal to beat Johansson.
Steigy says he fumbled it and then got it on the second whack… which I am pretty sure Helen Keller could've called the play better. Good display of hands by Wilson, and a great display of cycling by that line of Sheary-Fehr-Wilson. Great play by Sheary, who is making an impressive bid to be on Sids wing to start the season.
Fleury: Looked extremely quick on rebound chances, and stopped multiple high-percentage scoring opportunities. Another break-away save on Tyler Motte (who has had 3 breakaways)
3rd Period: 8-6 PIT, 0/0 PP, 1/1 PK
Icetime Leaders: Daley, C. Rowney
Great protection of a 1 goal lead, as we saw late in the season last year, this is something Sullivan wants from his guys. The last 5 minutes were a great display of boxing in and not allowing many high yield scoring chances
In Game Notes:
– Schultz on Motte, after being beaten made a mature decision and dropped his stick, trusting his goaltender. In my opinion this is a YUUUGE showing of maturity, he trusts Fleury will make the save with the forward on his backhand and he doesn't take the penalty.
– Dumo and Schultz have good chemistry going D to D on the blue line in the offensive zone, also showed great offensive zone puck control throughout the night as a pairing.
-Fleury steals the third period, especially sharp during a 16-minute span (from 8 minutes left in the 2nd through the first 8 minutes of the 3rd) where the Pens didn't get a shot.
– The coaching staff was high on Simon before the game, other than some decent chances late in the 1st with Guentzel, I wasn't overly impressed. He was knocked down way too easily, and pretty weak with the puck when he had it in the neutral zone. It wouldn't surprise me to see him be one of the many cuts coming now that the big boys are trickling in from their WCoH break.
-As mentioned in the previous point, the fulltime NHLers will start to make appearances in the remaining 3 preseason games. It wouldn't surprise me to see Malkin as early as the next one so that he can play a factor in who will start on his wing with Horny. It would also be good to see HBK reunited for a home preseason game as well. I would expect some cuts to come in the next few days, unless the staff just wants to keep extra bodies around for practice purposes.
Race for the 12th forward:
As mentioned in yesterday's Gameday post, Bryan Rust is yet to participate in training camp, and his roster spot for opening day is far from guaranteed. That actually reminds me, just because certain players (Kuhnhackl, Rust, etc.) were in the playoffs and on the SCF roster does not mean they are guaranteed to start this season with the Pens.
Don't discount for one second the effort that a player like Scott Wilson is giving, and I can guarantee you his name is being mentioned in the coach's meetings. Of all the WBS guys that played major roles on the team last season, Sheary is the safest in my opinion, and he continues to separate himself from the others with a terrific camp.
As for the others that are looking to crack the lineup it comes to a battle between Kevin Porter, Scott Wilson, and no I am not drunk but yes I am saying this, Tom Sestito. Sestito played hockey last night. He showed an above chimpanzee level of hockey IQ and made several decent plays in the offensive zone. On the radio end, Bourque even said "when Sestito is out there, you can feel it with his presence and the momentum."
Kevin Porter was compared to Craig Adams last night and it does fit, he eats up a lot of quality PK minutes and plays a good offensive-defensive game, but cannot score a goal. Due to his defensive awareness however, he is most likely the front-runner to crack the lineup on the 4th line, though is Scott Wilson continues his strong camp that could become an interesting battle over the next two weeks.
Other forwards notes:
After watching his play in the first three games, I believe (and according to Mackey and Bourque during the intermissions, they do too) that Jake Guentzel will play as a Penguin this season. He won't start the year with the Pens because the competition for opening roster spots is so stiff, but he will be called up at some point to cover for an injury. He has a well-rounded game and has turned a lot of heads with his play this preseason.
Another forward that will most likely see some NHL time is J.S. Dea, who like Guentzel has made waves at camp and has earned himself a long look, getting a role in all three games so far.
The 6th D-Man:
The enigma of Derrick Pouliot, comes to camp in the "best shape of his life," people are talking about how improved he looks from a fitness aspect and hockey aspect, after his first preseason game Sullivan said he thought he was "okay." Most likely that was a way of Sullivan trying to light a fire and see what DP would bring in the following game, result… not much else. In the meantime, Justin Schultz produced another solid game and is the front runner for the opening night 6th D-man in my opinion.
To make matters worse for Pouliot, David Warsofsky is quietly putting together a nice camp, and has most likely slotted into the 7th man on the depth chart. Warsofsky's solid play was noticed by the scoring officials as he earned the 3rd star of the game.
This isn't to say that Pouliot is playing bad hockey, he is actually playing very well, but he isn't playing like a 1st round draft pick, and I think that is what is bothering everyone the most.
SSG Snark:
Guentzel is absolutely going to make this team. That kid was erreywhere tonight doing erreything. I think I even saw him pouring Bobby Errey a double Knob Creek between shifts…neat!
Steigy was "shining his idiot light" more that a few times and Jay didn't complete a single thought or sentence all night…so, yuh…they're both in mid-season form already!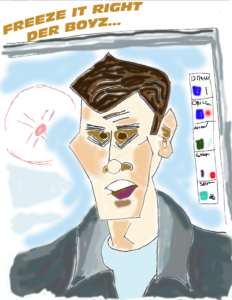 Aaaaah good times ; )