The Pens went into Columbus and played as solid of a game as you can ask for by the roster put together. Sullivan's influence is present on the forecheck by every line. The defenders know when to pinch and when to stay. This team is showing a cohesiveness that was sorely missed in the first few months of last season. Jarry was excellent last night between the pipes, especially during a full 2 minutes 5 on 3 penalty kill. When Matt Murray returns he will be the other half of the tandem with Fleury, but man… how nice is it knowing there is depth at that position?
We will get into some thoughts after, but first, here is a breakdown of the periods.
1st Period: Shots 10-5 PIT, 0/1 PP, 1/1 PK
Goals: C. Rowney Unassisted at 14:00
Connor Rowney takes advantage of a Seth Jones lost edge and buries it. Rowney lead WBS in goals last season, and showed the ability to finish on this goal. Taking advantage of opportunity when presented is a key, and Rowney did just that, not only in this goal but also this preseason.
Garrett Wilson showed his gritty component and racked up 19 PIMs (aka 95% of a period), mostly for instigating a fight with Scott Harrington after a knee-to-knee hit. Wilson also picked up a game misconduct for the play. I love the desire to protect your teammates, I don't love the idea of Wilson continuing his games played = PIMS stat that he had last season with Florida.
2nd Period: Shots 6 – 12 CBJ, 0/1 PP, 3/3 PK
Goals: Kuhnhackl from Bonino and Gaunce at 4:36
The Pens really spread out in the neutral zone which sets up a cross ice pass to Bonino at the blue line, and they remain spread out in the zone. Bonino just waits for his man as Scott Wilson drives to the net, opening up the seam for a rushing Kuhnhackl. Great pass by Bonino and a nice finish by Kuhn, wasting no time to bury the shot.
It was during this period that the Pens got in penalty trouble, and faced 1:51 of 5 on 3 time. Bonino, as predictable, was an incredible killer during this time, making many blocks and taking away the passing lanes. During a penalty kill of that duration your goaltender is going to have to make at least 2 big saves, and Jarry delivered just that.
3rd Period: Shots 7 – 6 PIT, 0/0 PP, 2/2 PK
The Penguins did something in this game that we desperately prayed for in years past. With a 2 goal lead, they didn't collapse into a complete defensive bubble, but instead played a game that balanced defensive first mentality with an offensive presence. Only allowing 6 shots in the third to a trailing Columbus team that had 2 power plays in the period while getting some good offensive zone pressure is as textbook as you can get.
Thoughts:
Nicky Bones looked great, as PPYM mentioned, he is easily one of the best playmakers on this team, as evidenced by his vision on the goal. That being said, I wouldn't mind not seeing him play another preseason game. He blocks so many shots and was sharp enough in this one. Maybe play in the finale but why risk injury now.
The WCoH has allowed a unique situation where the Pens staff has been able to evaluate some WBS guys longer than they normally would've been able to. This will make call ups in the regular season a better process, knowing who to call up based on who is injured, which could benefit the team later in the season.
Justin Schultz getting 4:33 on shorthanded time, finished as a +2, and in my opinion is a more confident and better player than the Justin Schultz the Pens acquired. He should be the 6th man on opening day, and I am alright with this. I am not saying that Schultz is an All-Star, he isn't. I am saying that there shouldn't be much of a difference between Schultz and Lovejoy, and really there isn't much more to ask out of a 6th man.
On another defensive note, Derrick Pouliot had his best preseason game so far, and Sullivan gave him an extended look on the 5 on 3 penalty kill. As Bourque said after the game, Pouliot did reach a different level, but he once again leaves you wanting more. This is as accurate of a description to Pouliot's game that I can think of.
Bob Grove as well as many others have noticed that this team has fully committed to Sullivan's system. Every game, with different players in the lineup, the system is the same. A complete 180 from last years preseason.
It is a Monday after 4 preseason games in one week, I would expect some cuts to come today. The full-time NHLers are back in the lineup, with Crosby being the last to join tomorrow. The staff has gotten an extended look at the organizational depth, and there is promising depth, which is always a good thing. I would expect guys like Rowney, Archibald, Dea, Gaunce, Prow, any goalies not named Jarry and Fleury, etc. to be cut today.
Meanwhile…
Elsewhere in the Hockey stratosphere, the Arizona Coyotes finally settled the life-long dispute of what the word "irony" really means with the closing statement on this PSA they put out on facebook.
"Coyotes 2.0" after a diatribe about "No taglines"? Really?
The Panthers and Stars both accidentally wore their white jerseys, which I guess is common in the minor leagues so much that teams bring both color jerseys with them as they travel.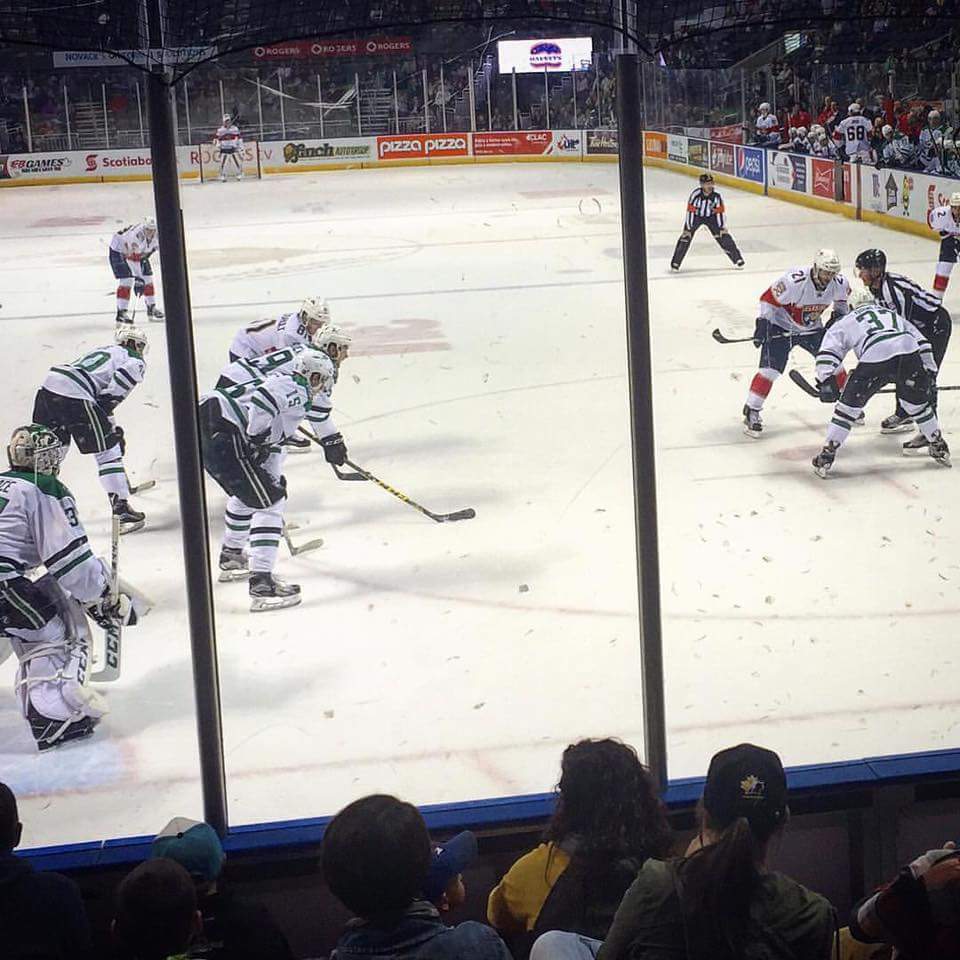 SSG-  Hadn't visited "The Phil" in a while, so I did, and had to bring this back with me…


Is it Gameday yet???