After filling the arena with kids for the annual "Free Game for Kids," the Penguins decided they would take the opportunity to teach those kids a valuable lesson in life; you can't expect a whole lot when you get something for free. Congratulations to Columbus, now that they have beat the Penguins their season is officially a success. Sidney Crosby apparently showed up to the rink with morning sickness (because he is a girl, named Cindy), so he was a late scratch. All in all, the preseason is over and nobody got hurt, which is all a fan of a team can ever ask for. Stay tuned at the bottom of the post for Updates on our reboot of the Photoshop/GIF Challenge!
1st Peiord: Shots 10 – 7 PIT
Oliver Bjorkstrand Assisted by Wennberg & Werenski @ 8:54 PPG
Errey loved the switch over between the D-men, Bjorkstrand loved that he didn't even touch it with his stick, I loved that Steigy changed his pronunciation of Bjorkstrand every time he said it. Wennberg and Werenski sounds like someone trying to talk after scolding their tongue with coffee.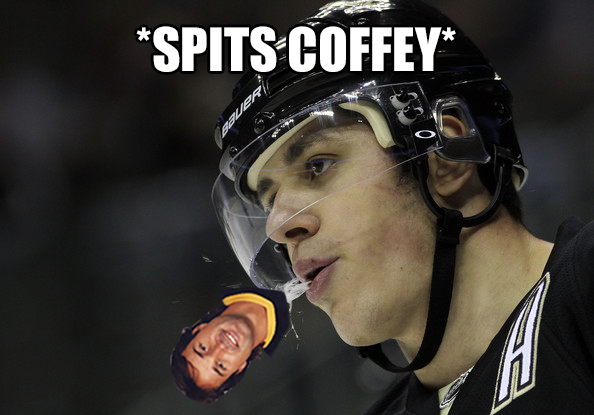 "Oliver Bjorkstrand Assisted by Calvert & Wennberg @ 14:45″
Not even going to review this, because it didn't go in. Honestly have no clue how they didn't catch this. If you've ever played or watched hockey, or took high school physics and geometry, you knew this was not a goal.
---
2nd Period: Shots 20 – 5 CBJ
Kris Letang Assisted by Wilson & Kunitz @ 8:46
First impression was, "wow look at Geno rush down the ice," then realized it was Letang. I know it is preseason and these games are meaningless, but Kris Letang looks determined. A possible chip on his shoulder for the Norris Snub? If this is what we, as fans, get, I'll take it. Nice play by Wilson, when you hear someone screaming "middle" like that, just throw the puck there without looking.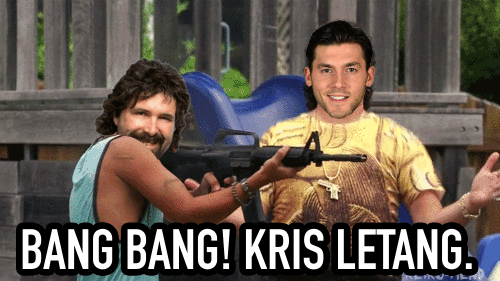 Evgeni Malkin Assisted by Wilson & Dumoulin @ 11:35
Excellent pinch by Dumoulin to keep the puck alive. Most Russian goal ever for Geno, get knocked down, go stand in the crease, I am Score.
:
Brandon Saad Assisted by Gagner & Johnson @ 14:52
When Jack Johnson undresses you, you probably shouldn't come to practice tomorrow. Seriously Sheary, his attempted wrist shot hit Saad in the face, what did you think he would do from the point? This goal does highlight something the Pens have struggled with this preseason, and that is play behind the net. Daley loses his man as soon as the puck goes behind the net, and it is in the net before he knows it. Something to watch for as the season begins. Brandon Saad is from Pittsburgh by the way.
Boone Jenner Assisted by Dubinsky & Atkinson @ 18:15
Boone Jenner is the best name on Duck Dynasty worst name in hockey. Connor Sheary, who I assume decided since all the cuts have been made he would relax today, with a huge turnover resulting in a short 3 on 0.5 opportunity. Even a team like Columbus will score on that opportunity the majority of the time.
---
3rd Period: Shots 10 – 4 PIT
Scott Wilson Assisted by Malkin @ 3:24
Mister Wilson continued his strong outing today. This was an excellent example of how to score a goal on Geno's line, just keep your stick on the ice and he will find you when he's ready. Goodnight on that Pass.
Matt Calvert Assisted by Savard & Karlsson @ 4:52
With an extra attacker on for a delayed penalty the Jackets put a shot on net with a perfect deflection. Nothing Fleury can do. Scott Wilson with just a tad of hesitation after the Kunitz tip, otherwise he may have been able to get to it.
---
Thoughts and such
If Scott Wilson plays the majority of his time like he did today, Bryan Rust will not have an easy spot available for him
If Connor Sheary plays like he did today, Bryan Rust will have and easy spot available for him
For 18,000 tickets being given out to kids on youth hockey teams, there sure were a lot of adults in the lower bowl, no?
Preseason is done, now it's time to defend the cup
Stay tuned below for updated rules on the first Photoshop/GIF contest of the season. The plan is to have a contest for every team in the league, starting with the Metro Division so that we have material for Gameday and Recap posts. It is a contest, so users will vote for their favorite entries. Directions on how to enter will follow, so refresh often!


---

---