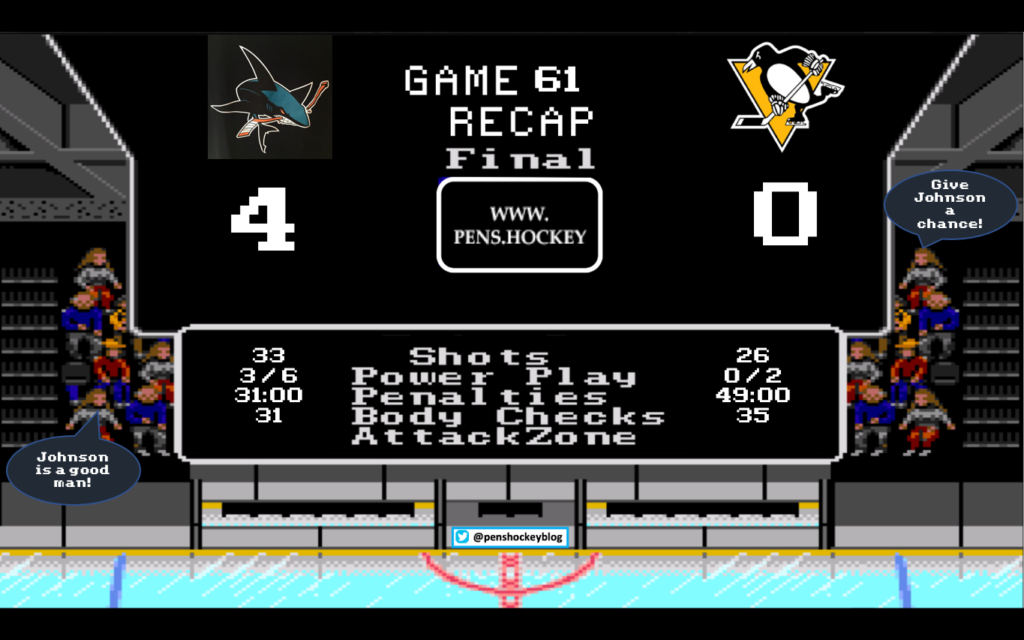 Pregame
The biggest news before the game was the Washington Capitals' afternoon-delight acquisition of Carl "The Flow" Swagelin. As you may hazily recall, Hot Carl rode a wave out to the west coast in November to get together and have a few laughs with the LA Kings. Pittsburgh winters are great for snowboarding practice, but Carl was beginning to feel the lack of Vitamin-D in his system. He fist-bumped Tanner Pearson in Kansas from his cross-country surfboard, and stopped on the side of the highway for a moment to leaf through the $16 million in his suitcase. He pondered about his time in Pittsburgh and his upcoming winter vacation before peeling off into the sunset.
Meanwhile, Ted Leonisis sits alone at his desk, still hungry after his afternoon ravioli. His eyes move up slowly from the bottom of the can, to the signed portrait of "The Heartbreak Kid" Shawn Michaels perched with care on the corner of his desk. He licks the remaining sauce from his mustache and begrudgingly admits to himself that it's too late in his life to get a wig… before, suddenly, a tanning lightbulb illuminates his brain cavity. "We need more flow!", he exclaims to the empty room.
Carl, an unrestricted free-agent at the end of this season, is likely a rental player for the Capitals who are reportedly looking to add some speed and spark to their penalty kill. Is their PK currently down in the dumps? I don't care enough to look further into the situation. The Flow looks great in whatever he wears, and his new teammates will be too enamored to focus anyway. Let's get back to last night's game.
The Penguins have faced the San Jose Sharks for the final time this season. San Jose won the previous matchup, 5-2, in California, putting an end to the Pen's hot streak. The Penguins are now 6-2-2 in their last 10 home games against the Sharks.
The last time these two teams met at PPG Paints Arena was on Jan. 30th of last season. The Penguins defeated the Sharks, 5-2. Malkin scored his 12th career hat-trick and Rust had the other 2 goals.
The Sharks are hopped up from puck drop. A few hits are exchanged shortly before Jack Johnson takes a tripping penalty behind his own net.
00.56 – Penalty – Tripping – PIT Jack Johnson – 2 min.
One second later, Letang slides across the top of the crease to block an attempted shot. DeSmith flops into him from behind, and a Shark tosses the puck over the mess and into the net. Shake it off?
00.57 – PP GOAL – SJ Tomas Hertl – Assists: Brent Burns and Kevin Labanc
Matt Cullen has played 1495 NHL games. 3rd most all-time in US players. Both teams are playing well at this point. Dad and his 4th line show good energy. The Sharks, thankfully, flub a 2on1 with a floaty saucer pass around the 8-minute mark.
ZAR is throwing hits like Craig Adams every shift. I believe it was in the middle of one of these hits that Simon took the skate of Pavelski across his visor. Dominic was unphased, but this game was gonna get messy sooner or later.
08:37 – Penalty – Cross Checking – SJ Brenden Dillon – 2 min.
Dillon takes a penalty in response to ZAR's presence, unleashing the NHL's best PP onto the ice. However, San Jose aggressively forced a turnover at the blueline, springing Kane on a breakaway.
10:01 – SH GOAL – SJ Evander Kane – Assists: Brent Burns
Just keep swimming… Just keep swimming… The Pens were not playing badly as a unit to start this game, but they were outworked a few times leading to costly mistakes.
11:55 – Penalty – Tripping – PIT Zach Aston-Reese – 2 min.
Too many Penguins roam up high in their zone, and too close to a scrum along the boards. The puck squirts out to a Shark, and they quickly fan out around the zone. DeSmith didn't have much of a chance, flop or not. This one was extra schloppy for Pittsburgh.
13:19 – PP Goal – SJ Tomas Hertl – Assists: Kevin Labanc and Joe Pavelski
Burns lays out Malkin, who tries to return the favor. That went just okay. For all the mistakes, play at 5on5 looks evenly matched. The Sharks drew blood when they sensed special teams weaknesses. No other team has given up more SHGs.


The Lexus Club is anxious to start the 2nd period. Sid and Kessel both have great scoring chances early, but can't finish. Crosby blocks a shot with his toes. I see a few more stretch passes to open this period, and it looks like some more goals are on the way.
04:50 – Penalty – Hooking – PIT Evgeni Malkin – 2 min.
Pens have a 3on2 short-handed, but none of the players are on the same page. Malkin's penalty ends, and he nearly had a breakaway out of the box. Rust blocked a few shots, and is able to smack the puck past Burns to a waiting Genomobile. Geno just couldn't get a hold of the puck before a defender caught back up with him, but boy did he try.

This is about the time that the chum completely covered the ice. Not a single bounce was going Pittsburgh's way, and there was literally a nasty mess of vomit or something on the ice behind Martin Jones' net… I have no idea what that was.
Bryan Rust went to the locker room for a while, but came back… ballsy dude. ZAR was playing tough, and takes a 2nd penalty.
14:39 – Penalty – Holding – PIT Zach Aston-Reese – 2 min.
Cullen nearly has a short-handed breakaway, but the puck seemed to take a weird bounce off the ice as it got close to him. Later, DeSmith stole Kane's gold necklace. Kessel found a raw hotdog in the slot, but it was too slippery to pick up. The Sharks defensemen continue disrupting the Pens rush.
19:39 – Penalty – Tripping – SJ Evander Kane – 2 min.
This penalty could have been ugly. Kane sleufoots Jake The Snake as he's skating backwards. Blargh. Crosby steals a wallet right in front of the crease, and nearly scores right before the buzzer. A lot of missed opportunities in this period.

Pens begin the period with their PP hanging out. Crosby says "Fuck you, Jobu!" (Thanks, PPYM), and parts the sea of Sharks. He passes backwards to a floating Guentzel, in great scoring position. Jake was tripped, and another chance bites the dust; no penalty called.
The Penguins put their PP away, and a scrum eventually develops in front of the benches following a high hit on Hornqvist. This leads to a lengthy break while each team plays rock-paper-scissors amongst themselves to determine who sits for the 4on4. It was messy.
02:20 – Penalty – Roughing – SJ Tomas Hertl – 2 min.
02:20 – Penalty – Roughing – PIT Tanner Pearson – 2 min.
Pittsburgh swarmed around the offensive zone for nearly the whole 2 minutes, but still… can't… finish. San Jose Sharks continue their crusade on beach balls, and don't allow the Penguins to have a single bounce.
Coming back from a commercial break, fans are treated to half of a fight between Pearson and Kane. A big altercation had begun at center ice during the TV timeout. The Sharks reacquired goon Haley yesterday, and it's no surprise to see him in the middle of the pile.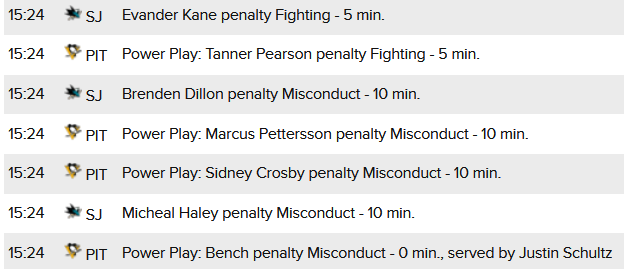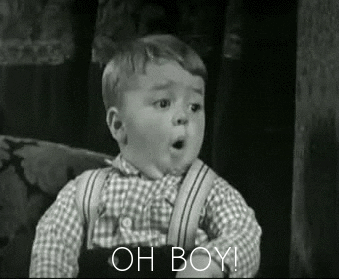 Sullivan got the boot and refused to talk about it later after the game. The Pens pull DeSmith to start back after another looong TV timeout, looking to finally get some goals and play 5on5. Shortly after, Kessel is caught tickling Karlsson's ear with his stick.
15:26 – Penalty – High Sticking – PIT Phil Kessel – 2 min.
Okay, on the PK again. Tomas Hertl takes an extra slap to DeSmith's pads as he holds the puck for a whistle. Letang buries him with a crosscheck and skates to the box. ¯\_(ツ)_/¯
15:57 – Penalty – Cross Checking – PIT Kris Letang – 2 min.
The Sharks score one more on the ensuing 5on3. They made sure of it, by rolling their A-squad out for it.
16:51 – PP Goal – SJ Brent Burns – Assists: Erik Karlsson and Joe Thornton

The Penguins are shut out, but hopefully gain some camaraderie among the team moving forward. Despite the score, they were never out of this game by much. It's good to see the team stick together while enduring a game like that. The Sharks were always pushovers to me, but this year they aren't a joke.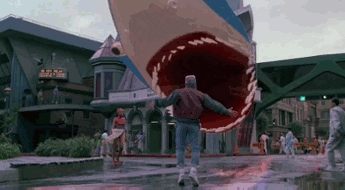 Coming up next…
The Penguins next game is this Saturday against the Flyers in The Urine Snowcone Bowl. The best outcome of that game will be to leave without any injuries, knock on wood. Now, for dessert…

*CHUMMING SOON : D