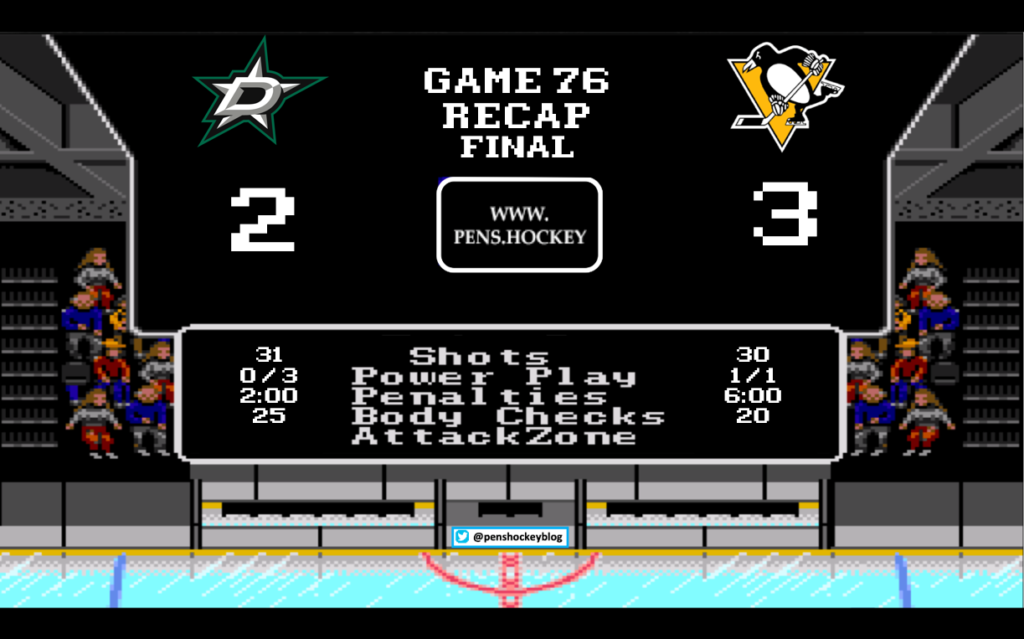 After another one goal game where the Pens blew a late 3rd period lead, only to actually win one in overtime, Sid and Co. headed to the Lone Star State for a matchup with the Stars. Not only is Dallas the last city in the NHL where 87 has yet to score a goal, the Pens haven't won a game there in 7 years, and haven't won in regulation in over a decade (losing 3 of those 6 games with the lead after 2 periods). Yikes.

Dallas, fighting for their playoff lives in the 1st Wildcard position, decided to not to start Ben Bishop, who is riding a .966 save percentage over his last 9 games. The Pens iced the exact same lineup as they did Thursday in Nashville, including their own red-hot goaltender.
First period: Penguins came out with the first few shots, but Khudobin was there to make the save. Polak was everywhere a few minutes in, but Cullen showed up in time to stop a wrap-around chance.
Dallas started pouring it on midway through the 1st, but Murray looked sharp.
Realizing one temperamental Russian wasn't in the lineup to take a dumb penalty, Radulov covered for his comrade and took a slashing penalty to send the Pens to their only pp of the game. Kessel fired a wrister that bounced off a defender and landed right on the tape of the Pens' leading goal scorer. Count it. 1-0
Next time Kessel is trying to force a pass cross-ice to the opposite winger, Sullivan should show him this replay. Even when Phil! isn't hitting the net, good things happen when he shoots. Also, unreal instinct by Snek to not only get his stick in position, but fire it immediately from a tough angle. Most players would probably have tried to play that puck with their skates and stickhandle away from the goalline, giving the defense enough time to regain position, but not our guy, Jake.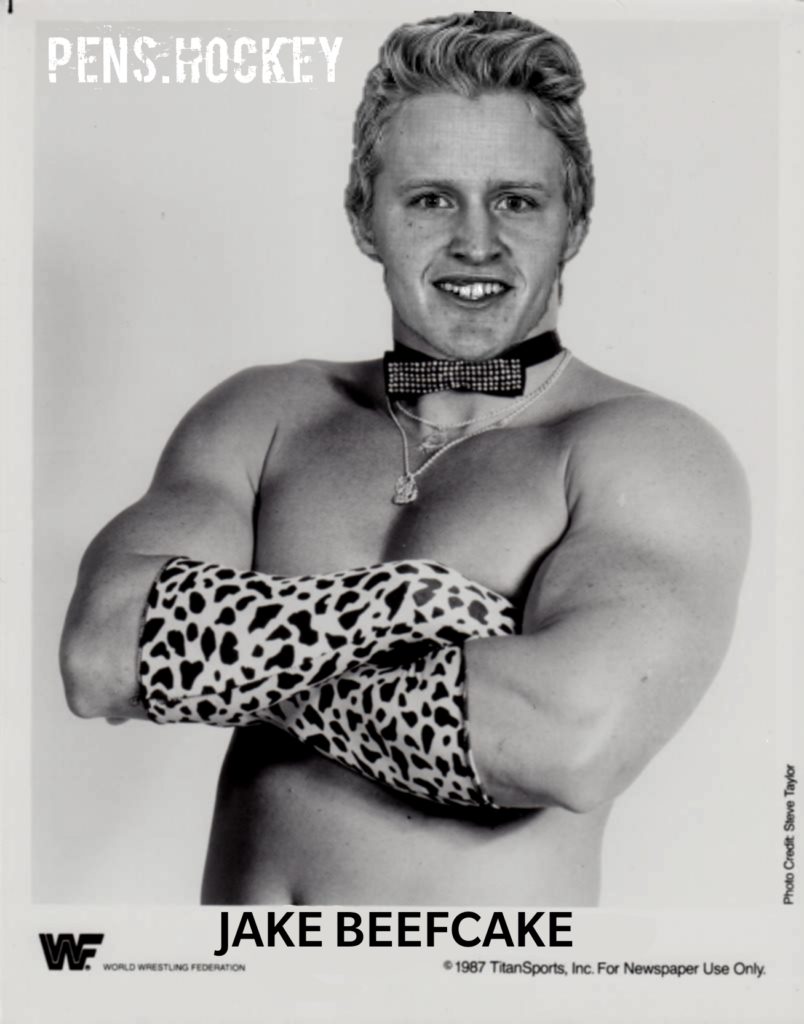 Guentzel got another chance at the end of the period, but no dice.
Second Period:
A minute in, Radulov made one of many incredible plays by drawing 4 Penguins to the opposite side of the ice and somehow finding Seguin against the grain with an absolutely perfect pass. Goalscorers don't miss from there. No gif of this for some reason. 1-1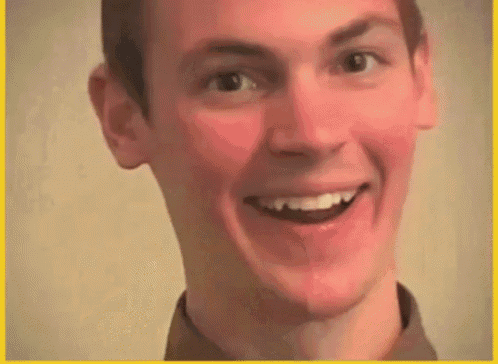 Letang went to the box for tripping. Dumoulin's ass almost gave up a goal. Lovejoy doinked a pipe. Guentzel missed the net on a great setup by Sid. We stayed tied.
With 5 minutes left in the period, Polak decided to gift Kessel a puck behind the net, who immediately sent it to Snek McCann. 2-1
The lead would only last a few minutes, until Andrew Cogliano went streaking down the left wing and fired an absolutely perfect shot over Murray's glove hand. Over the last few weeks, it has typically taken shots like this to beat Murray in the first 57 minutes of a game. 2-2
Third Period:
JJ went to the box and then this happened. I really have no words to do it justice. 3-2
So the Pens had a one-goal lead in the third again, having blown their last three games with the same scenario. They're playing in a city that has been nothing but bad luck for them since Avatar was released. Hornqvist's entire jersey is orange. The Stars are flying. We all knew what was going to happen….
But it didn't.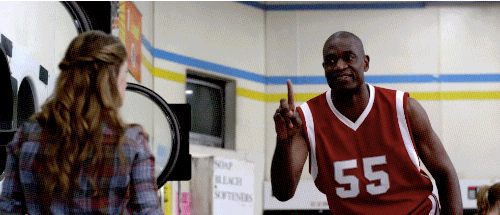 As incredible as the McCann shorthanded goal was, what Matt Murray did in the last 15 minutes is even more impressive.
With 2 minutes remaining, the Stars went to the powerplay and pulled Khudobin for a 6-on-4, but the defense finally held. McCann missed his first empty net as a Penguin from 160ish feet for the hatty, but there is plenty of time for that later. Right now, all that matters is the….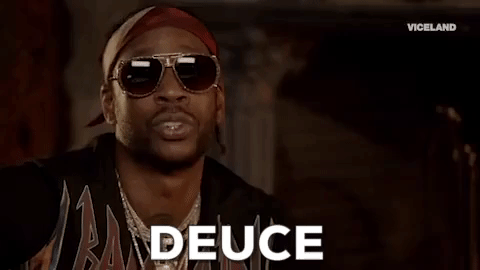 Thoughts:
Murray. Wow. Though he has played great in recent memory, this is the first game he has "stolen" in a while. Might be enough to shut up his Yinzer critics until his next start. Maybe not.
Pens gave up 15 shots in the 3rd and at least 5 of them were high quality. If they deserved to blow a late lead in any of the last 4 games, it was this one. Hockey is weird sometimes.
Radulov threw a banana on the bench at the end of the game. I have so many questions.
Around the Metro:
Islanders won to hold on to 2nd place in the Metro. They host Arizona tomorrow.
Flyers play in Washington tomorrow afternoon on NBC.
Carolina hosts Montreal
CBJ is in Vancouver.


Loading ...