The Penguins entered Dallas with not much to prove and not much to lose. All season long I have told you all to not get too upset over that loss because "it's only December," "it's still January," and "it's not even March." Following my own advice, I will not get upset about that game last night. It was another one of those get the troops rallied to beat an inferior opponent that fell short. The Pens grabbed a lead and fell asleep at the wheel hoping they could coast home the final 4 miles and ended up running into the neighbors pool. The final result:
Boo-freaking-who. If regular season placement mattered then yeah, this would ruffle some feathers. Right now the Rangers have the right idea in playing through the Atlantic, so they should probably stop winning. A scenario where New York and Columbus play each other in the first round while Pittsburgh gets Montreal followed by the winner of Boston and Ottawa? It's not a tough sell.
The Penguins defense is an interesting bag of who the fuck and what the fuck, so Sullivan did the only thing he could think of and split up Cole and Schultz to help spread the depth. Gotta say this first, Ian Cole has had a hell of a season, even without Schultz as demonstrated in this game. Great turnaround for a guy we all wanted to be traded this time last year. After about 7 minutes of play each team had registered exactly one shot each. It finally started to pick up, and it was Agent 101 getting the ball rolling for the Pens:
EVGENI MALKIN (26) Assisted by HORNQVIST (19) & HAGELIN (15)  @ 10:04
We see a "star" and he's not wearing green. 😉 pic.twitter.com/fUB1zZv216

— Pittsburgh Penguins (@penguins) March 1, 2017
Hornqvist with the wise decision of giving the puck to Malkin. Malkin with the wits of a top 200 NHLer to throw it on net. I really liked the Hornqvist-Malkin-Hagelin line in this game, the Russian Kolbasa on a Swedish bun. They have exactly what Malkin likes on his wings, people that give him the puck to start the play and to finish the play.
The rest of the period would click down with some good looks by the Crosby line but nothing to show, it was finally announced that Johnny Oduya was in fact traded and it thankfully wasn't to the Pens.

The second period didn't start as slow as the first, as both teams were actually putting up some good chances. This brings me to my next favorite line of this game. The Kunitz-Crosby-Guentzel line also looked really good, the wingers are exactly what Crosby likes in his wingers, people that can finish his passes. Now, when Sheary comes back (presumably soon according to reports) I still want to see Sheary-Crosby-Guentzel for a few games, because A) that line sounds sick and B)Kunitz on the 4th line is a blessing. 10 minutes into the period Jake from the Farm strikes:
JAKE GUENTZEL (7) Assisted by COLE (16) & KUNITZ (18) @ 10:40
The first star from the Stadium Series, JAKE GUENTZEL! pic.twitter.com/Od1DxwPJkE

— Pittsburgh Penguins (@penguins) March 1, 2017
Jake Guentzel knows how to score goals in the national hockey league. He may only have 7, but none of them are alike. He knows when to put the puck on net, when to crash the net, how to rip a one-timer. In short, Jake Guentzel is good at this hockey thing. Great goal right here I tell ya, great goal. The rest of the period actually didn't get played, or at least the next thing I knew it was the 3rd period.
The Penguins have won like 62 or some games in a row when leading after 2. The Penguins top defenders in this game are Dumoulin, Schultz and Cole. The Penguins have been held to less than 25 shots in 4 straight games. The Penguins were satisfied with their 2 goal lead and tried to put in the least amount of effort to get the hell out of Texas. It didn't work. You could literally see the team take the foot off the pedal in the third period. Less than 4 minutes in Ritchie Rich scored and okay, it's 2-1. Then at the 9:41 mark Jason Spezza scored because I made fun of him in the gameday for…umm…not scoring.
Spezza's wrister ties it for the Stars! pic.twitter.com/rdiGssdaDs

— NHL Daily 365 (@NHLDaily365) March 1, 2017
Weird ass goal, but what can you do. Well you could catch it instead of swatting it but hey. So now it's 2-2 and all the Pens have to do is win the last 10 minutes. Less than a minute later Antoine Roussel is burying this shot
Antoine Roussel with the game winner to lead the Stars over the Penguins! pic.twitter.com/VkEFzKgHug

— NHL Daily 365 (@NHLDaily365) March 1, 2017
Dana Heinz was working on replacing Fleury's cage before the game, must've forgotten to check the lacing of Murray's glove. There is no excuse for letting up this goal unless:
"Everyone talks about Fleury being such a great teammate?! Well watch this, I'll keep him on the team." – Matt Murray, possibly

— Meesh (@HockeyMeesh) March 1, 2017
As soon as that one went in you had the sense that the Pens weren't coming back. A post or two was hit but it wasn't in the cards. The Pens pulled Murray and had Schultz-Malkin-Crosby-Kessel-Hornqvist-Guentzel at one point. No clue how they didn't give up an empty netter, the only explanation is the Pens should trade Fleury and Murray and just play 6 on 5 from now on. Game Over, wah-wah-waaaaahhhhhhhhhh.
THOUGHTS:
Interesting giving Murray the start in this one with a game against the Blackhawks today. I would've rather the better goalie play against Chicago, and honestly MAF most likely handles the Stars better but whatever man.
People on Twitter are all upset about the 2nd period leading streak coming to an end… it technically ended in the playoffs when the Pens lost a game after leading by 2, but then to make us feel better we just threw in the words "regular season." News flash, it was a fun streak but also a meaningless one, especially with a depleted defense
Rough night for Murray, if Fleury lets up goals of that caliber the Amazon server would shutdown again from the overwhelming MAF rage so we have to be fair. Get that glove looked at, brah.
The Pens flew too close to the sun with a lead against an inferior team and it came back to bite them. It's not a big deal. As laid out in the standings above, the difference in points isn't going to change too much except who plays Montreal first.

The Penguins head to Chicago for the first of two meetings against the Blackhawks; the other one is in exactly four weeks in Pittsburgh.  Chicago is in second place in the Central division, three points behind the Minnesota Wild, and they are also in second place in the Western Conference.
Today, of course, is the trade deadline (at 3PM EST, to be exact), but for Chicago and Pittsburgh the situation has probably already been settled; Pittsburgh hardly dented their future by picking up defenseman Ron Hainsey from the Hurricanes a week ago, and Chicago felt that Detroit right-winger Tomas Jurco and Dallas defenseman Johnny Oduya were worth two third-rounders and a bag of pucks.  Both teams are in fine position to return to the playoffs, though Penguins' fans would probably feel better with Letang, Maatta, Rust and Daley back in black and gold.  Since losing Conor Sheary on January 31, the Penguins have gone 8-4-1, so they must be okay.
In the same span of time however, the Blackhawks have gone 9-2 and have a +18 goal differential.  On the season, their defense is 6th in the League, and their PDO% (shooting% + save%) is 4th.  Corey Crawford is likely out, which, for the first time in a while, is bad news for the Penguins because Crawford's backup, Scott Darling, is playing great (4th in GAA, 2nd in save%, 3rd in goals allowed percentage (a metric that compares the goalie to the league average), and is 8th in goals saved above average).  We like to say Matt Murray is having a great season at 22 years old, but Scott Darling is having a better season at 28 years old, though in ten fewer games that Murray.  It's a little surprising the Blackhawks have kept him on the bench.
Chicago's major flaw is their penalty kill.  As I mentioned in my trade deadline preview, Chicago doesn't get a lot of penalties (25th in penalties taken) but they are butt at killing those penalties (28th in PK%).  Their penalty kill hasn't been very consistent for them since Joel Quenneville came to town, but there's an possible predictor here:
2016-17: 28th (in 62 games)
2015-16: 22nd (elim. in first round/QF)
2014-15: 10th (Cup winners)
2013-14: 19th (elim. in Conf. Final)
2012-13: 3rd (Cup winners)
2011-12: 27th (elim. in first round/QF)
2010-11: 25th (elim. in first round/QF)
2009-10: 4th (Cup winners)
2008-09: 18th (elim in Conf. Final)
When Chicago's had a top ten penalty kill, they've won the Cup; all other times they've gone to the final four or haven't even gotten out of the first round.  Anyone who would have guessed a Blackhawks/Penguins final might have to settle for two regular season games, at least for now.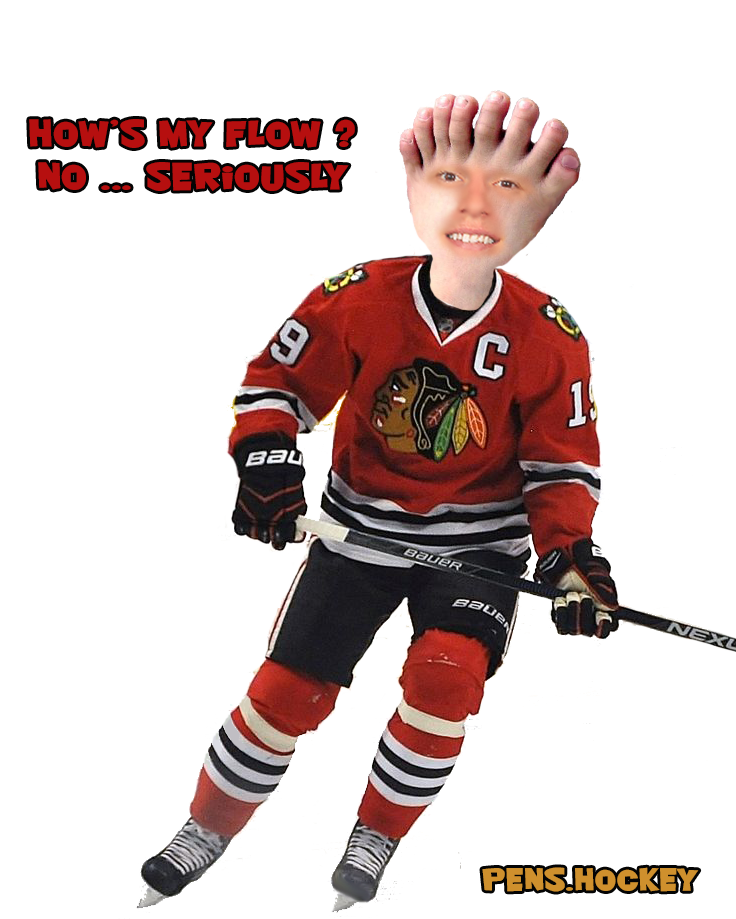 (I just saw on CapFriendly.com that Rob Scuderi is getting $1.1M from the Blackhawks this year.  I thought that might interest some of you while we wait for Trevor Daley to come back.)
My nomination for this entry of The Gomez Gallery is defenseman Duncan Keith, he of the two Norris trophies for League's best defenseman.  At $5.5M/year for the 33 year old, Chicago's getting the League's 38th-best Corsi-for% (behind Ian Cole), 44th-best relative Corsi-for% (behind Ian Cole), 52nd-best Fenwick-for% (behind Ian Cole), and 38th-best relative Fenwick-for% (behind…yup, Ian Cole).  It turns out Keith is a pretty average defenseman; a second-pairing defenseman logging first-pair minutes making $3.4M/year more than Ian Cole.  I don't know if this is an indictment of Duncan Keith or an endorsement of Ian Cole, but in either event the Blackhawks are and will continue for another six years to be fleeced by Mr. Keith.
How lucky we are to be blessed with the opportunity of watching two of the best NHL players of all-time tonight play against the Blackhawks.
The Penguins left Letang in Pittsburgh when they started this trip so he is definitely out. Conor Sheary was cleared for contact yesterday but Sullivan said the next step was getting him game ready and since I don't know if that can happen with just two gameday skates I wouldn't expect him tonight. The Penguins waived Eric Fehr and then let him play last night and I have no clue if they can legally let him play again tonight so it's either him or Rowney I suppose. Chicago has already indicated that Scott My Darlin' will be starting in goal. We won't truly know until the deadline who is starting in net for the Pens. Even if Fleury is the first goalie off, you never know when that phone might ring.
Rutherford: "I am going to make some really good deals tomorrow. They're going to be really, really, very good. Believe me!" pic.twitter.com/ASlTJI8TG9

— Benstonium (@Benstonium) March 1, 2017
The Penguins will know who they are relying on to defend their title after the deadline today.  The pieces will be in place and there will be no going back. They also have to gear up to play Chicago, and I assume neither team will take any penalties at the risk of having to ice their atrocious penalty killing units. Also, we don't have confirmation of this but I think Pierre said it's windy.
NBCSN broadcast tonight. I assume it is a "Rivalry Night" because you know, those 2 times a year the Pens and Hawks battle and then we forget about them the rest of the year… NBC gonna NBC.

I'll keep my eyes open and update this section if anything major comes across for the Penguins before 3PM…though if I were you I'd stay away from Twitter until after say 4PM because the trolls are out in force as they always are.  Just remember these important points:
Crosby, Malkin, Letang, Kessel, and Murray are not going anywhere.
Fleury and Maatta probably aren't going anywhere.
Guentzel and Sprong are hopefully not going anywhere.
Don't be surprised if anyone else is traded.
Don't be surprised if no one else is traded.
10:03A: Derrick Pouliot has been recalled from Wilkes-Barre/Scranton.  This is interesting because in order to be eligible to be sent back to the AHL from an NHL team, a player must be on an AHL roster before 3PM this afternoon.  Gaunce, Oleksey, and Ruhwedel are the other three two-way defensemen for the Penguins.  Knowing how Pouliot has sunk like a rock in the Penguins' depth chart, it's possible this foretells a transaction involving Mr. Pouliot.  Then again, according to Craig Custance, teams are permitted up to four recalls to the NHL roster after the trade deadline, which means Pouliot wouldn't count against that should the Penguins keep him.  Stay tuned!
12:00P: Eric Fehr cleared waivers.  Fehr was dangled out there mostly is a cap-relief effort by Jim Rutherford: if another team claimed him, his full cap hit would be theirs; if no one claimed him, the Pens could either demote him to Wilkes-Barre/Scranton and save $950k or retain him in Pittsburgh like nothing happened.  Sounds like the latter is the case, so this is all effectively a wash.
3:20P: In typical fashion, a Fleury sorry, a flurry of activity after the deadline as deals come rolling in late.
First, Steve Oleksey, Eric Fehr, and a 2017 fourth-rounder are sent to Toronto in exchange for Frankie Corrado, a 23-year-old right-handed defenseman with less than a season's worth of games under his belt.  An RFA, Corrado was given a 6.5/B on Hockey's Future, meaning they projected him to be a second-or-third-pairing defenseman.  He had been waived in early February by Toronto, so it stood to reason he was up for offer again this time around.  The buzz around him is that he is at least better than the Penguins' top three AHL defensemen (Pouliot, Ruhwedel, Gaunce), so it'll be interesting to see how he figures into the picture.
For Fehr, I'm not surprised that he's been dealt to a team on the playoff bubble, and he'll provide some decent leadership to a relatively young and inexperienced Maple Leafs team.  As for Oleksey, I'm not terribly surprised that he's been sent on his way, and it sounds like the front office has a greater appreciation for Pouliot than most Penguins' fans do.
Finally, in a slightly-more-surprising move, the Penguins sent a 2018 fifth-round pick to Tampa Bay in exchange for 39-year-old left-handed defenseman Mark Streit, whom earlier in the day the Lightning acquired from the Flyers for Valtteri Filppula, a fourth-rounder and a conditional seventh-rounder in the upcoming draft.  Streit is a second-pairing guy who is still decent in those oh-so-important Fenwick and Corsi numbers.  Philly must have been misusing him because he's started 60.6% of his shifts in the offensive zone and the Flyers' PDO% has been very poor.  Tampa will retain 50% of Streit's salary.
Amongst all of this activity it should be noted that the Penguins have placed Trevor Daley on LTIR, meaning his cap hit doesn't count against the Penguins and he can be brought back for the playoffs scot-free.  So, when healthy, here's an idea of what the Penguins' defense could look like:
Dumoulin-Letang
Cole-Schultz
Streit-Daley
(Maatta/Hainsey/Corrado)
(AHL rat race)
I'm hardly a genius when it comes to making lines though, so you all can use your imaginations, but we've gotten to the point where (A.) Maatta is not even a top-four defenseman on this roster, (B.) Derrick Pouliot has been "spared" from being traded, for now, and (C.) Kris Letang and Brian Dumoulin might not be the top pairing.
The most notable part of this trade deadline is that Marc-Andre Fleury has been retained, which was expected if not heralded by all of Pittsburgh's fans.  Fleury's no-movement clause and Rutherford's insistence that Pittsburgh have a proven backup for Murray made Fleury's staying inevitable, and now the focus shifts onto the remainder of the regular season and the postseason before we start worrying about who between Fleury and Murray is staying and who is going.
Have a great rest of the day, and LET'S GO PENS!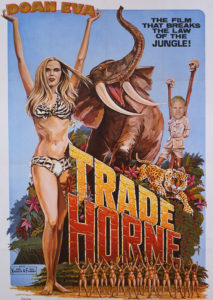 Sooo much hawkey porn requires two posters...PIK-a-PORN / TRADE-a-PORN
12) "Malkin is surrupy, isn't he? -- Reaugh (25%, 5 Votes)
2) "Wilson, who was not ready for that load." – Daryl 'Razer' Reaugh (20%, 4 Votes)
4) "Almost created an opening between the legs, but kept a tight tunnel." -- Reaugh (20%, 4 Votes)
17) "You feel so warm when you meet him." -- Errey (10%, 2 Votes)
5) "That was a beefy one." -- Reaugh (10%, 2 Votes)
8) "Hagelin keeps on coming." -- Steigy (5%, 1 Votes)
7) "Daley and Letang can really bring it from the backside." -- Errey (5%, 1 Votes)
16) "Dallas not very good when having to come from behind." -- Errey (5%, 1 Votes)
15) "He got a good lick on Wilson." -- Reaugh (0%, 0 Votes)
14) "It came perfectly for the Penguin." -- Reaugh (0%, 0 Votes)
13) "He had a backdoor dump taken away." -- Reaugh (0%, 0 Votes)
1) "Oleksiak takes it in deep." -- Dave Strader (0%, 0 Votes)
11) "They've got ball hockey in schools." -- Steigy (0%, 0 Votes)
10) "He's competitive in tight." -- Reaugh (0%, 0 Votes)
9) "And it's spanked home by Ritchie." -- Reaugh (0%, 0 Votes)
6) "Good stick by Lindell down deep." -- Reaugh (0%, 0 Votes)
3) "Boy, Phil Kessel wide open and for a while." -- Reaugh (0%, 0 Votes)
18) "Malkin slips it in behind Niemi." -- Errey (0%, 0 Votes)
Total Voters: 20

Loading ...