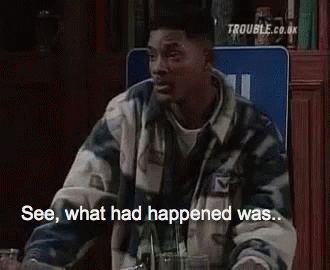 Alright, I believed I left off at right before everyone arrived to the house. Schultz made us all shotgun a Coors Light, then he dragged the kegs out to the back yard to set them up. Kahun pulled out our grill and Harry's grill, our neighbor, to the center of the yard. "Gotta keep the girls warm", he shouted. That man is a genius; smartest guy on the team. I was almost finished with my playlist by the time Tanev and Blue arrived. Both guys were carrying a tray of jello shots. They were all green, so I asked Tanev if they were lime or apple and he said it was actually absinthe that he mixed with gelatin powder;  It was very strong!  All the guys were in the kitchen, setting up drinks and talking.  I quietly told Zac not to let me have more than a few drinks, because I'm on pain meds.  Laffy arrived with some food from Everyday Noodles and Fiori's Pizza.  Simone came empty handed, as usual.  Marino showed up with 3 girls from his complex.  Harry came from work, with his girlfriend, her sister (Jane), and Jane's 2 roommates.  And now, we had a party.  More people showed up throughout the night. 
Everyone was dancing and having fun. People were loving the music. I started with some light stuff in the beginning, like M83, Arctic Monkey and FOALS. Once people start loosing up, I changed it to: Luke Byran, Post Malone, Chase Rice. By the time we opened the 2nd keg, we were well into my Cancun mix: Beastie Boys, Uncle Al, Rhianna, 2-Chainz, and my favorite, Queen B.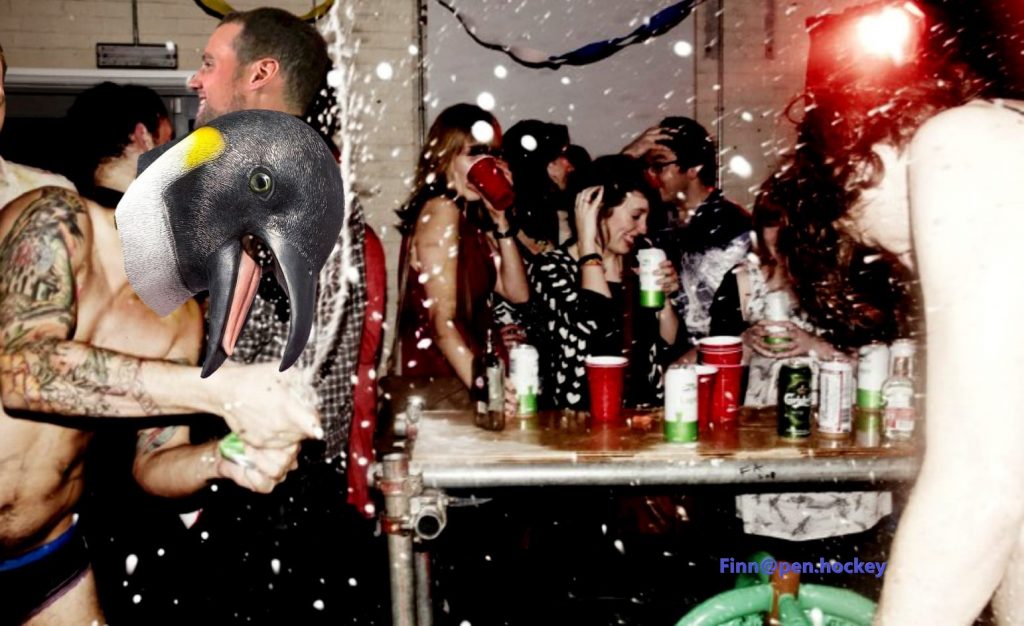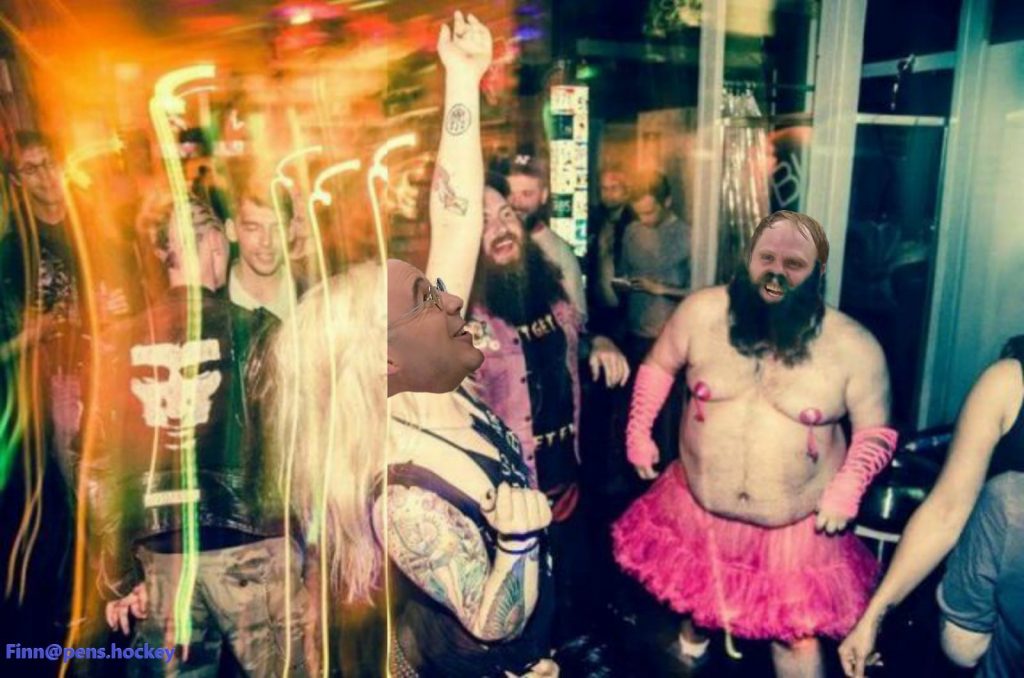 Shultz and Chad were destroying Marino and Angello in beer pong. Gully finished a keg stand and then almost set the yard on fire, when he bumped into one of the grills. He ran inside the house screaming and a few minutes he runs out, half naked, and demands that people call him "Lord Bauer".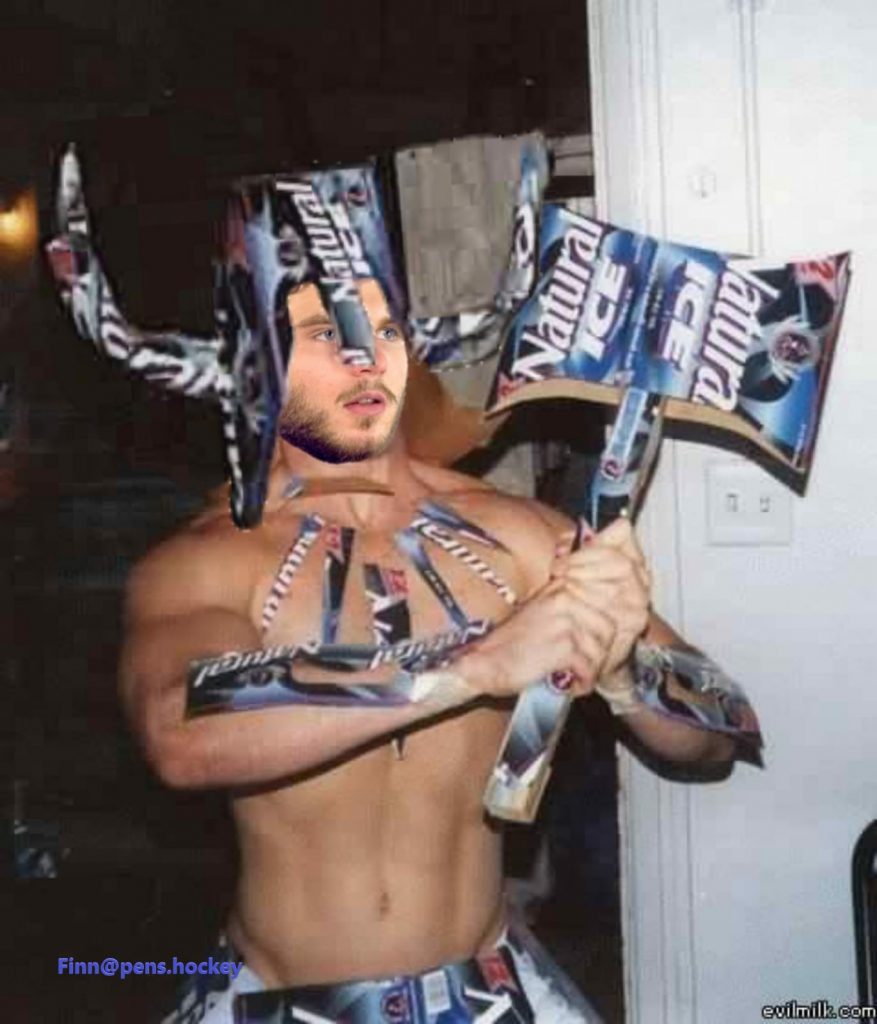 I tried really had to stick to my 3 drink rule, however, I could not keep track of the shots the Tanev kept bringing me. I locked myself in my bathroom and forced myself to throw up what I could, but I didn't feel any better. I danced my way into the kitchen, grabbed some water and the last piece of cold pizza, then I went into the parking lot. Out from the shadows pops Sheary! I thought I was blitzed drunk, but it was really him. His team came into town early for the game on Saturday. He just finished dinner with Sully, when he got a text from Zac. He thought we were crazy for throwing a party the night before a game, but he wanted to hang. He said I wouldn't believe who's staying at his hotel. "Who"? Tom mother-fuckin Wilson. "What the hell is he doing in Pitt, don't we play them till Sunday", I said. Sheary just raised his shoulders, "he was talking with the Washington scout, that's all I know". He told me his room number, and then we both headed into the party. It was good hanging with Sheary, we have so much in common and we both are the only ones who can understand the whirlwind we have experienced these past few years. Our conversation got interrupted when Schultz started wrestling with Sheary, and almost broke our recliner. Somehow I ended up in a few rounds of racy "Cards against humanity". I was sobering up and was about to lose my pants, when Kahun fell on me, and ended the game. After telling me how much he loved me and offering to cut off his arm for me to use, he asked me to help him get more drinks and food. Being the responsible person, I insisted that we take Sheary's car, because he'd probably have great rental insurance.
We found Sheary and I asked for his keys, because "I wanted to get a better look at his rental". He was too distracted and didn't ask any questions. I had an idea, so I grabbed Angello, Lafferty, and Marino on the way out. We don't really know Angello that well, but I needed the muscle, plus this would be a good bonding exercise. Everyone was confused as to why I took them 30 min out of the way, but when I explained my plan, they were all in.
Oh, well the game is about to start. I'll have to finish this later.