PART 2…My early Penguin fan years and…'What happened when my buddies started the Western Pennsylvania High School Hockey League.'
1967 – PITTSBURGH PENGUIN INNAGURAL SEASON
So naturally I began going to Pens games right away…even though they kinda sucked at first. On October 11, 1967, league president Clarence "Soup" Campbell and State Senator Jack "The Vote" McGregor dropped the ceremonial first puck of the Penguins opening home game against the Montreal Canadiens who beat the Pens 2-1. On October 21, 1967, however, they defeated the Chicago Black Hawks 4–2 and became the first team from the expansion class to beat an Original Six team. Things were looking up. Lot's of people were going to see NHL stars for the first time live and in Pittsburgh. Life was good.
After the initial hubbub died down my friends and I could go to games, buy the cheapest seats we could get, and then after puck drop we could sit pretty much anywhere we wanted to. With attendance at times as low as 3-4000 people we could actually sit on opposite sides of the Igloo and yell across the ice and hear each other. The Paint is sweet but there will never be a more magical venue than the 'Civic Arena.'
The 'IGLOO' opened on September 17, 1961 … my 5th birthday!
I managed to save some game ticket stubs….this 1970 Sabers game is the earliest one I still have.  Sadly none survived from the late '60s. $3..WUT? That won't even buy you half a cup of spit at a game in 2018.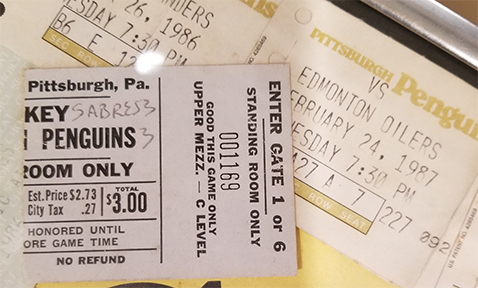 Head Coach George Sullivan (OMEN?) led stars Andy Bathgate, Leo Bolvin, Earl Ingerfield, Val Fonteyne, Ab McDonald, Ken Shinkel (the only Pens All Star that 1st season) …and goal tender Les Binkley to a couple of dissapointing seasons. The 1967-68 Pens were 27–34–13, finished in fifth place in the West Division and missed the playoffs. But we had the NHL in Pittsburgh, so suck it Kansas City.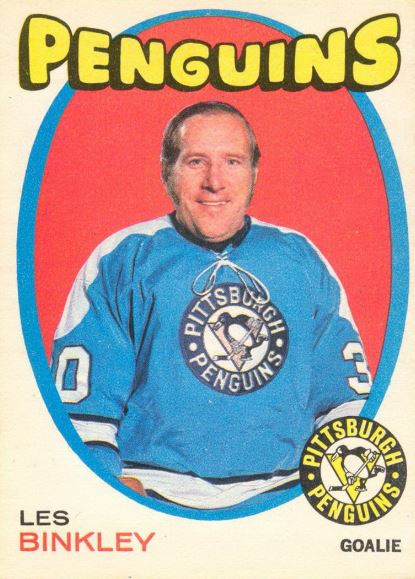 *Did you know…Les Binkley is a 2 time Stanley Cup winner?
"IT WAS THE BEST OF TIMES IT WAS THE WORST OF TIMES"… THE ORIGIN OF THE CURSE
In the 1969 draft the Penguins selected Michel Brière who although being chosen 26th quickly drew comparisons to Phil Esposito and Bobby Clarke. He finished as the second place rookie scorer in the NHL (behind Clarke) with 44 points, and third on the Penguins. Brière placed second in Calder Memorial Trophy voting for Rookie of the Year honors to Chicago goalie Tony Esposito in leading Pittsburgh to its first NHL playoff berth since the 1928 Pirates.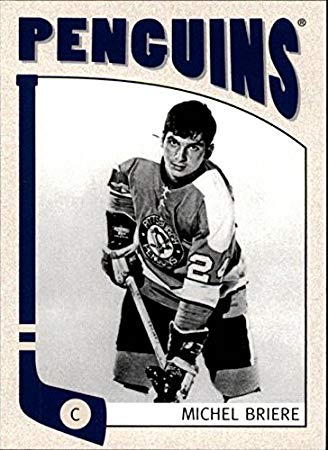 The Penguins defeated the Oakland Seals in a four-game sweep in the quarter-finals, with Brière scoring the series-clinching goal in overtime. In the semi-final round, defending conference champions St. Louis Blues got the best of the Penguins during six games. Brière led the team in playoff scoring, recording five goals (including three game winners) and eight points.
Tragedy struck just days after their playoffs ended. On May 15, 1970, Brière was in a car crash in his native Quebec, suffering brain trauma and going into a coma from which he never recoverd He died a year later.
You have to understand, this guy was the the original "Great One." Imagine the Oilers if this had happeded to Gretzky. Brière was going to put the Penguins on the World hockey map. He wore the same number as my 1st boyhood sports idol Roberto Clemente. My favorite number. He was taken from us before he even got started. Everyone was devastated.
His No. 21 jersey was never reissued, remaining out of circulation for the Penguins until it was formally retired to the rafters in 2001. Brière and "some other guy" are the only two players in Penguins' history to have their numbers retired.
THE 70's
The "Century Line" of Syl Apps, Lowell MacDonald and Jean Pronovost who scored 100+ goals and 200+ points for 4 straight seasons nearly reached the Stanley Cup semi-finals in 1975. HOLY SHIT, WE WERE MAYBE GONNA PLAY FOR THE CUP!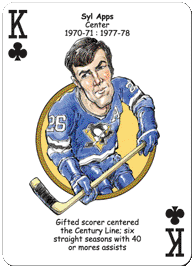 If not for the fucking New York Islanders coming back to win the Quarter-final in one of the only four best-of-seven game series in NHL history where a team came back from being down three games to none. I was there for that 7th game. My hockey soul is still sitting in that seat in utter disbelief. Fuck Ed Westfall for all eternity.

Ed Westfall still sucks.
Rick Kehoe, Pierre Larouche, Ron Schock, Ron Stackhouse, Dave Burrows, Bob 'Battleship' Kelly…and Denis 'Big Bird' Herron in goal. I can close my eyes and still see them giving up soff golas. But I still loved them all!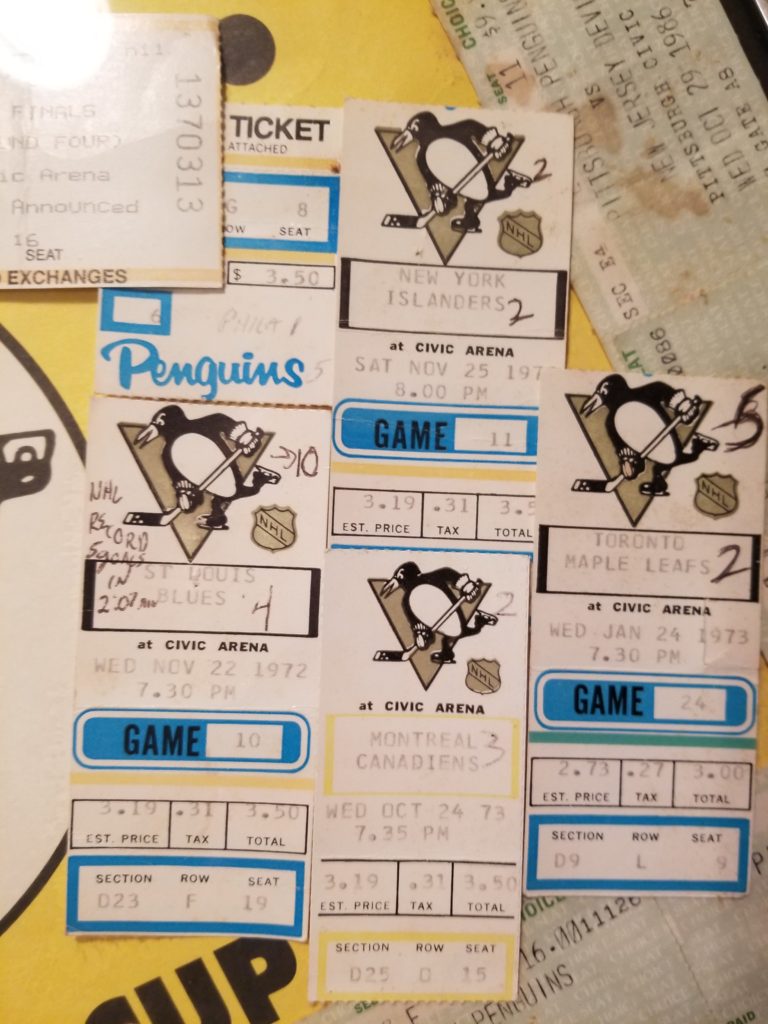 So many game time decisions.
That 1972 Blues game…"Fastest 5 goals scored by the same team in 2:07″… is still the NHL record. What a great game that was! Back in the 'stoned age' the Blues and Pens were as heated a rivalry as the Phlyurz are now. I can still hear the chants of "BARRR-CLAY" ringing through the rafters. Barclay and his brother Bob Plager were massive diks of the league back then.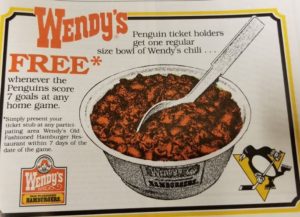 We whompd the CHILI outta them that night!
ALL OF PITTSBURGH WAS DOIN HAWKEY IN THE '70s
Hockey was the best drug in Pittsburgh…all the cool kids were doing it.
Dateline: March 21, 1971
Location: Alpine Ice Chalet, Swissvale PA
The Lead: Churchill whips Penn Hills 16-4 in the first game in Western Pennsylvania High School Hockey history.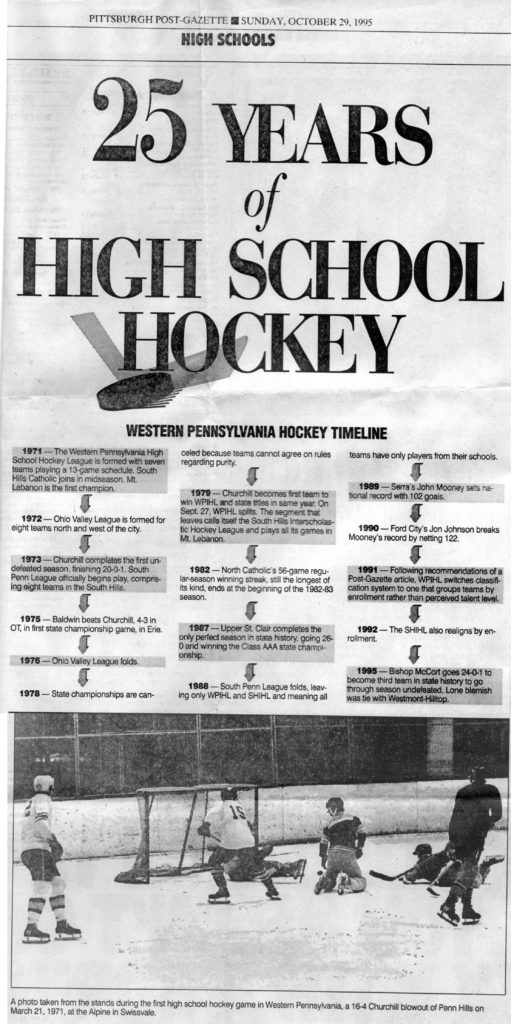 They put 1974 info in 1973's spot and '73 info isn't even in there…
Bastage editors!
My future Senior Centerman 'Fred M.' and 3 other guys from around the Western Pa local Ice Hockey leagues got together and decided they needed to start a High School league. So in 1971 the WPHSH League began with these Original 8 schools representing.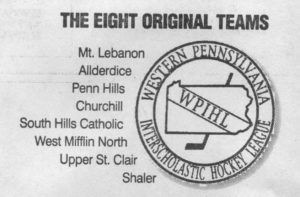 I can see it as clear as through saran wrap panties that day on the playground in the Summer of 1971 when my best buddy told me that our High School Ice Hockey team was holding tryouts. "OUR WHAT?"  I was so frken making that team. "Destiny, destiny…no escaping that for me."
I had just finished 9th grade so my mum drove me to tryouts…can't even remember where they were being held but the ice was terrible…about a half inch of water on top. Lot's of big guys in good equipment skating around and then us recruits. I remember wearing sweat pants over my shin guards, cheap gloves, no helmet, no shoulder pads, no face mask, cheap left hand shot stick from Clabor's hardware store. When it was this Freshy's turn to get into the goal crease…the Seniors were laughing at me. They stopped laughing when they couldn't score. My pond hockey career was about to ramp up…way up ; )
After the practice 'Capt'n Fred'  came over to where I was sitting, drenched and freezing, and told me I could have the backup spot in goal if I could find some equipment to play in. That warmed me up real quick. The following Saturday my parents drove me to Penguin's D-man Duane Rupp's Sporting Goods store in the South Hills, where I spent most of my college savings on a new set of Cooper goalie equipment.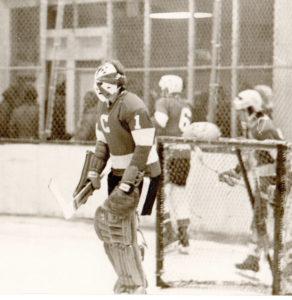 This shiz wasn't cheap…where was Sid and his $50k back then?
HAWKEYIN HARD IN THE USA
My sophomore year (1972) I didn't get to play much. I was a rook, so I usually only got in to spell the starters in the 3rd. I did well enough but no W/L record for me that year. We lost the first ever WPHSH title to Mt. Lebanon. Those dicks.
We won the Championship the next year.
I was 8-0 in my junior year (1973) with a 1.08 GAA and 4 – SOs. 'Rich G.' the OT hero in the Title game lived down the street from me. We were the two best Croatians in Churchill Hockey history : D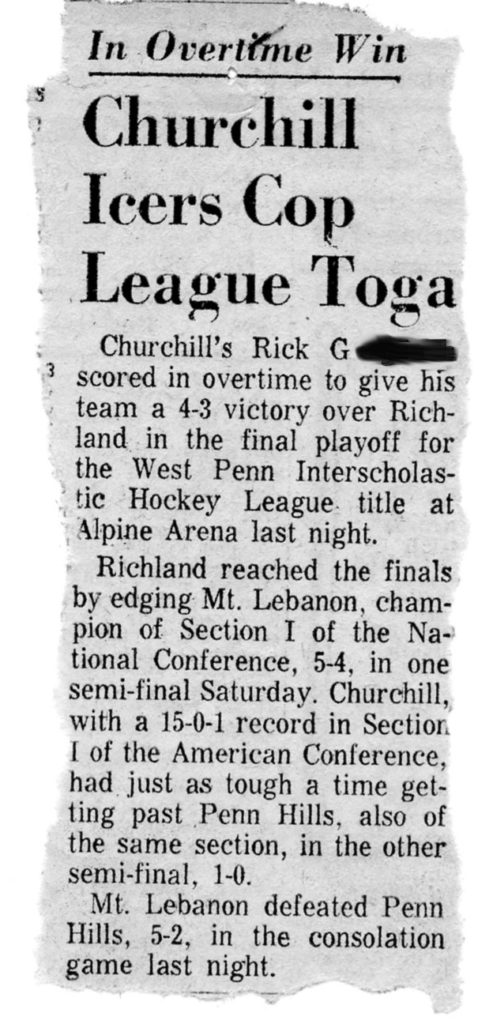 We were Champs again in my senior year (1974) going undefeated (again) 20-0-1. I was 6-0 with a 1.0 GAA and 2 SO's when I got hit in the temple and sustained a fractured skull during a blue line, slapshot practice drill. I was forced to sit out the rest of the season. Injured out IN A FRIGGEN PRACTICE SESSION! No game glory…no stunned fans…no wailing hockey bunnies…no standing ovation when I got back up on my skates. Nuthing but a cracked knoggin, blood running into in my eye and a trip to the hospital…after I finished practice. Followed up by the WORST 2 MONTHS EVER…only being able to watch as my team played on without me.

We were on quite a roll those first 6 games. Personally, I never lost or tied once in 3 seasons. I also played and won two games on the ice at the Civic Arena. Those have always been 2 of my favorite memories.
HEY…I just realized something…I'm a 2 time WPHSH Cup Winner! Move the frk over Phil, I was here first!
After the '74 season ended I got this in the mail. I was pretty impressed with receiving this back then. Now I look at it and think…Frker spelled my last name wrong and didn't acknowledge that I was a graduating Senior.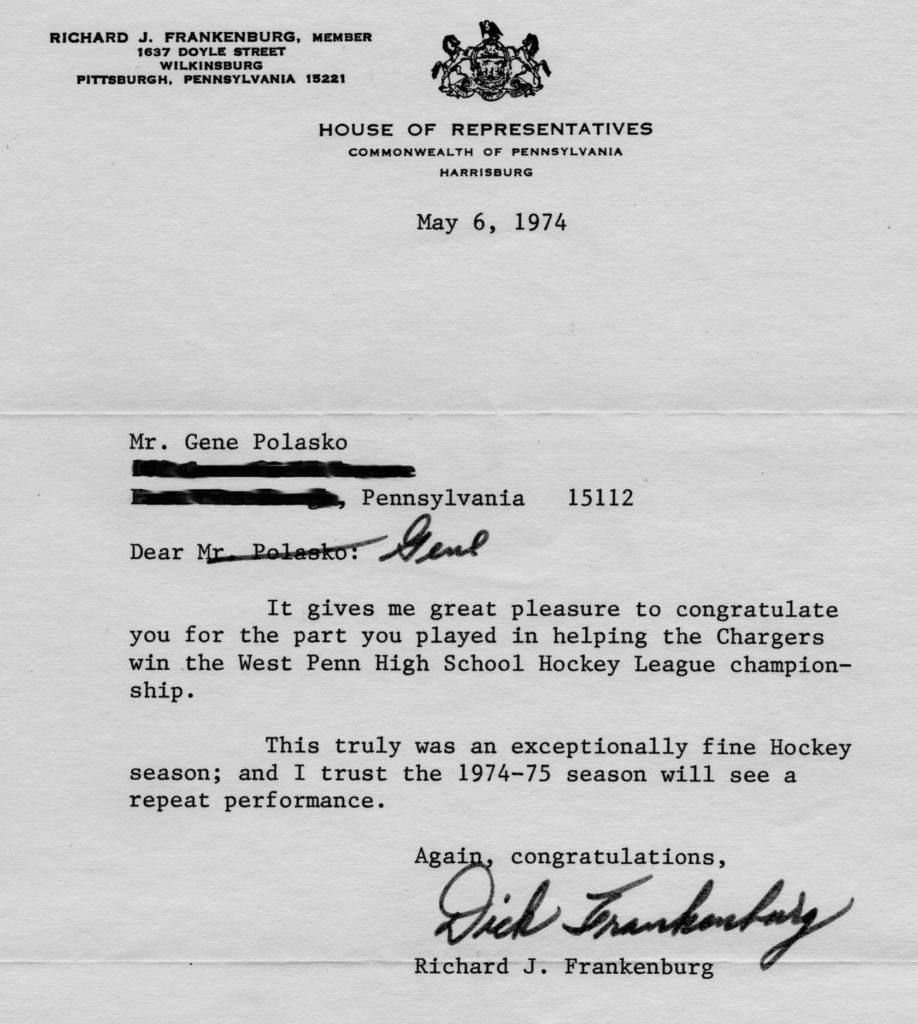 Politicians  : /
Those were some great years my hockey brothers and sisters. Churchill Chargers…WPIHL Champions 10 Years: *1973, *1974, 1975, 1976, 1977, 1978, 1979, 1980, 1982, 1983…not too shabby, eh? At least some hockey players in PGH were winning Championships in the '70s and early '80s.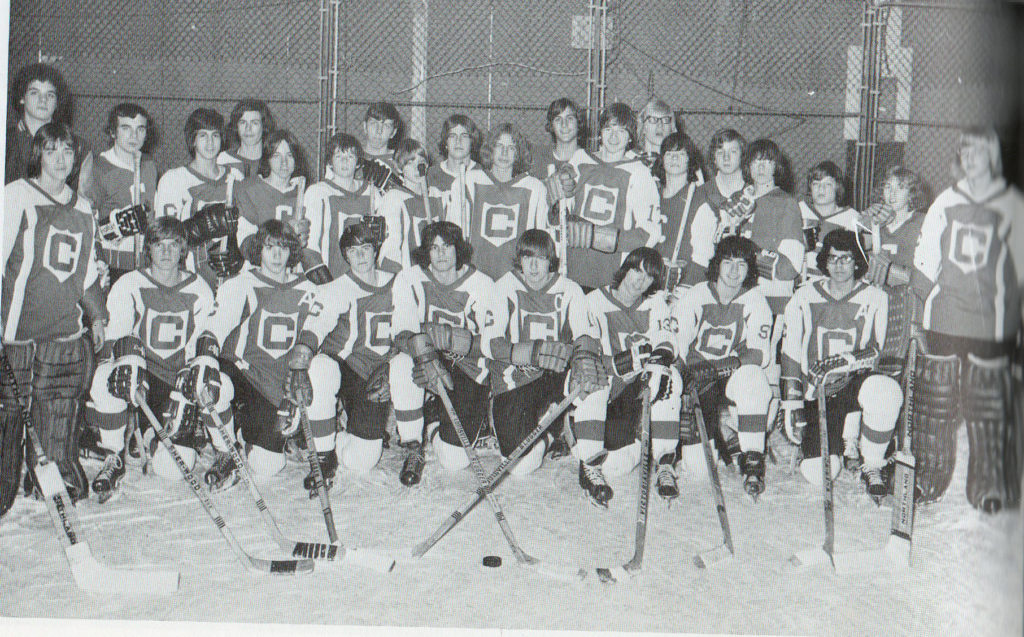 1974 Churchill Charger WPHSH Champs
Our 1975 successors won the league championship again the following year but lost the First ever State Championship. Sadly, our team folded out of existence in 1986. But we were the Montreal Canadiens of the WPHSH League there at the beginning. And WE started it all.
The decision was made to let Mario take over in the mid- '80s. That turned out pretty well. But yinz are all savvy to that parley so I won't sail there today.
Some of yinz may be thinking that I wrote all of this to brag and let you know how great our High School hockey team was back in the day…well fuk yuh, of course I did. But really, I wrote all this to try to pass on to you how it felt for a teenage hockey nut to live trough the  birth of NHL hockey in Pittsburgh while at the same time being an intergral player in the creation of the WPHSH.
I still feel sports-wood to have been alive during the prime years of Pittsburgh champions (Clemente's Pirates, Super Steelers, Penguins Birth) and to have the opportunity to have seen every single season of Penguin Hockey. It's been a great ride so far and it's not over yet.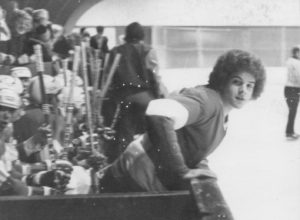 Izat UNG's Mum in the first row?
Thanks erreyone…for being part of our P.H team!
SSG
LET'S SETTLE THIS ONCE AND FOR ALL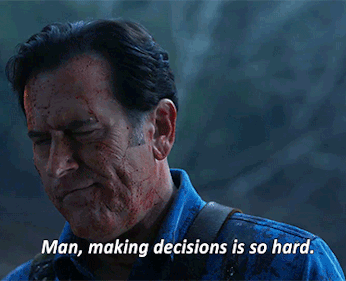 BLAWG MEAT UP - RUNOFF POLL
A) December 1st : Flyers (84%, 16 Votes)
B) March 16th & 17th : Blues / Flyers (St. Paddy's Day) (16%, 3 Votes)
Total Voters: 19

Loading ...