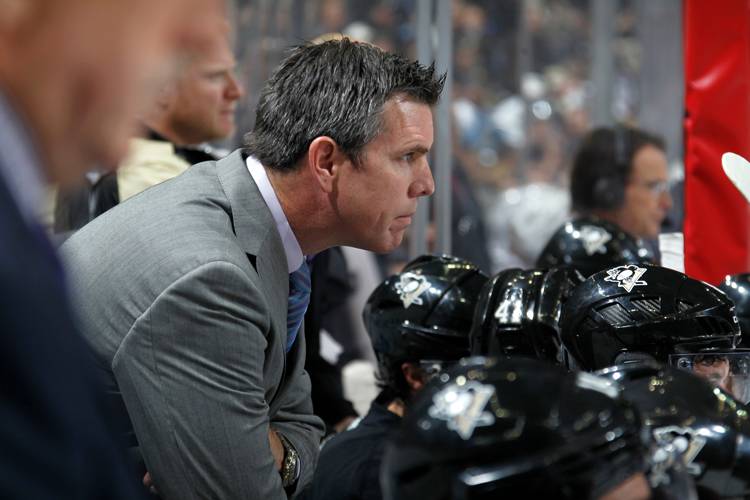 Initially I was going to work on a post for Sidney Crosby. I have been working my way through the main crew and it was time for Sid, however, one night, I got a little curious about Mike Sullivan. Who was this guy? How was he able to take this dysfunctional group of talent and prevent them from free falling into hockey oblivion?  In my last post, I accidentally called Mike Sullivan, Steve, because we'll A) I always call him Sully B) I suck at remembering names and C) He's in the background; the coach makes the plans but it is the players who execute it and get the glory.  In writing this, I have gained a new level of respect for Mike Sullivan, but I am not alone in this regards.  The whole hockey world ignored him.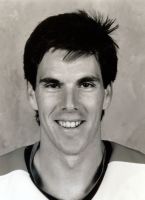 Since Sullivan played before the internet was invented, there was not much that I could find on his career.  Mike was born and raised in Marshfield, MA.  He went to Boston college and was drafted 69th by the Rangers (as a center).  He graduated from BU and then went to play on a San Jose farm team, after the Rangers declined to sign him.

He started his NHL career as a Shark.  He then played in Calgary and later Arizona.  It was in Phoenix, where Mike Sullivan caught the coaching bug.   As a player at the end of his career, he spent a lot of time in the press box.  He didn't whine or complain, he instead used it as a way to help his teammates out.  His drive to coach was built out of adversity.  This explains why he doesn't panic when being forced into a game 7 with Washington or going into OT during the conference final.  Mike Sullivan has seen worse; he sees failure as a chance to prove himself useful.  After reading this article, I was beyond impressed by the character of Sullivan. 
He studied the Coyotes' play closely from the press box, then shared his observations with his coaches. Soon he was adjusting the team's penalty killing and sitting in on coaches' meetings where lineups and game strategy were devised.

… Just after he retired from the Coyotes, the Bruins farm team in Providence, R.I., began looking for a coach. Sullivan called the Boston general manager and said he wanted the job. "Yes," he said, "I know I have no experience." The Bruins, impressed with his knowledge and determination, brought him on.
Sully took a coaching job with an AHL Boston team and was preparing to take them into his first playoffs as a coach, when the eternal dumpster fire that is the Bruins came calling.  With a month left in the season, they fired their coach and asked Sullivan to assist behind the bench.  In the off season they hired him as their coach; their 5th coach in 3 years and the youngest coach in NHL history.
"I feel very fortunate to have not only played for the team and worn the Bruins jersey, but also to stand behind the bench," he said at a news conference attended by dozens of family members, including his parents, in-laws, wife and children, brothers, sisters and uncles.   …    "I'm just a regular guy that grew up in the area that loved the Bruins and loves hockey," said Sullivan, a native of the Boston suburb of Marshfield. "I can't tell you the emotions I feel right now."
The kid from Southie makes it big he, oh, wait, wrong story.  Sullivan's time as a Bruin was more like the ending of "The Town", (spoiler alert) all his team dies and he flees to Florida.  After only 2 seasons as coach, he was fired.  He made it to the playoffs his first year as coach, but then they also traded Joe Thornton after a disappointing 2nd year.  This led to a GM change and his eventual firing.  So here's where the hockey world becomes a strange 1970s-bowl-of-keys party.  So the GM who would later trade Kessel to Toronto was the person who fired Sullivan.  And that would be Peter Chiarelli.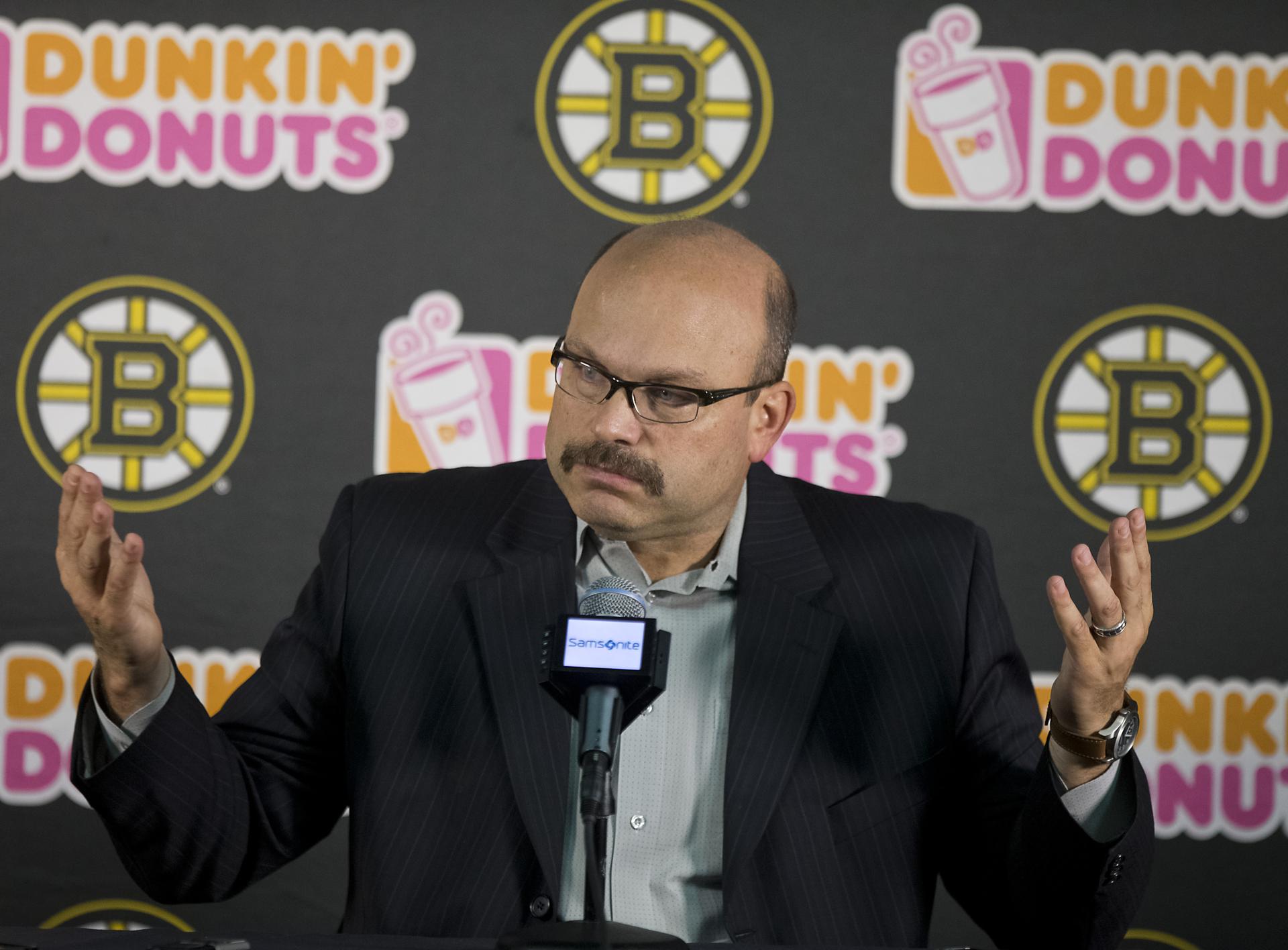 He apparently started coach shopping even before talking with Sullivan; before they were even able to scratch the old GM's name off the door.  "Mike went to Ottawa … Peter advised Mike that he would be talking to other candidates. He went through that process and his decision was that at this time we are better served to have a clean slate."  So the jobless Sullivan decided to ask an old coach for help and so was born the buddy-buddy team of Torts and Sully.
So first Mike was an assistant coach in Tampa the year after Torts won the cup.  In a couple of years, Torts was fired, but they kept Sullivan on under the new coach, Rick Tocchet (fish bowl of keys).  Apparently Tocchet used to play with Sullivan in Arizona, and after 2 years in Tampa, he felt comfortable having him around.  However 2 years later, both were gone.  Sully picked up a new gig assisting in New York with Torts.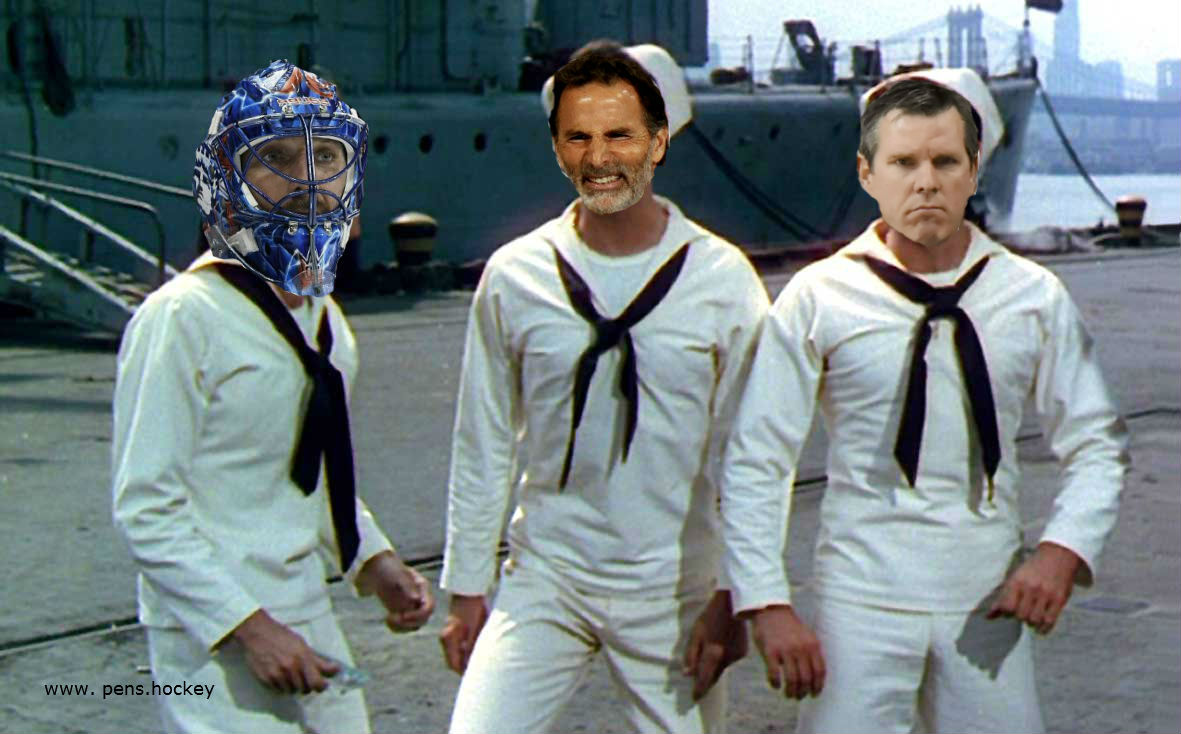 Eventually, Tort lost his gig there, and he packed up the gang and head to Vancouver.  Things were going as well as it can in Vancouver until this happened…
After a suspension, the Canucks decided to part ways with both Tortorella and Sullivan.  With this stain and some mixed player reviews, it sets Mike's career back; all the way back to 'Player Development Staff' in Chicago the following season.
"Truth is that Sullivan, who only reinforces Tortorella's us-against-the-world mentality, had alienated more Rangers by the end than the head coach."

"…Sullivan is well-known to be a gruff, drill instructor type, an approach that hasn't crossed well with some players he's coached."

"Ideally, Sullivan would have been the yin to Tortorella's yang, but for some reason that is not how the dynamic evolved. They were both yin's and yang's (and that probably is putting it politely), almost mirroring one another's strengths and weaknesses. Bad cop, worse cop."
Mike won a Stanley cup ring with the Blackhawks, but he was not satisfied with only leading in player development, so when another coaching job opened up, he took it.  Jim Rutherford offered Sullivan the job as head coach for Wilkes-Barre.   While the Pittsburgh Penguins were dying alive under Mike Johnston, the Baby Pens were cash money with Sulley in the cockpit.  When Johnston was fired, Rutherford didn't have to look far for the next coach.  After 10+ years, Sullivan was a head coach again.
Now I like Dan Bylsma, but I do kind of feel like Michel Therrien set up the pieces and Dan was better at executing and getting the group together.  Dan knows how to get the best out of an average player.  He could duck tape a crappy team together and get them into the playoffs, but once there it was unsustainable.  He stuck to his system in the face of all reason and things that do not change, tend to die.  Now Mike Johnston was an enigma to me.  He was like a kid pounding a peg into a square hole.  Sullivan, known to be hard on his players, was able to gain the respect of not only his AHL team but also the NHL stars.  Before Johnston started the season, there was an article about him flying to Russia to talk with Malkin, because it was important to gain Geno's trust, or something like that.  Yeah, I guess Malkin didn't buy what Johnston was selling;  neither did the rest of the team.  When Sullivan started, I believe it was Lovejoy who talked about how Mike sat that whole team down and told each person why they've sucked and how to improve.  The WHOLE team.
"He's very honest. He doesn't yell, he just tells you: I need you to win this battle in the corner or to get a box out on this play," says Penguins defenseman Ian Cole. "He'll tell you whether you're a fourth line winger or an all-star."

That honesty has earned him respect among his players, despite a sometimes less than reverential attitude toward his Boston accent. "Sometimes I hear them imitating me," Sullivan says. "They don't know I'm listening."

…"I was watching the tape, and [center Evgeni] Malkin was yapping at the ref when Sully was trying to just probably work the ref, as coaches do," Tortorella said. "And, quote-unquote, he spontaneously turned to Malkin and said, 'Shut the [expletive] up.' And don't you think, a new coach, been there a week, the bench turned around and said, 'Holy [expletive], he just told [Malkin] to shut the [expletive] up."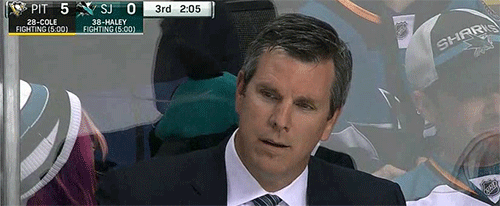 On team changes under Sullivan vs Johnston…
"They seem to be a more aggressive team on the forecheck in the offensive zone and are far more organized when trying to breakout of the defensive zone, something that was a major issue at the start of the year."

"For Sullivan, the Letang-Maatta duo been his go-to-pairing and it's probably not a coincidence that Letang's season has done a complete 180 under Sullivan. Letang and Cole, the failed top-pairing for Johnston? They have only spent six(!) minutes on the ice together under Sullivan. Cole, a player the Penguins thought enough of to sign to a multi-year contract extension before the season, has seen his role almost completely vanish under Sullivan, going from 20 minutes a night under Johnston to barely over 14 minutes. At times he has been a healthy scratch. He has also had some of the worst numbers, traditional and advanced, of any Penguins defenseman this season."

"The coach has directed the Penguins — a club filled with marquee names — with élan. When circumstances called for it, he slotted Evgeni Malkin into a third-line role. Evgeni Malkin! When circumstances demanded it, he sat Marc-Andre Fleury in favor of Matt Murray for the most important game of the season. Sullivan has used kids in prominent roles. He has gotten the best out of Phil Kessel. He has allowed players to play to their unique strengths, putting them in the best possible position to succeed."
When the team faced adversity in months before the playoffs, due to injuries, or was pushed to the brink in the playoffs, Sully was prepared.  This was his moment, 10 years later and he wasn't going to waste it.  He has mentored varying type players and worked in different organizations.  He has learned from his failures as a player, assistant, and coach; now was Mike's time.  Now was his chance to take the Stanley cup, and he did it.  He proved that he could coach generational stars, that he could out-wit opposing coaches, but was it a fluke?  In his second as head coach, he found himself back in the playoffs.
"Sullivan has seen his team get humiliated twice over the last few weeks, first at home in Game 6 vs. Washington, next in Game 3 versus Ottawa. Coaches who've lost their locker-rooms ( i.e Dan Bylsma) would not have had the words or the spirit to lift their players out of the dumps and put a winning team on the ice for the next game. Sullivan doesn't seem to be affected by much of anything and continues to defy the odds and "block out the noise." His teams are now 12-2 in the playoffs following a loss. That's great coaching."
2 years, 2 cups…that IS great coaching.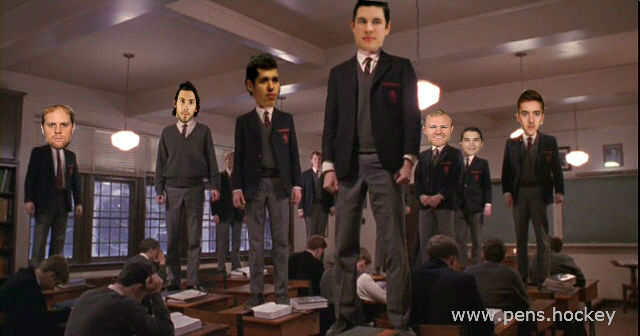 "Thank you boys"
– Mike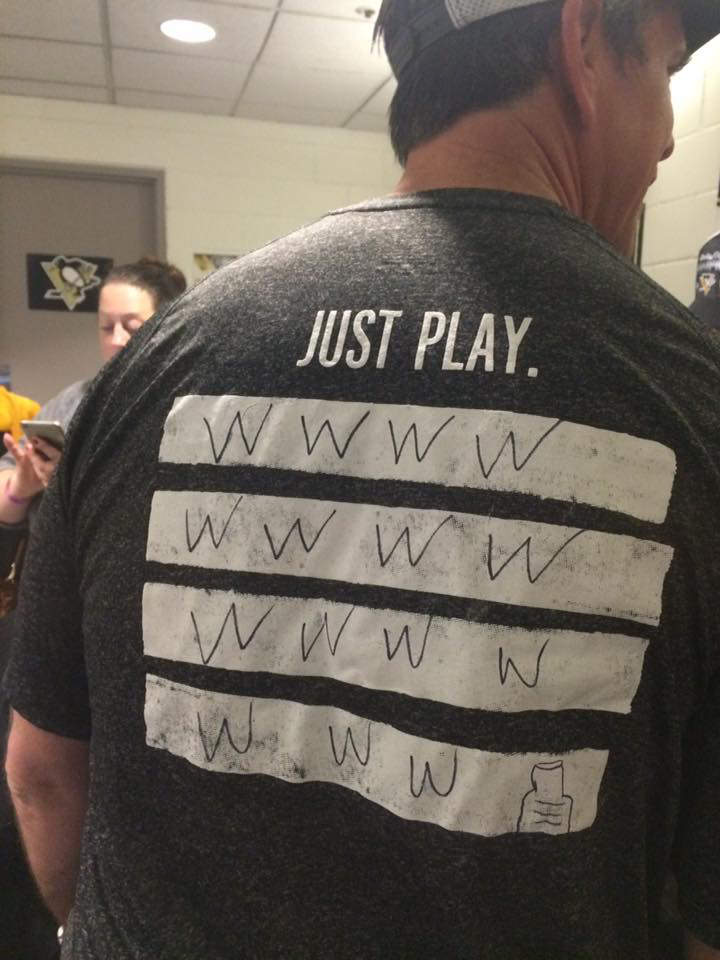 If you're tired of all this sentimental crap, click below.