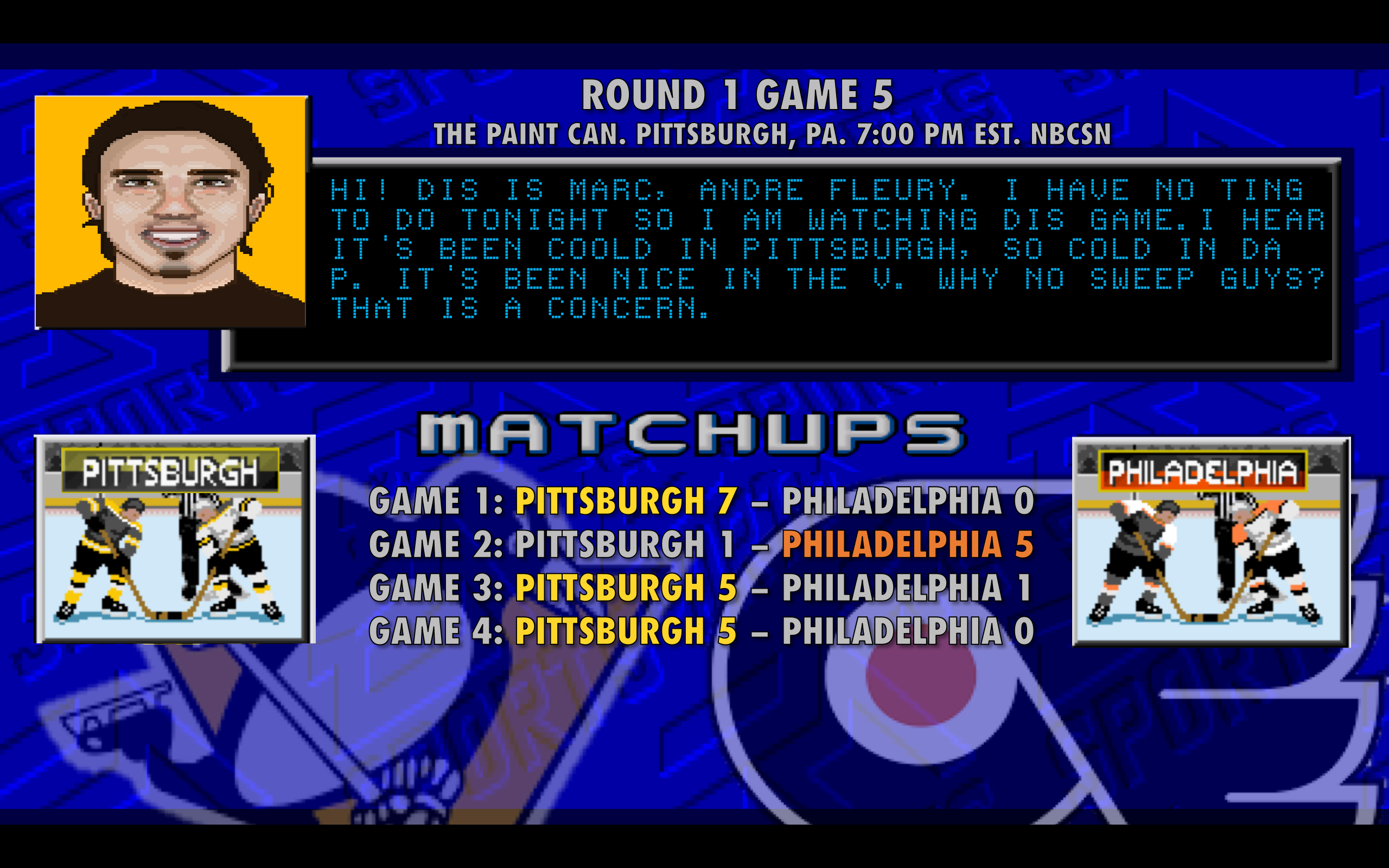 With a 3-1 series lead going into Game 5, the Pittsburgh Penguins should be confident, but not unfocused, as they look to clinch their ninth-straight playoff series.  Thus far in this series against the Philadelphia Flyers, the victories have not been very much in doubt, as each game has been decided by at least four goals.  As Game 5 is in the friendly confines of PPG Paints Arena (where the Penguins had the second-best record in the League), there is little reason to expect the Penguins to lose and let this series return to Philadelphia, besides the Flyers' 5-1 victory in Game 2 in Pittsburgh.  Should the Flyers lose, it would be the second time in three tries that Claude Giroux has been eliminated from the playoffs by Sidney Crosby and company.
The comparisons have been common between the two captains, much as they are between any two captains, particularly those in the same division (see: Crosby and Ovechkin), but there is very little to go on in terms of actually comparing the two players and their résumés, but I'd like to go into depth about Giroux, because I don't think his credentials have been very much considered in terms of his place in the pantheon of Philadelphia Flyers and his contemporaries.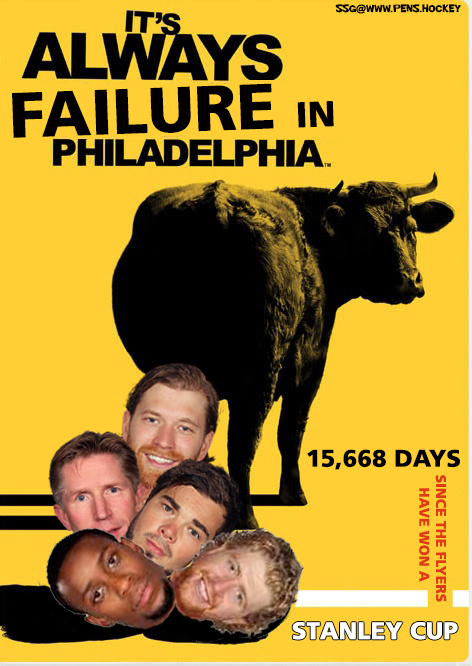 Giroux was the 22nd overall pick in the 2006 draft, which was a pretty decent draft considering the first seven players and eight of the top ten have played over 600 regular season games, and twenty-six have played over 500.  For his part, Giroux (who has spent his entire career with the Flyers) is eighth in games played and third in points amongst his peers, a list which includes former Penguin Jordan Staal, current Penguins Phil Kessel and Derick Brassard, as well as Nicklas Backstrom, Milan Lucic, Brad Marchand, and Jonathan Toews.
This year, at thirty years old, Giroux posted his career-bests in goals, assists, points, shooting percentage, face-off winning percentage, points-per-game, and point shares.  He passed Eric Lindros for fifth on the Flyers all-time scoring list, and three of the four players ahead of him on the list won the Flyers' only two Cups: Rick MacLeish, Brian Propp, and Bobby Clarke.  For his efforts this season, Giroux may garner some strong consideration for the Hart Memorial Trophy as the League's MVP.
And yet, in this series Giroux had been finding himself as second fiddle to Sean Couturier, until Couturier was injured prior to Game 4, in minutes and points.  He has also been in the rear-view mirror with regards to his peers from the 2006 draft and their overall playoff success.  The closest Giroux and the Flyers have been to the Cup was the 2010 Finals when they lost to Toews and the Chicago Blackhawks.  Toews, Kessel, Lucic and Marchand have all won Cups.

Flyers fans could argue that Giroux hasn't had the same sort of support that his peers have, and in many ways they would be right.  Having a healthy team would also probably help.  The joke now however is that, Giroux has support: Couturier, Laughton, Gostisbehere, Provorov, Sanheim, Lindblom, Konecny, and now Patrick are all Flyers draftees and are contributors of varying degrees.  But a captain also has to be able to carry his team to victory sometimes, and Giroux has done anything but carry his team against the Penguins in this series and for the season he's -10 with five assists against the Penguins.
Only two active players have seen more ice time than Giroux against the Penguins: Backstrom and Alex Ovechkin.  Only Ovechkin has more points against the Penguins than Giroux.  However, Ovechkin has a plus/minus of +14 and Backstrom is +4; Giroux has a career plus/minus against the Penguins of zero.  We like to make fun of Ovechkin for not being able to lead his team past the Penguins, but at least he's successful in general, if not when it matters; Giroux is neither.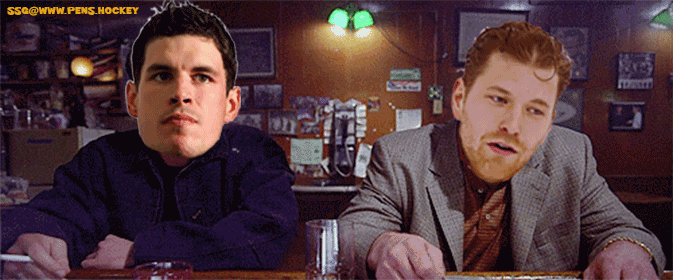 Being a captain in the NHL is an honor usually bestowed upon the player a team expects to be a leader, emotionally, statistically, or both.  Giroux was named captain of the Flyers prior to the 2012 season; two other active players have been captain as long as he has, and six others have been captain for longer than him.  Of all of those captains, three players haven't won the Cup: Colorado's Gabriel Landeskog, Minnesota's Mikku Koivu, and Ovechkin.  Landeskog is five years younger than Giroux and is only in his second postseason this year; Koivu, like Giroux, is a more defensive centerman, to the extent that he's under constant consideration for the Selke (he was a finalist last season).  And Ovechkin is…Ovechkin: a game breaker offensively, but defensively average at best and lackadaisical at worst.
The rest of the captains with Cups and tenures as long as or longer than Giroux's? Zetterberg, Getzlaf, Toews, Chara, and Crosby.  (For what it's worth, Jordan Staal is currently co-captain of the Carolina Hurricanes, and has won a Cup as well.)
So, if the Flyers do lose tonight, with or without Couturier, part of the reason will be because Giroux is and has been incapable of willing the Flyers to victory.  He's not the kind of gamebreaking player most teams need to win a playoff game or series.  They need him tonight, and every night hereafter, and not when the hour is late. For the Flyers, Claude Giroux is merely good.  In the Stanley Cup Playoffs, that's often not good enough.