Part 1 covered the Penguins whose trade values are the highest, now I'll go over the Penguins with the lowest trade values.
Part of what goes into assessing the trade value of a player is to consider just how much of an impact that player is going to have on not just the Penguins' roster should he stay with the team, but also what that player's value would be to the team to which he would be traded. Case-in-point: I had Derek Grant ranked very low on this list (fourth-lowest in fact) because he was not only a depth center but also because he would be a depth center on his destination team. So, after the Penguins traded him to Anaheim for Joseph Blandisi, Grant became the Ducks' fourth-line center and Blandisi had a quick 6:47 stint against the Arizona Coyotes before being re-assigned to Wilkes-Barre/Scranton. The Penguins seemingly gave up value when they traded Grant for Blandisi, but that's how it goes sometimes. Even in low value trades there can be winners and losers. But I feel like I judged Grant's value correctly because, although he is a depth/fringe NHL player, he does still have enough value to remain in the NHL.
So, as you look through these rankings keep in mind that some players may be more valuable to other teams than they would be with the Penguins; the opposite is true for the guys at the top of the ranking. Nevertheless, every player, even the ones at the very bottom, have some value, even if that value is exclusively in the context of how much it costs for the team to pay his salary. With that said, here's the bottom third of the Penguins roster in terms of trade value.

It's been an odd year for Oleksiak, such as it has for the entire defensive corps. Since Justin Schultz's injury at the beginning of the season, Oleksiak has actually seen his ice time go down from last year while his offensive production has gone up. His Corsi and Fenwick rates: down; his on-ice shooting and save percentage: up. Unlike last year, when he joined the Penguins in December, and got bounced around from pair-mate to pair-mate, he has spent the majority of the season with Olli Maatta, which is part of the reason Oleksiak's shot rates are down. Perhaps in part because of this incoherence, Oleksiak has been rotated in and out of the lineup with Juuso Riikola, but Oleksiak has seen the lion's share of time in that platoon. With Schultz's impending return, there will be nine defensemen, which is one or two too many. Could Oleksiak be on his way out? I doubt it, considering he's under contract for two more years, but that could make him an appetizing target for a playoff bubble team looking to bolster their defense now and for the next few years.

"Of Smith" has come out of nowhere to supplant Tristan Jarry as the backup goaltender for the Penguins, and he was vital in keeping the team afloat in November and December. While neither Murray nor DeSmith have been very consistent, particularly lately, DeSmith certainly made enough of a case to be ahead of Jarry in the organizational depth chart, and he earned himself a three-year contract extension. DeSmith showed a particular knack for stopping high-danger shots (he's in the top twenty in the League in high-danger save percentage and high-danger goals against average, minimum 800 minutes), but he's still in the top ten in furthest average goal distance. (Matt Murray is third in that ranking, so there's that.) Nevertheless, when DeSmith is on his game, he's proven himself to be quite capable of being given the crease. Now he and Murray just need to work on their consistency.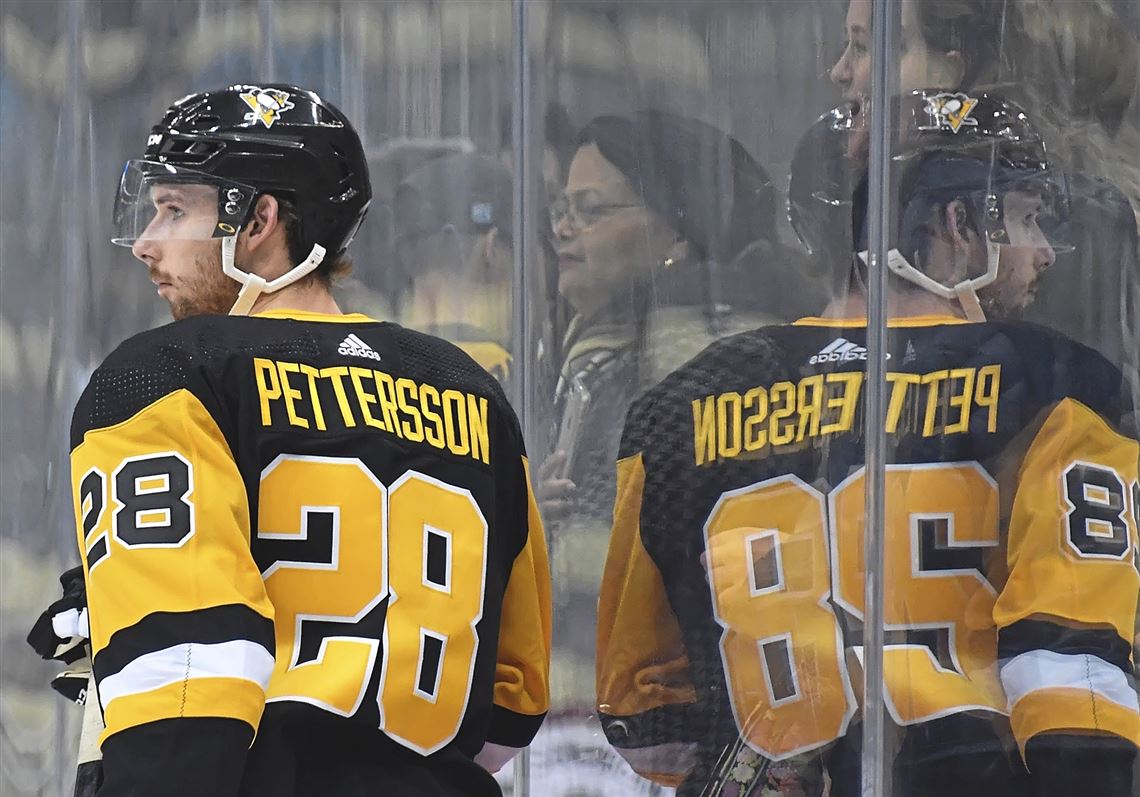 It was hardly a surprise when the Penguins finally traded Daniel Sprong away, but it was a bit of a surprise that they went out and got an unassuming third-pairing defender in the process. However, Pettersson arrived in Pittsburgh and surprised everyone not just with his own skill but his ability to turn Jack Johnson into a replacement-level defender. Unfortunately the tandem has slipped up a bit more of late, and because they've been so closely tied (87% of on-ice minutes have been together), it's hard to tell who's to blame. (I'm going to spare you the suspense and tell you: it's likely Johnson.) When Schultz returns from injury it's going to be interesting where Pettersson fits into the equation. He's a waiver-exempt RFA (as is Juuso Riikola), and there's been no indication that head coach Mike Sullivan will bench Johnson under any circumstances. Sullivan also tends to favor his veterans over younger guys. I'm sure Pettersson could be a productive member of the Penguins' defense, but he doesn't deserve the albatross that is Jack Johnson.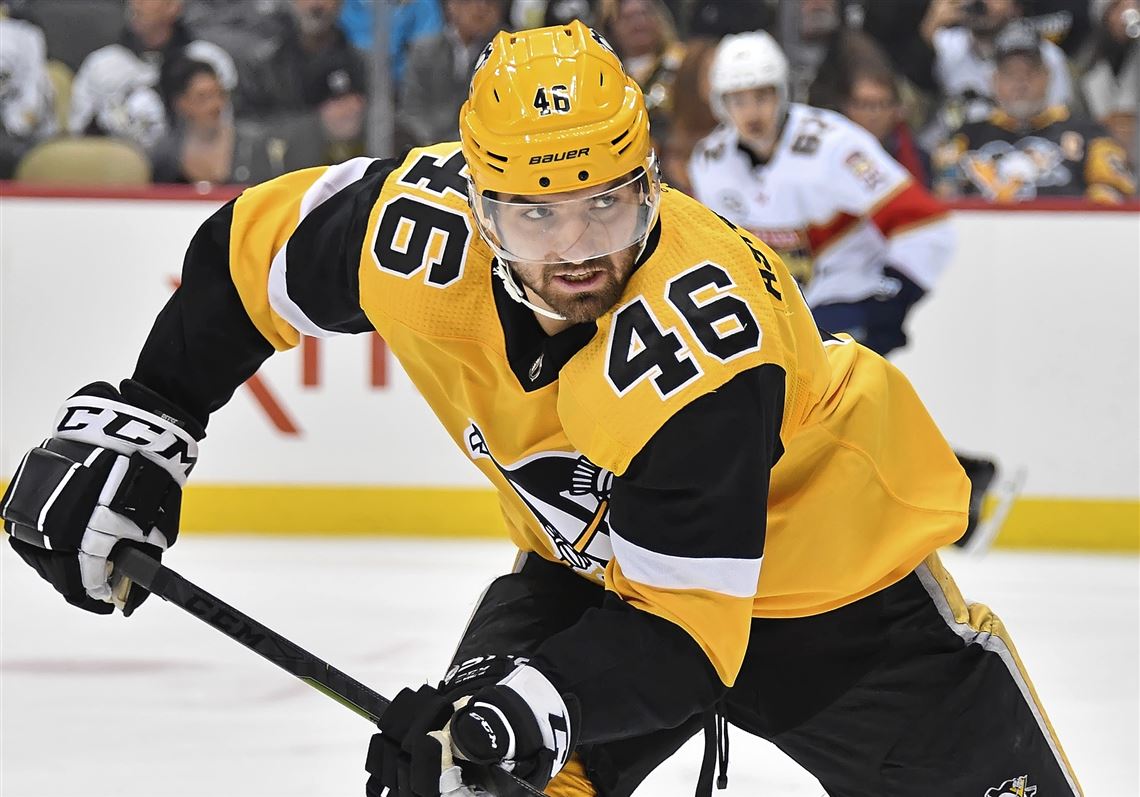 Another waivers-exempt RFA, when Aston-Reese has been in the lineup, he's gotten the Bryan Rust treatment, getting bounced up and down the lineup, and it seems as though he's gotten boosts that would be expected from playing alongside the usual suspects (Crosby, Malkin, Kessel, Rust). Long term, I don't suspect he'll amount to much more than a third or fourth liner, though. His hard-nosed play also puts him in more hazardous positions, and that has led to some health concerns. Still, if he can stay in the lineup he's shown that he's able to contribute at both ends of the ice. He's an unsung member of the roster, and having him back in the lineup might be more beneficial to the team overall than most might think.

Riikola flew under the radar prior to being acquired by the Penguins in the offseason, and he was so good in the preseason that the team had no choice but to give him a contract and a shot. Well, his hot preseason has not translated to anything more than a dud in the regular season, and he's been limited to twenty-five games being swapped in and out on Maatta's pair with Oleksiak. Although he has been able to contribute a little offensively, defensively he hasn't been that good, and the team as a whole is better off without him. He's also a waivers-exempt RFA, and compared with Pettersson I think it's clear who would be sent down to Wilkes-Barre/Scranton if/when the time comes. I'm not sure we've seen the last of Riikola in Pittsburgh, but he's already 25 and being out-produced by a guy three years younger than him in Pettersson. It's too bad, because two Finns makes more sense than one. *runs*

Wilson has seen limited action in Pittsburgh – nineteen games scattered in groups of five or so games, and around ten minutes of less a game – and most of that time has been spent on the wings of Matt Cullen, Riley Sheahan, or Derek Grant…not exactly the best linemates if you want to show what you're capable of. Then again, he seems to have had the best work with Sheahan, as that tandem has led to more offensive production despite starting shifts in the defensive zone. All that he really needs to do is prove that he can effectively limit the opponents' in the defensive end, and it appears he can do that. Unfortunately for Wilson, he is in Pittsburgh to replace Aston-Reese, so between having limited ice time and the inevitable re-assignment back to Wilkes-Barre/Scranton, it doesn't appear he will get much chance to prove his worth. Being a UFA, it stands to suspect that his tenure with the Penguins' organization will end at the end of this season.

As the Penguins' only consistent fourth-line center, Cullen and his linemates have actually done modestly well for themselves, producing goals despite starting the wide majority of their shifts in the defensive zone and facing more shots against than producing shots for. Much of this production has come since Cullen came back from his injury on December 12, and the Penguins started finding their groove shortly afterwards. Of course, I'm not trying to say that Cullen's absence from the lineup necessarily hurt the Penguins, but it's always a good thing to have consistency in your lineup, and losing a veteran presence like Cullen's could have some effect. And the Penguins have needed Cullen to be productive, especially when they don't have a consistently-productive third-line center. It hasn't been a negative reunion between Pittsburgh and the forty-two-year-old, and with any luck he'll continue to provide the support for which the team re-acquired him.

Without one iota of surprise, and for the second straight year, Jim Rutherford's big offseason acquisition finds himself parked at the bottom of this ranking of Penguins' trade values. To his credit, Sullivan is really trying to turn Rutherford's newest pet project (previously Ryan Reaves) into a useful player, even pairing him with Kris Letang for a little while, but Johnson has been inconsistent at best and just plain bad at worst. He had a good stretch there at the beginning of his time alongside Pettersson, but it was only a matter of time before the duo regressed and it's hard to imagine that is anything but Johnson's fault. Inexplicably, as indicated previously, there is nothing to suggest that Sullivan has had enough of Johnson, which may have more to do with Johnson's silly contract ($3.25M/yr for another four years vomit) than anything else, including his age. At least Rutherford was able to cut bait with Reaves and get something in return; with Johnson, he is likely going to be the Penguins' problem for some time.