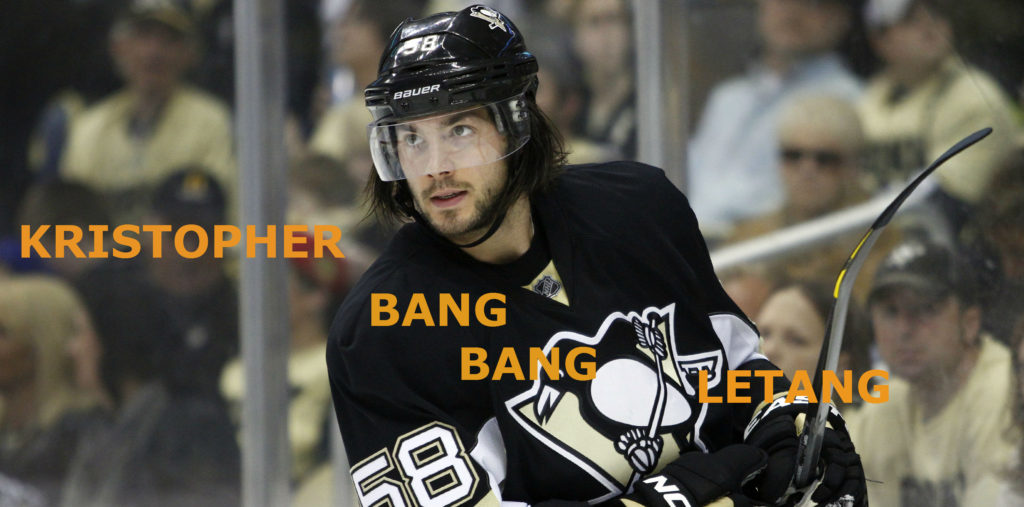 There is a variety of "offensive defense":   Think of Bobby Orr, Paul Coffee, Nick Lidstrom, Scott Niedermayer, or Brian Leetch (personal fav).   Letang is most closely compared to Erik Karlsson (even though Karelsson is younger, has better numbers (sorry), and hair to rival his).  BUT Kris is rare because he is a offensive defender that is a right handed shooter.   What, Karlsson shoots right? (Mother*&%$)    Did Karlsson missed a ton of man games for multiple concussions and a stroke!  Ok then, lets continue.
The Penguins drafted Kris in 2005 during the 3rd round (62nd overall).   Notable defenders ahead of him: Jack Johnson (#3 Hurricanes),  Brian Lee (#9 – (who?) Senators),  Marc Staal (#12 Rangers), and Matt Niskanen (#28 Stars (LOL)).  The entire 2nd round is absolute trivia bait because I've never heard of any of them.
http://www.post-gazette.com/sports/penguins/2007/06/28/Penguins-Rookie-Minicamp-Letang-hopes-to-stick-on-Penguins-defense/stories/200706280239
Letang came as advertised: "… possesses speed and offensive abilities… likes to shoot from everywhere and usually is able to get in good scoring position. He's also very good in his own zone and is a force along the boards. Few forwards are able to come and penetrate his side of the ice."
http://www.hockeysfuture.com/prospects/kris_letang/#fXebMDGecsOHDozi.99.
Interesting to note, he was scouted by Scotty Bowman.
https://youtu.be/uyJyttuAHik
Over the years, we've gotten to see many versions of LeHair:
Right Side, Strong Side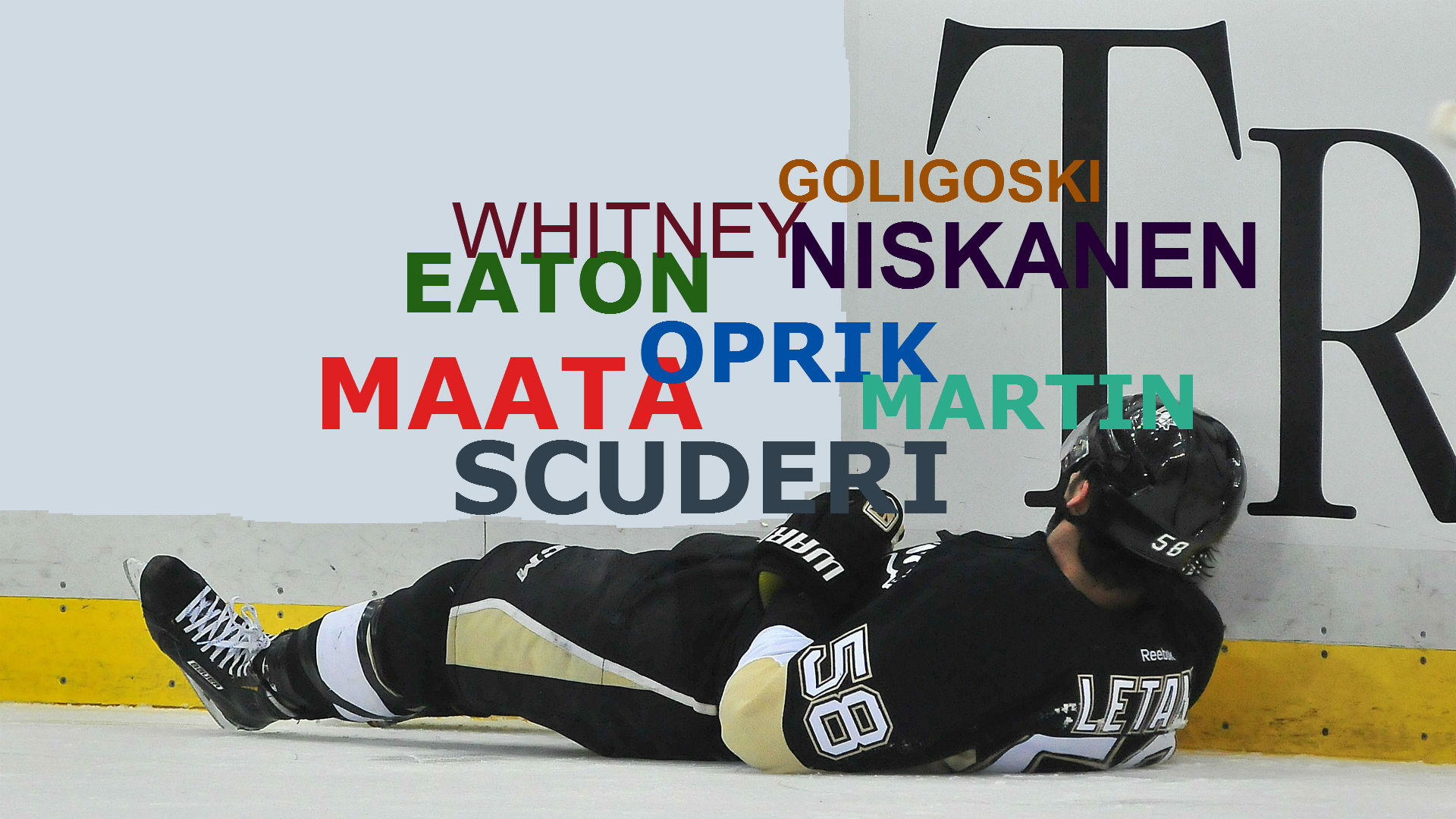 Letang works best with a 'straight man', someone who'll stay at home (cook dinner) and doesn't really move up on the rush.  It allows him to rush into plays and enter the zone with the puck, instead of the usual dump and chase.   Here is a list of some of his partners and percentage of success.  Check out the link inside the link at your own discretion.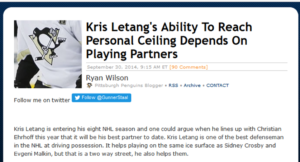 Early Le-bang had a lot of gifts but constantly needed reassurance.  He would watch hours of game tapes with the defensive coach to improve.  Le-bang would commit the usual offensives that all young defenders make. He would try to force pucks to covered players, hold the puck in the corners too long, and get caught in the offensive zone.  It has been said that it takes years to carve out a good defender.   Le-bang was NHL worthy but he was still trying to find his identity.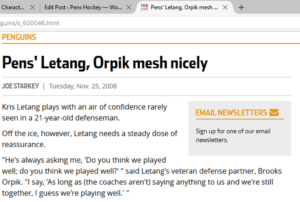 In the 10 seasons Kris has been playing, we have gotten to see the good and bad of his play.  An asset for Letang is that if a breakdown occurs or if there is a miss pass, he has amazing closing speed.  As Steigy likes to say, "He got on his horse".   Another gift is his ability to keep the flow away from his goalie.  He plays with his head up and is pretty good at disturbing the puck.  While the defense can function decently without him for a few games, the power play cannot (yes, the PP has its own issues but it seems worse without him).  Not only can he get the puck in, he also does his damnedest to keep the puck in the zone.
"But Letang's greatest quality is his poise with the puck. When he's walking the blue line, he always has his head up scanning the play for his next move. He'll not only be looking at what the guy defending him is doing, but also looking past him to see how the play is developing." – Kevin Shattenkirk  http://www.theplayerstribune.com/elite-defensemen-101-part-2/
The first article breaks down Letang's fault; I would say he has improved on most of these.  One major improvement I have noticed in his game is his shot from the point.  Early Letang would make a slap shot with the precision of a blind flying squirrel.  Next he progressed to using more of a wrist shot, which is actually pretty accurate.  Now he seems to be doing more of a slap pass or shoot wide for a deflection.  Everyone talks about Crosby's work effort but I gotta say, Kris also works very hard on improving his skills.  Kris Letang does more in the off season than most players do DURING the season.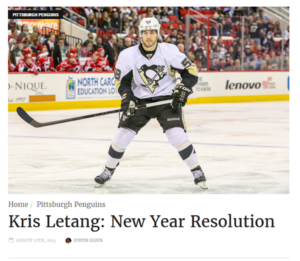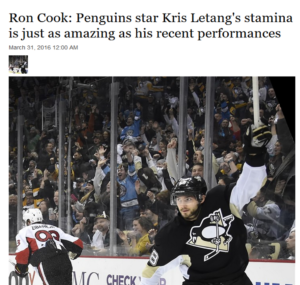 https://youtu.be/ecJd_L2aP7M
I don't know about you, but my off season (from high school sport) was spent on the couch, watching Maury.   Kris works this hard so that when March rolls around, he can play 30 minutes a game.  Shall I mention the 'mutant lung' performance he had in the last playoffs or the time he played 4 minutes of a 5 minute overtime.  I remember reading an article about when Bylsma started to increase Letang's minutes.  When asked about it, he said that Kris likes to play more minutes because it helps keep him in the game.  These days, Le-weave covers the top opposing players, plays on the #1 power play unit, and eats up the most minutes.  He also found time to put this X-men powers to good use, as he is Jason Momoa stunt double for Aqua-man.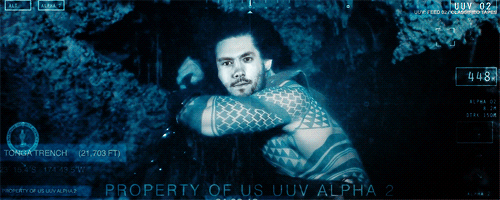 When it came time for Lehair to renew his contract, it got a little interesting.  He was a Norris candidate but the season ended in a dumpster fire (playoff loss to Boston).  He could have gotten Staal'd, when he declined his first contract offer (he wanted a no-trade clause).  Imagine running our blue line last playoffs without him; now subtract Daley (after his injury).  Do you think we beat the Tampa and the Sharks so easily?
[Staal'd: refusing the gifts of Shero and then getting massacred on your wedding day and having your corpse sent to Carolina to be re-animated, to play for eternity.]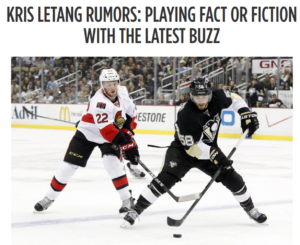 http://bleacherreport.com/articles/1687577-kris-letang-rumors-playing-fact-or-fiction-with-the-latest-buzz
"Letang, in my opinion, is a Karlsson clone, just a little less offensively skilled but with a little more mean streak.  If the Senators could land him it wouldn't be cheap, but he is the type of player worth giving up some assets for. "
http://senshot.com/2013/06/15/the-ottawa-senators-should-trade-for-kris-letang/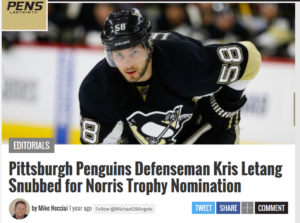 Thankfully Le-weave signed an eight-year, $58 million contract extension.  It began with the 2014-15 season and runs through 2021-22, with an average annual value of $7.25 million.
Let's talk numbers.  When Kris is health, he is a force on the team.  In 435 games (2006-2015 seasons) he had posted 243 points which is .56 points per game. However if you consider since the 2010-2011 season, he has scored 164 points in 218 games (.75 points per game).  Let's not forget about the partners he's played with in the past.  At one time, it seemed like Maatta was going to be a perfect complement, but, Maata turned into a clone with bad hips.  Kris is now rolling with mostly Dumoulin.
He went into the All star weekend with a negative 5.   As I mentioned a few post ago, Brooks "Payday" Oprik is +29.  PLUS 32!  I personally take no value in +/- , mainly because I don't know what it means, but +32, Gessssh.  (FYI Schultz is +29)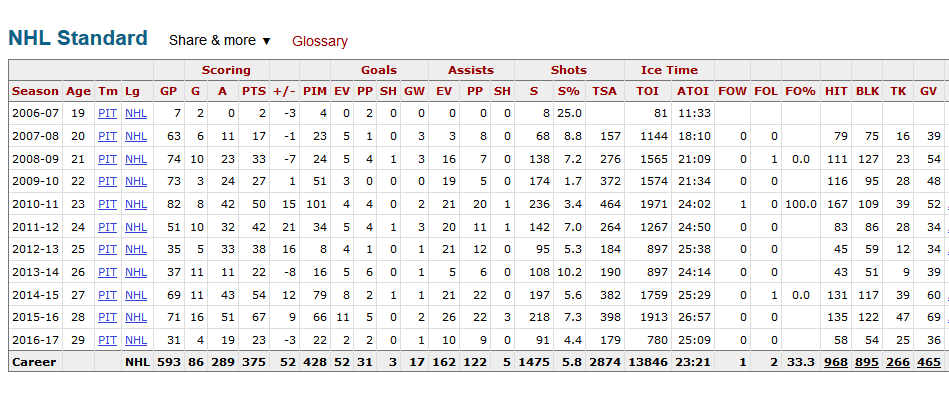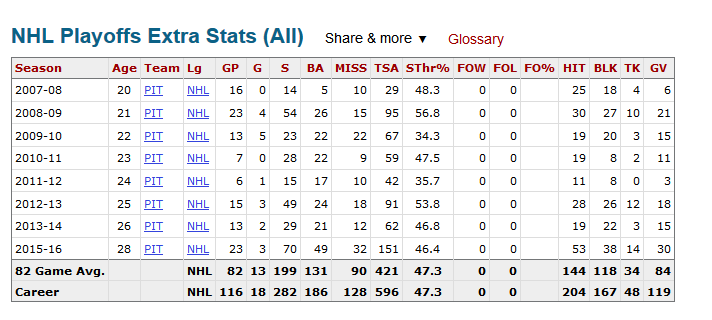 Kris tends to be negative in the first half of season and positive in the 2nd half.  I could not find a good break down for 2006-2008, but let's just assume the trend is consistent.  His best all-around season was 2011-2012, where he was + 21.  2010-2011 was the only full season he played (we'll get back to that).
Let's talk about how Kris plays with Captain Dream-killer and Agent 101:  Comparing the last few years (2015-2017):    Reading this per wgknestrick instructions:" The way to read these are compile all the goals scored while each are on the ice together. The percentages listed are the % of GOALS FOR. Higher percentages are better (ie outscoring the other team). 50% of goals for would equate to be a +- of 0."  (I have no actual clue if I'm reading this right but college try):  http://stats.hockeyanalysis.com/showplayer.php?pid=764&withagainst=true&season=2015-17&sit=5v5)
Here's Crosby's WOWY chart        Malkin's WOWY charts
With Crosby:                                     Letang With Malkin:
Letang 60.7% of goals for               Letang 39.1% of goals for
Without Crosby                                Without Malkin
Letang 40% of goals for                   Letang 60.2% of goals for

Letang' WOWY Chart
44.4% goals for without Crosby
53.4% goals for without Malkin
Highest numbers is with Sheary (68%) and Horny (60.3)
I have no clue if this is useful and I regret spending the last 30 min trying to figure this out.  I hate you wgknestrick .  It should be mentioned that these percentages contain the year both Sidney and Kris went into zombie mode for the first part of the season.
Grey's ClusterF*&K Anatomy
Letang has had 3 concussions and a stroke; Those are the highlights.  When I first heard about his stroke I thought, "it is scary that someone so young and in good shape could have that happen".  When I heard he was return to finish the year, I thought, "How the hell, you just had a STROKE man".   Kris had a congenital heart defect that caused his stroke.   He had it repaired and did not require long term blood thinners.   I can only image what it feels like to suddenly face mortality and worrying about your livelihood at 26 years old.  The strength of mind, you have to have to continue to be positive and return to practice 7 weeks afterwards, amazing.   For his perseverance, he was nominated for the Masterton Trophy, but because Brettman hates the Penguins, Le-bang lost.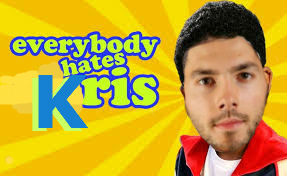 http://thehockeywriters.com/look-back-kris-letang-injury-history/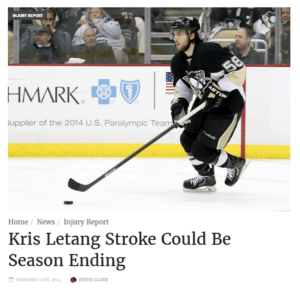 http://triblive.com/sports/penguins/5668844-74/letang-stroke-doctors
I also remember a story about Letang having severe migraines.  He had to sleep in a completely dark room otherwise he'll wake up with a migraine.  He used a special eye-cover-mask when on road trips.  The article below states he no longer has them.
http://krisletang.org/gallery/displayimage.php?album=51&pid=1070#top_display_media
The Offensive Power
https://youtu.be/u8Gw0VY6MDo
https://youtu.be/LxxITdzM5Fw
https://youtu.be/4DkpmKf0v20
Can't believe I forgot about @1:10 (I remember cheering my balls off)
https://youtu.be/tAbnmN0I518
The Defensive Power
https://youtu.be/OEv4BZL1DDo
He can get you low
https://youtu.be/_z4OTXE839o
He can get you high (Your welcome PiH)
https://youtu.be/NPsy2T42i7Y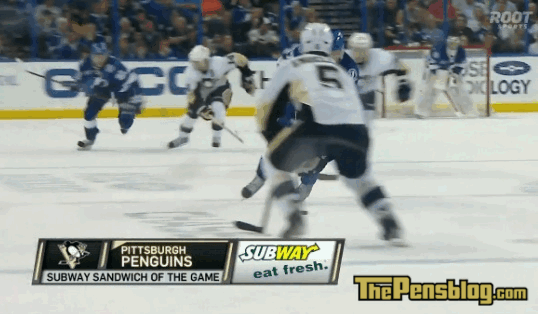 Crazy Letang aka Brenda
https://youtu.be/CB9ly40rXbA
https://youtu.be/E_5_D29bdFg
https://youtu.be/qfoIsdwVRDw?t=1m50s
Sometimes the only way to beat Letang is literally with his own helmet
Notable stuff/stories:
Rank you D: [Nice for Gonch (#16) ahead of Niedermayer!  Who knew.]
http://newyork.cbslocal.com/2016/08/31/hartnett-nhl-top-25-defensemen/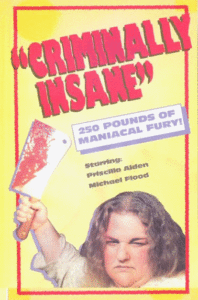 http://www.rantsports.com/nhl/2014/01/16/pittsburgh-penguins-should-move-kris-letang-to-the-wing/
"Pittsburgh has the luxury of having young puck-movers coming through their prospect system and will eventually replace Letang's production. Look at what Olli Maatta and Derrick Pouliot have been able to do in their first exposure, give them time and they will be top pairing defenders, or top four at the worst."  [Thankfully no one listened to this guy]
https://youtu.be/VPCwXMPBU-s
Who would you rather?  Yeah, she made the right choice.  Bye Carey.
https://www.youtube.com/watch?v=mxNhHLAhyug