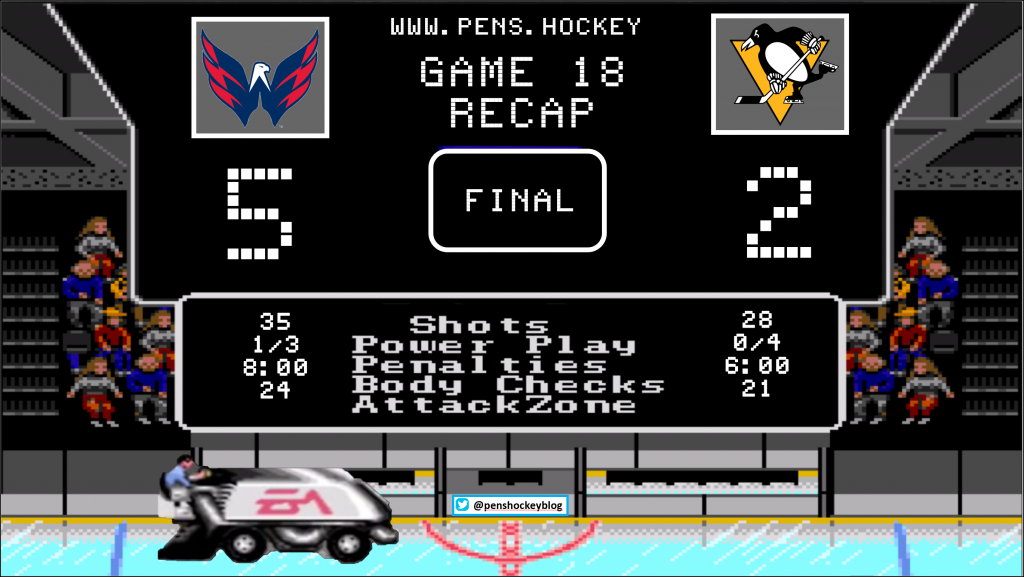 Both teams picked up right where they left off – faster skating up and down hockey. That would go on for a quite a while, actually. Matheson would keep showing off those offensive instincts. Dude is a winger, playing D it would appear, which is scary in some ways because we've seen that fish before. But as long as he doesn't don a cape like our other would-be superhero it should be OK.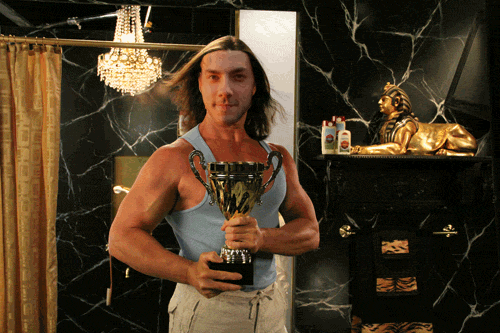 On the Washington side of things, it was pointed out that Ovie hasn't been producing as much lately. Flabby toilet's response? Put him on a line with a coke fiend and a pipsqueak.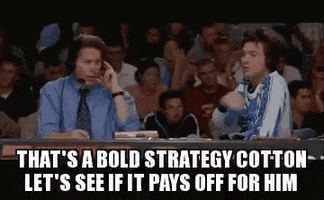 Back to live action, peeps were flying around still, and Tanev kind of launched himself awkwardly into the boards. It ended up looking worse than it was, thankfully. An injured Tanev would be horrible for the Penguins; up there with an injury to Sid, Geno or Blue. Gotta keep that engine humming. And hum along they did, until just under 12 minutes in when Ceci reminded us that the off-season demand for his services wasn't exactly high.
OK, the guy he decided to double cover was in the more dangerous spot, it's true. Until of course he double covered the guy leaving gads of room for Backstrom to setup for that re-direct. Si si, no no.
A couple minutes later Metallica's drummer would trip up Geno and it looked like the Pens PP would have a great opportunity to knot things up. Speaking of knots, the Pens did knot shoot the puck (…on net, easy there Ung). Errey said it was because of the Craps 'packing the rim' in front of the net. All I know is, it was a very limp PP – ain't making no babies with that kind of flaccidity.
A couple minutes later, Piss Wilson would remind everyone just how much he loves drinking piss and making illegal plays.
The rules provide the referees to judge an 'interference' like Wilson's after the fact – using injury as a factor in determining whether or not to declare the penalty a minor or a major. Despite the fact that Jankowski was obviously knocked janky from that hit (and would go to the locker room six minutes too early), the call would remain a minor. It's times like these when you really miss Ryan Reaves.
The subsequent powerplay was a little firmer, but still entirely too many passes and too few shots. Why? Because fancy penguins are fancy, I guess. I don't really know. The rest of the period would yield little other than frustrated note taking.

I'm gonna take over from here. Ungaba was caught in his feelings, and is taking some time to mediate or light some sage. You know, whatever hipsters do. Anyway, the second period started off right, and Jankowski did return to start the period. Hopefully he is looking for blood, on the score board. Side note, I never realized he had a mullet. Disturbing.
The 1st and 2nd lines had trouble entering the zone, as the neutral zone was a minefield. The 3rd line was better; those speedy little bastards gave the Caps a hard time. And Ceci lowered the hammer, with a great hit on Wilson.
[A little something for the spank bank. ]
Not long after that play Jarry denies Carlson. And Wilson takes the opportunity to remind everyone (once again) that he is a wart on humanity. He tries to start a scrum in front for Jarry, but the refs quickly break it up. Carlson got his revenge, when he swept the leg of Jarry, but the refs saw it, and sent us to our 3rd PP.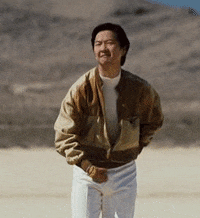 #1 unit couldn't get any good looks. And the 2nd unit was mud. Washington killed this one without any difficulty. Pettersson almost got a goal, but he shot it just wide of the net. Schultz made a shot on net, and Ovie was hunting for a tip-in, but Jarry plucked the shot out of the air. Malkin and Rust rush in on a 2-on1, but Vanecek stopped it. Somehow, there was a BS call made on Malkin, sending Washington to another powerplay. Blueger and Tanev team up on the PK, and took advantage of Ovie, as he fumbled the puck. Blue takes a shot, leading to a nice juicy rebound, but Tanev's return shot gets blocked by Vanecek. The Penguins kill the rest powerplay.
With less than 10 min left in the 2nd, Letang made a stupid dump in, that almost put Oshie back on the radar, but we were able to clear the zone. Washington continued to push, with shots from Schultz and Kuznetsov. The Pens had to ice it, just to get a breather. Tanev with a major block, that caused him to hobbled off the ice, but once again, he was out for his next shift. Kap gets tripped, leading to the 4th powerplay of the game.
Malkin was trying to get a goal, as he went into Rust-mode to the front of the net, but Vanecek kicked it out. Then Malkin had a shot from the point that gave Vanecek some trouble. Yet, the PP was killed, and the game was still 0-1. The neutral zone play picked up for both teams, making cross ice pass hard. Math with a shot in the waning seconds that was kicked out to the corner.

Panik skates straight in on Jarry, who had to be ready. Washington came on hard to start the third period. The Penguins were scrambling everywhere. The Penguins were still chasing, as the Caps go up 0-2, after Oshie makes a superman play on Math. He pokes the Puck past Jarry.
WSH celebrates by playing another crappy goal song. Letang takes a hooking penalty. This was the point where I was contemplating what to eat for dinner; thinking about what else is on tv during this time, when ……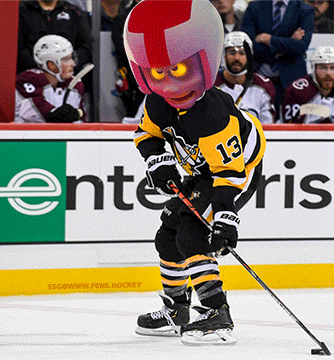 Tanev flies into the zone, crosses up Carlson, and roofs a goal. What a great single-handed play. Eight SH goal for Tanev. 1-2 on the score board, and before the announcer can even say anything, Jake SnEKs one in. Jake look like he was murder against the boards, but he spun out of it with the puck. Low and behold, it was all part of his plan, as he ditched Dillon, ran on net and opened the 5 hole for a goal. And like that, we are tied with 12 min to go.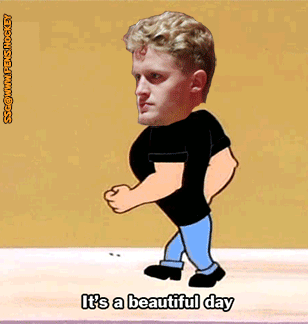 Neutral zone goes back to being messy. Lafferty beats a defender, to get a shot on Vanecek, but it was blocked. O Conner gets his stick up high on Backstrom, for a hooking penalty with 9:07 on the board. WSH goes to their 3rd PP. Backstrom and Ovie tried to hook up for a shot, but they couldn't connect. Letang blocks a shot, that shatters his stick. Kris doesn't have a stick, causing a 5 on 4, that let Wilson …(vomit sounds) score. Fuckin' Wilson. Some people will be pissed that Letang didn't go to the bench, but I am pissed that no forward attempted to give him a stick. Is this not a known thing? On the PK, if the D loses a stick, give up yours. On any play, if the goalie loses their stick, give them yours. WTF.
Father time received his 2nd Covid vaccine, and is making his way down to the front row. The 2nd line had some good looks. Malkin tries to set up Rust and Reese, but neither pass connect.
2 min left and the goalie is pulled.
Letang with another broken stick! And Hagalin scores; 4 -2.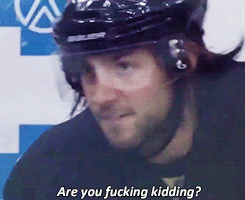 HOW, just how could this have happened?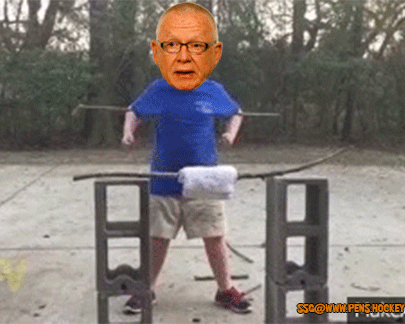 Some other douchebag, scores on the empty net. Game. 2-5.

Notes:
22- 35 on face-offs; surprising loss by our centers
0-4 on Power plays. A major hick-up after we were making such progress.
Why does Sheary look bigger in red. I guess the black-slimming thing is true.
We don't have to see the Capitals till April 29th. Kewl?
Mearsy mentioned that 1/3 of the games in our division have gone to OT. Meaning it will be a fight to get into the playoffs.