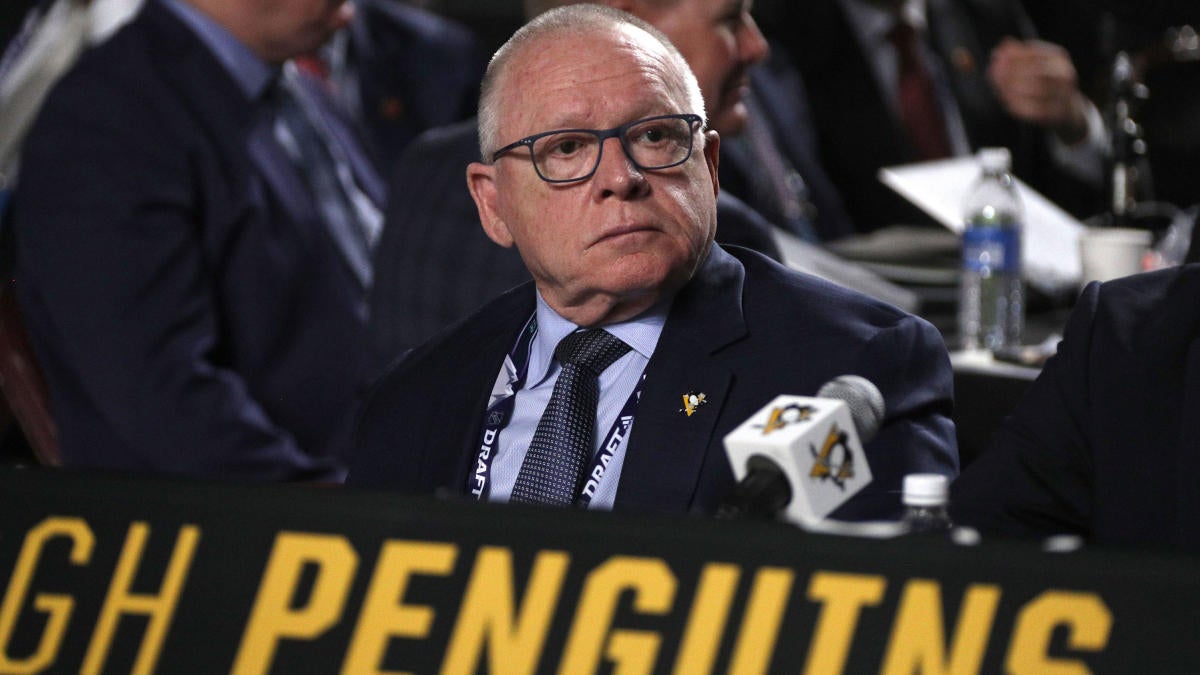 Part 1 was published two Augusts ago, back when Jim Rutherford was still general manager of the Pittsburgh Penguins, and the same day I began to write the post Rutherford traded the team's first round pick in the 2020 Entry Draft to the Toronto Maple Leafs. You'll read more about that deal below, but it would also stand as the last first round draft pick Jim Rutherford would trade as GM of the Penguins, as he fired himself from the position in January 2021. Rutherford's tenure as GM was eventful from a draft pick standpoint, a far cry from Ray Shero's stint that ended after the 2014 playoffs. Now in his second draft, Ron Hextall may be taking his first first round pick as GM of the Penguins. Before he does that (or trades it away), let's take a look back at the last nine drafts and see what was and what could have been!
In 2013, the Penguins…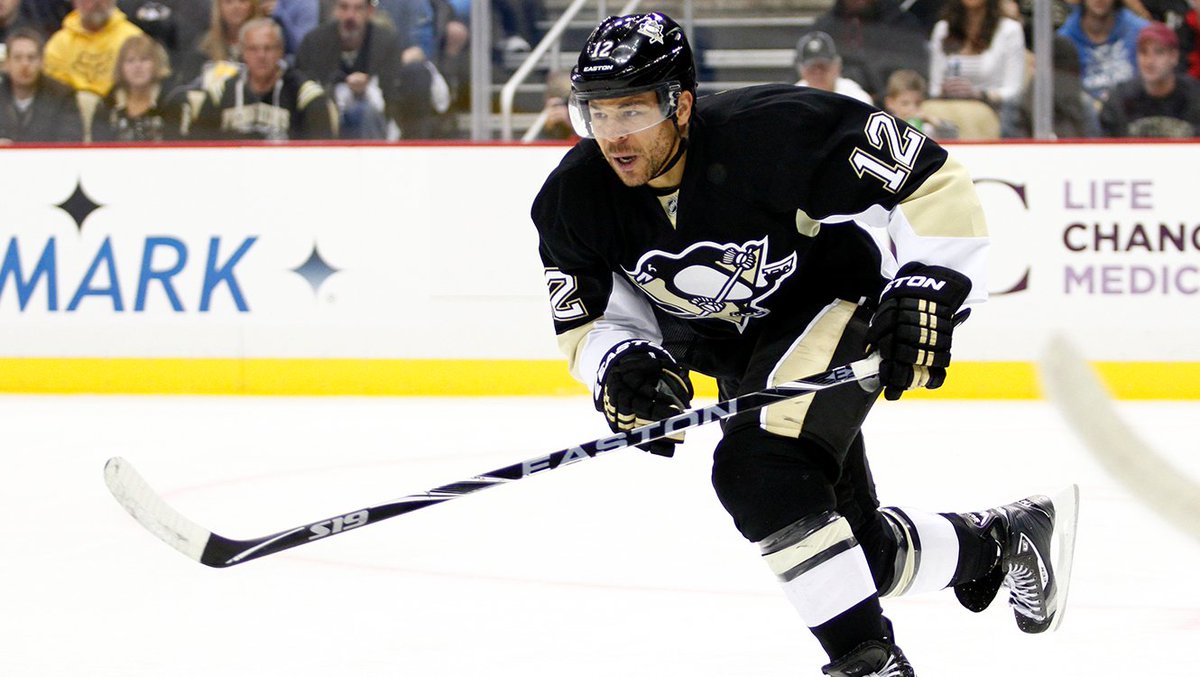 …traded their first round pick to
the Calgary Flames
The hard-fought collective bargaining agreement which ended the lockout that killed the 2004-05 season expired prior to the beginning of the 2012-13 season. A new CBA between the League and the Player's Association could not be reached in time to prevent games from being cancelled, but eventually the two sides did get things straightened out and the season began in mid-January 2013. The extended rest did wonders for a Pittsburgh Penguins team that had been struggling with health issues, particularly for Sidney Crosby who had played a combined 63 games in the prior two seasons. While Crosby, Evgeni Malkin, and Kris Letang still managed not to play the full 48-game season, the Penguins nevertheless went 27-8 in the first 35 games of the season, including a 14-game winning streak right up to the trade deadline on March 28. Sensing blood in the water, GM Ray Shero took a big(-ish) swing to acquire a #winger4Sid, sending their 2013 first round pick along with Ben Hanowski and Kenny Agostino to the Calgary Flames in exchange for Flames legend Jarome Iginla. Iginla, in the last year of his contract and in full knowledge that Calgary was headed for a rebuild, wanted a chance to snag a Stanley Cup, and Pittsburgh looked pretty good in that moment.
And things started out fine in the playoffs for the Penguins, first with a six-game Conference Quarterfinals win over the New York Islanders, and then with a five-game Conference Semifinals win over the Ottawa Senators. But, oh boy, did Pittsburgh ever run into a wall in the Conference Finals. The Boston Bruins, led by Tuukka Rask, almost completely shut the high-powered Penguins offense down, allowing just two goals in the four game sweep. While Iginla did his job in his 28 combined regular and postseason games for Pittsburgh (9-14—23), it was not enough to help push the Penguins through in the end, and that was it for Iginla's time in Pittsburgh. The following offseason he signed a one-year deal with Boston, then would end up with the Colorado Avalanche the following year before ending his career with the Los Angeles Kings, but the winger would never get the championship glory he so desperately sought.
As for the pieces the Flames received, well, at least we can be relieved in knowing the Penguins won this deal. Agostino, a left winger, has only played 86 NHL games and not since last season when he played one game with Toronto, but he was almost a point-per-game player in the AHL. Hanowski was even less successful in North America, playing just 16 NHL games before leaving for Germany in 2015-16. Finally, the first round pick Calgary received ended up being 28th overall, and with it they selected left winger Morgan Klimchuk. Klimchuk played one game for the Flames but spent most of his career in the AHL, retiring after the 2019-20 season with the Ottawa Senators franchise.
Was this the right deal for the Penguins? Well, as we just saw, in the long run it was a great deal for the Penguins as they shipped out a trio of assets that never really panned out in the NHL. Moreover, the 2013 draft ended up fine for the Penguins anyway, as they took two current first-teamers in the later rounds (Tristan Jarry, 44th overall; and Jake Guentzel, 77th overall). Looking back at the 2013 trade deadline, it doesn't look like there were any higher-powered offensive players available, save for Jaromir Jagr (cry), that could have made any more of a difference for Pittsburgh in the Conference Finals. No one could do anything to beat Tuukka Rask, except for the Chicago Blackhawks in the Stanley Cup Finals, and that's all there is to it.
In 2014, the Penguins…
…drafted Kasperi Kapanen 22nd overall
(then traded him in 2015…)
After being so close to returning to the Stanley Cup Finals the year prior, the Penguins had another very good regular season in 2013-14, finishing first in the Metropolitan Division. However, GM Shero did not make much of a splash at what turned out to be a very eventful trade deadline, seemingly feeling largely comfortable with the rest while adding merely Marcel Goc and the legendary Lee Stempniak while sending out just two third-round picks and a fifth in exchange. Most notably, the division rival New York Rangers acquired Martin St. Louis for Ryan Callahan, a conditional second round pick in 2014 and a first round pick in 2015, one of only two firsts to move at the 2014 trade deadline. The lack of substance in their moves would come back to haunt Pittsburgh, as they would struggle with a feisty Columbus Blue Jackets team in the Conference Quarterfinals, taking six games to eliminate them, before running into the Rangers in the Conference Semifinals and falling to the Blueshirts in seven games. It was the last the Penguins would see of Shero as well as head coach Dan Bylsma, as they would be dismissed in the wake of this early and disappointing exit.
In to replace Shero would come Jim Rutherford, who had been president of hockey operations and general manager of the Carolina Hurricanes from 1994 (when they were still in Hartford) through to April 2014 when the Hurricanes managed just a seventh-place finish in the Metro Division. He would only have a few weeks to prepare for the draft, so he probably thought he had to make his first round pick, which he used to draft speedy Finnish winger Kasperi Kapanen. Looking back at his numbers from his time in Finland, Kapanen had only modest offensive numbers, but I suppose the hope was that his speed would come in handy in that regard. However, Kapanen would only get 11 games of AHL experience in Wilkes-Barre/Scranton before Rutherford would employ Kapanen as one of many pieces in the blockbuster deal to acquire goal-scoring machine Phil Kessel in 2015. The full deal sent Kapanen, Scott Harrington, Nick Spaling, Pittsburgh's 2016 1st and Toronto's 2016 3rd to the Maple Leafs in exchange for Kessel, Tyler Biggs, Tim Erixon and Pittsburgh's 2016 2nd.
How could the Penguins have done better than Kapanen? Only two other right wingers were drafted after Kapanen that have played more games than he has: San Jose's Kevin Labanc, taken 171st and having roughly the same career production as Kapanen, and Boston's David Pastrnak, taken 25th overall. Pastrnak has been a point-per-game player, second only in his draft class to Edmonton's Leon Draisatl, so it's natural to look at Kapanen's numbers and see a considerable drop-off. And, of course, had the Penguins held onto Kapanen he might have found a touch alongside Sidney Crosby or Evgeni Malkin. But I don't think anyone can complain about the trade in retrospect when you consider the impact Kessel had in his short stint with the Penguins. Kessel's offensive production gave the Penguins' power-play another dangerous element, and at even strength he helped give the Penguins a third productive line that brought the Penguins Stanley Cups in 2016 and 2017. Considering that Kessel was the centerpiece of the transaction, and that none of the other assets have made a major impact in the NHL, it was a huge win and a fantastic move by Rutherford…but one that would not be duplicated again in Rutherford's tenure.
In 2015, the Penguins…
…traded their first round pick
to the Edmonton Oilers
After the disappointingly quick exit out of the 2014 playoffs, GM Rutherford began shaking things up on the bench. Dan Bylsma, who had joined Pittsburgh in February 2009 and helped bring the Penguins to the Stanley Cup that season, was dismissed in place of Mike Johnston, who had brought the WHL's Portland Winterhawks to four consecutive championship finals including a win in 2013. It seemed to be a savvy move, bringing in someone from outside the usual circle of NHL head coaches, and someone who seemed to be up-and-coming in the field. Everything seemed to start out well enough, as the Penguins went into 2015 with a 23-9-5 record, but Rutherford evidently felt the need to get a jump on the trade market. He saw in Edmonton winger David Perron a guy who was underperforming his career shooting percentage numbers and figured a change of scenery was all he needed. So Rutherford sent the Penguins' 2015 first-round pick along with Rob Klinkhammer to the Blues for Perron.
Yes, Perron's shooting percentage did go up, but only to 9.8% and not the 14.65% he'd notched in his first six years in St. Louis or even the 12.7% with Edmonton the year prior. Yes, Perron was productive whereas Klinkhammer never would be. But Perron went through quite the funk in his time in Pittsburgh, and Perron would be traded to the Anaheim Ducks the following January along with Adam Clendening in exchange for Carl Hagelin. Hagelin, along with the acquisitions of Phil Kessel and Nick Bonino in July 2015 would give the Penguins an unexpectedly potent third line, but it took a whirlwind of moves for Jim Rutherford and the Penguins to get there. The first-round pick Rutherford spent to get Perron, which ended up being 16th overall, would be traded by Edmonton to the New York Islanders, who used the pick to draft Mathew Barzal. Barzal came onto the scene in a big way in the 2017-18 season, winning the Calder trophy as the League's best rookie, but has seen his production fall off over the years.
Was this the right deal for the Penguins? In the immediate aftermath of the deal, I would say no. Perron didn't have a resurgence in Pittsburgh in the same way that someone like Justin Schultz (another acquisition from Edmonton) did, and a first round pick (plus a depth forward) is a hefty price to pay for someone who didn't make a strong and immediate impact. On top of that, the pick ended up being 16th overall, which is the second-highest position for a first rounder that was initially held by Pittsburgh in the last nine drafts. While the Penguins would end up drafting Daniel Sprong (who Rutherford would eventually trade for defensive stalwart Marcus Pettersson) and Dominik Simon (used in the deal to acquire Rickard Rakell this season), a good selection at 16th overall could have been impactful in a couple of years. But Rutherford's wheeling and dealing helped the Penguins get to where they were hoping to be.
In 2016, the Penguins…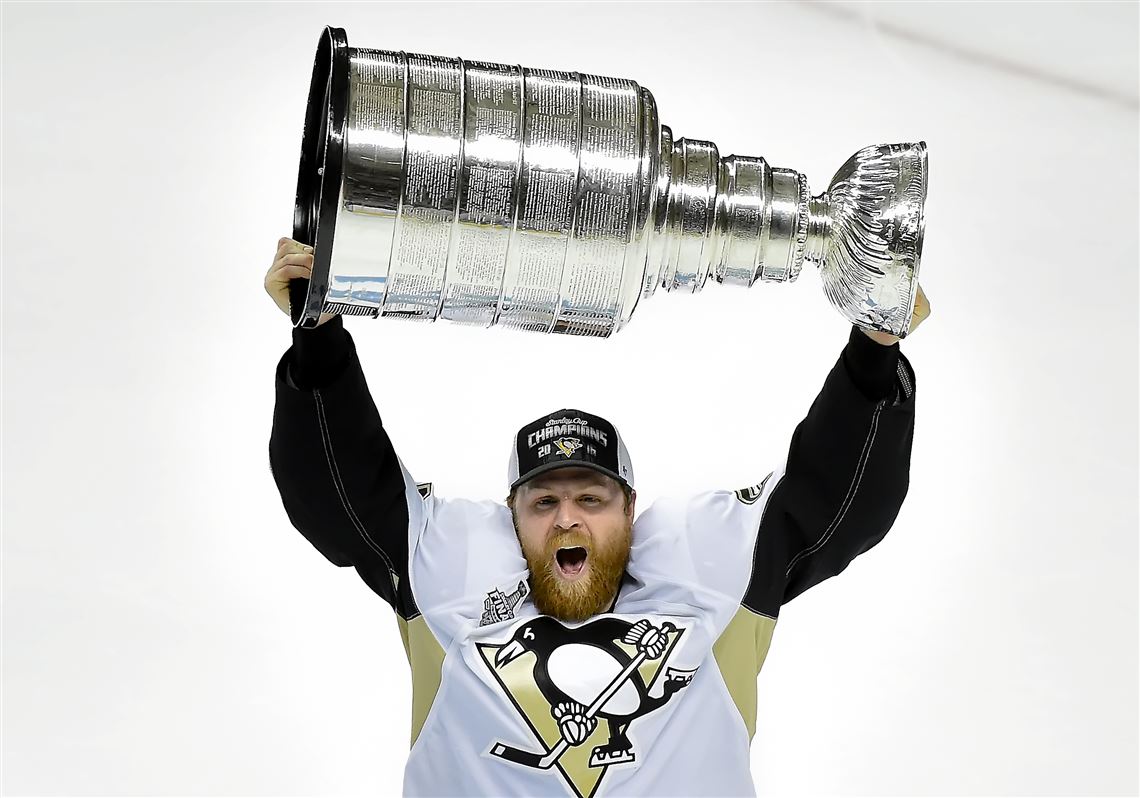 …traded their first round pick
to the Toronto Maple Leafs
The stunning July 1, 2015 deal that brought Phil Kessel to Pittsburgh from Toronto brought another goal-scoring option to Pittsburgh, but that move along with the acquisition of Nick Bonino wasn't enough to push the Penguins to the next level. In fact, the 2015-16 season started out with the Penguins playing mediocre hockey. With a 3-2 shootout loss against the Los Angeles Kings on December 11, 2015, Pittsburgh fell to 15-10-3, and GM Rutherford decided he had seen enough of Mike Johnston and relieved the head coach of his duties. Up from Wilkes-Barre/Scranton came Mike Sullivan, whose last NHL head coaching gig was a flameout with the Boston Bruins, but along with him came a less structured mentality and more encouragement of his players to play within their personal skillsets.
But even after hiring Sullivan, the Penguins continued to scuffle along, going 5-6-4 ending with a 5-4 overtime loss against the Tampa Bay Lightning on January 15, 2016. The next day, Rutherford would make the trade that sent David Perron and Adam Clendening to Anaheim for Carl Hagelin. From there, Pittsburgh was on fire, coming away with a 28-10-1 record in their last 39 games. The Hagelin-Bonino-Kessel (HBK) line was a revelation, as the trio combined for a team-best 56 points in the playoffs, and Kessel led the team in scoring as the Penguins fought their way to their first Stanley Cup since 2009.
Pittsburgh's first round pick in the 2016 draft, sent to Toronto as part of the package to bring Kessel et al. to the Penguins, was traded by the Maple Leafs to Anaheim on June 20 along with a 2017 2nd in exchange for goaltender Frederik Andersen. Anaheim used the pick to select center Sam Steel, who has been a depth center for Anaheim while they work their way towards a rebuild.
Was this the right deal for the Penguins? Uh, yeah. Of course there were other assets and trades involved along the way to get there, but Kessel was an integral part of not just one but two Stanley Cups in Pittsburgh (we'll get to that in a minute), and that's exactly the kind of impact you hope for in payment of a first round pick. The 2016 draft was a deep one and despite the pick being 30th overall the Ducks could have done a lot better than Steel with thirteen other players drafted after him having better careers to date than Steel. As for Toronto, Kapanen had a couple of modestly-productive seasons but never to the extent that Kessel did in his time as a Maple Leaf. Andersen was an elite goaltender for the Maple Leafs, but too many minutes in the regular season caused him to burn out come playoff time. None of the other pieces Toronto received along with Kapanen, nor for that fact those that Pittsburgh received along with Kessel, have made a substantial impact in the NHL. So, even if you boil down the trade to Kessel for Kapanen and Andersen, the Penguins winning championships with Kessel makes the deal a huge win for Pittsburgh.
In 2017, the Penguins…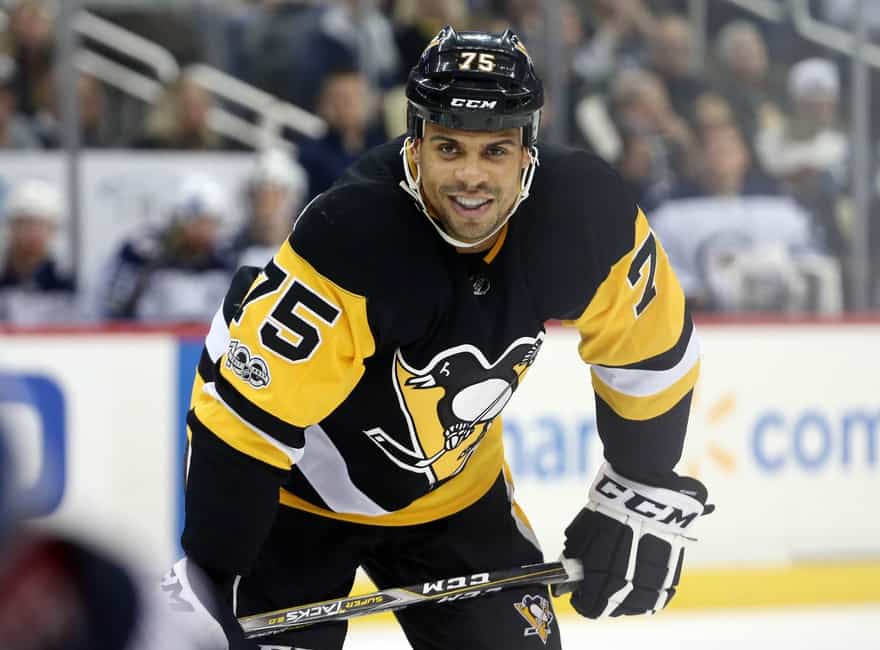 …traded their first round pick
to the St. Louis Blues
Well, the good news is that Pittsburgh won a second consecutive Stanley Cup in 2016-17. The bad news is that things have deteriorated for the Penguins across the board since then, primarily from a franchise depth perspective. The moves GM Rutherford made prior to 2017 were undoubtedly shrewd and effective, and one could overlook the dwindling "cupboard" of prospects in the light perhaps glinting off of the two silvery Stanley Cups as an afterthought. But many of the veterans which had helped bring Pittsburgh to this glory were on expiring contracts by 2017, and not only was Rutherford content to let them all depart, but he also decided that Sidney Crosby needed protecting. Ostensibly, it was because the League was getting bigger and more physical…which was not altogether wrong, but the team had gone at least the previous two seasons without an "enforcer," an archetype which has been phasing out of the League. Teams were getting bigger, but not completely dismissing the need for productivity.
It probably would have been okay if the price had been right, but Rutherford must have felt that one of the best enforcers in the League required a comparatively kingly price. So, on draft day, Rutherford sent winger Oskar Sundqvist and the Penguins' 2017 1st to St. Louis in exchange for Ryan Reaves and the Blues' 2017 2nd. Sundqvist had been a minor part of the Penguins' two Cups, so from a time-on-ice and even production perspective, yeah, I guess you could see the trade between the two players being a wash, maybe even to Pittsburgh's advantage. But Sundqvist became a modestly productive player in St. Louis, scoring about a half-a-point-per-game. Reaves, on the other hand, produced just eight points in 58 games before Rutherford realized his error and sent Reaves to Vegas along with Pittsburgh's 2018 4th in exchange for Tobias Lindberg. Lindberg had been a journeyman AHLer and continued to be until 2019 when he moved to Europe.
Was this the right deal for the Penguins? Heck no. Sundqvist and the 31st overall pick (which St. Louis used to draft Klim Kostin, who has not made much of an impact with the Blues) would have been far more productive and valuable had Rutherford hung on to them. Meanwhile Reaves has slowly become even less of an enforcer, let alone a player of any redeemable value, since departing Pittsburgh. The move did not make sense then, and it probably never will make sense.
In 2018, the Penguins…
…traded their first round pick
to the Ottawa Senators
This was a move that should have made sense, but led to a lot of confusion. The Senators, still recovering from being nuked by the Penguins in the 2017 Eastern Conference Finals, were looking to rebuild. Jim Rutherford, looking for not only a boost in offense but also to erase the embarrassment of acquiring Reaves the season prior, decided to swing a three team deal with Ottawa and the Vegas Golden Knights, who were looking fantastic in their first season in the League. Brassard was brought in to Pittsburgh as a replacement as a third line center for Nick Bonino, who left for Nashville in free agency, and the Penguins also received Senators prospect Vincent Dunn, the aforementioned Tobias Lindberg from Vegas, and Ottawa's 2018 third. Vegas received Reaves and Vancouver's 2018 fourth, while the Senators got the biggest haul, all from Pittsburgh: defenseman Ian Cole, goaltending prospect Filip Gustavsson, the Penguins' 2018 first and their 2019 third. At the time, the main source of confusion was making the cap numbers work, but that was resolved by Ottawa retaining 40% of Brassard's salary. Again, at the time, this deal made a ton of sense for the Penguins and the Senators.
But something went wrong. Brassard, who for most of his career had been a half-point-per-game player, started out okay for Pittsburgh, but his disappearing act began in the playoffs. He provided only four points (1-3—4) in the Penguins' 12 playoff games, as Pittsburgh finally yielded a playoff series loss to their rivals and the eventual Cup champions, the Washington Capitals. He would continue to underperform from his career numbers in the first forty games of the season before Rutherford decided he'd seen enough and traded Brassard along with Riley Sheahan and a bunch of 2019 draft picks (no first rounders this time!) to the Florida Panthers in exchange for Nick Bjugstad and Jared McCann.
Bjugstad couldn't stay healthy for long enough to make an impact in Pittsburgh, but McCann was a very useful pickup for the Penguins until they traded him to Toronto prior to the Seattle expansion draft last summer. Ottawa would kick Pittsburgh's first round pick (22nd overall) over to the New York Rangers, and the Rangers used it to draft K'Andre Miller, who has been quite serviceable as a top-four defenseman for the Blueshirts. Cole, who never seemed to jive with Mike Sullivan in Pittsburgh, has bounced around the League since his stint with the Senators but has still been useful as a bottom-four defenseman. The jury is still out on Gustavsson, who has been third on the Ottawa depth chart. As for Vegas, well, they seemed to be happy playing Reaves a few minutes every night en route to a stunning Stanley Cup Finals appearance in their inaugural season.
Was this the right deal for the Penguins? Just because Brassard didn't work out doesn't mean it was a bad deal. The Penguins needed a third-line center, they had a logjam in goaltending, and Cole was languishing from disuse. This particular trade, in and of itself, wasn't misguided. The bigger issue was, by this point, it was clear that Rutherford was starting to wheel and deal without anyone to check his impulses. The Reaves trade was belligerently dismissive of reason, not just because Reaves was an unproductive player but Rutherford overpaid for his services. The Brassard trade was an attempt to correct that error, but it would turn out to be the start of a string of corrections which wouldn't have been necessary had Rutherford not made the initial mistake of acquiring Reaves.
In 2019, the Penguins…
…drafted Sam Poulin 21st overall
At this point, draft year plus three years (or D+3), it is hard to judge most prospects as they have yet to be promoted from their minor league clubs. This is particularly the case for goaltenders, less so for defensemen. When it comes to forwards, there's usually two directions for prospects who do go to the NHL: either they are productive enough to make an impact now, or they are on a team that simply doesn't want to dive around in free agency for cheap production. In Poulin's case, the truth is in between, which is why he has yet to play a game in Pittsburgh. In case you're concerned, this is fine: only 56 of the 217 draftees from the 2019 draft have played a game in the NHL, and most of those have played less than half a season's worth of games.
However, the time is coming for Poulin to make the next step in his career; he is the highest drafted pick amongst his peers yet to play in the NHL. It is concerning that his production from his years in junior hockey were cut in half once he came to the AHL, and there's not a lot of spots in the lineup to put a winger who is only good for a point every other game. The good news is that, based on the production of his peers so far, if he can consistently produce 0.5 points-per-game or better, that would be on par with some of the top forwards from his draft class, like Montreal's Cole Caufield. That may be a lot to ask for someone who, if he is in Pittsburgh next season, will probably be on the third line most of the time, so we shouldn't get ahead of ourselves with expectations until we get the full picture of how the roster will look come October. In any event, Poulin's time as a prospect is coming to an end, and we will see soon enough just what we can expect from the right winger.
How could the Penguins have done better than Poulin? Only a handful of right wingers drafted in 2019 have played at all in the NHL, including Poulin's Pittsburgh prospect peer from 2019, Valtteri Puustinen. In fact, of those who were drafted after Poulin, Puustinen has arguably made the biggest impact, and he only played one game for the Penguins, notching an assist and a +2. The three right wingers taken before Poulin, Kaapo Kakko, Caufield, and Vasily Podkolzin, have all made varying impacts on their teams. Again, it's a little early to know who will actually be a factor in the NHL, so let's not worry about it just yet.
In 2020, the Penguins…
…traded their first round pick
to the Toronto Maple Leafs
Two straight first round exits in 2019 and 2020 playoffs left the Penguins and their fans scratching their heads. In 2019, it was a four game sweep by the New York Islanders, a shock since it wasn't like the Isles were a dominant #1 seed but rather a #2, and only by three points over Pittsburgh. That offseason saw the key piece of the 2015 trade with Toronto, Phil Kessel, traded to Arizona after it became apparent that his personality wasn't working out in the locker room. In 2020, we had the COVID-19 pandemic disrupt then cancel the regular season, and after the restart the Penguins were tossed aside in the qualifying round in four games (out of five) by the Montreal Canadiens. Perhaps sensing the 2015 trade was turning into a long-term loss, Jim Rutherford decided to go knocking back on the Maple Leafs' front office door. The result was the August 2020 reacquisition of Kapanen, along with Pontus Aberg and Jesper Lindgren, in exchange for the Penguins' 2020 first, prospect Filip Hallander, Evan Rodrigues, and David Warsofsky.
In the time since his trade to Toronto, Kapanen had slowly but surely made his way into the top six, producing roughly half-a-point-per-game in the last two seasons. Rutherford thought perhaps that Kapanen could produce even better in Pittsburgh, and last year he did! Thirty points in forty games was great, and it didn't seem to matter who the center was, whether it was Sidney Crosby, Evgeni Malkin, or Jared McCann. It was looking like a major win for the Penguins. Then something weird happened: just two weeks into the pandemic-affected regular season, Jim Rutherford resigned as GM of the Penguins on January 27, 2021. No one is quite sure what happened there, but one rumor had it that he wanted to swing a blockbuster trade shipping out either Evgeni Malkin or Kris Letang. Whatever the truth is, the team did perfectly fine in the regular season; in fact, they had one of their best seasons in franchise history. Despite that success, once again they were derailed in the first round by the New York Islanders, this time in six games.
This past season, Kapanen was the complete opposite of the year prior, logging his worst statistical season in three years. Although he did produce three goals in the seven game series with the New York Rangers, the overall impression from his performance is, "What the hell?" Whatever happened there, Rutherford's replacement Ron Hextall seems determined to give Kapanen another chance. As for the rest of the trade: Aberg never played for the Penguins and has been out of the League for the last two seasons. Lindgren left North America for Europe after the trade. Hallander would be reacquired by the Penguins along with a 2023 seventh in the dubiously-considered trade that sent Jared McCann to Toronto, only to have McCann drafted by Seattle in the expansion draft. Rodrigues would also be reacquired by Pittsburgh as a free agent, and he turned in feast-or-famine season in 2021-22. David Warsofsky hasn't played in the NHL in four years.
Was this the right deal for the Penguins? It remains to be seen. Kapanen is an arbitration-eligible free agent this summer, so it stands to reason that he will be back in black-and-gold for the 2022-23 season. The first round pick Pittsburgh sent to the Maple Leafs was #15 overall, the highest the Penguins might have seen since taking Derrick Pouliot 8th overall in 2012. Toronto selected Russian winger Rodion Amirov, who seems to have some talent but ran into injury trouble this year. A handful of players taken after Amirov, most notably #18 overall for the New Jersey Devils Dawson Mercer, have played in the NHL in the last two season. Once again though, it's a bit early to know how most draft picks will ultimately pan out. If Kapanen can rebound next season and play more up to expectations, then this could be a win for Pittsburgh.
In 2021, the Penguins…
…traded their first round pick
to the Minnesota Wild
Doing this project, I got a little confused when it came to the 2020 and 2021 first round picks. The acquisition of Jason Zucker actually happened in February 2020, six months before the trade that brought Kapanen to Pittsburgh in exchange for the 2020 first round pick. With the Zucker trade, the Penguins sent Alex Galchenyuk, prospect Calen Addison, and a conditional first round pick to the Wild in exchange for Zucker. The condition was whether it was the 2020 or 2021 first round pick, and the Penguins opted to retain their 2020 pick, sending the 2021 to Minnesota.
Zucker's time in Pittsburgh has been infamously disappointing. In the four years prior to the trade to Pittsburgh, he played in 95.4% of Minnesota's games. He had a down year in the 2016-17 season, but rebounded with a huge year the following year, scoring 33 goals and 64 total points. 2018-19 was a statistical disappointment, but Zucker won the King Clancy Memorial Trophy for his leadership and humanitarian efforts. The following December Zucker suffered a fractured fibula, but it was a quick recovery and he was back on the ice within a month. Still, Rutherford saw a player he thought could use a change of scenery, and maybe new teammates to get his production up to its heights. As with Brassard, the move seemed to work at the beginning, as Zucker tallied 6 goals and 12 points in his first 15 regular season games as a Penguin. He notched another two goals in Pittsburgh's four game qualifying round dismissal by the Canadiens.
And then, things went downhill. Zucker appeared in 38 of the Penguins' 56 games last season and 41 of the team's 82 games this past season, scoring just 35 points in the time, the least for him since 2015-16. Health issues plagued him constantly, to the point where this past season he was hurt on December 19, returned on January 17, scored two goals but got hurt again, came back March 31, got hurt again, and came back a week later. So, the disappointment has less been about his productivity (although that still has been below his career average for the past two seasons, probably because he's been unable to remain healthy), but this is a team at this point that needs healthy players almost as much as they need to be productive. Zucker is in the last year of a contract that pays him $5.5M; he's been paid a ton of money by the Penguins mostly to convalesce. Time will tell if Ron Hextall wants to continue spending that money for a guy with major health issues.
Was this the right deal for the Penguins? The answer boils down to the fact that, for now, the Penguins have the only productive asset out of everyone in this trade. Galchenyuk, the former third overall pick by the Canadiens and acquired with defensive prospect Pierre-Olivier Joseph in the Phil Kessel/Arizona trade, never really lived up to the promise that he demonstrated in Montreal. Addison, a defenseman, has played just 18 games in Minnesota to date as it is still early in his professional career. The first round pick, 26th overall, was used to take Carson Lambos, a left-handed defenseman who is still just 19 years old but shows some offensive skill in junior hockey. A healthy Zucker at peak productive capability could be a difference maker for Pittsburgh, but Hextall may want to consider simply cutting his losses and finding a better use for the $5.5M Zucker stands to earn, healthy or not.
In 2022, the Penguins…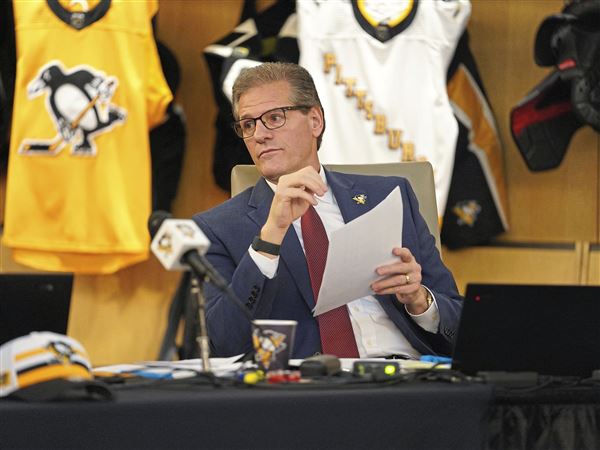 ..have the rights to
the 21st overall pick (for now)
So here we are, one week before the Entry Draft and Ron Hextall has yet to trade the Penguins first round draft pick, just the third first round pick the Penguins are slated to make since 2014. Like any draft pick, the player chosen could be a hit or a miss, and there's a whole lot of gray area in-between. Pittsburgh has made the 21st overall selection four times, most notably to select Colby Armstrong in 2001 and most recently to draft Sam Poulin in 2019. In recent history the 21st overall pick has been used to take such notables as Tuukka Rask (2005), Riley Sheahan (2010), Mark Jankowski (2012), and Robby Fabri (2014). As you can see, there's a lot of un-notables in all of those years, and two of those notables are only such because they've come through the Pittsburgh organization at one point in their careers.
As we learned in his press conference after the Penguins were eliminated from the first round of this past postseason by the New York Rangers, Hextall and the rest of the new ownership group, Fenway Sports Group, believe in the "win now" mentality that Jim Rutherford employed for his entire tenure as Penguins general manager. For Rutherford, that meant seizing on the perceived value of the team's first round pick while making the most of later round picks, which he admittedly did and admirably so. But the return on many of the trades involving Pittsburgh's first round picks varied wildly and was mostly disappointing. He hit it out of the park in his acquisition of Phil Kessel. Acquiring Jarome Iginla, David Perron, Derrick Brassard, and Jason Zucker were all sensible moves that didn't pan out for one reason or another. Trading a first round pick for Ryan Reaves bordered on lunacy. What's more, many of the first round picks Rutherford moved turned into useful players: Morgan Klimchuk, Mat Barzal, and K'Andre Miller are all good NHLers, and would probably have been useful as Penguins. And while I didn't really look too deeply into which players were overlooked in these past nine drafts, it stands to reason that the Penguins could have found a better use for their first round picks than swinging for the fences in trading them but largely falling short in the outfield. Or, in the case of Reaves, striking out altogether.
We're approaching the point in this franchise's history where those first round picks might have more value for Pittsburgh being retained instead of traded. A lot still needs to be decided with free agency, and the Penguins don't have a lot of cap space to work with, so it'll be curious to see if Hextall decides to invest this draft in the present or the future.